SOUTHERN MADE SIMPLE IS A PART OF SEVERAL AFFILIATE ADVERTISING PROGRAMS. AFFILIATE LINKS ARE INCLUDED THROUGHOUT THIS POST AT NO COST TO YOU. ALTHOUGH I PARTICIPATE IN THESE PROGRAMS AND HAVE SPONSORED CONTENT, ALL OPINIONS ARE MY OWN.
Summer 2017 is right around the corner, and churches all over the country are gearing up for an exciting summer filled with Vacation Bible School activities! One of the most popular VBS themes for 2016 was "Submerged" by Lifeway, where kids learned all about submerging themselves in God's word and finding that Jesus doesn't just see what's on the outside of people, but instead He sees what's deep down in the inside of people and loves us no matter what. Isn't that such a great message? If you got to participate in Submerged this year, I'm sure it definitely made a "splash" of an impact on your life. I know it did mine!
Lifeway just recently released their theme for Summer 2017 and it is AWESOME! Galactic Starveyors is the brand new upcoming theme, and through this series kids will discover the marvels painted in the sky by the Creator. Most importantly, they'll learn that God is the maker of the entire universe and everything within it, even the things that can't be seen with a telescope! And while seeing all of the giant stars and planets in the sky may make all of us feel really small, God loves each and every one of us individually and wants a personal relationship with us. Isn't that amazing!? This VBS is really going to be a blast!
(By the way, you REALLY need to hear the new theme song. It's SO catchy!)

Before we get this party started, make sure you take a look at these two other Galactic Starveyor Posts that I have linked below. One has lots of alternative craft ideas, and the other has some stellar snacks! You just might find exactly what you're looking for! 😉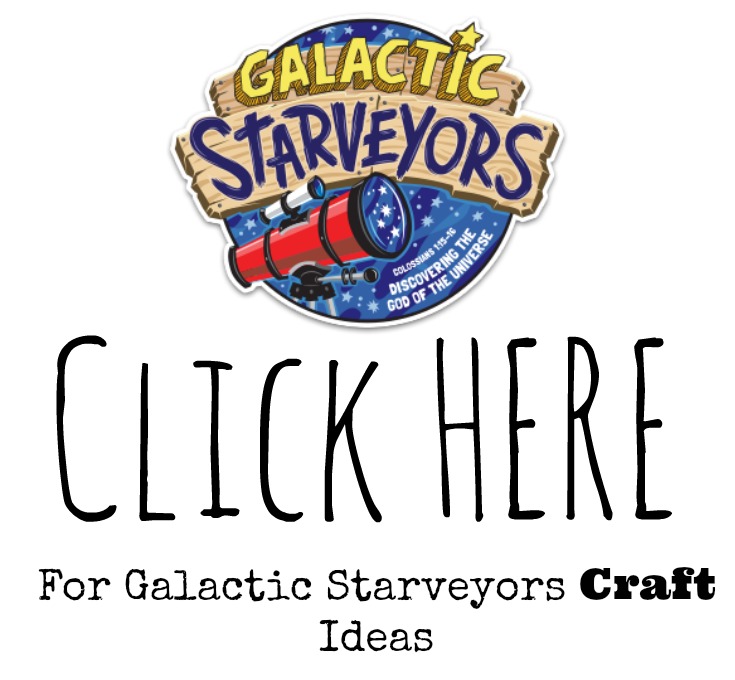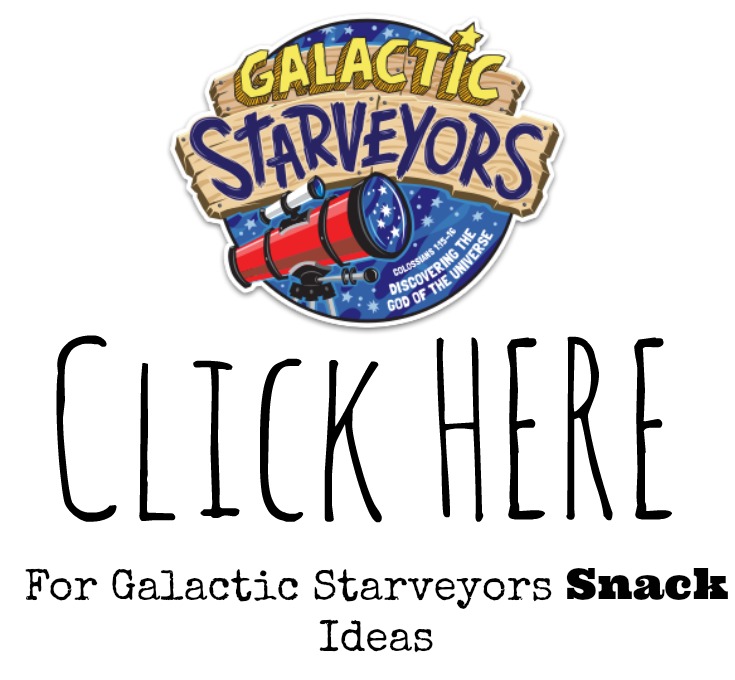 Whether you're an early bird planner or if you're a little late to the game, I've put together a collection of some really fun out-of-this-world party supplies and decor that will pair with the Galactic Starveyors theme perfectly – and it's all available on Amazon! (That means that it's packed up and shipped to your door in just TWO days if you're a Prime member! Can I get an amen?!) 😉
Solar System Whirls – Make the night sky come alive with these fun hanging planets! Talking about the planets and how far away they are, how big they are, and how they're made up can be another fun topic for kids to marvel over as they learn about God the creator!
Moon and Stars Garland – These would make such a pretty backdrop hanging against a wall in a room. I love that they're shiny and metallic so they'll reflect light beautifully. Ask kids if they know the reason that God made the moon. Some of them may have some interesting answers!
Stars Only Garland 8 pack + Confetti – Similar to the previously listed item, these shiny metallic hanging stars will make a beautiful statement in any room! This bonus pack also comes with a package of gold star confetti. Decorate a tablescape with the confetti or make a Galaxy Calm Down Bottle for kids to look at when they come back from recreation or if they're feeling a little too restless!
Constellation Whirls – Incorporating the different constellations for your Starveyors to marvel over could be a really fun point of conversation! These fun hanging whirls spin around from the ceiling and will make your room the STAR of the show! 😉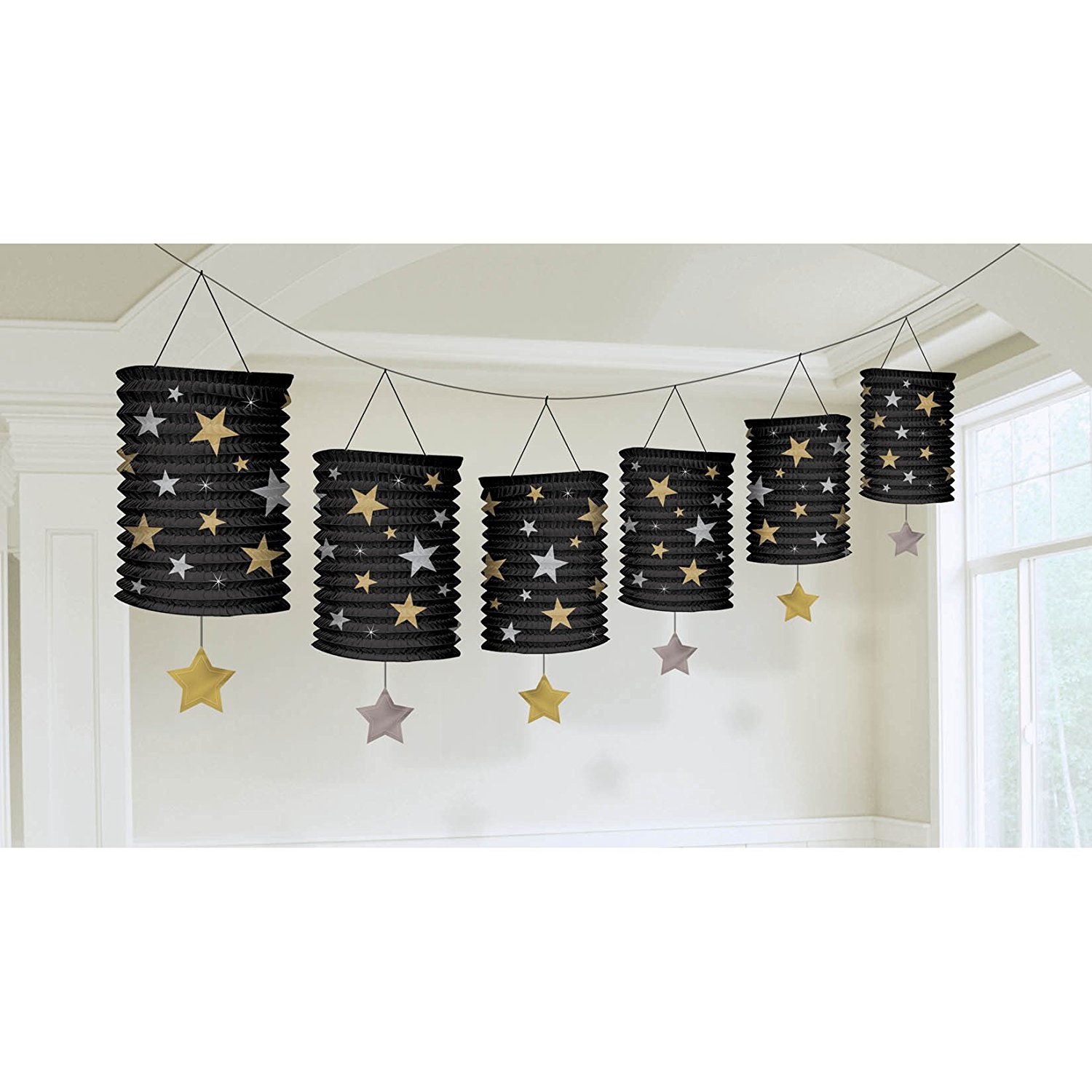 Hanging Star Paper Lanterns – I really love that these paper lanterns are actually black, because they look like the real night sky! These paper lanterns would be so beautiful lining a hallway or as a hanging accent in any classroom!
3D Hanging Glow in the Dark Solar System – These 3D hanging planets are SO cool – not only because they're on the bigger side and are 3D, but because they glow in the dark when the lights go out! Kids always go wild over glow in the dark stuff, and these planets will add an element of wonder to their imaginations!
Sapphire Stars Latex Balloons – What is VBS without balloons?! Balloons are so easy to incorporate into party decor. I absolutely love these star-print balloons because they match so perfectly with the theme! Buy a couple packs and don't forget a helium tank so you can have them filled and ready to go each day of VBS! Send the kids home with one at the end of the night. It'll make their parents so thrilled! 😉
Set of 6 Mylar Balloons – Mylar balloons are also a really fun way to decorate a room! I love this pack of star and moon balloons! They shimmer and shine and are perfect for Starveyors to spot when they're discovering all of the many wonders God has created!
Set of 10 Mylar Stars Only Balloons – If you're looking for JUST stars, this balloon pack is a great option! Again, don't forget to have a disposable helium tank on hand so you can easily fill the balloons each night!
Outer Space Themed Party Balloons – This balloon set is also a fun option if you plan on incorporating things like rockets and satellites into your decor instead of just stars or planets!
Starry Night Room Roll Decoration – Backdrops are a GREAT way to quickly and easily decorate a room or a large space! Transform your room into the night sky with this starry night paper backdrop! You can also create some stellar bulletin boards or use this as a "picture taking" station!
Night Sky Bulletin Board Paper – If you're looking for something that's not so dark, these stars against a blue sky are absolutely gorgeous! Bulletin board paper is so versatile. There are multiple ways you can incorporate it into your galactic theme!
Starry Night Backdrop – Gather the kids around each day and have them take their picture in front of this gorgeous night-sky backdrop!
2 Pack Space Party Tablecloth – Tablecloths are another one of those tools that are so wonderfully versatile! Decorate a table or hang it on the wall as a backdrop! Because they're so lignt, you can even cover the ceiling with them to create an incredible night sky!
Starry Night Table Cover – This tablecloth is absolutely gorgeous! These plastic tablecloths would be beautiful decorating your snack station or craft station, or any room where you'll have some sort of tablescape on display. Hang it on a wall as a backdrop or roll it up and hang it as a banner. There are so many possibilities!
Outer Space Themed Table Cloth – I love these tablecloths because they include the planets, too! Another one of God's amazing creations for kids to imagine!
Outer Space Photo Booth Props – If you'll be hanging a backdrop and/or snapping lots of pictures of the kiddos at VBS this year (I KNOW you will!) these fun little outer space themed photo props are a really fun and unique element to add to the photos!
Glow in the Dark Stars – Did anyone else have these stuck to their bedroom ceiling as a child? These are a really fun and inexpensive way to give any space an out-of-this world feeling!
24 Ct. Stars Luminary Bags – This is a really simple and easy decor idea to light up any room! These would be really cute lining a hallway, wall or stage. Add in a few flame-less LED tea candles and you're set!
Mini Toy Telescope – A starveyor HAS to have a telescope, right?! I love this little toy telescope because it's inexpensive and would make the perfect prop to incorporate into a lesson. At the end of the day, kids can take turns using it to spot all the stars and planets in the room!
LED Star Projector – If you're looking to decorate a room quickly and with minimal stuff hanging from the wall, THIS is your new BFF! Cut the lights out and turn on this star projector and watch the entire room light up with starry-beauty! If the kids aren't too distracted by it, lead one of your lesson in the dark with only the projector turned on. It'll really set the mood for the kids to learn about God the amazing creator!
Silver Stars Confetti – Confetti is always a useful thing to have on hand when decorating! Add a little confetti into your tablescape or use it in a fun craft project! These Galaxy Calm Down Bottles that I mentioned earlier are also a really fun and handy tool to have on hand when your kids get a little too excited.
Solar System Wall Decals – Wall decals are another quick and easy way to decorate a room or a bulletin board. Just peel, stick and enjoy! Wall decals easily peel off of walls when they're finished being used, so these may be a great option for you to use if you're unable to put thumbtacks or nails into a wall.
2 Piece Inflatable Astronaut Set – Don't you just LOVE this inflatable rocket man and spaceship? They're a really fun accessory to add to your decor to make it really out of this world!
Life Size Stand-up Cardboard Rocket – You guys…I am CRAZY about this life size stand up rocket! What a beautiful statement this would make when a kid full of imagination and wonder enters the room! I put together many-a stand-in prop when I worked at a movie theater when I was in college. They're typically very easy to put together and come to live in just minutes!
Inflatable 36″ Glow in the Dark Rocket – I betcha you didn't even know you needed a giant 36 inch inflatable rocket ship until now, did ya! 😉 Inflatables are a cool way to decorate a large space, and this one is especially cool because it can take a dip in the pool with you once VBS is over!
Rocket Ship Play Tent (ONLY $25!) – If you're going to be working with little tiny kiddos for VBS, this pop up tent is a super cute way to add some extra solar-flare to your room! For only $25…you seriously cannot beat it! It'll be a really cute place to take some pictures of everyone, too!
Galaxy Paper Treat Bags – Aren't these treat bags just the cutest?! Send them home with the kids at the end of the week with their papers, crafts, takeaways and any literature that you want them to hold on to!
Galaxy Mini Note Pads –  These little mini note pads are a great item for kids to hold on to during Bible study when you want them to write down the memory verse or scriptures that you study. At the end of the week, send them home in those cute treat bags!

 Outer Space Name Tags – Even though these aren't technically decor, I just had to throw them into this mix. How perfect are these cute little name tags for the VBS theme?! Each roll comes with 100 stickers!
Curtain String Lights – Even though these aren't star shaped, curtain string lights are a really great way to give off a starry effect! Hang them behind a curtain or hang them against a wall to light up a space and give off that starry-effect!
Click below for even MORE fun outer space themed decor for Galactic Starveyors VBS 2017!
Will you be participating in VBS 2017? Are you going to be going on an out-of-this-world journey as a Galactic Starveyor? Leave a comment and let me know when your church's Vacation Bible School will be taking place and if you'll be using any of these fun craft ideas with your kiddos!