Mother's Day is coming up this weekend, and to celebrate my family is taking a little day trip down to the gulf to have a little fun in the sun! Now that I'm in my 3rd trimester, it's not quite as easy to get out and do things like it was just a few months ago. Since I'm in the home stretch of this pregnancy, I knew it was important for my family to get out and have fun together as much as possible before we grow from a family of 3 to a family of 4! Needless to say, I've been up on my feet these last few days making a list (and checking it twice) to make sure we don't forget anything while packing – because a trip to Walmart during a vacation sounds absolutely dreadful to me!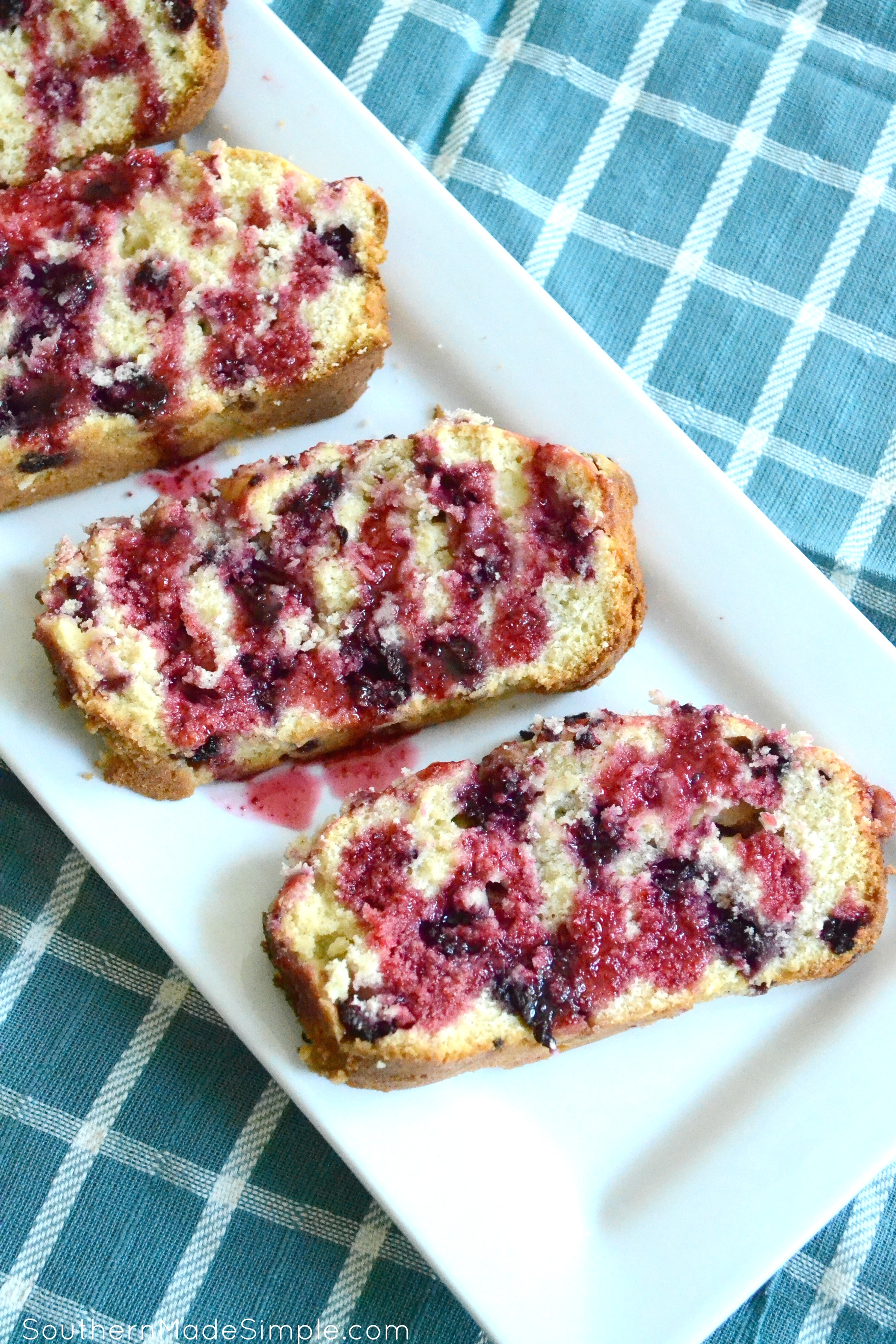 Since we'll be up at the crack of dawn loading up the car, I thought I'd make something special for us all to enjoy together for breakfast on the way down there. Last week you saw my recipe for Glazed Blackberry Donuts and I shared with you how we've been picking bowls full of delicious blackberries from our Grandaddy's farm land right across the road. Earlier this week we went out and picked the very last crop we'll likely get this season, so I wanted to make sure I put the berries to good use!
This recipe for blackberry bread is really simple, and so incredibly good! It's nice and dense, and the berries help keep it perfectly moist with just the perfect amount of tartness! Here's a free printable copy of the recipe if you'd like to give it a try!
Simple Blackberry Bread Recipe
Ingredients
1 1/2

cups

all purpose flour

1

tsp

salt

1

tsp

baking powder

1/4

tsp

cinnamon

1

cup

fresh blackberries

more or less to taste

1

cup

sugar

1/2

cup

heavy whipping cream

5 1/2

Tbs

butter

melted

2

large eggs

2

Tbs

lemon juice

Glaze:

optional

Fresh blackberry juice

strained of all seeds + confectioners sugar (amounts depend on your preference of thickness)
Instructions
Preheat oven to 350 F

In a large bowl, combine flour, salt, baking powder, and cinnamon

In a separate large bowl, combine melted butter, sugar, eggs, heavy whipping cream and lemon juice

Add in blackberries and stir

Spray a standard sized loaf pan thoroughly with non-stick cooking spray and pour batter into pan

Bake for 1 hour 20 minutes, or until a toothpick inserted into the middle comes out clean

Allow to cool for 15 minutes before cutting and serving

Glaze is optional, but recommended! Ice cream is AMAZING served on top as well!
---
I'm pretty sure we'll devour all that's left of this bread during our beach trip, but I made sure to save enough berries so that we can have it again on Mother's Day this Sunday, because I can't think of anything more delicious at the moment! Do you have a crop of blackberries that you're looking to utilize? Give this recipe a try! It can also be baked and then frozen in case you want to pull it out and enjoy later! 😉
IF YOU LIKED THIS RECIPE, CHECK OUT THESE OTHER GREAT BLACKBERRY RECIPES FEATURED RIGHT HERE ON SOUTHERN MADE SIMPLE!
Blackberry Pepper Jelly | Blackberry Lemonade| Blackberry Cream Cheese French Toast Casserole| Bombtastic Blackberry Brownies