This shop has been compensated by Collective Bias, Inc. and its advertiser. All opinions are mine alone. #NoMessWithSuccess #CollectiveBias
Does your summer schedule seem to be filling up a tab bit faster than you'd care for it to? As I sit here overlooking my daily schedule and to-do list, I can't help but feel slightly overwhelmed at all of the activities I've managed to get my family involved in. Truth be told, most of them are really fun and exciting things that we get to participate in, but I'm still scratching my head trying to figure out how in the world we're going to fit in the cooking, eating, cleaning, sleeping, breathing, etc.!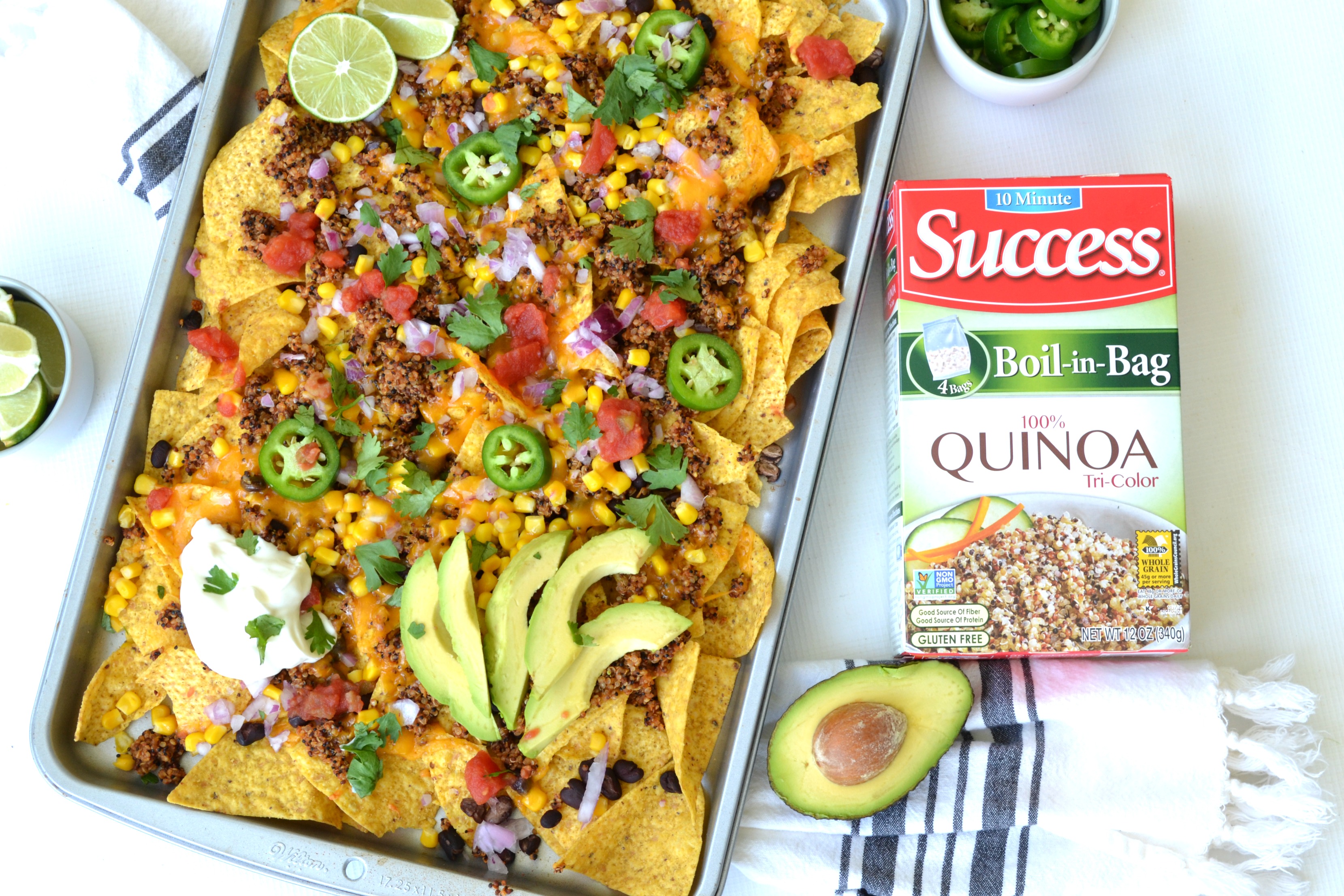 In the midst of a busy summer schedule filled to the brim with activities, I'm still trying my hardest to make it a priority to feed my family good and nutritious meals without spending an hour of my time preparing it in the kitchen. It's so easy to fall into the trap of handing my family quick, convenient and overly processed snacks and foods to consume, but that's certainly not the road I want to go down. Besides, who says serving up something good and nutritious doesn't have to be fast and easy? One of my all-time favorite quick & easy meals to share with my family is sheet-pan nachos, and they come together in about 20 minutes total with a little help from one of my favorite kitchen cooking hacks – Success® Boil-in-Bag Quinoa!
Interested in trying these Success® Boil-in-Bag Rice varieties? Hover over the photo to click through to Walmart.com to purchase!
Over the last decade, quinoa has definitely grown in popularity as people are discovering the numerous health benefits of this ancient grain. Much like rice, it's a very versatile ingredient to use in recipes, and because it's an amazing source of protein, I used it as a substitute for ground beef in these Quinoa Sheet Pan Nachos!
Before I discovered Success® Boil-in-Bag Quinoa, I was always a bit intimidated by preparing quinoa. It seemed like it wasn't as easy to do as rice, and I didn't love the idea of adding extra steps to my weeknight meal prep. Luckily, Success is in the bag®! With Success® Boil-in-Bag Quinoa, there's no measure and no mess!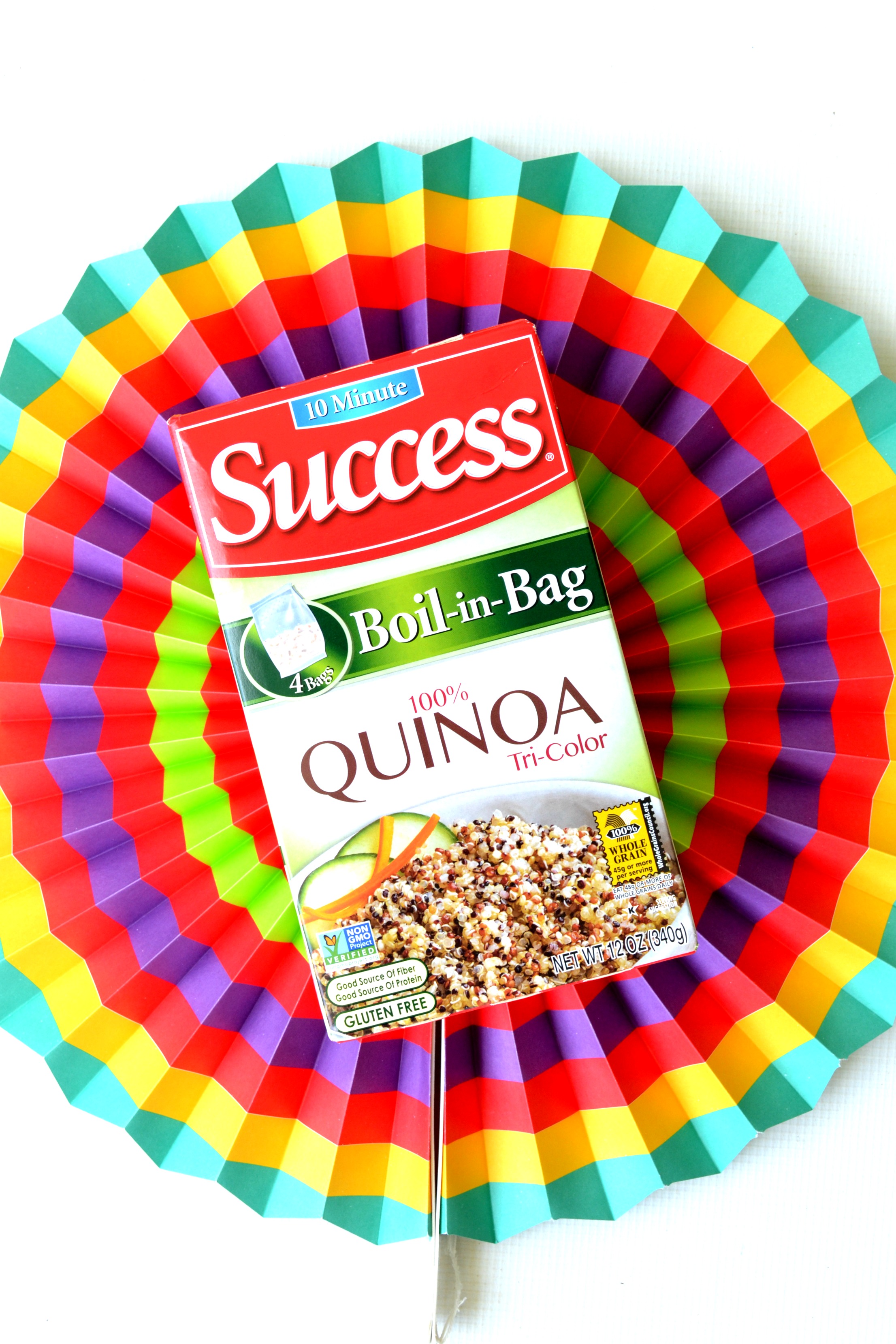 During my weekly shopping trip to Walmart, I stocked up on Success® Boil-in-Bag Quinoa and a few other fresh ingredients to use as toppings for our sheet pan nachos. You can find the quinoa along with Success® Boil-in-Bag White Rice and Jasmine Rice near the boxed dinners in the rice & beans section! (Scroll down to the bottom for an Ibotta offer you don't want to miss!)
I love sheet pan nachos because there's really no wrong way to do them. They're easy to customize however you please, and all you have to do is spread a few chips out on a pan and load with your favorite toppings! Preparing the quinoa was super easy. Success® Boil-in-Bag Quinoa comes in a convenient BPA-free boil-in-bag that can be prepared easily on the stove or in the microwave. I love it because it produces perfectly cooked and high quality quinoa every time, and it's a fantastic shortcut to creating amazing meals for my family to enjoy!

After spreading out a bag of tortilla chips onto a baking sheet, I topped with prepared quinoa (I added a smidge of taco seasoning to the quinoa to give it a taco-meat kind of feel) and topped with a handful of black beans, corn, diced red onion and shredded cheese. I popped them in the oven until the cheese was good and melted, then removed and topped with a few of my other favorite nacho toppings. And in less than 20 minutes from start to finish, I had a crazy easy and super delicious meal to share with my family! Bonus: I did it all with 10 ingredients or less!
You can also easily substitute the quinoa with Success® Boil-in-Bag White Rice or Jasmine Rice if you prefer! Here's a breakdown of the recipe if you'd like to give it a try!
Sheet Pan Quinoa Nachos
Ingredients
1

package

Success® Boil-in-Bag Quinoa

1

Tbs

taco seasoning

1

package

tortilla chips

1

cup

shredded cheese

1

tomato

small - diced

1

cup

canned corn

drained

1

cup

canned black beans

drained and rinsed

1/2

red onion

finely diced

1

small handful fresh cilantro

shredded

Additional toppings such as jalapenos

avocado and sour cream if desired
Instructions
Cook Success® Boil-in-Bag Quinoa according to package instructions

Preheat oven to 400 F

Lightly spray large baking sheet with non-stick cooking spray

Once quinoa is cooked, remove from water and transfer to a pot. Add 1 Tbs taco seasoning + 2 Tbs water and stir. Sample the quinoa to see if more seasoning is desired

Pour quinoa over tortilla chips, followed by corn, black beans, onions and cheese

Bake for 5-6 minutes, or until cheese is melted

Remove from oven and add remaining toppings and serve immediately

Enjoy!
---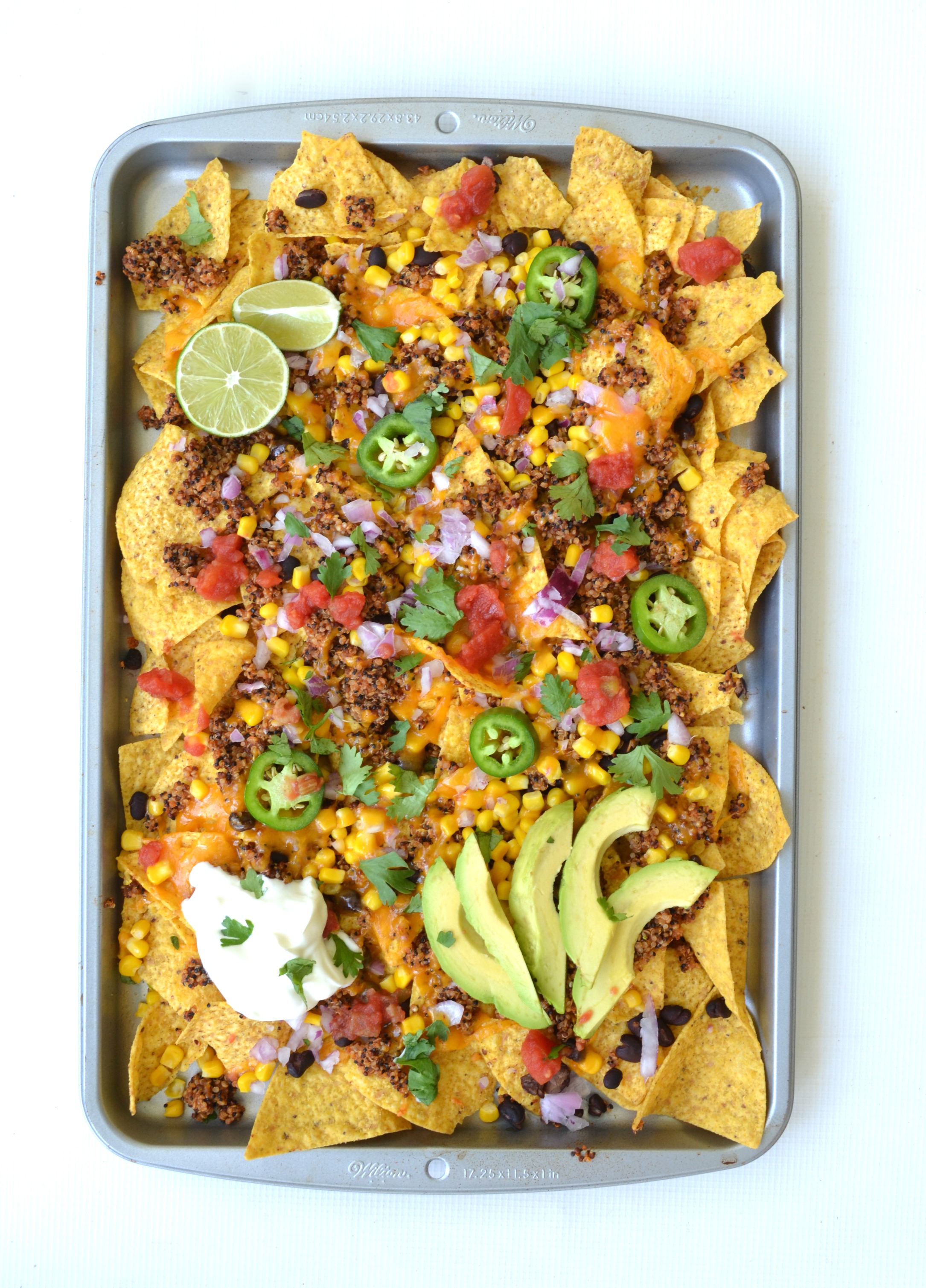 Save on Success® Boil-in-Bag Rice NOW with Ibotta:
Until 8/4, you can save on Success® Boil-in-Bag Rice or Quinoa using the Ibotta offer below!
Click HERE to save with Ibotta!
Are you on the hunt for quick and easy meals to share with your family that don't include overly processed ingredients? Are you a fan of using quinoa in your recipes? Next time you're at Walmart, take a stroll down the rice aisle and pick up a box of Success® Boil-in-Bag Quinoa and give these quick and easy Sheet Pan Quinoa Nachos a try! Don't forget to use the Ibotta offer to save a little money while you're at it!