Affiliate links are included throughout this post at absolutely no cost to you. Your purchases will in turn earn me a small commission to help keep Southern Made Simple up and running so I can continue to share my favorite farmhouse finds with you!
Even though I've always been a stickler for not decorating my home for Christmas until Thanksgiving dinner is good and digested, I know SO many folks out there are already making big plans for this holiday season, and I'd be lying if I said I haven't perused the Christmas decor aisles at Hobby Lobby a time or two (or three) to help me start getting into the spirit and to put a little jingle in my step!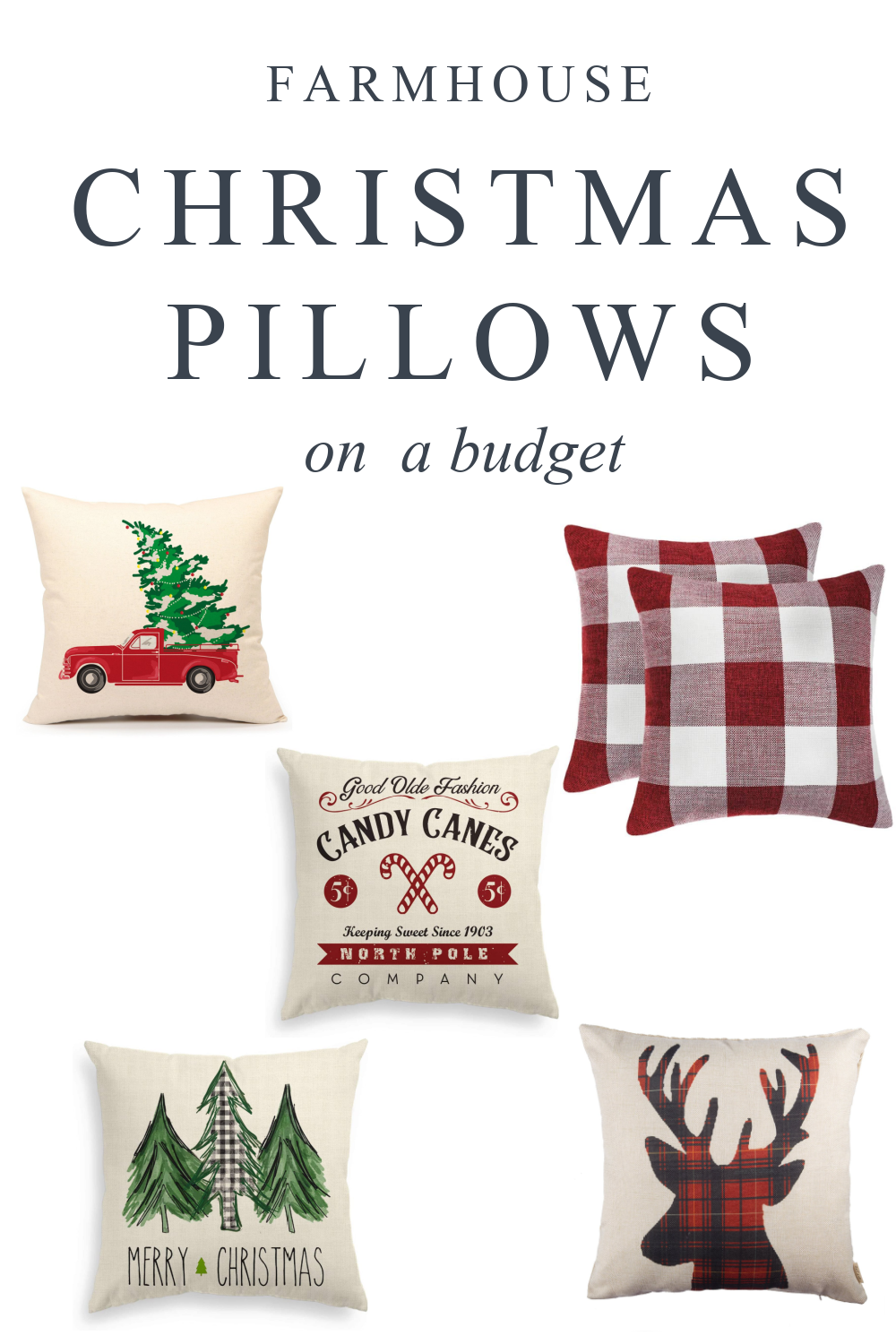 Everywhere you turn, there are already signs pointing to Christmas 2020, and once again, it seems like throw pillows are one of the most popular (and totally easy) ways to add a pop of holiday cheer to your decor! I'm crazy about this trend, because all you do is swap out the cover on your pillow inserts for whatever season you want to decorate for, and BAM – you home is decorated for the holidays! 😉
I recently did a few roundups of my favorite fall pillow covers, and they were a pretty big hit with you all! I did a little searching on Amazon.com for some fun and festive Christmas pillow covers and absolutely loved what I saw, so I figured I'd go ahead and put this post together for you all to help you get ahead on your decorating! Here's a few of my faves:
Reindeer Grains Feed Sack Pillow Cover
Watercolor Christmas Trees Pillow Cover
Embroidered Snowflake Christmas Pillow Cover
Farm Fresh Christmas Trees in Buffalo Plaid Pillow Cover
Christmas Tree Red Car Pillow Cover
Merry Christmas Gnomies Pillow Cover
Candy Cane Advertisement Cover
Joy Christmas Wreath Pillow Cover
Set of 2 Red Plaid Pillow Covers
Merry Christmas, Y'all Pillow Cover
Joy Love Peace Christmas Pillow Cover
Buffalo Plaid Truck Happy Holidays Pillow Cover
Christmas Tree in Old Truck Pillow Cover
Farm Fresh Christmas Trees Chalkboard Pillow Cover
Buffalo Plaid Christmas and New Year Pillow Cover Set
Don't forget to order the pillow inserts if you're ordering covers only! 
And if you're on the hunt for some fabulous farmhouse decor to give as a Christmas gift this season, I've got the hookup for you right here! You can browse my favorite farmhouse finds broken down into multiple categories by clicking on each image below!
And if you like to stay ahead of the game and do a little shopping for the seasons to come, I've got several other Farmhouse-inspired pillow cover posts to help you kick start next year's festivities!
Farmhouse Throw Pillow Finds | Fall Farmhouse Throw Pillows | Halloween Throw Pillows | Thanksgiving Throw Pillow Covers
How are you gearing up for Christmas 2017? What are some of your favorite holiday home decor trends that you've seen this season? Leave a comment below and share the love!