As much as I love to talk about good ol' southern cuisine, sometimes I like to get really southern with my cooking.
Southern as in, south-of-the-border southern! I LOVE trying different foods from Hispanic cultures. There are so many delicious herbs and spices that are native to South America that can really flavor a dish in a fabulous way. Plus, if it has "spicy" in the name, my family will love it. Bring on the heat, y'all!
One ingredient that I've been gradually incorporating into our diet over the past few years is quinoa.
(Pronounced "keen-wah").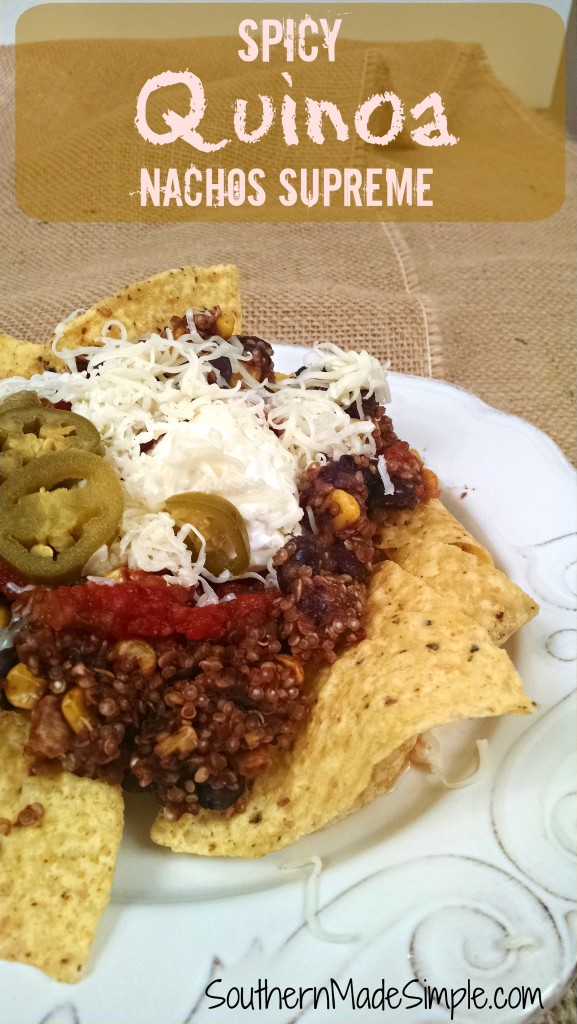 If you're not cooking with quinoa, you really should be! Never heard of this keen-who stuff?  Allow me fill you in a little:
Quinoa is native to Bolivia and Peru, South America, but is grown in many regions of South and now North America.
Quinoa is actually a seed, but is cooked and eaten just like a grain.
It's LOADED with awesome nutrients and is thought to be a super food. It's:

High in Fiber

Quinoa (uncooked) has been found to contain roughly 17-27 grams of fiber per cup. Boiling it does cut down on the fiber a bit, but it's still a great fiber option!

Packed with Protein

Our body requires protein to function. Protein is built up of amino acids. There are several amino acids that our body must get, but we do not produce naturally. This means that we must obtain them from the foods that we eat. Quinoa is thought to be a "super food" because it contains ALL of the essential amino acids that we need. There aren't many foods that can say that!

Low Glycemic Index

Quinoa is a great food choice for those that monitor their blood sugar. It has a glycemic index of just 53, which is pretty low. Eating foods on the higher end of the glycemic index are known to stimulate hunger, and that can lead to overeating and obesity.

Gluten Free

Gluten intolerance is pretty common. Since quinoa is a seed and not a grain, it's a great substitution for those starch and bread cravings.
If all of that isn't convincing enough to give quinoa a try, then maybe this recipe is! My husband and I love nachos. The more stuff you can pack into nachos, the better it gets in my opinion! We're all about eating meat in this family, but this recipe is actually meatless. And you know what, y'all? I didn't even miss the meat. Not at all. Neither did my husband who likes to have meat at every meal. That's really saying something! The quinoa has enough protein to replace the meat anyway, but it gives it an all around flavor that just doesn't need any meaty assistance. I think adding some shredded chicken would be nice in it, but you're gonna love it without it. Trust me!
Here's what you'll need to make this dish:
Ingredients:
1 cup uncooked quinoa, rinsed
1 cup chicken broth
1 can corn
1 can black beans (or your favorite beans)
1 15oz can diced tomatoes
2 cloves of garlic, minced
1 tsp chili powder
1/2 tsp cumin
Handful of jalapenos (fresh is even better – diced and cooked)
Add a splash of jalapeno juice for some extra heat! (optional)
Tortilla chips
Guacamole, shredded cheese, sour cream, a splash of lime juice and fresh cilantro make GREAT toppings, but of course are optional
Directions:
In a large and deep skillet, stir quinoa, chicken broth, corn, beans, tomatoes, jalapenos, garlic and seasonings together.
Bring to a boil and cover. Reduce the heat and allow to simmer until the quinoa is cooked. (Roughly 20 minutes) Stir occasionally to prevent any sticking.
Serve over tortilla chips with your favorite topings
Enjoy!
I absolutely love this dish because it's quick, easy, contains a healthy rock star super food, and only dirties one pan! You can't lose with this one, y'all. If you give this recipe a try, I'd love to hear how you liked it! What toppings do you like to put on top of your nachos, or what are some other ways you like to eat quinoa? Leave a comment below! 😀