This shop has been compensated by Inmar Intelligence and its advertiser. All opinions are mine alone. #TogetherWithRedDiamond
As I curl up in a blanket on my couch and pause for a moment to begin planning our holiday meals for my family, I can't help but be swept away with an overwhelming sense of gratitude. Sure, our time with our extended family has been put on pause, and our traditional large meals gathered around the dinner table during the holidays will look a little different for now, but changing my perspective to focus on the positives of this year instead of the negatives has really helped me draw from a place of gratitude for the things that I have rather than sadness over the things I cannot have.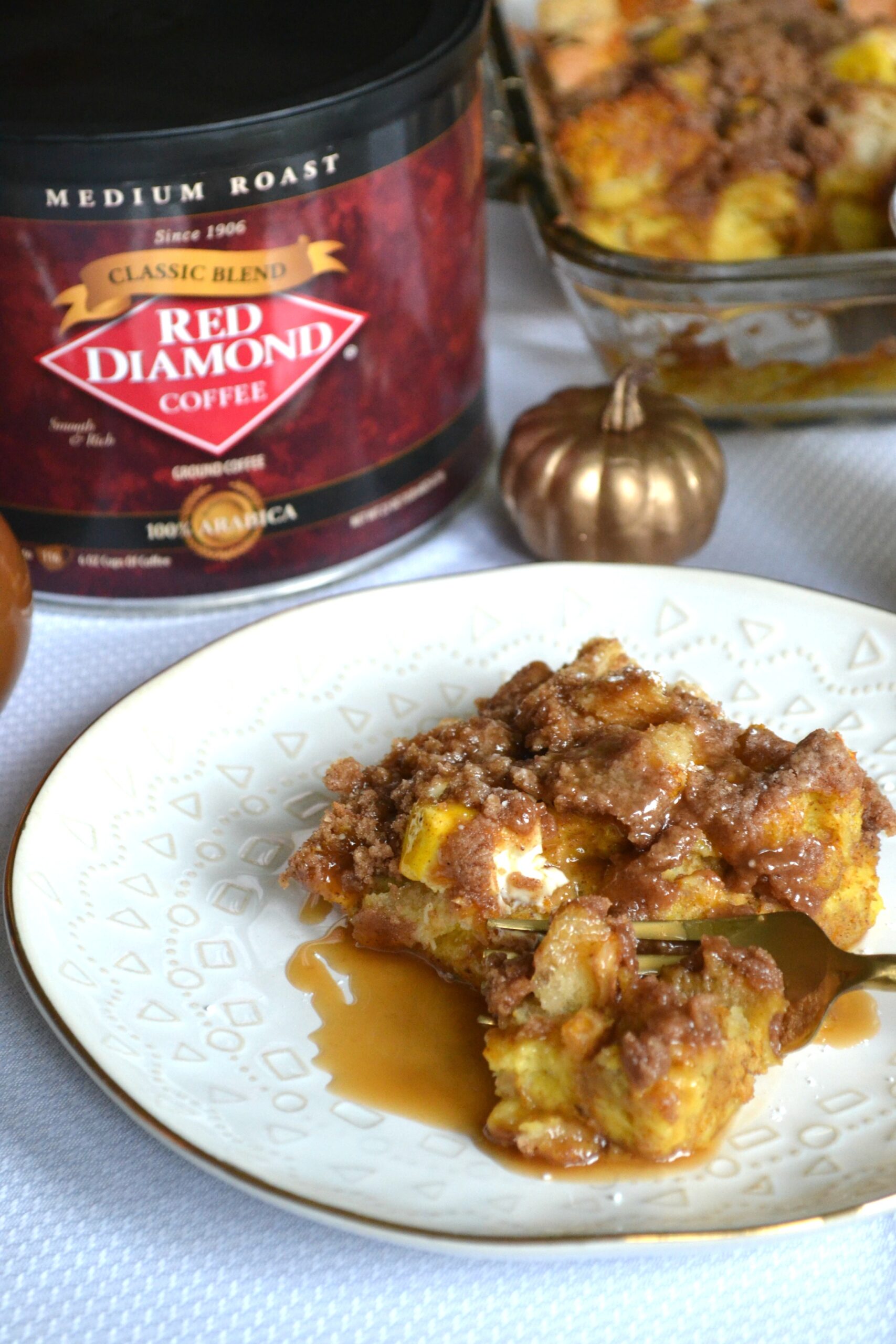 One positive is that even though I won't be fixing meals for a larger number of people, I am still able to fix some of my all-time favorite seasonal meals for my immediate family this season, and nothing makes us all feel the goodness of fall quite like my Pumpkin Cream Cheese French Toast Bake with Salted Caramel Coffee Sauce. I've always been big on making breakfast time extra special during the holiday season, and there is nothing better than having a warm slice of this French toast goodness with a hot cup of coffee in hand.
And speaking of coffee, the star ingredient of this French toast bake is a salted caramel coffee sauce to pour over each slice in place of traditional syrup. The caramel has just enough hint of coffee flavor in it to make any coffee lover smile, and swirling a bit of it into my cup takes my morning coffee time to a whole new level.
Hover over the image above to find Red Diamond® Coffee products at a store near you!
My husband and I love to enjoy a morning cup of coffee together each day, and I always keep my coffee bar stocked during the holiday season so any guests or family members can help themselves to a fresh pot while they're here. Lately I've been brewing Red Diamond® Classic Blend Ground Coffee, and each sip has been just like a warm and much needed hug from an old friend.
As a native Alabamian, it always makes my heart happy to support businesses that are here in my own state. Red Diamond Coffee is roasted right here in Alabama, and it's made from the highest quality 100% Arabica coffee. Only the best high-grown coffee beans are used, and they're all handpicked and roasted in the world's finest Scolari Roasters. The fresh and warm flavors are something I can truly appreciate during this season, and this coffee makes for a perfect pairing with a plate of this French toast bake!

Making this Pumpkin Cream Cheese French Toast Bake is very simple and straightforward. This dish feeds our family of 4 with plenty of leftovers, so if you're visiting with a few extended family members this season, this bake is perfect for feeding several people. To get started, you'll want to use day-old bread or a loaf of French or Italian bread cut into cubes and toasted at 300°F for 15 minutes, or until firm.
Next, cube a brick of cream cheese into small pieces and toss them in with the bread crumbs into a 9×13 casserole dish. In a large bowl, whisk together eggs, 1 can of pumpkin puree, sugar, milk, vanilla, cinnamon and nutmeg and pour over the bead cubes. For the very best results, I like to let the mixture rest in the refrigerator for a few hours before baking, but if you're in more of a hurry you can go ahead and pop it in the oven at this point.
While the casserole is baking, go ahead and combine all of the listed ingredients for the crumble topping. Once the casserole has baked for 20 minutes, add the crumble mixture on top and bake for another 25 minutes. The casserole will make your entire house smell absolutely wonderful, and sinking your teeth into a warm and gooey slice of this French toast bake will make you wish the autumn season could stick around all year long!
But the very best part of the dish is the icing on the cake – or should I say the caramel on the casserole! The salted caramel coffee sauce is absolutely sensational, and using Red Diamond Coffee inside the caramel sauce gives it an extra special touch. I love that Red Diamond is real coffee – handpicked from the world's finest fields and crafted without compromise. Perfect's not easy, but honestly this coffee makes perfection seem effortless! I always pick up my Red Diamond Coffee at my local Publix, but you can check this store locator to see where Red Diamond Coffee is sold near you!
Once the Pumpkin Cream Cheese French Toast Bake is out of the oven, drizzle the homemade salted caramel coffee sauce on top, and don't forget to add a smidge into your coffee, too!
Here's a free printable copy of the recipe if you'd like to give it a try:
Pumpkin Cream Cheese French Toast Bake with Salted Caramel Coffee Sauce
Ingredients
For French Toast:
1

loaf

Italian or French bread

cubed and toasted at 300 F for 15 minutes

1

8 oz

plain cream cheese

cubed into small pieces

8

eggs

1

cup

milk

1

15 oz can

pumpkin puree

1/2

cup

white sugar

1

tsp

cinnamon

1/2

tsp

nutmeg

1

tsp

vanilla
For Topping:
1/2

cup

brown sugar

1/2

cup

all purpose flour

1

stick

salted butter

cold and cubed

1

tsp

cinnamon

1/2

tsp

nutmeg
For Caramel Sauce:
1

cup

sugar

2

Tbs

Red Diamond Classic Blend Ground Coffee

3/4

cup

water

5

Tbs

butter

cubed

3/4

cup

heavy whipping cream

1/4

tsp

vanilla

1/4

tsp

sea salt
Instructions
For French Toast Bake:
Cube loaf bread into small pieces and toast in over at 300 F for 15 minutes

Remove from oven and place in a greased 9x13 casserole dish

In a large mixing bowl, combine eggs, milk, pumpkin puree, white sugar, cinnamon, nutmeg and vanilla

Cube cold cream cheese and sprinkle amongst bread cubes

Pour egg mixture over the bread. For best results, allow bread mixture to set in refrigerator for a few hours before baking. However, baking at this point will be fine as well.

Bake for 20 minutes, then add topping (below) and bake for an additional 25 minutes.
For the topping:
While french toast is baking, combine all topping ingredients into a large bowl.

Using a hand or stand mixer, combine all ingredients until a crumbly mixture forms

Sprinkle on top of french toast bake and bake for an additional 25 minutes.

Serve with Salted Caramel Coffee Sauce and enjoy!
For Caramel Sauce:
Line a coffee cup with a doubled coffee filter. Pour 2 Tbs of Red Diamond Classic Blend Ground Coffee into the filter.

Heat 3/4 cup water in saucepan on stove to boiling. Remove only 1/4 cup of water and pour over coffee grounds. Allow to steep for a few minutes until cooled down slightly.

While the coffee grounds are cooling, whisk sugar into remaining water and bring to a rapid boil. Cover and boil for about 6-8 minutes, or until the sugar and water begin to turn an amber brown color.

While the sugar mixture is simmering, remove coffee filter and grounds from coffee mug and gently squeeze the grounds to get any excess liquid out. Discard grounds and filter.

Very gently add cubed butter into the boiling sugar mixture, making sure not to splatter the mixture onto your hands. Whisk vigorously as the mixture will begin to bubble quickly.

Then slowly add in the heavy cream and whisk until foaming mostly subsides.

Add in vanilla, coffee and sea salt.

Bring mixture back to a boil to thicken, then remove from heat and allow to cool before serving.
---
I'll be passing this recipe along to my out-of-town relatives that we will not be able to gather with this year. While we'll be missing them in person, it warms my heart to know that they'll have a belly full of goodness to keep the smiles going!
This fall family-favorite really has a way of bringing us all together, even if we do have to be a little bit farther apart for right now. Brewing a fresh pot of Red Diamond Coffee to pair with it makes this holiday season feel extra nice, and I can't wait to share a cup with my family this holiday season, even if it is through a computer screen!
If you're getting a head start on your holiday menu planning like me, be sure to print out a copy of this Pumpkin Cream Cheese French Toast Bake with Salted Caramel Coffee Sauce recipe and grab all of the ingredients needed to make it. And while you're at it, make sure you pick up a canister of Red Diamond Coffee to go with it!