This post was sponsored by SwimWays as part of an Ambassador Program for Influence Central and all opinions expressed in my post are my own.
I don't know what it is about a hotel swimming pool, but it seems that most children get overwhelmingly excited at the mere sight of one. We're currently on vacation during the long Memorial Day weekend, and our car is loaded down with all of the essentials needed to make our trip down to the gulf a great one! Before we stepped foot on the beach, we made a pit stop at the place we're staying at to drop a few things off. All it took was one look at the facility's swimming pool and our daughter quickly pulled her SwimWays Paw Patrol Swim Trainer out of the pile we unloaded and had us strap her in it so she could dive right in!
As I've mentioned before, she's always been a water lover. She's become quite brave when it comes to the water since last summer, and we're looking forward to starting our official swimming lessons in June. During our pool time, her Dad and I have been teaching her a few different swimming techniques to try to help her swim more confidently, and we've been thrilled with how the SwimWays Paw Patrol Swim Trainer Jacket has helped build her confidence.
When it comes to swimming pool safety, we trust SwimWays because they're an industry leader in helping children learn to swim and promoting water safety. This particular trainer is a U.S.Coast Guard-approved personal flotation device for kids (weighing between 30-50 lbs) and it is Step 2 in the SwimWays Swim Steps guide.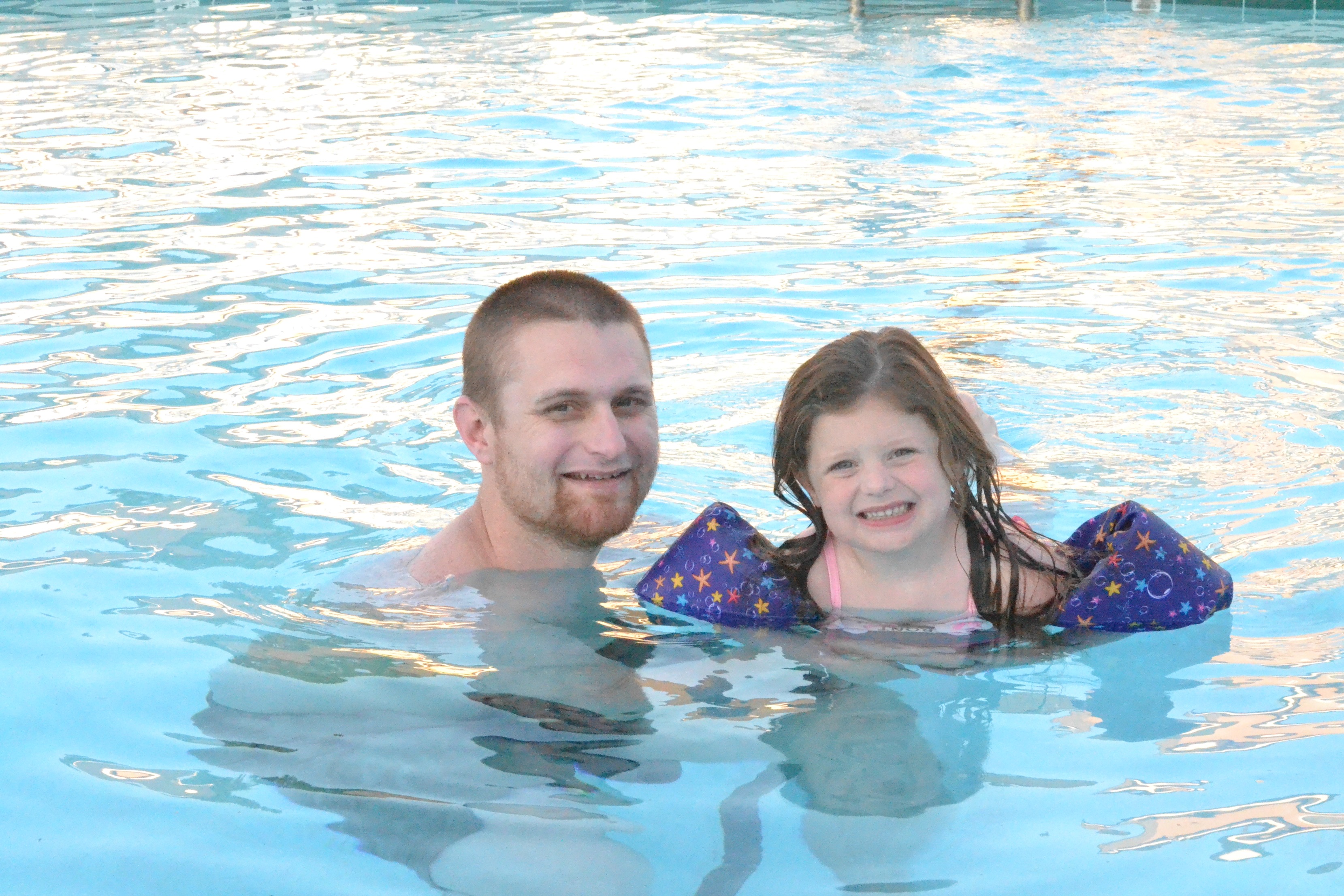 The SwimWays Paw Patrol Swim Trainer slips over the arms and fastens in the back, creating permanent flotation around the chest and arms to provide greater mobility in the water. Having the flotation panel in the front allows my daughter to lean forward and extend her feet behind her much easier, and she has her arms free to be able to make simple strokes to propel her body forward in the water. I also love that the buckle feature is located in the back so that she can't easily access it to take it off herself. This gives me such peace of mind!
I have absolutely loved watching her splash around this weekend in the swimming pool and at the beach, and I love watching moments just like this one with her Dad. She giggles and squeals with joy when her Dad plays with her in the pool, and she's learned that jumping in the pool and making really big splashes isn't so scary after all!
The SwimWays Paw Patrol Swim Trainer is available at Target and comes in two different styles featuring 3-D graphics of popular Paw Patrol Characters. We fell in love with the pink Skye trainer, but you can also find everyone's favorite police pup, Chase, in blue! The SwimWays Swim Trainer has proven to be our #1 kids item to pack for our summer vacation as it's provided more adventure, laughs and peace of mind along the way. If you plan on making waves in the pool with your little ones this summer, make sure you swing by Target and snag a SwimWays Paw Patrol Swim Trainer so your kiddos can have safer swim time in the water!