Southern Made Simple is a part of several affiliate advertising programs. Affiliate links are included throughout this post. Although I participate in these programs and have sponsored content, all opinions are my own.
Alright you guys. I'm going to let you in on a little bit of news here. In case you did not know, Mother's Day is exactly one month from today. Only 30 more days to get her a thoughtful gift that she deserves.  No body panic! Everybody remain calm! I've got you covered. 
I've compiled a list of what I think are some pretty amazing gift ideas for the Mom in your life. These picks are geared more towards moms that works from home, but frankly these gifts would rock for any mom. Don't put off getting her something for Mother's Day until the very last minute. Honestly, that's not very thoughtful. Not trying to make anyone feel guilty…I'm just saying. 🙂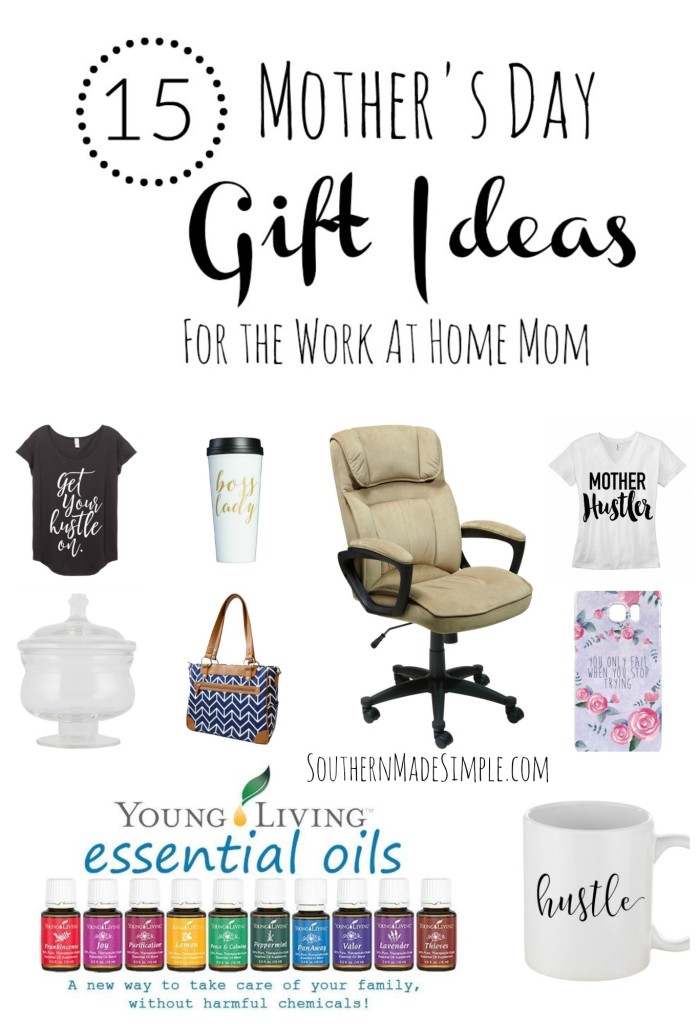 Allow me to help you out. Here's my top 15 Mother's Day Gift Ideas for the Work At Home Mom:
Rock Her Wardrobe

These amazing tees from Sweetees would make a fabulous Mother's Day gift for the busy working mom! You can find more info on each tee + find other amazing items for the whole family by clicking the images below. You can even snag a 10% off discount just for liking them on IG and FB! Just click the "get discount" button on their website.


Personalized Desk Plate

Does she have her very own office space in the home? If so, help her make it truly a place of her own with a personalized desk plate. I really love to look of this one from Garo Signs. They have several other great designs and products, so be sure to give them a look!


Laptop Case

Plan plan plan

I am seriously DROOLING over the gorgeous life planners from Erin Condren. As a blogger, I always have my calendar open and am scheduling things daily. If the mother in your life is doing the same, why not make sure she has something really pretty to look at? While you're at it, check out the fabulous organizational stickers from The Paperly Bowtique! Talk about gorgeous!


Phone Case

Chances are, if the Mom in your life is often busy with work related projects, she likely does a good bit of it from her phone. Make sure she has something nice to outfit her phone with! If she likes monograms, check out these gorgeous monogrammed phone cases on Amazon! I also really love the selection from Skinit.com! If she owns her own business, you can create a custom case with her brand or logo on it!


Working at home may mean spending a good bit of time sitting down in front of a computer screen or at a desk. Make sure she is sitting on ergonomic and high quality. A new office chair may be just the thing she wants! I've picked out a few below that I really like!


Candy Dish + Candy

Leave a sweet little "pick me up" on her desk with her very own candy dish! I really love the look of this simple apothecary candy jar. If you'd like for her to be able to add a personalized touch to it, go ahead and pick up a few of these super cute chalk board labels! Don't forget to include her favorite candy! 😉


But First, Coffee

Normally I would suggest not getting Mom a coffee cup because it kind of seems like a normal go-to thing to get someone. However, it's a really really good idea to pick her out a coffee cup if it's as cute as these! Sweet Water Decor on Etsy has some fabulous cups and mugs that would be perfect for the #momboss in your life!


Essential Oil Starter Kit

Were you thinking about getting Mom a candle this year? That's sweet. But why don't you get her something she really wants? You know, a gift that keeps on giving? I recommend a Premium Starter Kit from Young Living. Not so familiar with oils? I know just the place to learn more about them!

Personalized Portfolio Notebook

If her work at home sometimes finds her traveling outside of her normal office, make sure she's carrying around something pretty and professional, such as these gorgeous faux leather portfolios and notebooks from LazerDesigns! You can personalize them with her name, her business name, her favorite quote, or whatever you think she'd like! As a blogger, I am constantly jotting ideas and things down, so I think having a nice place to collect those thoughts would make for a wonderful gift!


Office Supply Subscription Box

Since I am working from home, I am going through a lot more office supplies than I ever have before. I always want to make sure I have cute supplies since it's something I look at all day. How fun would it be for Mom to have cute office supplies delivered to her door each month? There are quite a few different office supply subscription box companies out there! I have personally never used one, but I really love the idea. I think it would make a fantastic gift!


Motivational Art

Cute Hair Ties

No matter where you may be, sometimes you just need to pull your hair up to really get things done. My hair typically winds up in a messy bun by the end of the day (because my 10 month old LOVES to pull it), so I love to have a cute hair tie to wear in my hair and/or on my wrist. I really love these personalized ones from Cherry Tree Lane Designs!


Beauty Box Subscription

Does she like makeup or skincare products? I love them, but I NEVER splurge and buy them for myself! (Sad, I know.) That's why I think the concept of beauty box subscriptions is so appealing. For less than $15 a month, you can get a box of fun cosmetic products delivered to you. The items are selected for you, so it's a really fun way to get to try things you may have normally never picked out for yourself. I have friends that use Ipsy and LOVE it, but there are several other subscription boxes to check out! (I've got my eye on it, too!). Prices start at just $10 a month – so this is a super fun and affordable gift option for sure!


You may find yourself wanting to stray away from getting Mom a gift card because you want to give her something a little more personable, and that's totally find! However, if you do decide to give her a gift card, consider getting one to her favorite restaurant. If anyone deserves to not have to worry about cooking supper during her already busy day, it's Mom! Let someone else prepare a meal for her. I have a feeling that she'd really appreciate that!

Although these gift ideas were targeted towards Moms that may work from home, I really think that they'd be applicable to all Moms! Do you have any other fun gift ideas for the Mom in your life? I'd love for you to share them in a comment below!