I received products in exchange for my honest review. However, all opinions expressed here are completely my own. Affiliate links may be included throughout this post. I only promote what I truly love! I hope you find these Easter Basket Fillers for Girls Ages 4-6 helpful as we approach the Easter season!
As things have taken a drastic change in our society over the last few weeks, my husband and I have found that one of the greatest things we can do for our children is to choose to focus on and celebrate the positive things in our life, along with the things that remain constant and unchanged. While it's hard to explain to an almost 5 year old why their t-ball games, school and church services are cancelled and why she can't see any of her friends or family, we rejoice in knowing that our very favorite day of the year – Easter Sunday – is not cancelled. Sure, the things we do may look a little different this year, but there are many things that we get to do from home to celebrate the occasion in a really fun way!
Growing up, my mother always went over the top when she prepared our Easter baskets. We could always count on running downstairs to find our own basket overflowing with toys and candies to dig into before our annual Easter egg hunt. Those times are positive childhood memories that I cling to, and it's one of my greatest joys to be able to recreate those moments with my own two girls. While we won't be able to physically attend church services or see our extended family, everything else about our Easter Sunday will remain the same, and it will certainly be one to remember!
I've put together a little guide featuring the things I'm including in my oldest daughter's Easter basket this year, plus a few fun things we already have that would make excellent additions to any little girl's basket! Everything you see here can be found on Amazon, so no need to shop the aisles of a physical store during the quarantine. Safety first!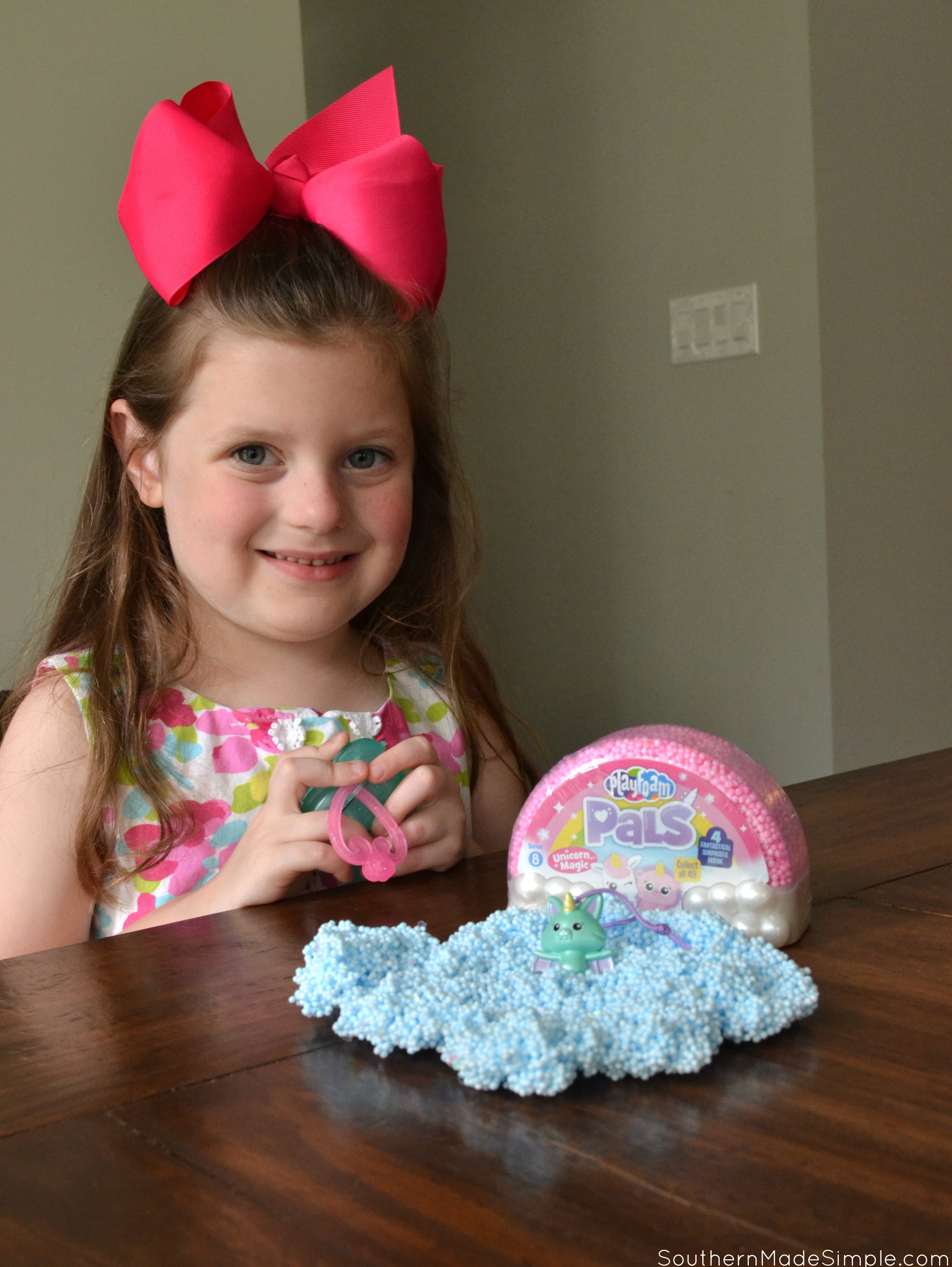 1. Playfoam Pals by Educational Insights – My daughter absolutely loves things that squish between her fingers, and Playfoam is our #1 favorite brand because it's mess free and doesn't dry out like traditional modeling clay or slime. The Playfoam Pals feature a unicorn themed surprise in each package, plus a heart shaped locket to keep the surprise animal in. They come in a pack of two and are the perfect size to stick inside a basket! Taralynn was absolutely giddy to receive the bat unicorn, and she plays with it daily. I love incorporating it into our home school lessons and encourage her to build new shapes and structures with it.
2. Coding Critters Bopper, Hip & Hop by Learning Resources – I've always believed that the very best toys you can buy are the ones where the child is swept away into a world of imaginative play, and they're not even aware that as they're playing, they're learning and growing their brain, too. Learning to code allows children to program sequences for their toys to respond to, and this particular set features a fun little bunny who loves to slide, pull a wagon and other fun activities! While we're utilizing more screen time than normal during the quarantine, it's refreshing to have interactive toys that offer a screen-free playtime experience. Taralynn also plays with this set daily, and her coding skills have gotten quite impressive!
3. BuddyPhones Guardian – One brand that we absolutely love in this household is BuddyPhones. Back at Christmastime I shared a post here featuring the BuddyPhones Wave Headphones, which we also use daily during her independent screen time or if she opts to watch a movie on her tablet. The BuddyPhones Guardian ear muffs are noise reducing and quiet loud noises by 26 decibels to shield a child's sensitive ears. While we are now not around many situations where our daughter is around loud noises, we have them on deck for when we're able to break free from quarentine and enjoy fireworks, our local race track and sporting events. We're able to enjoy them now while Daddy is home and working in his shop, so Taralynn can be right where the action is even if Daddy is using loud saws, compressors or things of that nature outside. Ears are worth protecting, and I can't recommend these highly enough!
4. Stuffed Bunny – This age range for girls is a prime time for them loving on their stuffed animals. Our stuffed animal collection is constantly growing, and Taralynn loves to line her animals up and pretend to play school with them. This particular bunny from Melissa and Doug is beautiful, and would be a perfect addition to a little girl's Easter basket!
5. Hair Bows –  We've always been BIG hair bow fans, and my daughter has rocked one nearly every day since she was born. Right now, all of her friends at school have started sporting these JoJo Siwa hair bows, and my daughter has taken notice. They're fun, colorful and usually sparkly. What more could a little girl ask for?! These hair bows come in multiple colors, and they're the perfect size to tuck into an Easter basket!
6. Fuzzy Bunny Slippers – With our school days happening from home for the time being, I've become a little more lenient on how long our pajamas can stay on. (Sometimes it's all day – let's be honest here!) These plush bunny slippers are so cozy and perfect for the spring season!
7. Bunny Umbrella – There's nothing worse than being cooped up inside on a rainy day. Since we're spending so much of our time at home now, I try to encourage my children to get outside and play as much as possible. Even through those springtime showers, my little girl can explore outside and splash in the rain with this sweet bunny umbrella!
8. Bunny Rain Boots – If she's going to be splashing in puddles this spring, she'll need a new pair of rain boots!
9. Easter Themed Sticker Book – If there's one thing I've learn while raising two girls, it's that you can never go wrong with stickers. I love this big book of bunny and Easter themed stickers, and they're perfect to use during arts and crafts time if you're home schooling!
10. Easter Activity Book – My daughter loves activity books, and I love to pull sheets from coloring and activity books like these and tie them into our school work for fun. This one features coloring, dot to dots, word searches and more!
11. Easter Egg Unicorn Figurines – These little eggs are each filled with a foldable unicorn figurine, and they're perfect for stuffing inside an Easter basket!
12. Gourmet Candies – In addition to all of the classic Easter candies on the market, I always love to include something a little different in my girl's baskets. This year, my oldest is getting a giant bag of gourmet gummies similar to this one!
13. Books – My daughter loves story time, and one of my favorite things in the world is reading to my children. My daughter is getting several paper back stories in her basket this year, including this one: The Berenstain Bears and the Easter Story
Of course, no Easter basket would be complete without the sweets – Cadbury Eggs are a personal favorite around here! Here's a post I put together a few years ago about fun Easter egg fillers that aren't candy if you're looking for additional ideas outside of candy. We also include plastic eggs with money tucked inside. I would love to hear what other ideas you may have or what traditions your family has for Easter celebration! What are you doing to make Easter egg-stra special during the quarantine? Drop a comment below and share the love!