This is a sponsored post written by me on behalf of RAGÚ® Pasta Sauce. All opinions are entirely my own.
Things in our household have been a bit more stressful than usual this past month. We're in the final stages of our home building process that we started back in December, so a lot of my attention has been focused on making decisions on things like counter tops, switch plates, paint colors and light fixtures. All of that sounds like it might be fun, but it's been nothing short of nerve-wracking and a little bit intimidating. I've been feeling the pressure to pick out things that I not only like right now, but also feel like I'll like years down the road, too.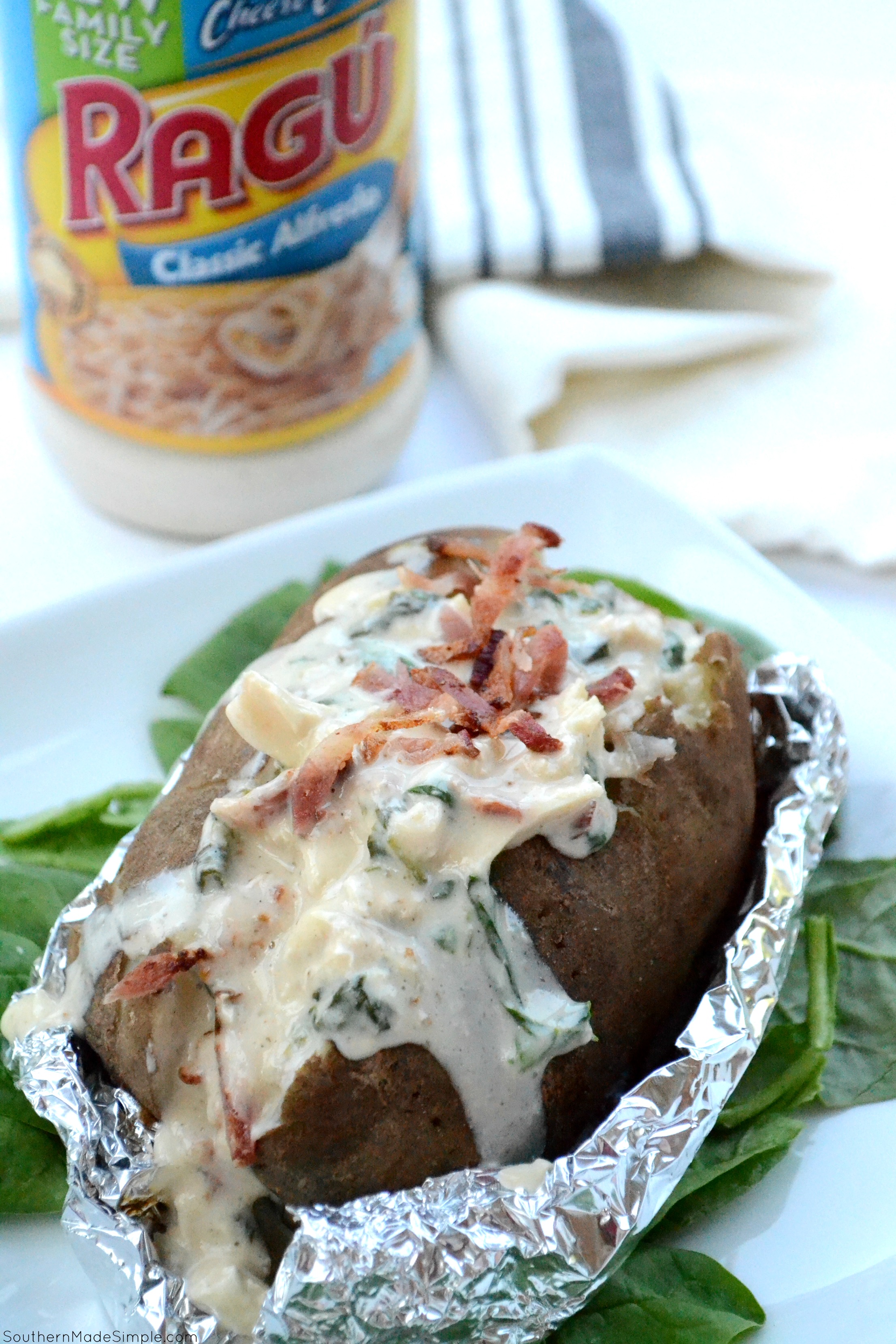 It's been a blessing to get to do these things, but at the end of the day I'm left with feeling exhausted, on edge and in need of something to help me relax a little bit. That's where one of my all-time favorite comfort foods stepped up to plate this week to serve as a much needed treat for my husband and I. My Cheesy Chicken & Spinach Alfredo Baked Potatoes combine the comfort of a piping hot baked potato with the creamy goodness of RAGÚ® Cheese Creations Classic Alfredo Pasta Sauce, paired with tender spinach, shredded chicken and bits of real bacon sprinkled on top. RAGÚ Classic Alfredo is a thick, creamy Alfredo sauce that is made with real cream and fresh cheese. It is bursting with cheese flavor. It is great on a variety of dishes including Chicken Alfredo. It is available in 16 oz. and 21.5 oz. jars.
Biting into this ultimate comfort food is just like getting a long hug from an old trusted friend, and the flavors are out of this world delicious! Preparing this dish is very simple and doesn't require a ton of ingredients. Sometimes it's the simplest dishes that produce the biggest and best flavors! The shining star ingredient is definitely the RAGÚ Cheese Creations Classic Alfredo Pasta Sauce, which is packed with Parmesan and Romano cheeses for that perfect Alfredo flavor!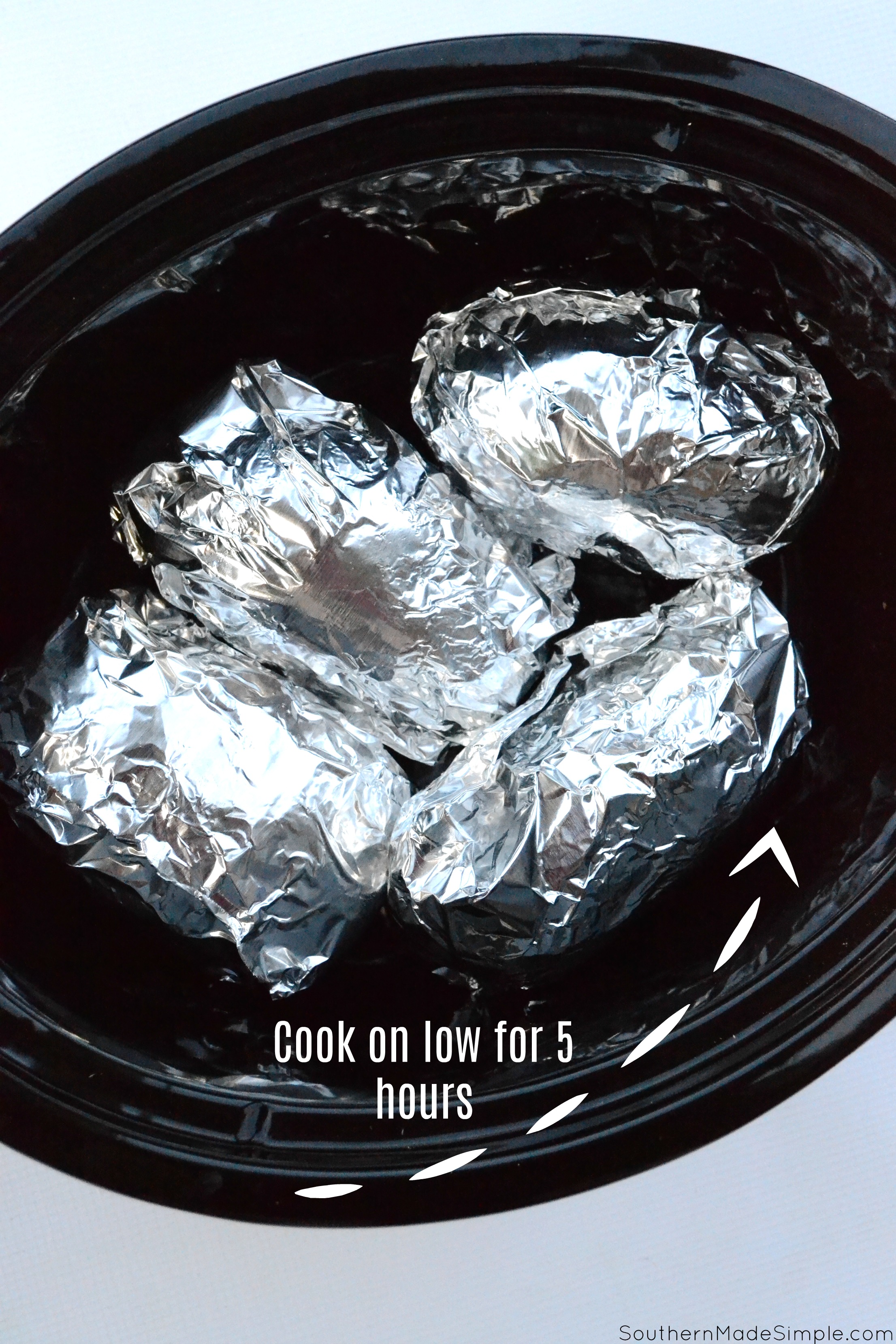 While shopping at Publix earlier this week, I picked up everything I needed to put this dish together. I grabbed a bag of potatoes, fresh chicken breasts, a bag of spinach, a package of thick-cut bacon, shredded mozzarella cheese and a family size jar of RAGÚ Cheese Creations Classic Alfredo Pasta Sauce.
To cut down a little bit on prep work, I decided to cook the potatoes in a slow cooker. Using the slow cooker freed up my hands for a little while so I could help my husband get some work done at the new house. If you'd like to cook your potatoes in the slow cooker, just wash and dry thoroughly, pierce the skin several times with a fork and rub them down with olive oil and sea salt before wrapping them up in tin foil. Place them in the slow cooker for 5 – 5 1/2 hours on low for larger potatoes. Alternatively, you can bake them in the oven according to your preference!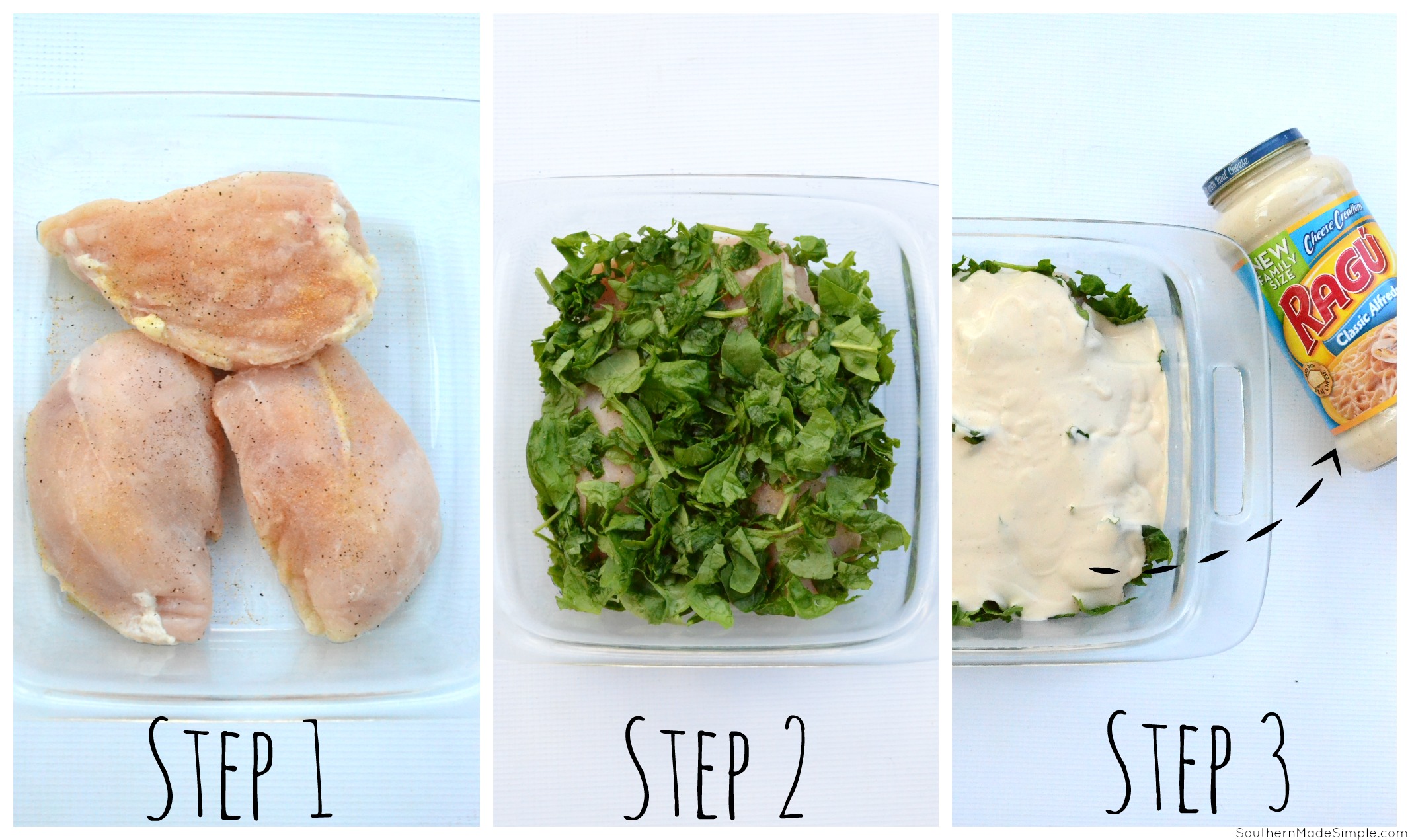 About an hour before the potatoes were done, I came in to prep and cook the chicken and spinach Alfredo.
Step 1: Spray casserole dish with nonstick cooking spray and lay 3-4 boneless chicken breast into the dish. Lightly season with a few dashes of salt, pepper and garlic powder.
Step 2: Roughly chop about a cup's worth of spinach and sprinkle it over chicken.
Step 3: Pour 1 1/2 cup of RAGÚ Cheese Creations Classic Alfredo Pasta Sauce over chicken and spinach.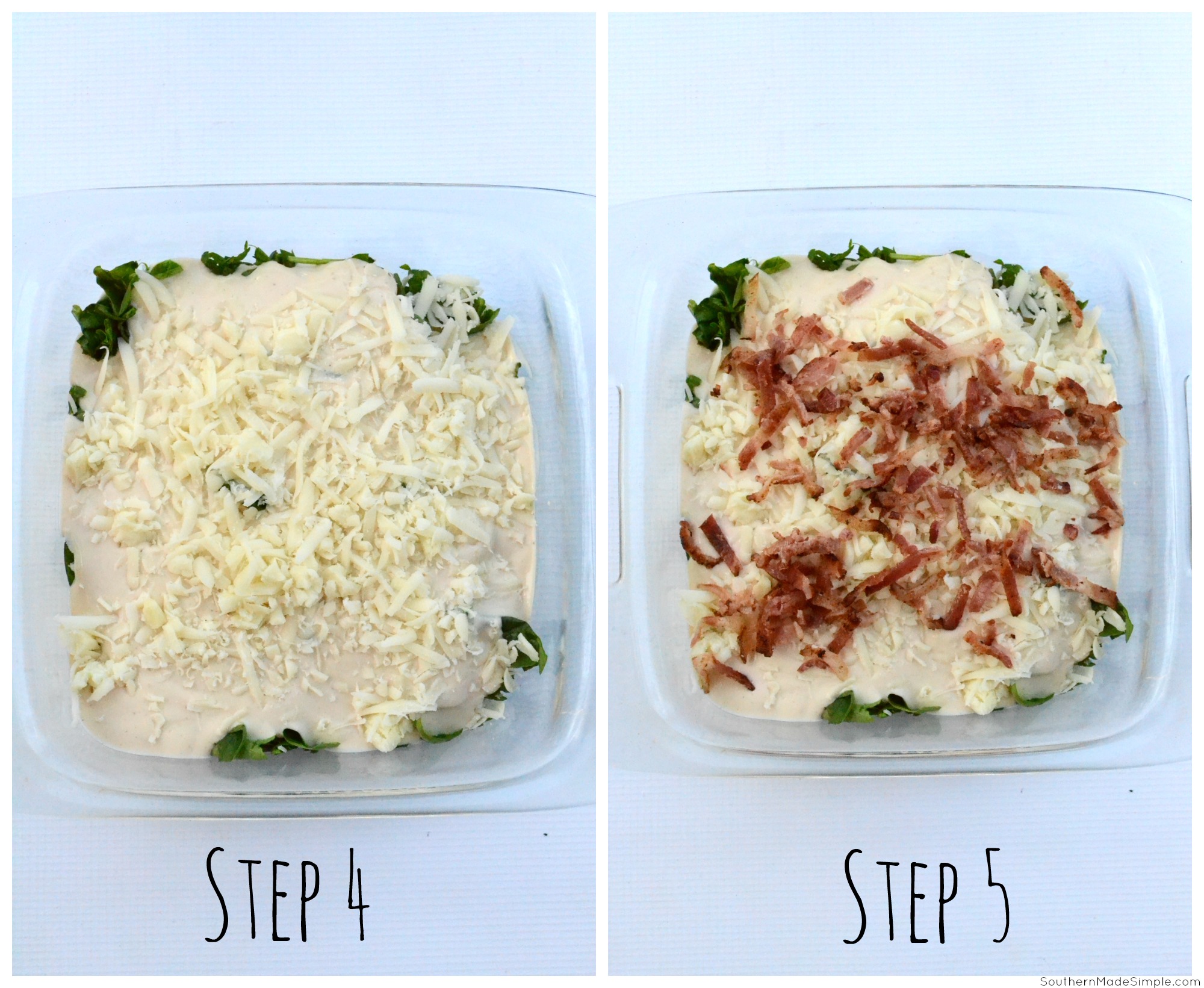 Step 4: Sprinkle mozzarella cheese over Alfredo sauce.
Step 5: Pan fry 4-5 strips of thick cup bacon, chop and sprinkle over dish. Bacon should be tender and not overly crispy.
In an oven preheated to 375 F, bake for 40-45 minutes, or until chicken is completely done throughout.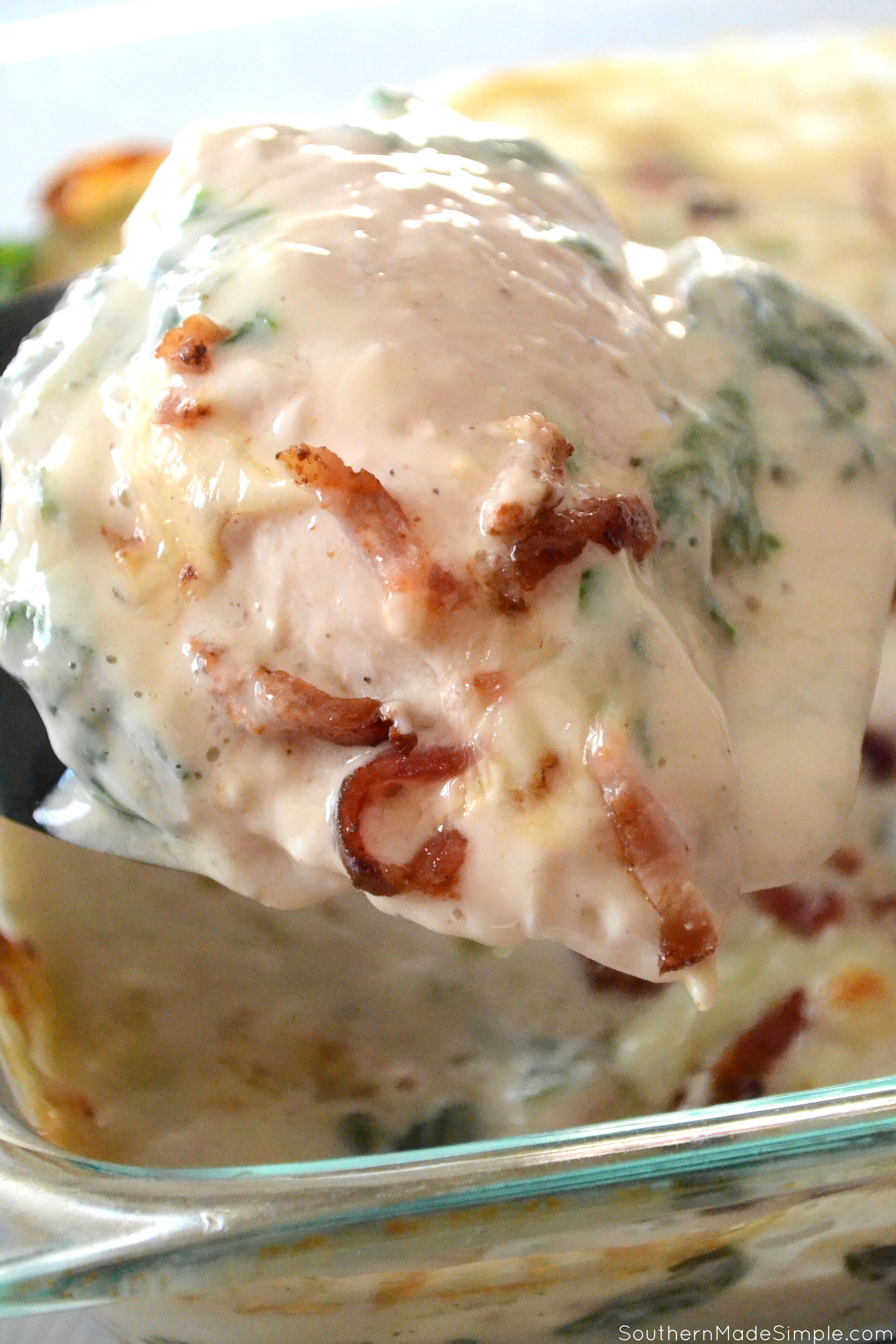 While this dish was baking, the aroma that filled my house was absolutely amazing. Just the smell of the RAGÚ Cheese Creations Classic Alfredo Pasta Sauce bubbling in the dish alone was enough to instantly put me in a good mood! Once the dish came out of the oven, I removed each chicken breast onto a separate plate and shredded the chicken. I placed the shredded chicken back into the sauce and gave it a good stir to thoroughly coat it.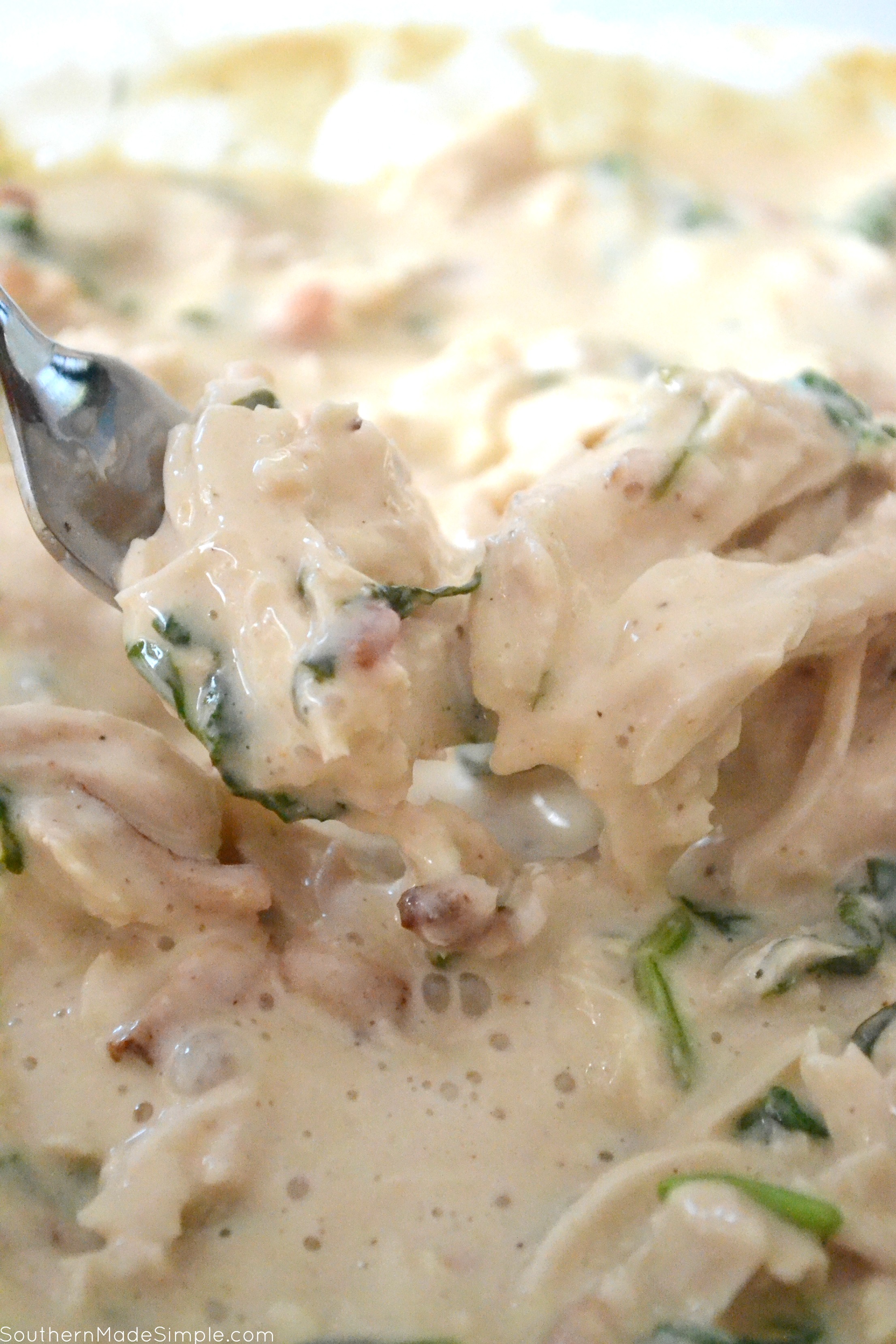 Once the potatoes were finished baking, I cut open each one, mashed the insides and poured a heaping ladle full of the cheesy chicken and spinach Alfredo sauce over them. I topped with a few additional bacon pieces and dug right in!
Here's a free printable copy of the recipe if you'd like to give it a try!
Cheesy Chicken & Spinach Alfredo Baked Potatoes
Ingredients
4

Medium potatoes

cooked on low for 5 hours in slow cooker

3

Boneless chicken breasts

1

tsp

garlic powder

Salt & pepper

1 1/2

Cup

RAGÚ Cheese Creations Classic Alfredo Pasta Sauce

family size 21.5 oz jar

1

Cup

roughly chopped spinach

1/2

Cup

shredded mozzarella cheese

4-5

Slices

of bacon

cooked and chopped
Instructions
Preheat oven to 375 F

Spray a medium casserole dish with nonstick cooking spray

Place chicken breasts in pan, sprinkle with a few dashes of salt and pepper, plus 1 tsp garlic powder

Toss chopped spinach leaves over chicken, followed by RAGÚ Cheese Creations Classic Alfredo Pasta Sauce, mozzarella cheese and chopped bacon

Cook for 40-45 minutes, or until chicken is completely cooked throughout

Remove chicken and shred using a fork, then return to sauce

Slice open each baked potato and mash the insides until soft and fluffy

Pour Chicken Alfredo over each potato and top with additional bacon bits

Serve immediately
---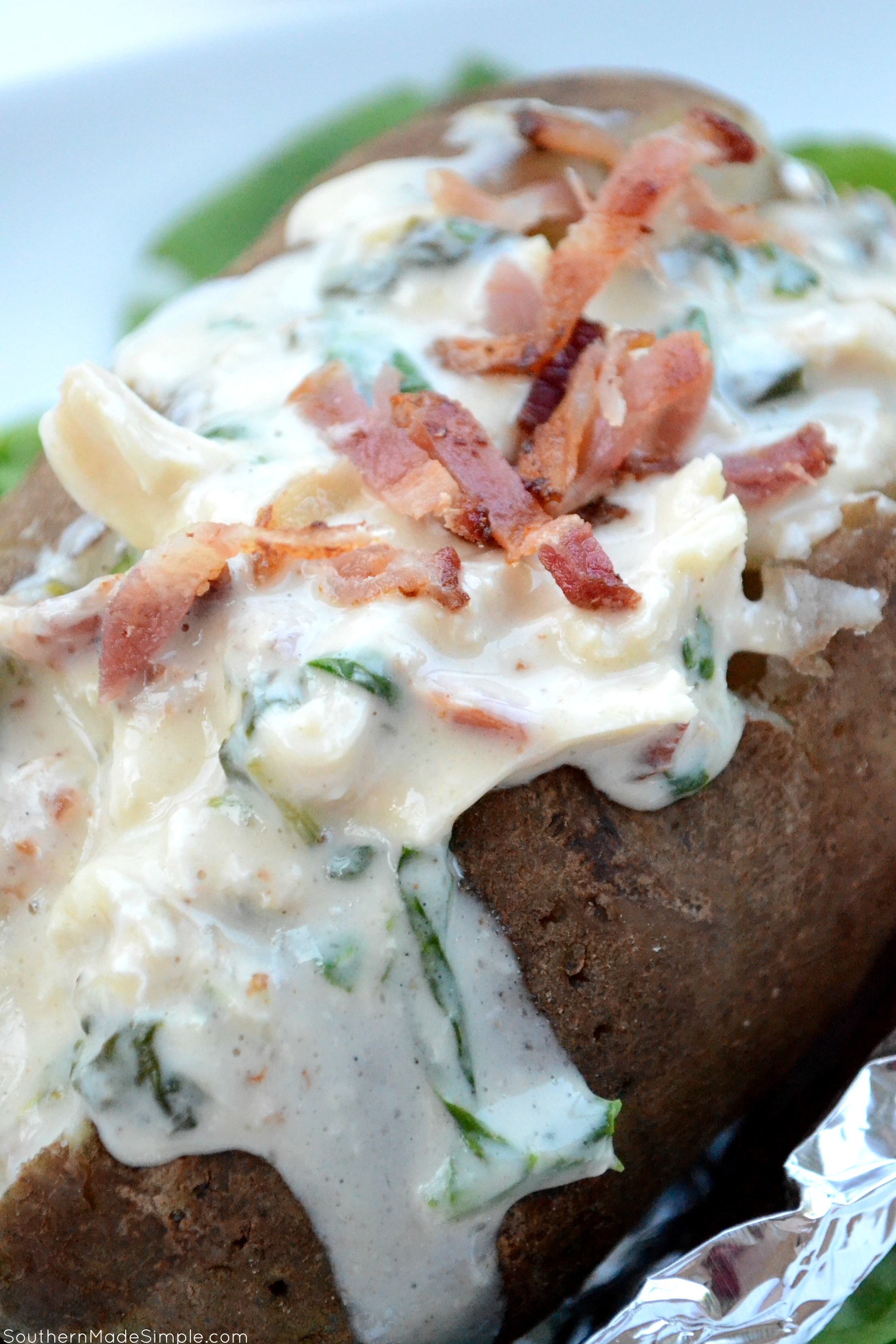 If you're in need of a little food love, you can't go wrong with these Cheesy Chicken & Spinach Alfredo Baked Potatoes! A good Alfredo sauce has a way of elevating dishes to a whole new level, and RAGÚ Cheese Creations Classic Alfredo Pasta Sauce definitely hit the nail on the head when it comes to combining those fresh and creamy cheese flavors!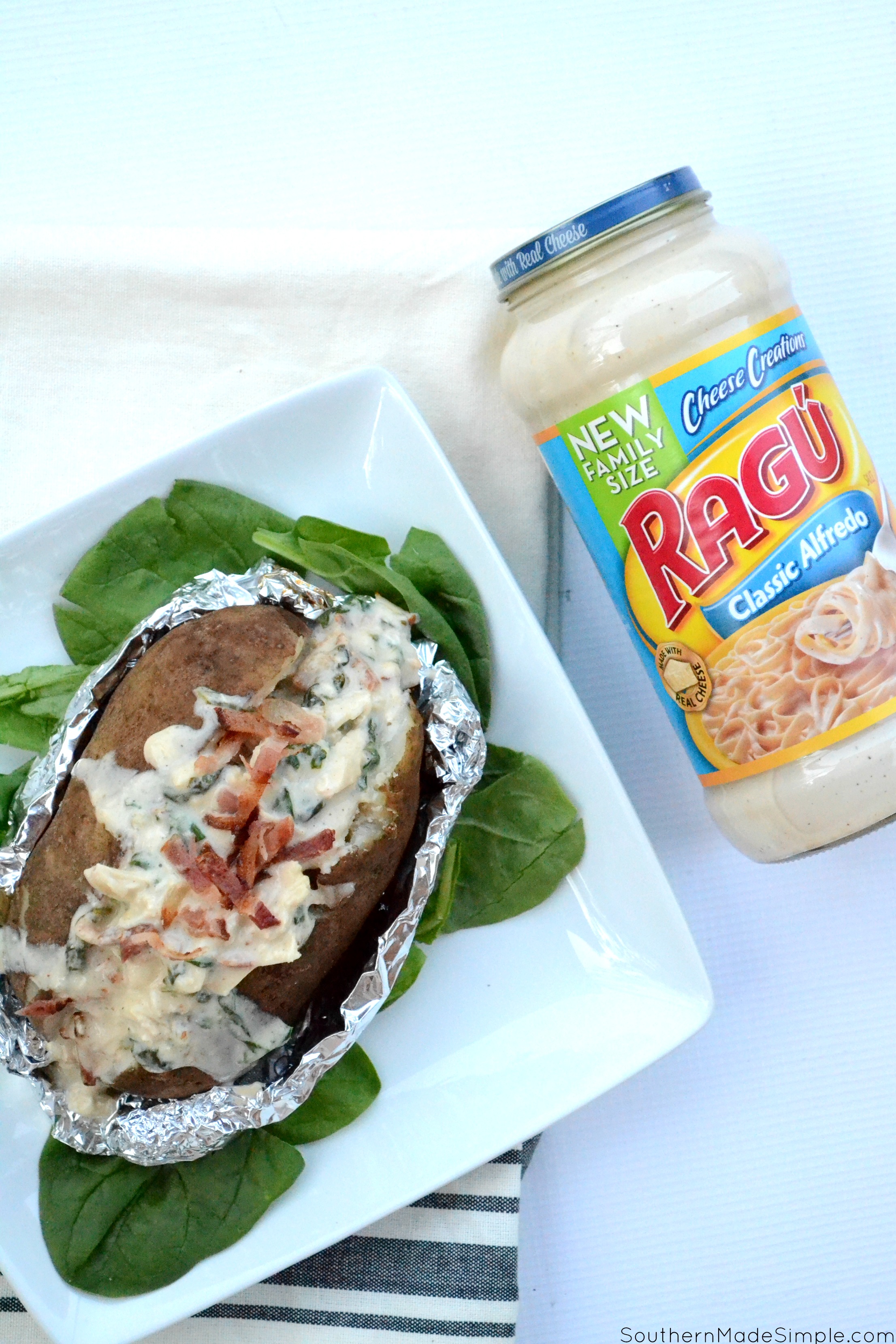 BOGO Alert:
Have you added these ingredients to your grocery list yet? If so, make sure you catch the awesome BOGO (buy one, get one) sale happening at Publix NOW until October 11th! In addition to all of RAGÚ's other delicious pasta sauces, you will also find their Cheese Creations Classic Alfredo Sauce included in the sale! Go ahead and take advantage of this sale and stock your pantry full. Not only is this sauce amazing on these baked potatoes, but it's great on a variety of other dishes as well! Find it easily on the pasta aisle at Publix.
What are some of your all-time favorite comfort foods? How do you like to unwind after a long and stressful day? Leave a comment below and share the foodie love!