This shop has been compensated by Collective Bias, Inc. and its advertiser. All opinions are mine alone. #CollectiveBias
Today was THE day, you guys! I've been waiting for months for the weather to cooperate and for it to finally feel like fall all day long, and today was definitely the first day this season that I enjoyed a beautiful sunshiny day with comfortable temperatures and a crisp breeze blowing through my hair. I drove around with my windows rolled down and basked in all of the glorious fall-ness going on around me, and it was absolutely divine!
And while I was out and about enjoying this beautiful day with my little girl, I couldn't help by daydream a little about all of the fresh apples sitting on my kitchen counter at home, just waiting to be devoured. As much as I love all things pumpkin during this time of year, I think apples may reign supreme in my mind when it comes to delicious fall-themed recipes.
I can remember my mother making stewed cinnamon apples from time to time growing up, and I can remember so vividly how good the whole entire house would smell when she would make them. Homemade apple pies, flaky glazed apple tarts and old fashioned apple crisp are just a few of my favorite indulgences during this time of year, but here lately my heart has been totally head over heels for my Baked Honey Pecan Stuffed Apples!
They're packed with perfectly tender diced apples, cinnamon, brown sugar, pecan clusters and the crispy crunchy flakes found only in Honey Bunches of Oats!
During my most recent shopping trip at Publix, I swung by the cereal aisle to stock up on a few of my favorites. Honey Bunches of Oats has always been one of my favorite cereals to buy, because there's SO many delicious options to choose from! I think any of the varieties would be delicious with these baked apples, but I love to use Honey Bunches of Oats with Pecan & Maple Brown Sugar! I also picked up a box of Post Cinnamon Pebbles to try out with this recipe, too! 
When I got home, I peeled and sliced up a few of the apples sitting on my counter and tossed them in a large skillet with a little butter, brown sugar and cinnamon. I sauteed them over medium heat until the apples were completely tender and set them aside.

I cut the tops off of a few additional apples and hollowed out the core and the insides with a large spoon. I ladled a few scoops of the cinnamon apple mixture into each hollowed out apples and set them on a foil lined baking tray. (Tip: If the apples are having a hard time standing upright, insert a toothpick into the bottom to help prop them so they don't tip over in the oven.)
In a separate bowl, I combined flour, brown sugar, cinnamon, cold butter and 1 cup full of lightly crushed Honey Bunches of Oats. Using my hands, I tossed all of the ingredients together until the consistency became crumbly. I topped each apple with a heaping amount of this honey crisp mixture and placed them in an oven preheated to 400 F for 15 minutes. 
Here's a free printable copy of my recipe if you'd like to give it a try!
Baked Honey Pecan Stuffed Apples
Ingredients
8

Apples

4

Tbs

Butter

1/2

cup

brown sugar

1/2

tsp

cinnamon

1/4

cup

chopped pecans

Honey Crisp Topping:

1

cup

slightly crushed Honey Bunches of Oats cereal

1/2

cup

all purpose flour

1/2

cup

brown sugar

1/2

tsp

cinnamon

4

Tbs

cold butter

sliced into small chunks

1

scoop vanilla ice cream

Caramel sauce or fresh honey for garnish

optional
Instructions
Preheat oven to 400 F

In a small bowl. combine all ingredients to make honey crisp topping using your hands

Mix ingredients well until the mixture turns crumbly, making sure the butter incorporates well and binds the ingredients together

Peel, slice and chop 4 apples

Place chopped apples into a medium sauce pan and simmer over medium heat with 4 Tbs butter, 1/2 cup brown sugar, 1/2 teaspoon cinnamon until apples are tender

Using a serrated knife, remove the tops off of the 4 remaining apples and scoop the insides out using a spoon and discard

Fill hollowed apples with sauteed apple mixture and add pecans

Top each stuffed apple with a heaping amount of honey crisp topping and bake for 15 minutes

(Note: If apples will not stand on their own when stuffed, insert a toothpick into the base of the apple to help it balance and stand)

Remove from oven and serve immediately with ice cream, crushed Honey Bunches of Oats cereal, extra pecans and caramel sauce or fresh honey

Enjoy!
---
The apples were piping hot when I removed them from the oven, and the aroma that filled the house was absolutely heavenly! Honestly, nothing in this world will make you feel like fall has arrived like getting to smell the sweet scents of apples and cinnamon together, and then getting to sink your teeth into a perfectly baked apple filled the brim with pecans and melted brown sugar. It's absolutely, positively delish!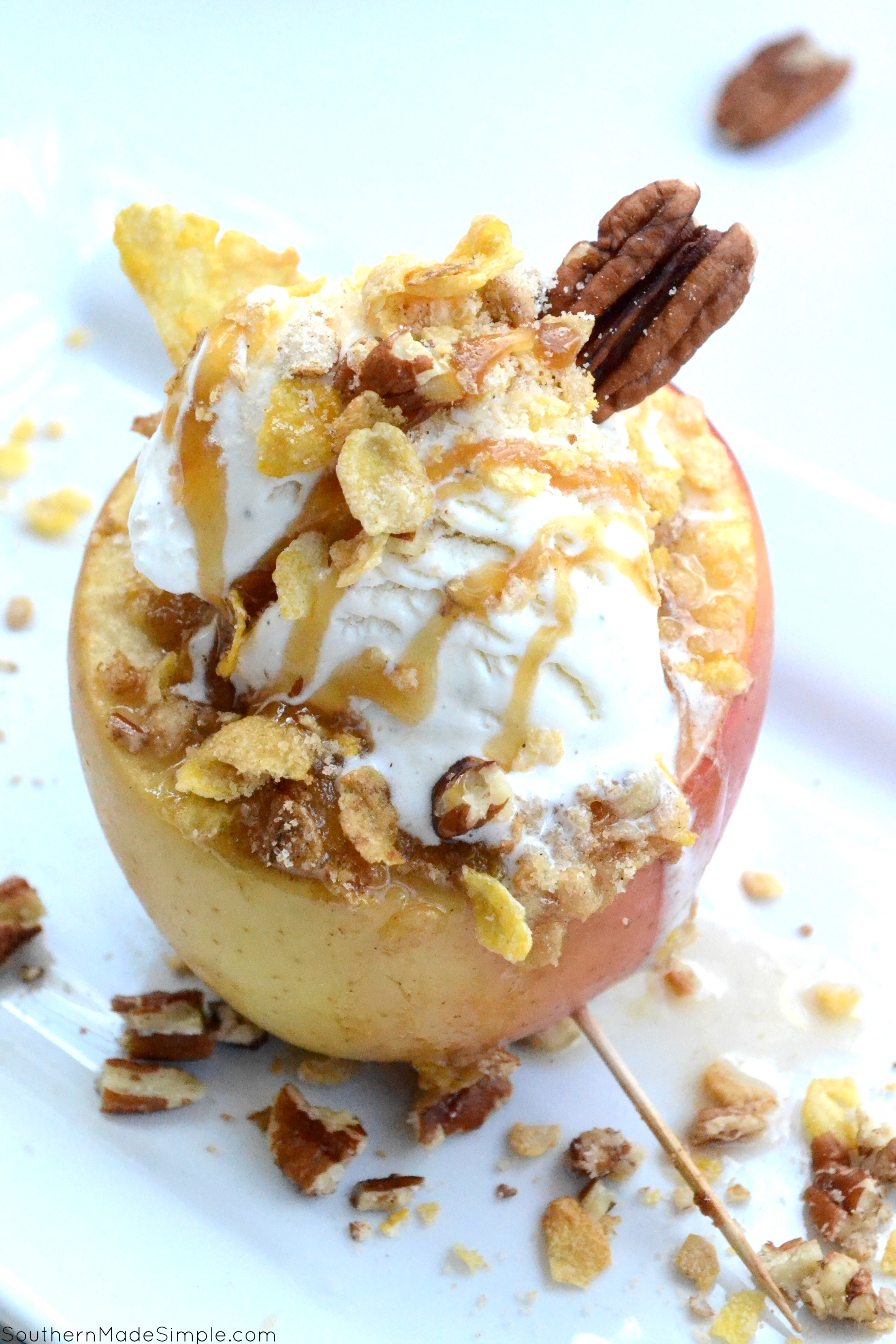 I scooped a little vanilla ice cream over the top of each apple to make it a really indulgent treat. I sprinkled a few extra pecans, some Honey Bunches of Oats flakes and a drizzle of caramel sauce over them before digging in. The Honey Bunches of Oats created this beautiful, crispy contrast with the softness of the apples that was simply to-die for! I think the Cinnamon Pebbles will also be superbly delicious in this recipe, as it will give it that extra boost of cinnamon goodness that will give you all the fall-feels! 😉
Save Big this Season on Honey Bunches of Oats and POST Pebbles Cereal! (Beginning 10/14)
If you're going to be heading out to your local Publix soon, make sure you grab this awesome money saving coupon good for $1.00 off any ONE (1) Honey Bunches of Oats Cereal and $0.75 off of any ONE (1) POST Pebbles cereal at Publix beginning 10/14!
Do you have any favorite recipes that scream "fall" to you? Do you have any vivid memories of delicious desserts that take your back to your childhood during the autumn season that would be perfect with Honey Bunches of Oats incorporated into it? Leave a comment below and share the love!