Candied Bacon isn't just a holiday treat! Make this simple sweet treat any time of year with this easy & delish recipe!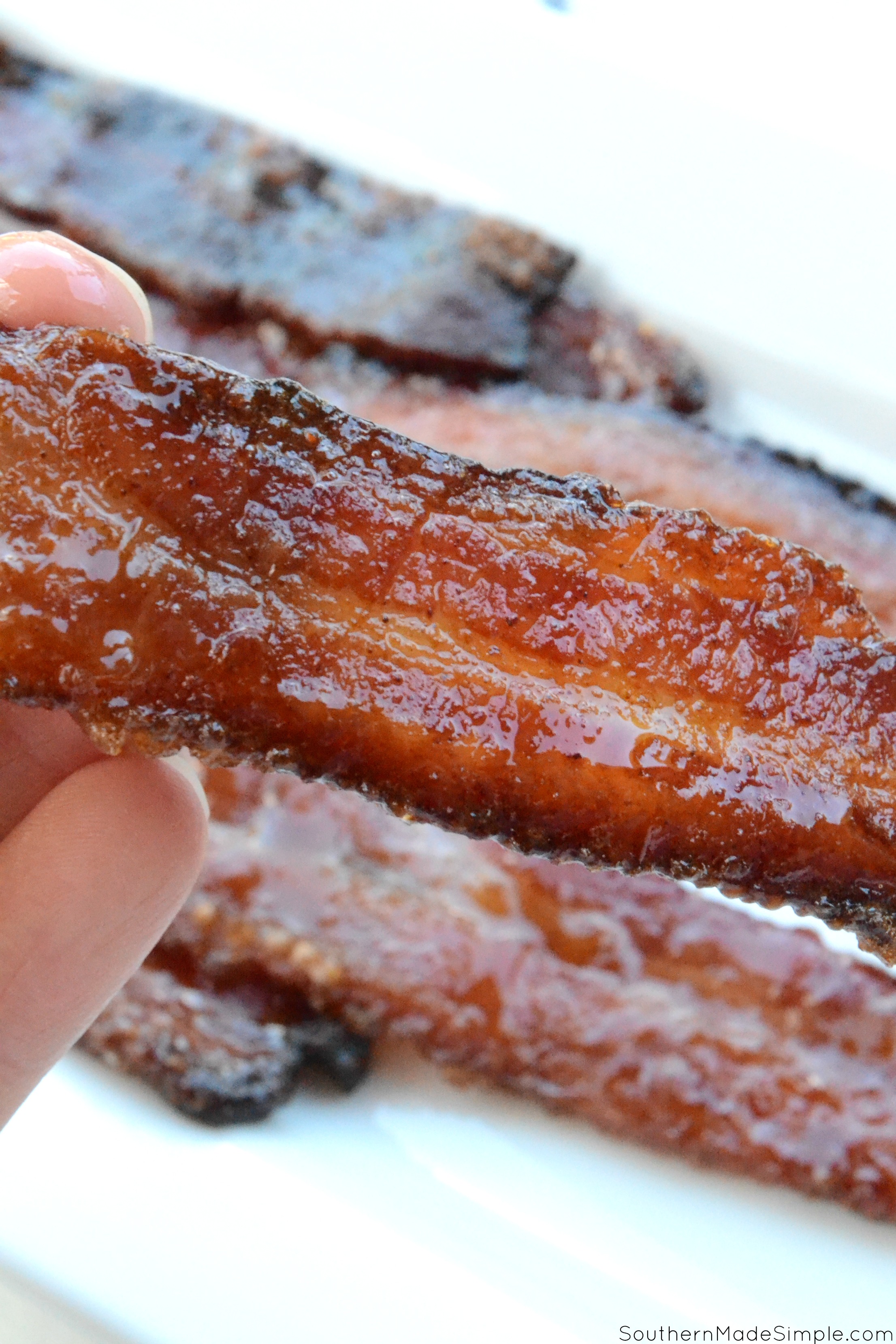 Hands up if you're 100% convinced that bacon makes everything better! My husband and I are pretty big bacon enthusiasts. You can bet that I always have bacon in my refrigerator AND in my freezer (gotta have backup!) because we cook with it almost weekly. To me, candied bacon is the crème de la crème of all simple bacon dishes, simply because the sweet and savory flavor combo is out of this world!

Candied bacon isn't something we cook very frequently because it is so sweet, but it makes for a really nice treat during special occasions (and random Tuesdays when you need a little pick-me-up!) I especially love to make it during the holidays and for Valentine's Day breakfast. I mean, what food says "I love you" more than bacon with a little sugah on top?! 😉

If you've never made candied bacon before, it's super simple to put together! Just coat each piece of bacon in a blend of brown sugar, cinnamon and cayenne pepper and bake! Here's a free printable version of the recipe if you'd like to give it a try!
How to Make Candied Bacon
Ingredients
1

lb

thick cut bacon

3/4

cup

light brown sugar

packed

1

tsp

ground cinnamon

1/4

tsp

cayenne pepper

1

pinch

ground black pepper

Non-stick cooking spray
Instructions
Preheat oven to 350 F

Line a rimmed baking sheet with foil and thoroughly spray with non-stick cooking spray

Place a wire rack inside the rimmed baking sheet and spray with non-stick spray

In a large, shallow bowl, combine sugar, cinnamon, cayenne pepper and black pepper

Remove bacon from package and press each piece into sugar mixture, thoroughly coating each side

Place bacon strips on wire rack and sprinkle any remaining sugar on top of each piece.

Be careful not to let much sugar drip onto the baking pan as it could scorch when cooking

Bake for 45 minutes, or until bacon has darkened around the edges

Remove from oven and immediately transfer bacon to a serving plate so that it does not stick to wire rack

Let the bacon cool down to room temperature before eating

Enjoy!
---
If you're a fan of sweet and salty flavors, whip up a batch of this easy candied bacon and take your taste buds on a wild ride!
(You may also love this recipe for Brown Sugar and Bacon Green Bean Bundles!)
Are you a bacon aficionado? What are some of your favorite bacon recipes? Leave a comment below and share the bacon love!