This post is sponsored by Farm Rich. All opinions expressed within this post are 100% my own.
Did you know that May is National BBQ Month? It seems perfectly fitting, seeing as how the temperatures outside during the month of May are always perfect for getting (and eating!) outside and firing up those grills. My husband and I are big time barbecue fans. In fact, we love it so much that we served it at our wedding (which just so happened to be in May!). The smell of slow cooked BBQ has a way of instantly making me think of the sweet summertime, and my household will be celebrating National BBQ Month to the fullest with this fun little appetizer that's loaded with flavorful BBQ goodness!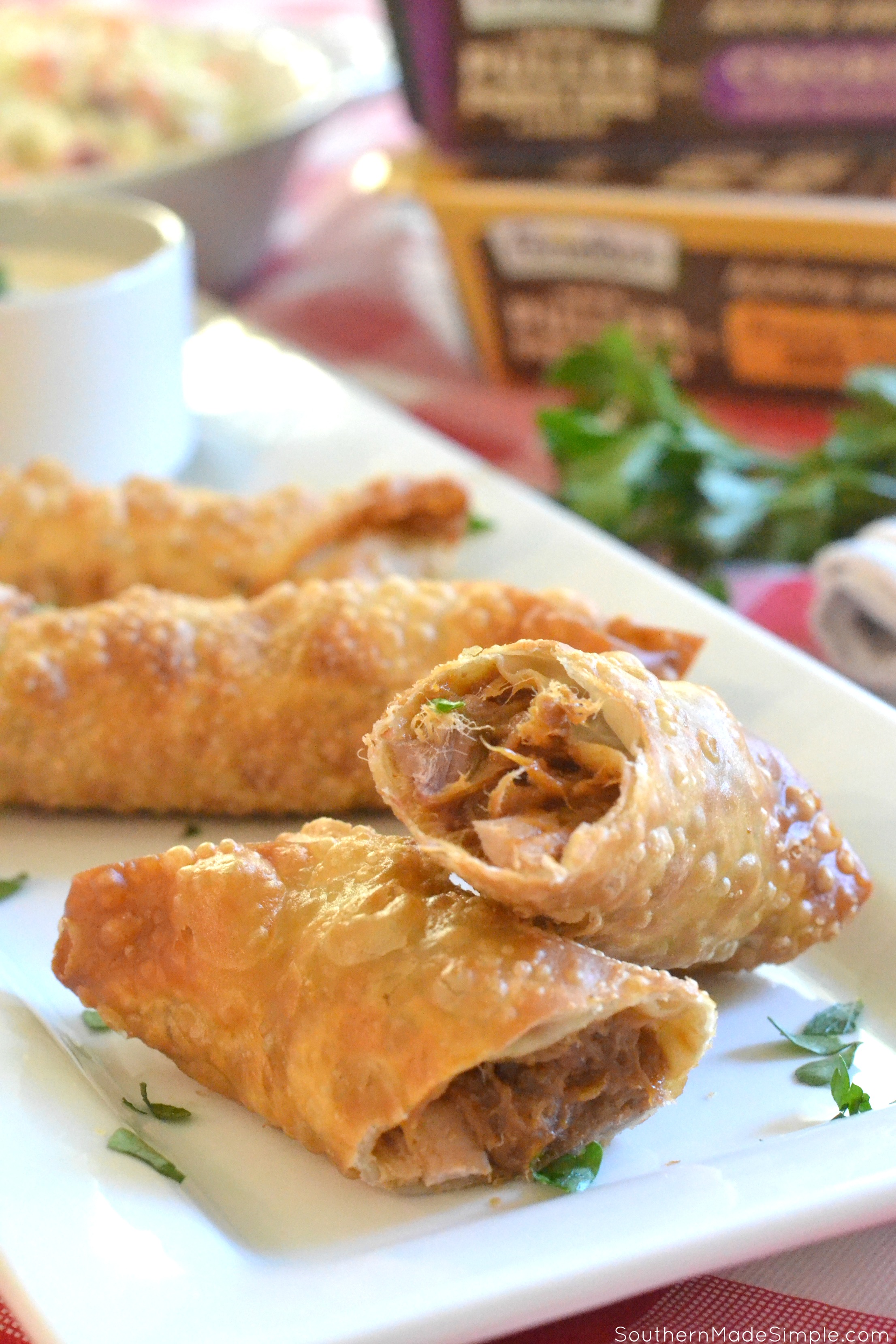 Our dear friend and pastor is a barbecue connoisseur, and is the inspiration behind our new favorite way to enjoy barbecue- BBQ Egg Rolls. Much like myself, he's always loved to experiment and create recipes, and one afternoon nearly a year ago he called and said he was bringing over a surprise for us. He opened up a container filled with egg rolls and said, "Try these!" I wasn't expecting to bite into an egg roll loaded with pulled pork, but it was certainly the best culinary surprise I've ever experienced!
Since that time, I've been fully inspired to create more recipes using egg roll wrappers. Egg rolls are the perfect party appetizer in my opinion because guests can simply grab and go – no plate or fork required! With National BBQ Month kicking off in just a few days, I decided now was the time to perfect the recipe for BBQ Egg Rolls, so I headed straight to my local Walmart to pick up all of the supplies I needed!
While in the freezer aisle, I stumbled upon Farm Rich Pulled Pork BBQ appetizers and knew right away that these would be the perfect thing to keep on hand when a BBQ craving came on!
Slow cooking barbecue is definitely a labor of love, and one that I typically don't have much time for. That's where I appreciate these Farm Rich Pulled Pork BBQ meats so much, because they're already hardwood smoked for over 7 hours, creating the most tender and juicy pork that's quick frozen and packaged to be enjoyed at home so that you can heat-and-eat in no time! You can heat them up in the oven or if you're in a real hurry, they're great in the microwave too!
These Farm Rich Pulled Pork come in two flavor varieties: Pulled Pork in Honey Bourbon Sauce and Pulled Pork BBQ and Sauce with Chorizo Seasoning. Both were loaded with authentic BBQ flavor and easy to heat and serve!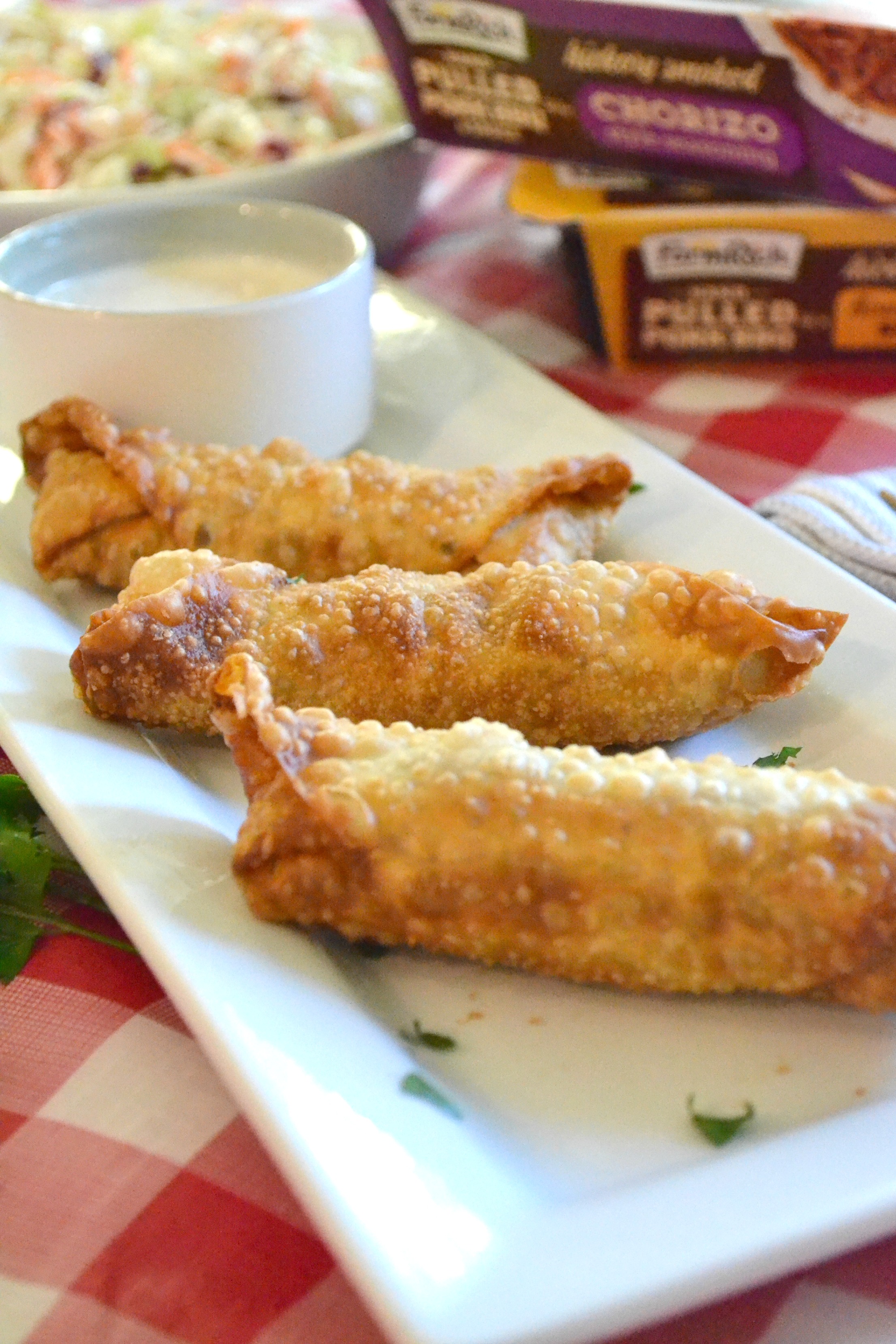 While you can certainly fill the egg roll wrappers with just pulled pork, I love to mix in another favorite side dish that you always see at a barbecue shindig – baked beans. I think it gives them another fun little element of surprise and flavor that fits perfectly with the overall BBQ theme! I simply heated the Farm Rich Pulled Pork according to the package instructions and added in a can of my favorite style of baked beans and gave it a stir. Just like that, the egg roll filling was ready to roll!
Wrapping egg rolls can be a little bit tricky, but definitely gets easier with practice. Just lay out the wrapper, add a spoon full of filling near the top, roll one full time, then tuck in the sides and roll again. Wet your fingertip with a little water and run along the edge of the wrapper to create a seal. Then you're ready to fry!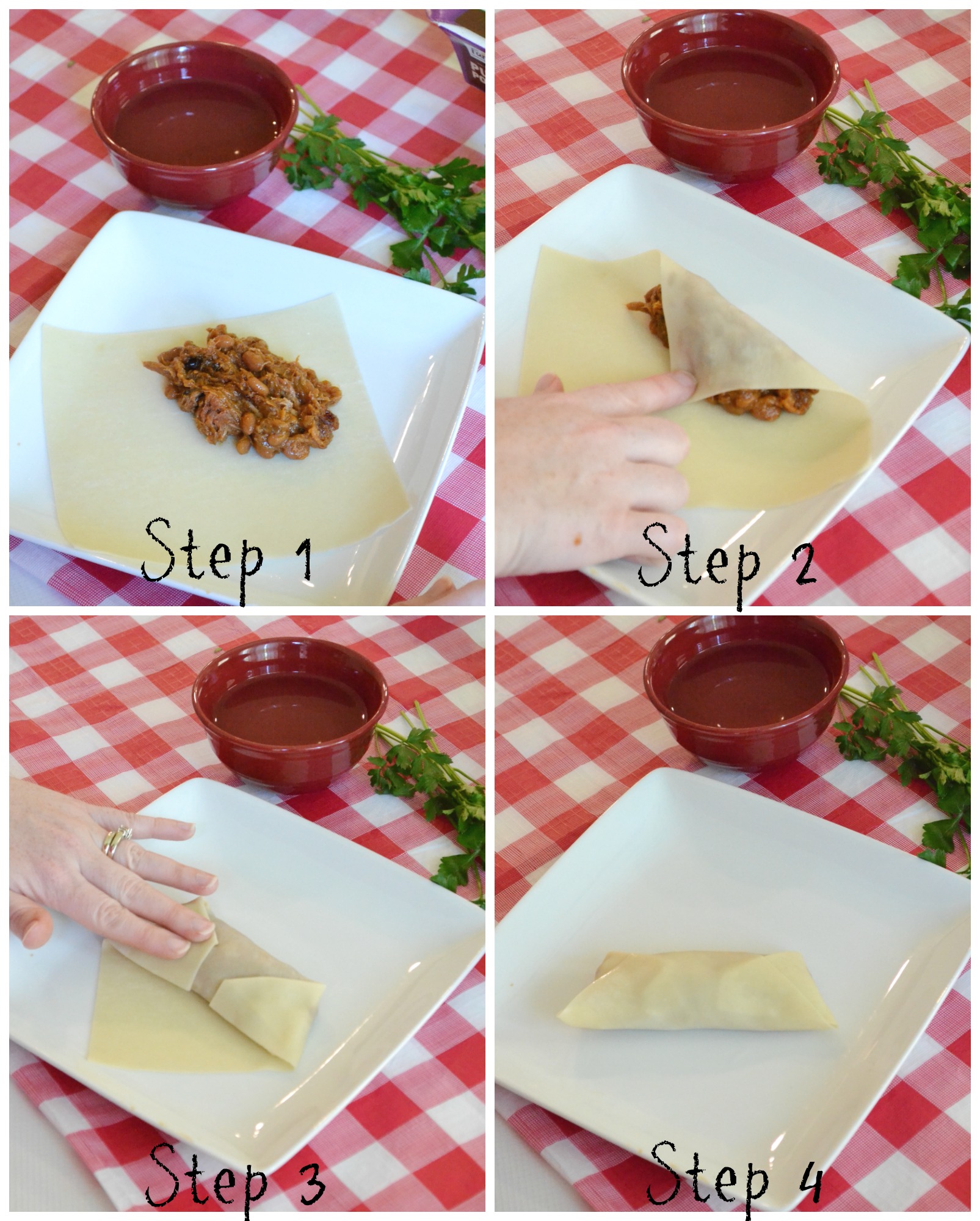 Drop about 3-4 at a time into the grease and cook for 3 minutes. Remove from grease and set on a wire drying rack to drain excess grease before serving. Alternatively, you can "fry" these egg rolls right up in the air fryer if you're not too keen on the extra grease. Just spritz each roll with a smidge of olive oil cooking spray and cook for 10 minutes at 390 F in the air fryer, turning halfway through.

I love to serve these egg rolls with Alabama White Sauce – a tangy mayonnaise based sauce that is typically served at BBQ joints in north Alabama. You mostly see it served with BBQ chicken, but I think it's absolutely delicious with pulled pork, too. Here's the recipe for the sauce and egg rolls if you'd like to give them a try!
BBQ Egg Rolls with Alabama White Sauce
Ingredients
Egg rolls
1

package

Farm Rich Pulled Pork BBQ in Honey Bourbon Sauce or Chorizo Seasoning

1

package

egg roll wrappers

found in refrigerated produce section

1

cup

canned baked beans - any variety

Oil for frying
Alabama White Sauce
2

cups

mayonnaise

1/2

cup

apple cider vinegar

1/4

cup

sugar

2

Tbs

lemon juice

1

tsp

salt

1

tsp

ground black pepper

1/2

tsp

cayenne pepper
Instructions
Alabama White Sauce (make first)
In a large bowl, whisk together all ingredients until thoroughly combined. Allow to chill before serving
Egg Rolls
Preheat oil in fryer to 350 F

Cook Farm Rich BBQ according to package instructions

Heat baked beans according to package instructions and set aside 1 cup

In a large bowl, combine baked beans and BBQ

Add a spoonful of BBQ and baked bean mixture to egg roll wrapper and wrap, sealing the end with a small amount of water

Place in deep fryer and fry for 3 minutes, turning once throughout cook time

Set on drying rack and allow to slightly cool before serving

Enjoy!
---
If you're looking forward to digging into a plate full of BBQ during National BBQ Month, swing by the freezer section at your local Walmart and pick up a few packages of Farm Rich Pulled Pork BBQ! They're so easy and the perfect addition to your summertime BBQ, and they're a rock star ingredient in these BBQ Egg Rolls that make for the perfect party food! Farm Rich also makes other tasty snacks like classic Mozzarella Sticks, Avocado Slices, Loaded Potato Skins, Mozzarella Bites, Grilled Cheese Sticks and more! All are quick to prepare and made with wholesome, quality ingredients that you can feel good about serving and eating.
How will you be celebrating National BBQ Month? Leave a comment below and share your favorite way to enjoy BBQ!