Affiliate links may be included throughout this post at absolutely no cost to you. All thoughts expressed are my own.
A few months ago I shared a simple recipe for guilt-free southern fried chicken, and since that time it has exploded in popularity more than I ever imagined! Air Fryers are wonderful kitchen inventions that allow you to cook your favorite foods without deep frying, and their uses span far beyond fried recipes! In fact, most air fryers come with accessories that allow you to bake, too! Cutting back on excess grease and practicing healthier cooking methods is something I'm all about, so I've been feeling really inspired to get my Air Fryer back out and really start cooking more with it!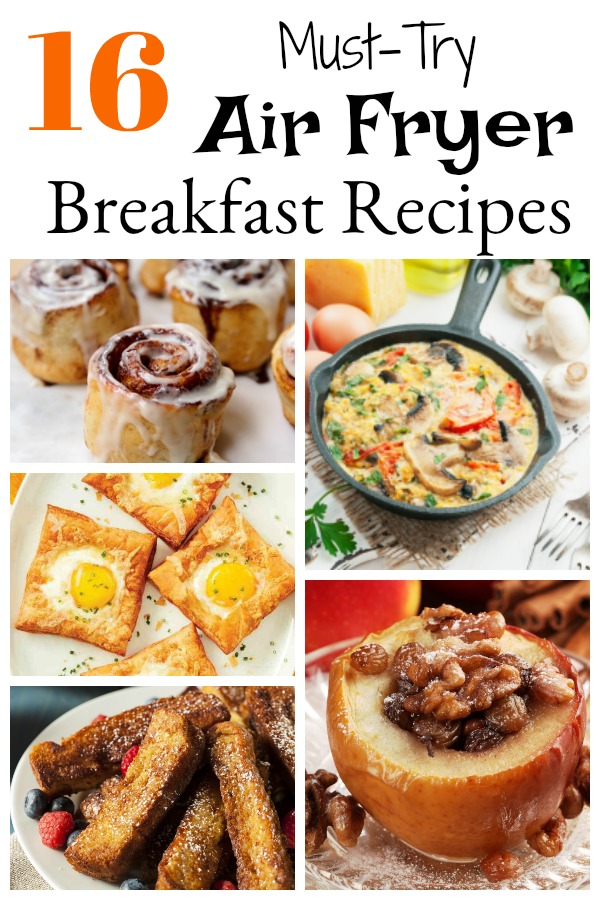 I've really been impressed with some of the creative recipes others have been coming up with using their Air Fryer systems! As I sit here eating my not-so-impressive bowl of cereal, I'm daydreaming of delicious and filling breakfast baked to perfection in my air fryer, so I took to Pinterest to scope out some of the most drool-worthy air fryer breakfast recipes I could find! They're all made by some pretty fabulous and creative culinary bloggers, so make sure you stop by their pages and show them a little love!
Air Fryer Baked Apples – The Leaf (Nutrisystem)
Air Fryer Cinnamon Rolls – Blue Jean Chef
Air Fryer Cranberry Pecan Muffins – Wine Lady Cooks
Air Fryer Homemade Pop Tarts – Stay Snatched
Air Fryer Peanut Butter & Jelly Donuts – Hungry Couple NYC
Air Fryer Lemon Blueberry Muffins –  Wine Lady Cooks
Air Fryer French Toast Soldiers – Recipe This
Air Fryer Frittata – The Leaf (Nutrisystem)
Air Fryer Puffed Egg Tarts – The Flying Couponer 
Air Fryer French Toast – Fork to Spoon
Air Fryer Paleo Pumpkin Muffins – Recipe This
Air Fryer Hash Browns – Twinkling Tina Cooks
Air Fryer Bacon – Recipe Diaries
Air Fryer Omelette – Bitz N' Giggles 
Air Fryer Breakfast Pockets – Ginger Casa
Air Fryer Flourless Broccoli & Quiche – Recipe This1
Looking for a few other scrumptious Air Fryer Favorites? Check out this roundup for 20 Game Day Air Fryer Recipes!
Do you own an Air Fryer? Do you have a favorite Air Fryer recipe you'd like to share? I'm always looking for something new to try! Drop a comment below and share the love!