I received a starter kit in exchange for my honest review. All opinions expressed within this post are completely my own. I only promote what I truly love!
I've been hearing lots of buzz lately about Lipsense lipstick and cosmetics. I've seen the videos of people testing the product, showing them wiping their fingers across their lips to prove that the lipstick stays put and doesn't come off. I've seen quite a few Facebook groups pop up inviting me to come see what Lipsense is all about, but I'm just going to be really honest with you:
I was skeptical. I think by nature I'm pretty skeptical of most things. We've all heard that saying that if something is too good to be true, it probably is. So when I first heard mention of this "Lipsense" stuff, for the longest time I just sort of turned my attention away from it. I convinced myself that I didn't need a lipstick that won't budge, and that ordering through a direct marketing company like this was just a tangled web that I didn't want to get caught up in.
By the way…why do we do that sort of thing to ourselves? Why is it that we're so good at talking ourselves out of good things? Why do we have to be skeptical that products our friends are using and selling aren't going to be any good, or that they won't work for us? It's a bunch of hullabaloo, really! Why not ditch all of the "no's" and negatives and start saying YES to something fun every now and then?!
So when #GlossBoss Ashley Wallace approached me recently and asked if I'd be interested in giving Lipsense a try, I decided that was going to be the moment that I said YES! Truthfully, I didn't need to keep feeding into the lie that I didn't need a smudge proof lipstick. My lips needed help, and part of the reason was because I never wore lipstick in general for fear that I'd get it all over everything! So trying something new this time just felt right!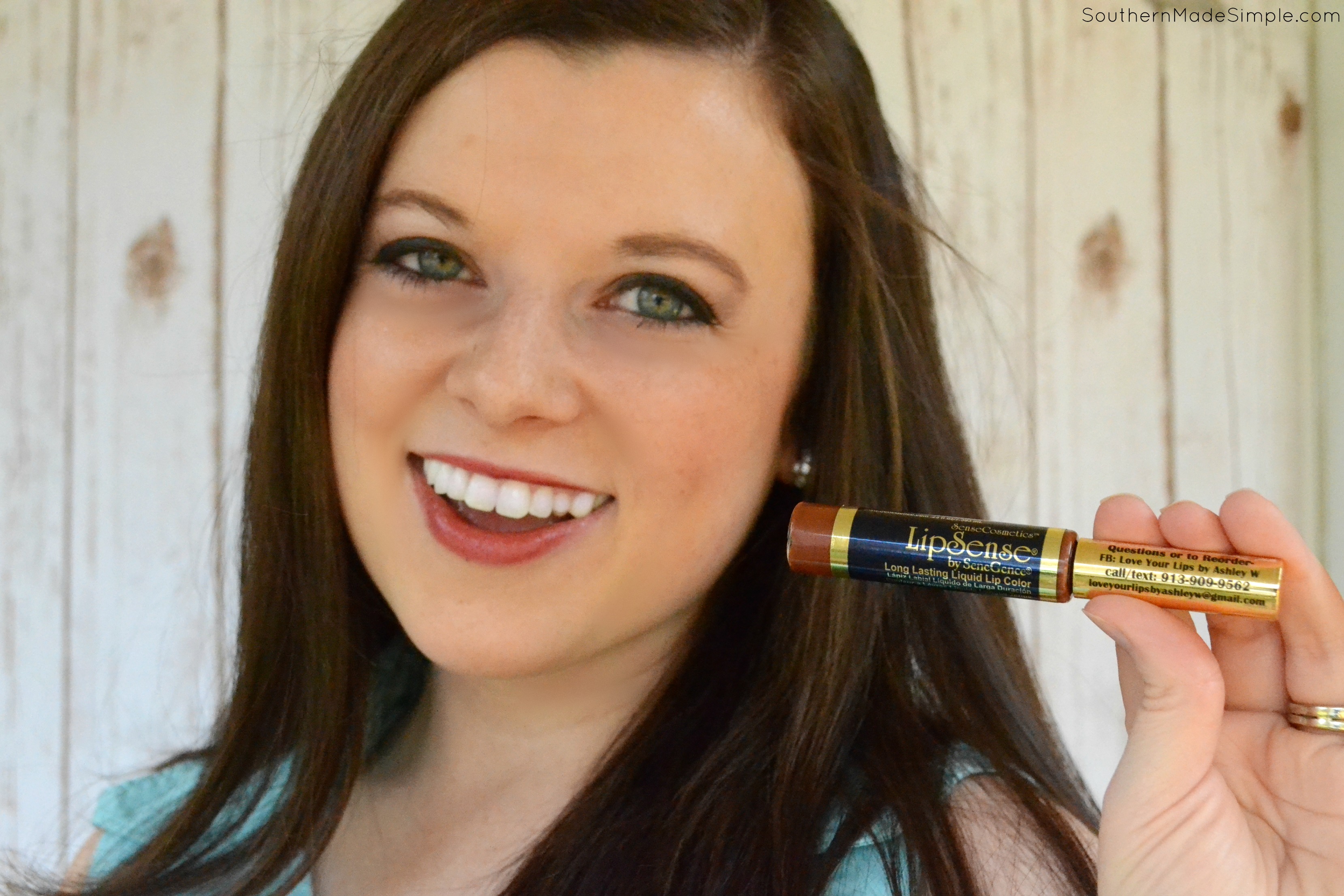 Before I picked out a color, I decided to do a little bit of research on Lipsense to try and figure out what is really is. Here's a few tidbits that really stuck out to me:
In short, Lipsense is a beautiful blend of science that makes a pharmaceutical-grade cosmetic product with natural botanicals and pure pigments. It is NOT a lip stain, but rather a molecular bond that, when applied, sticks to the skin on your lips and stays put. It's actually thinner than water because it's made with SD40 alcohol so that it applies evenly, dries very quickly and leaves only the color in place. No thick waxy residue buildup for you to smear and smudge around like traditional makeup!
To help keep the lips moisturized and to help keep the color in tact longer, Lipsense colors work hand in hand with the moisturizing gloss. It's recommended to use both products together to get the full, lasting effect from the product. Plus, the gloss makes my lips feel SO healthy and soft!
If you're brand new to Lipsense, it's recommended that you start out with the basic starter kit.
What Comes With the Starter Kit?
Lipsense Color of your choice

An original, patented long lasting lip color that is water proof, smudge proof, kiss proof and lasts up to 18 hours.

Moisturizing Gloss

Improves the longevity of the Lipsense liquid color and protects your natural lips.

Oops! Remover

A correction fluid that removes mistakes with one simple swipe!
The Lipsense Starter Kit Retails for $55. You can purchase each item separately, priced as follows: Color: $25 Gloss: $20 and Oops Remover: $10
I was sent the Lipsense Starter Kit in the Dusty Rose color. Ashley sent me some super helpful tips and instructions to use the product (and I'm SO glad she did, because it isn't applied to the lips the same way you apply regular lipstick!)
I applied the lipstick according to the instructions (which was so easy peasy to do) and instantly began to feel a little tingling sensation in my lips. Nothing painful or weird…if anything it felt kind of cool! I was really curious as to why in the world it did that, though, and after a little research I discovered it was because the product was busy at work re-moisturizing and hydrating dry lips. Dry and damaged lips can be caused by many things, but they get especially dry when you frequently use wax based products on your lips. Once you start using Lipsense frequently, that tingly feeling will eventually fade away (and your lips will be beautiful and hydrated!) 😉
It's recommended that you apply 3 layers of color to your lips, and then apply a coat of gloss over them. Once the color and gloss were applied, I went on about my day as usual. After about an hour, I passed by the mirror to check on my lipstick (and admire myself and my new lip color for a minute..just being honest!) and I did my first "swipe test" as I call it. I rubbed my fingers all across my lips to see if it was as smudge proof as they say it is.
Y'ALL!
That lip color wasn't going anywhere! It was on so solid and smooth, and I was beyond impressed!
The photos I took pictured above were taken late in the afternoon. It had been on for roughly 6 or 7 hours at that point, and had gone through lunch AND a mid-afternoon snack of chips and salsa (my fave) and my color was still going strong. Never have I ever, y'all! Seriously…never have I seen a makeup product stay in place like that! I just had to grab my camera and do one of those cute little smudge proof videos I keep seeing people do with their Lipsense products. It. Is. AMAZING! (Excuse my music. I'm obsessed with that new Bruno Mars song!)
Lipsense comes in 36 different colors and 11 gloss options, so there are endless color combinations! I really love the idea of layering different colors to create a custom unique look. The Dusty Rose color that I chose was a perfect match for me and my skin tone, but I'm SO ready to try out some other fun colors that are a little more on the daring side for me!
If you want to learn more about this product and see some really fun tutorials, I can totally give you the hookup! My #glossboss Ashley Wallace is always posting new info, sale info, tips and tricks and makeup tutorials on her Facebook page, and you're definitely going to want to follow along! You can follow her on Instagram @loveyourlipsbyashleyw, too!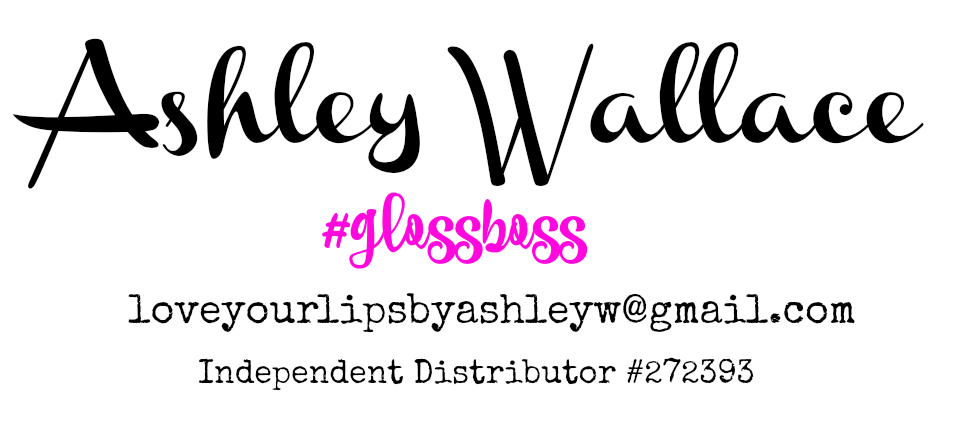 Click here to see her fabulous intro video to learn a little more about her, plus see a Lipsense demo!
I had a few questions that I asked Ashley to answer for you guys to give you a little more information on WHY Lipsense is the new hot item!
Why Lipsense?

Ashley: I tried it at a get together and was in awe that it didn't go anywhere! I knew that not only did I want to have several colors, but I wanted all of my girlfriends to try this out for themselves!

What Gets You Excited About the Company?

Ashley: Lipsense was started by a single mom who wanted to offer great products and a great career opportunity to women. I did some research and found that SeneGence (the makers of Lipsense) has the highest commissions out of any other direct sales company. For instance, Rodan + Fields consultants make 10-15% commissions, with SeneGence, we make 20-50%! I also knew that the company was in the very beginning of growth stages and I wanted to get in on the ground floor, mentor new distributors and build a team. The earning potential in this company is insane!

What Are Your Tips For Picking the Right Color?

Ashley: We have cool, warm and neutral based colors, so depending on your skin tone (cool skin loos better in cool or neutral colors) I can help you color match. Another cool thing is that because the colors are put on in three layers, you can potentially put 3 different colors on and make your own color combo that is totally unique to you!

How Can People Make This A Career?

Ashley: To be a SeneGence distributor, it's a lot like a wholesale membership at Costco or Sams. You pay $55 per year to have access to wholesale prices (20-50% off retail.) The discount increases the more product you purchase, and that membership fee is 100% refundable in the first 6 months of joining if you decide SeneGence isn't for you. So you can make money selling the products and in building a team. We get anywhere from 5-30% of our team sales.

Why is Lipsense Better Than Other Products?

Ashley: Our products are non-GMO, vegan, cruelty free, lead and wax free! Our skin care is amazing (we have a kinetic complex that increases cellular renewal and anti-aging) and that is in most of our products! Our makeup has skin care built in, and it's waterproof and smudge proof just like our lipstick!
How To Order:
To place an order, simply send Ashley a message on Facebook! It's as easy as that! She'll send you a Google order form and from there she'll email you an invoice. You can click the link below to be sent directly to her page so you can order!


Discount Alert!
If you're ready to hop on the Lipsense train and try out your first product, or if you're already a Lipsense lover and just want a little extra incentive to buy more, Ashley is giving all of my readers 10% off your order! All you have to do is mention that you read this post on Southern Made Simple (or that you saw my post on Instagram) when you place your order!
So what are you waiting for, ladies?! Say YES to a perfect lip color that you're absolutely, positively going to love. Once you try one color, you're going to want them all! 😉