This recipe for Southern Cornbread Dressing is a true southern staple dish to serve during the holiday season. Made with homemade cornbread from scratch, this recipe makes coming home for Thanksgiving even more spectacular!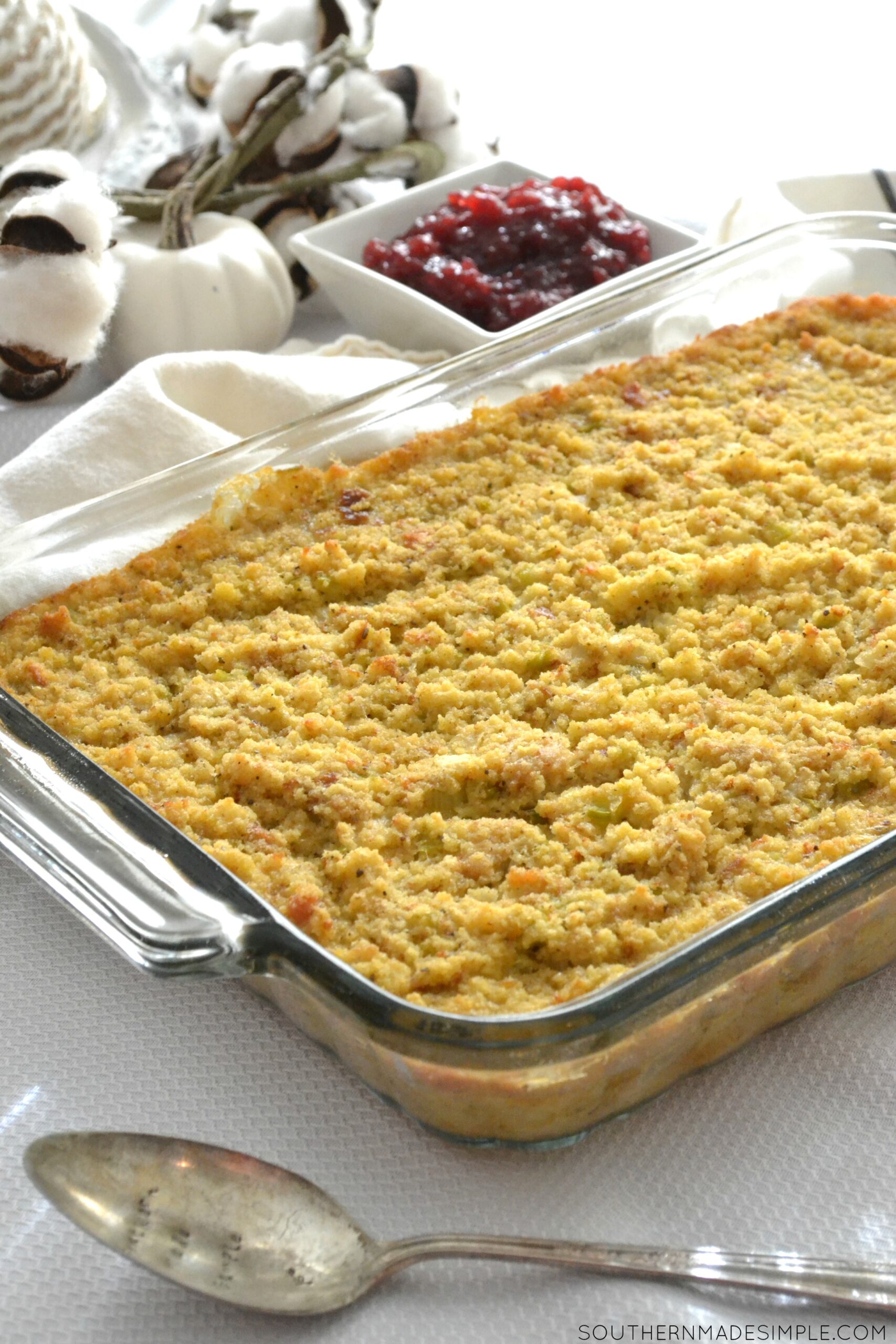 It's absolutely not a certified southern Thanksgiving dinner unless there's a big pan of homemade dressing sitting next to the turkey. Cornbread dressing is comfort food at it's finest, and it's always served with either a spoonful of cranberry sauce or a drizzle of gravy right on top. Truth be told, I think the dressing is more of the star of the Thanksgiving feast than the turkey is. I may not go back for seconds for the turkey, but you can bet your bottom dollar that I'll be getting a second helping of dressing!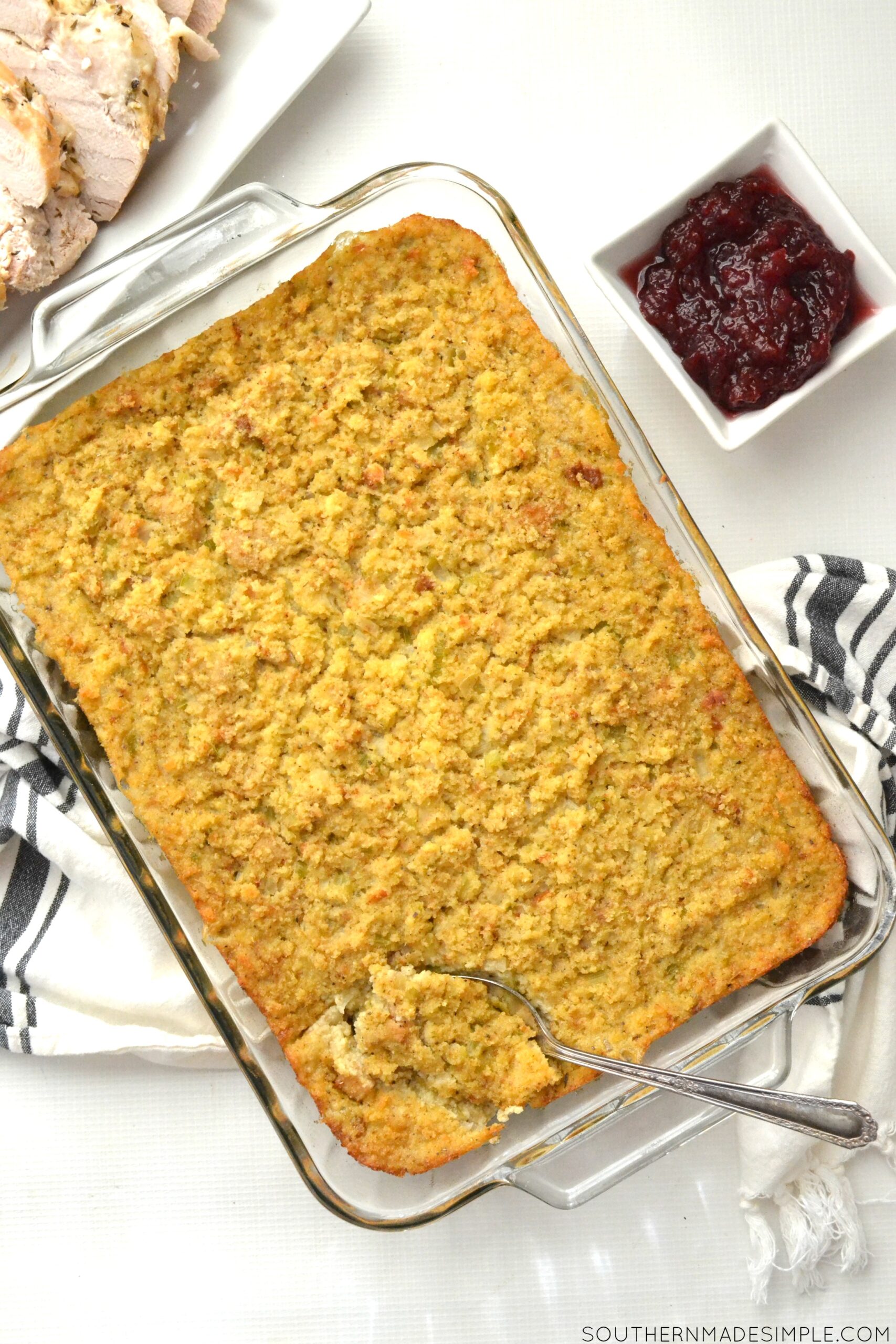 I was always taught to make my dressing with day-old cornbread. It's not imperative that you do that, but using day-old cornbread is preferred by many as old cornbread soaks up more of the broth and produces a better texture and consistency in the dressing. All that is to say – don't skip this part! If you're serving this for Thanksgiving dinner, you'll want to make sure you plan ahead and get that skillet of cornbread in the oven the day before. You'll also want to make sure you have about half a loaf of white bread on hand that is also a few days old. This recipe calls for thumb-size pieces of white bread to go with the day-old cornbread to help really lock in the moisture in the dressing.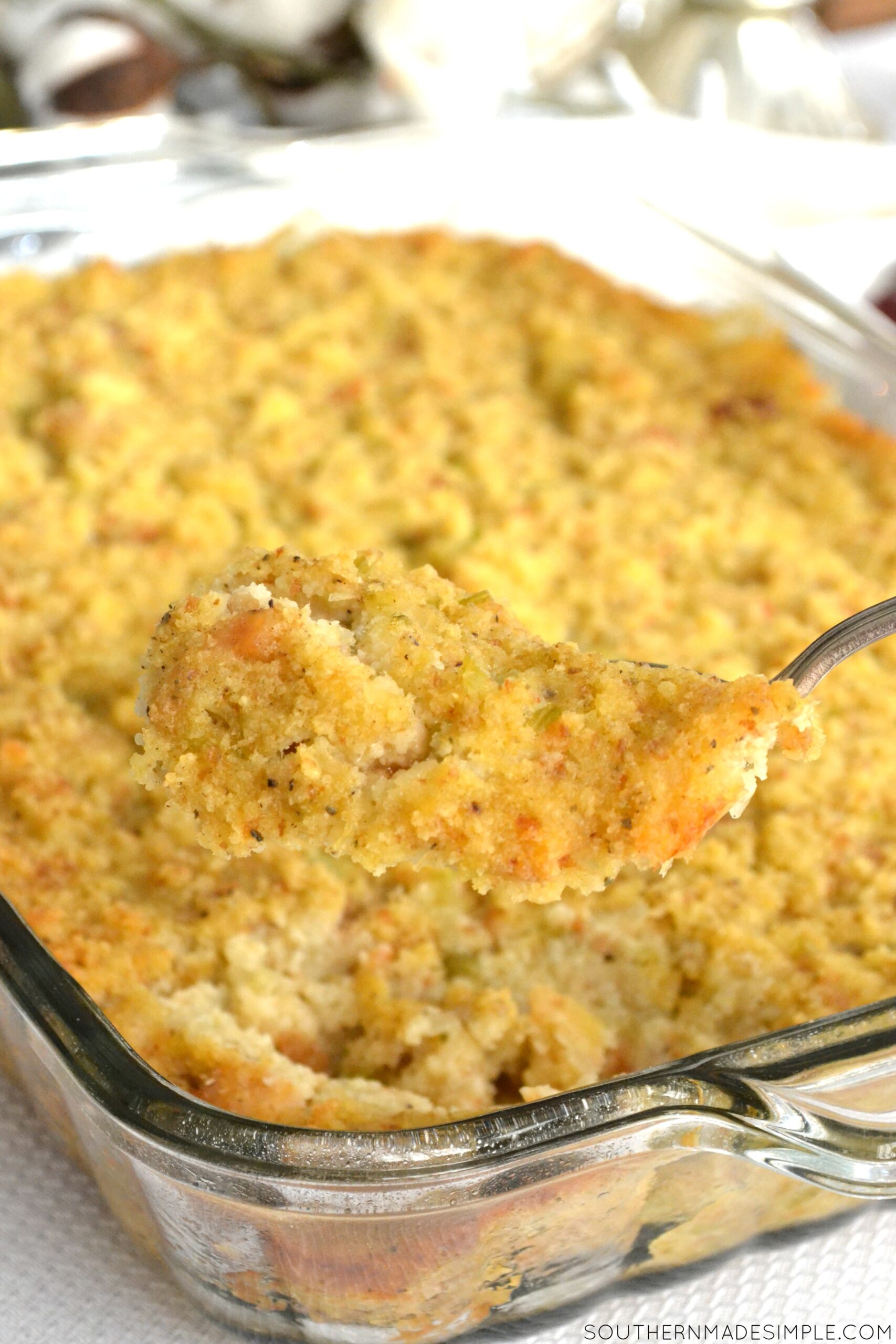 Despite what many people may believe, dressing and stuffing, in my opinion, cannot be used interchangeably. Even though there are many similarities, traditional Southern Cornbread Dressing is different from "stuffing" for a few reasons. Stuffing is typically known to be a bit herbier, with sage being the stand-out herb used. While many dressing recipes do call for sage and other seasonings (such as this recipe,) you'll frequently find that many omit the sage all together. Stuffing also typically uses larger chunks of bread, while cornbread dressing uses a very finely ground cornbread as its base. Dressing is usually more moist while stuffing tends to be a bit drier, and then of course there's the whole "stuffing it inside a turkey" thing. While I think the practice of literally stuffing the bird is fading out a bit, cornbread dressing is never stuffed inside a turkey where as stuffing traditionally is.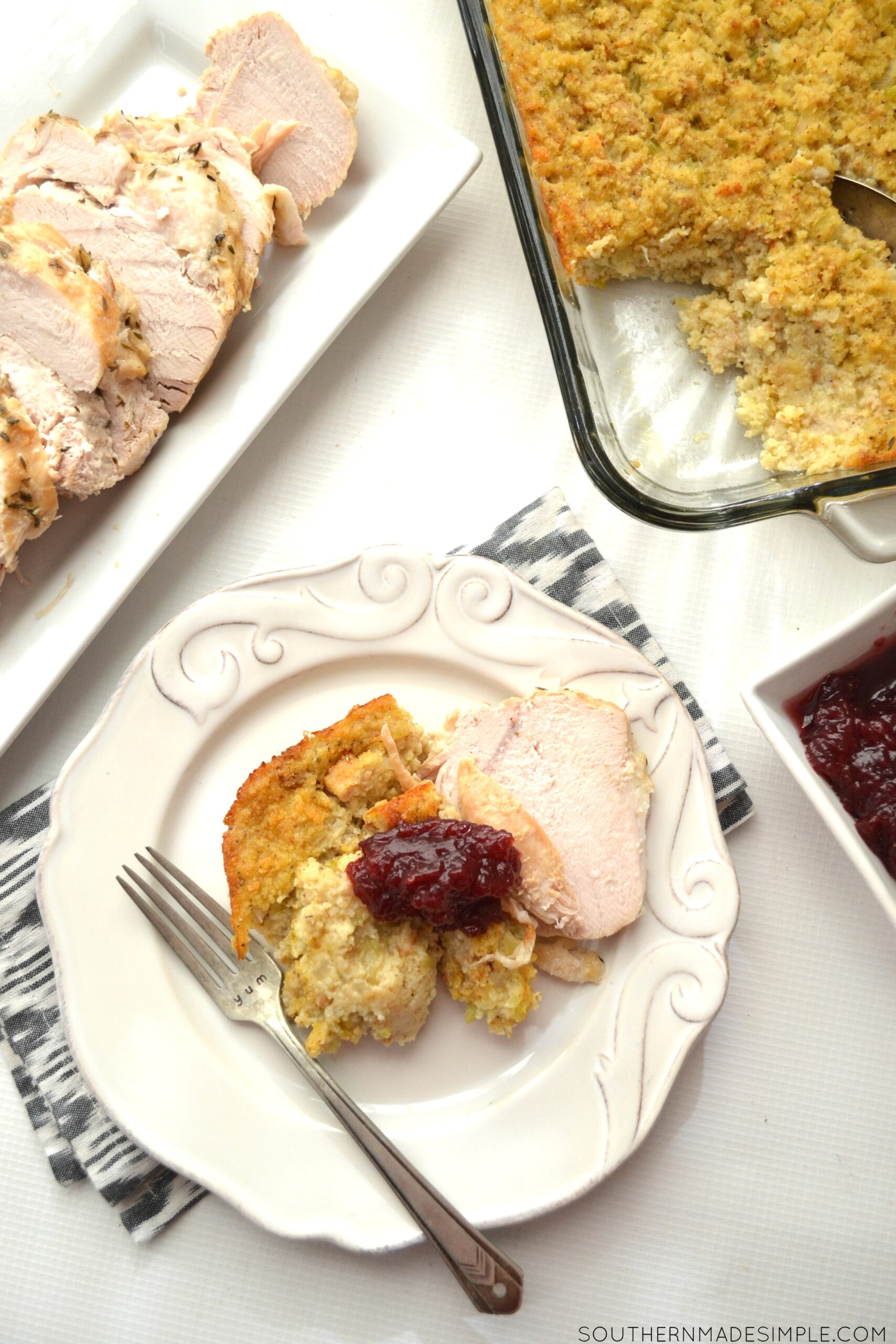 My grandmother's signature in her dressing was adding just a smidge of nutmeg. It's not anything that really stands out in the dish, but I love adding it in because that's exactly what she did. I never got to sit down and have a Thanksgiving dinner with her, but I'd like to think she'd be proud that I add in the nutmeg in memory of her. 
Are you ready to make a big ol' helping of southern cornbread dressing? Here's everything you'll need to get started:
Southern Cornbread Dressing
Ingredients
Cornbread:
2

cups

self-rising cornmeal

5

eggs

1 1/4

cup

whole buttermilk

1

Tbs

canola or vegetable oil for greasing the skillet
Cornbread Dressing:
Crumbled day-old cornbread

6-8

slices

white sandwich bread

gently torn into thumb-size pieces

2

large

yellow or white onions

very finely chopped

1

bunch

celery

both ends removed and very finely chopped

2

cups

chicken broth

1

26 oz

family size can Cream of Chicken Soup

1

Tbs

rubbed sage

1

tsp

poultry seasoning

1/2

tsp

ground nutmeg
Instructions
For Cornbread:
Pour oil into iron skillet and roll oil around thoroughly to ensure the entire pan is coated with oil

In a large bowl, combine corn meal, eggs and buttermilk and stir

Pour batter into greased skillet and bake for 22-25 minutes, or until it's just lightly golden on the top and around the edges. Don't overbake!

Crumble cornbread very finely, making sure there are no chunks larger than the size of your pinky nail.

Cover crumbled cornbread and set aside for a day or overnight.
For Cornbread Dressing:
Grease a large casserole dish (9x13 or larger)

Combine very finely diced onions and celery in a stockpot and add just enough water to cover the top of the onions and celery

Boil until the celery is good and tender, or to your liking. Do not drain. You'll use the broth off of the vegetables in the dressing.

Transfer crumbled corn bread to a very large mixing bowl and place torn white bread right on top - do not stir in

Pour onion and celery mixture over cornbread, followed by the can of cream of chicken, 2 cups chicken broth, and your seasonings.

Pour into greased baking dish and bake uncovered for 55-60 minutes, or until bubbling and a nice thin crust has formed around the edges

Serve with turkey, cranberry sauce and all of your favorite fixin's!
---
If you have ample leftovers, dressing will freeze well so you can enjoy it again later! Just add a little chicken broth to liven it back up, warm all the way through and enjoy all over again!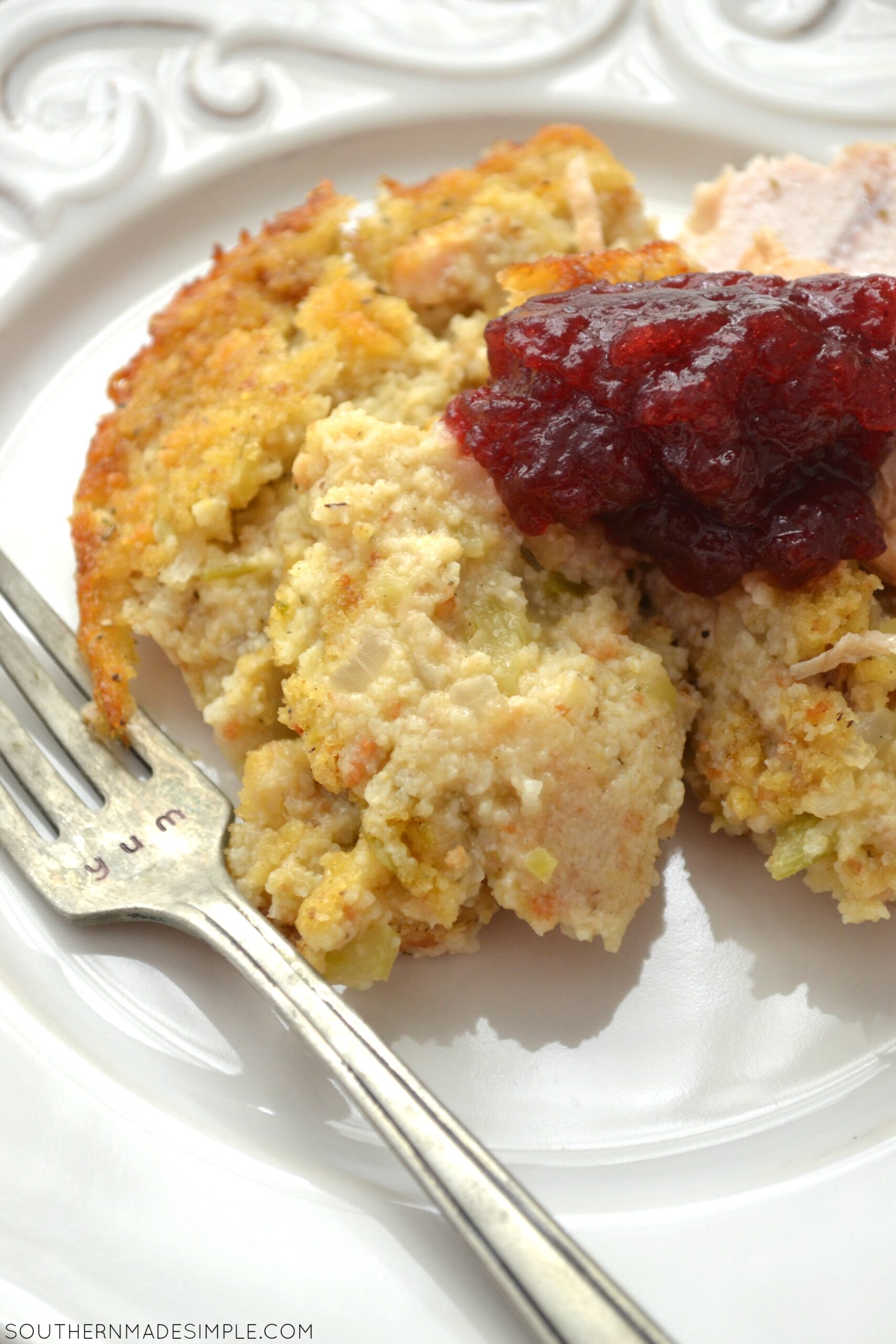 What is your favorite Thanksgiving side dish? Do you prefer cranberry sauce or gravy on top of your dressing? Leave a comment below and share the love!
Happy Thanksgiving, y'all!
If you'll have little ones running around the house during Thanksgiving this year, be sure to take a look at these fun Thanksgiving Themed Snack Crafts for them to make and share!