This recipe for Irish Soda Bread Pudding with Bailey's Caramel Cream Sauce is a delicious way to liven up traditional Irish Soda Bread and transform it into a scrumptious breakfast with a hint of Bailey's Irish Cream liqueur – just in time for St Patrick's Day!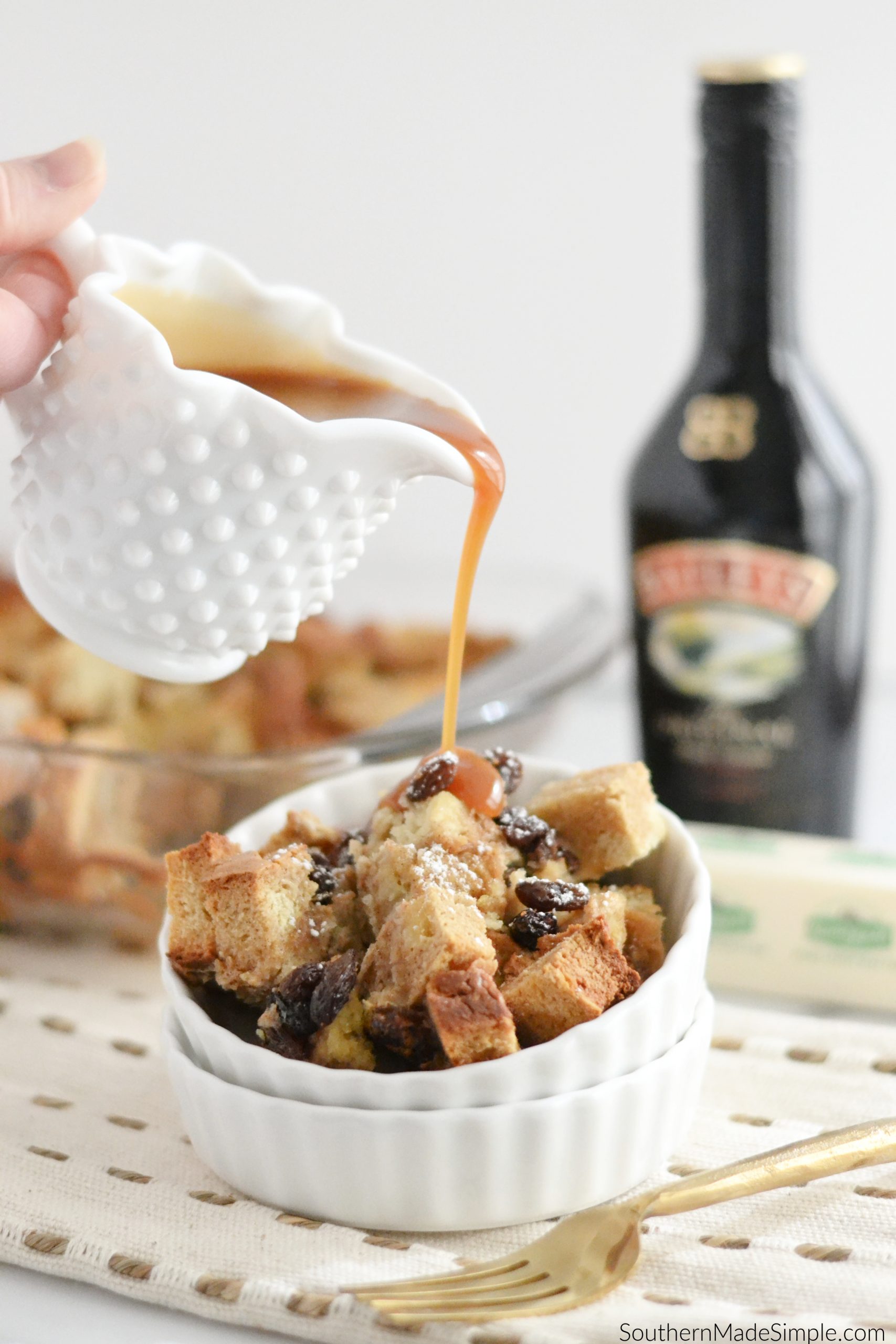 This past weekend we broke out a few St. Patrick's Day decorations and began decorating our home with lots of green,  sparkly shamrocks and a few lovely little leprechaun figurines.  Last year was the first year we actually put out decorations for the holiday, but because we're homeschooling until the end of this school year I thought it would be a great way to tie our heritage into our curriculum and to freshen up our "classroom" with something new and fun to look at. I put a loaf of Irish Soda Bread into the oven and asked Alexa to play Irish music for us to tap our toes to while we decorated. It was such a fun way to spend our Saturday!
Last year around this time I shared a recipe for how to make Irish Soda Bread with you all. When I was a teenager I had the opportunity to travel to Ireland, and while visiting a rural farm there I got to make Irish Soda Bread and dance the night away to Irish folk music with local teens my age. It's one of my favorite memories to date, and for that reason Irish Soda Bread will always hold a very special place in my heart. Soda bread is a very no-frills type of bread. You only need 4 ingredients to make it, and you don't even have to knead it! The acid in the buttermilk combined with the baking soda give this bread a bit of a rise, and the "X" carved into the center is said to ward off the devil in your home. It also helps the center of the dough cook all the way through, but I like the thought of keeping the devil out of my home (and my bread) much better!
We always enjoy our soda bread with a pad of butter and a little jam on top, but this time I had a specific vision in mind to transform our loaf of soda bread into something extra sweet to enjoy for breakfast the next day.
At the end of the day, I took the remaining soda bread, cubed it with a serrated knife and spread the bread cubes onto a baking sheet to lightly toast them. I whipped up a mixture of eggs, sugar, milk, plain yogurt, vanilla, cinnamon and a smidge of Bailey's Irish Cream liqueur and poured it over the bread crumbs in a large 9×13 casserole dish and folded in a cup of raisins. I covered it and placed it in the fridge overnight to let the bread really soak up the liquid. The next morning I popped it in the oven and whipped up a homemade caramel sauce to pour over it when it came out of the oven. Making a bread pudding out of Irish Soda Bread is going to be an annual thing in our house for sure, and it's a great way to use up day-old soda bread!

Here's a full copy of my recipe if you'd like to give it a try:
Irish Soda Bread Pudding with Bailey's Caramel Cream Sauce
Ingredients
For Soda Bread:
4

cups

all purpose flour

1

tsp

salt

2

tsp

baking soda

1 3/4

cup

buttermilk
For Irish Soda Bread Pudding:
1

loaf

Irish Soda Bread

cubed

1

cup

raisins

8

eggs

1

cup

milk

1/4

cup

Bailey's Irish Cream liqueur

add more or less to taste

1

cup

plain yogurt

1/2

cup

white sugar

1

tsp

vanilla

1

tsp

cinnamon
For Bailey's Caramel Sauce:
1

cup

white sugar

1/2

cup

water

5

Tbs

Salted Irish Butter

I use Kerrygold brand

3/4

cup

heavy whipping cream

1/4

tsp

vanilla

2

Tbs

Bailey's Irish Cream Liqueur

more or less to taste
Instructions
For Irish Soda Bread:
Grease a round 9 inch cake pan and set aside

In a large mixing bowl, combine dry ingredients

Create a well in the center of the flour mixture and pour buttermilk into center

Using a rubber spatula, gently fold the flour mixture into the wet center in a circular motion, making sure to stir until ingredients are just combined. Be careful not to overwork the dough.

On a well floured surface, turn out dough and gently work it into an even round shape about 8 inches in diameter. I like to pat a little extra flour on top of mine, but that's optional.

Place dough in greased pan and make a cross using a knife in the top of the dough. Place another 9 inch round cake pan on top

Bake for 25 minutes, then remove top pan and continue to bake for an additional 10 minutes, or until a nice golden crust forms.
For Irish Soda Bread Pudding
Cube soda bread and place bread cubes on baking sheet

Lightly toast for 15-20 minutes

While bread is toasting, pour 1 cup of raisings into a bowl of warm water to rehydrate them

Pour toasted bread cubes into greased 9x13 casserole dish

In a large bowl, combine eggs, milk, yogurt, sugar, vanilla cinnamon and Irish cream liqueur

Drain water off of raising and toss them into the casserole dish with the bread cubes

Pour egg mixture over bread cubes, trying to make sure each cube of bread is covered with some of the mixture

For best results, cover and refrigerate overnight to allow the bread to really soak up the liquid. If time does not permit, you can go ahead and bake now.

Uncover dish and bake for 40-45 minutes

Serve with hot Bailey's Caramel Cream Sauce and enjoy!
Bailey's Caramel Cream Sauce:
Add 1/2 cup water to small saucepan and bring to a boil

Whisk sugar into boiling water and bring up to a rapid boil

Reduce heat to medium-low and cover with a lid. Allow to boil for 6-8 minutes, or until sugar and water begin to turn an amber brown color.

Gently add in cubed butter, making sure not to splatter the mixture onto your hands. Whisk vigorously as the mixture will begin to bubble quickly

Slowly add in the heavy whipping cream and whisk until foaming mostly subsides

Add in vanilla and liqueur. Bring mixture back to a boil just to thicken, then remove completely from heat and allow to cool slightly before serving.

Pour over Irish Soda Bread Pudding and store remaining in a jar and keep refrigerated. Enjoy!
---
The caramel sauce will keep in a fridge for a few weeks, and in my eyes it's basically the equivalent of liquid gold. It's the star of this Irish Soda Bread Pudding, and I can assure you it'll be good on just about anything. I only added a small amount of liqueur to mine, but you can certainly add more if that's your thing! 
If you like this recipe for Irish Soda Bread Pudding with Bailey's Caramel Cream Sauce, be sure to check out these other fun recipes for St. Patrick's Day right here on Southern Made Simple!
Irish Soda Bread |Shamrock Sugar Cookies | St. Patrick's Day Sugar Wafers | St. Patrick's Day Snack Crafts for Kids