I RECEIVED THESE PRODUCTS IN EXCHANGE FOR MY HONEST REVIEW. ALL OPINIONS EXPRESSED ARE 100% MY OWN. I ONLY PROMOTE WHAT I TRULY LOVE!
Hello again, friends! It's been a very busy two weeks here in our neck of the woods, and now we're gearing up for an even busier two weeks as we countdown the days until this little one turns TWO! She's been a busy little helper bee at our construction site for our brand new home that we're in the process of building. She LOVES to dig in the sand, "hammer" on the walls and run up and down the hallways. There is absolutely no slowing her down these days. She is wide open all the time and full of energy!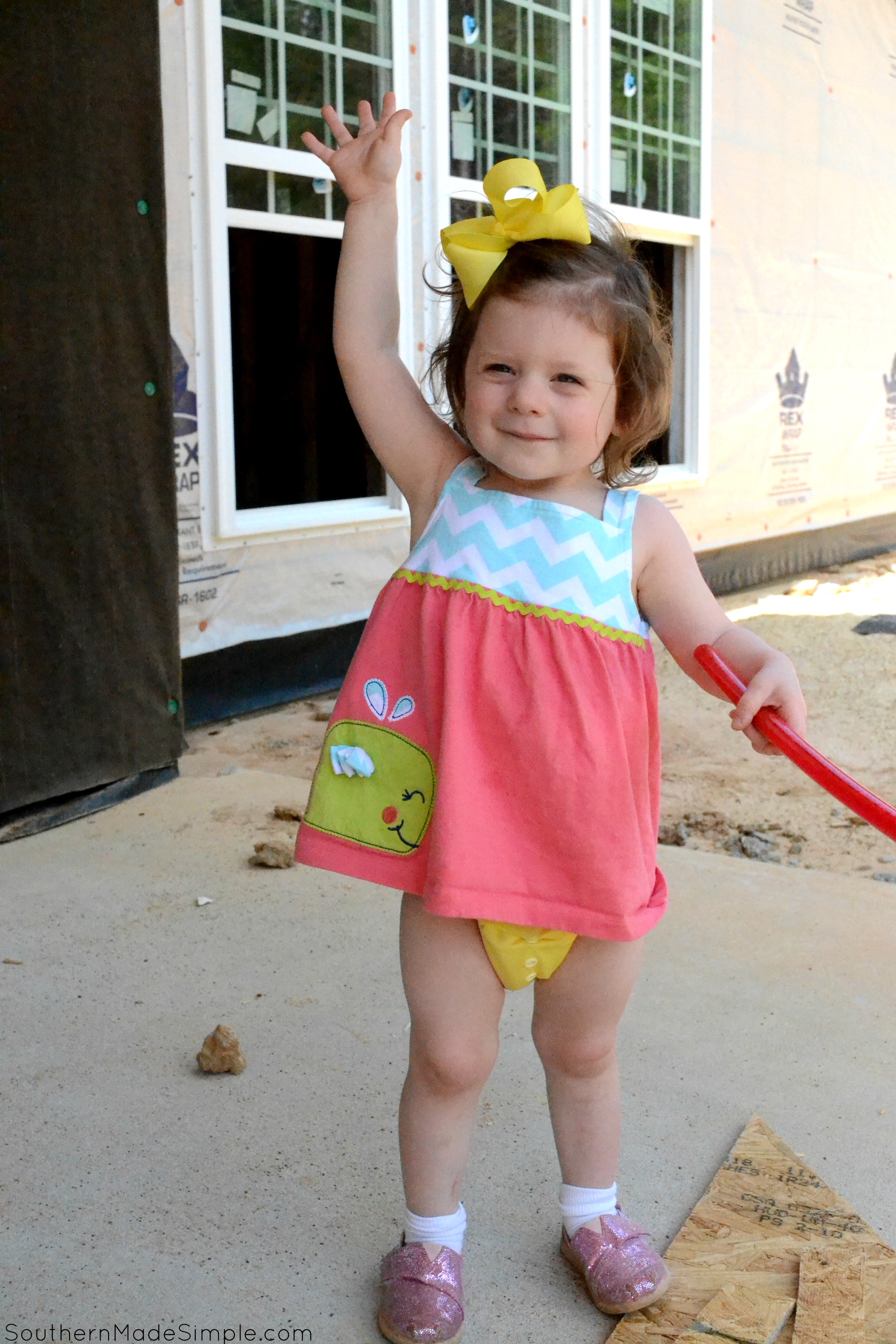 As much as I'm having a hard time coming to terms with the fact that she is no longer a baby (they grow SO fast, don't they?) I've switched gears a bit when it comes to what I look for and what I need in a cloth diaper to meet the needs of my active toddler who is slowly starting to outgrow some of her other cloth diapers. Because she's always on the move, having a diaper that moves and stretches with her without constricting her is definitely high on my radar. And because she's always on the move, it has to be dependable when it comes to offering leak protection, too.
I was recently contacted by Snap-EZ, a fabulous cloth diaper company based out of Washington, to review a few of their diapers that have not only met, but exceeded our every need when it comes to diapering our growing toddler!
Snap-EZ offers a unique array of cloth diapering products that cover multiple ages – not solely focusing on diapering babies. While Snap-EZ has a bountiful selection of diapers for babies, they put a large emphasis on meeting the diapering needs of those that require a bigger diaper than the standard size. In fact, there's a specific section on their website dedicated to reusable cloth needs for youth and adults and women! For this reason alone, Snap-EZ is truly a rare gem in the cloth diapering world. Many people struggle to find products to meet their growing needs, but Snap-EZ delivers in such an outstanding way!
My sweet little thing is showing off the Snap-EZ Multi-Size Toddler Pocket Diaper, which fits babies ranging from 20-45 lbs. It comes in 12 lovely colors (and soon new prints!) and consists of an outer layer made of PUL (helps waterproof the diaper) and an inner layer made of polyester micro-fleece, which helps wick moisture away from the baby and keeps it off of their skin. This diaper is perfectly stretchy and contours to my toddler's shape without any gaps – making it the perfect diaper for her to run around and play in!
This diaper has adjustable rise settings so you can easily create a custom fit for your child. The opening to stuff the insert or prefold is wide enough to easily put the insert in, and it also has an elastic opening, which helps keep the insert from wiggling it's way out. It also has hip snaps to help keep a snug fit around the upper part of the leg.
The Snap-EZ Multi-Size Toddler Pocket Diaper retails for $19.50 and can be purchased here (but make sure you scroll down to the bottom to snag a special discount code!) 😉
When you're ordering a diaper, don't forget to include the inserts, too! We were sent a Snap-EZ Cotton Velour Soaker and a Snap-EZ Hemp/Cotton Insert to try out.
The Cotton Velour Soaker is super soft and plush to the touch, and it's also very absorbent. Because it's made from cotton, it is safe to use directly against skin if you choose to lay it inside a diaper instead of stuffing into the pocket. These inserts range from $8-$12 and come in sizes ranging from infant to youth.
The Hemp/Cotton Insert is is made from two layers of hemp/cotton fleece material. Hemp is known to be incredibly absorbent, and when folded in half (or in thirds) like pictured below, you're doubling or tripling the amount of layers for liquid to soak through. They're a great option to use (doubled) for overnight. These inserts range in size from infant to adult-super and range in price from $10-$26 depending on the size.
Both inserts have different washing instructions and do shrink a little once they're fully washed and prepped. It's important to pay special attention to the washing instructions because the hemp inserts must be boiled and washed multiple times before using. This simply ensures that the natural oils found in hemp do not attach on to other inserts or diapers, causing them to repel water instead of absorb it. I would love to see Snap-EZ offer a "pre-prepped" option for their inserts at an additional cost in the future. I'm much more of a grab-and-go type of person, so having this step already completed for me would be a dream!
We were also sent the Snap-EZ Child AIO Training Pants to try out. We've been slowly working on potty training over the last few weeks, and these training pants have been a wonderful tool to have to help with the process. They fit well enough that there is no gaping around the legs so she can easily be the busy and bouncy tot that she is, but they're stretchy enough that she can easily slide them down just like underwear.
There is also have a 4 layer cotton velour soaker sewn inside for absorbency in case accidents happen. The inside is lined with cotton velour, which is super soft against the skin. This particular material will feel wet against the skin, so it makes the child alert that they have wet and need to be changed. They come in multiple sizes start retail for $25.75.
You can learn more information about the AIO training pants and how they're great for children who are potty training or for children who have special needs here.
My daughter is as proud as punch to get to wear these "big girl" training pants. I've caught her several times checking herself out in the hallway mirror when she walks by while wearing these, and she loves to practice pulling them up and down. Both the Snap-EZ AIO Training Pants and the Multi-Size Pocket Diaper get a huge A+ and two thumps up from us!
Discount Alert!
Have you fallen head over heels in love with Snap-EZ like we have? Here'a a coupon code just for Southern Made Simple readers to save you 15% off your order! Score! Just use code SMS15 (case sensitive) at checkout!