Thanks for Dunkin' Donuts for making breakfast a real treat 24/7 and for partnering with me for today's post. All opinions expressed within this post are completely my own.
You know what really gets me excited? Like – jump up and down, sing at the top of my lungs, and maybe throw in a cabbage patch dance kind of excited? Food. Always food. No doubt about it.
That should come as NO surprise to many of you who have been following this blog for a while. Food instantly takes me to my happy place. When it's time to eat, I'll be the first one to show up and show out to get some grub in my tummy. I never miss a meal, and I especially never miss breakfast. Just to keep it 100% with you all, breakfast is the most coveted and anticipated meal of my day! There's just something about breakfast food that screams "comfort food" to me, and I love it all!
But you know what makes me even happier than breakfast food? Knowing I can get it ANY time of the day, because Dunkin' Donuts is serving up some of the most delicious breakfast sandwiches and drinks 24/7 – which means you'll likely catch me doing my cabbage-patch happy dance around the clock!
When I heard about the new Pretzel Croissant Breakfast Sandwich that just hit the shelves at Dunkin' Donuts, I made a special pit stop with my husband to try it out (and refuel with some much needed coffee. #momlife)
Before we rolled up in the parking lot, I reached for my phone and opened up the Dunkin' Donuts app where I could easily place my order and pay ahead of time to avoid waiting in line. The app is SO convenient and user friendly, and I felt like royalty walking to the front of the line to find my breakfast (that I was totally having for lunch) waiting on the counter for me!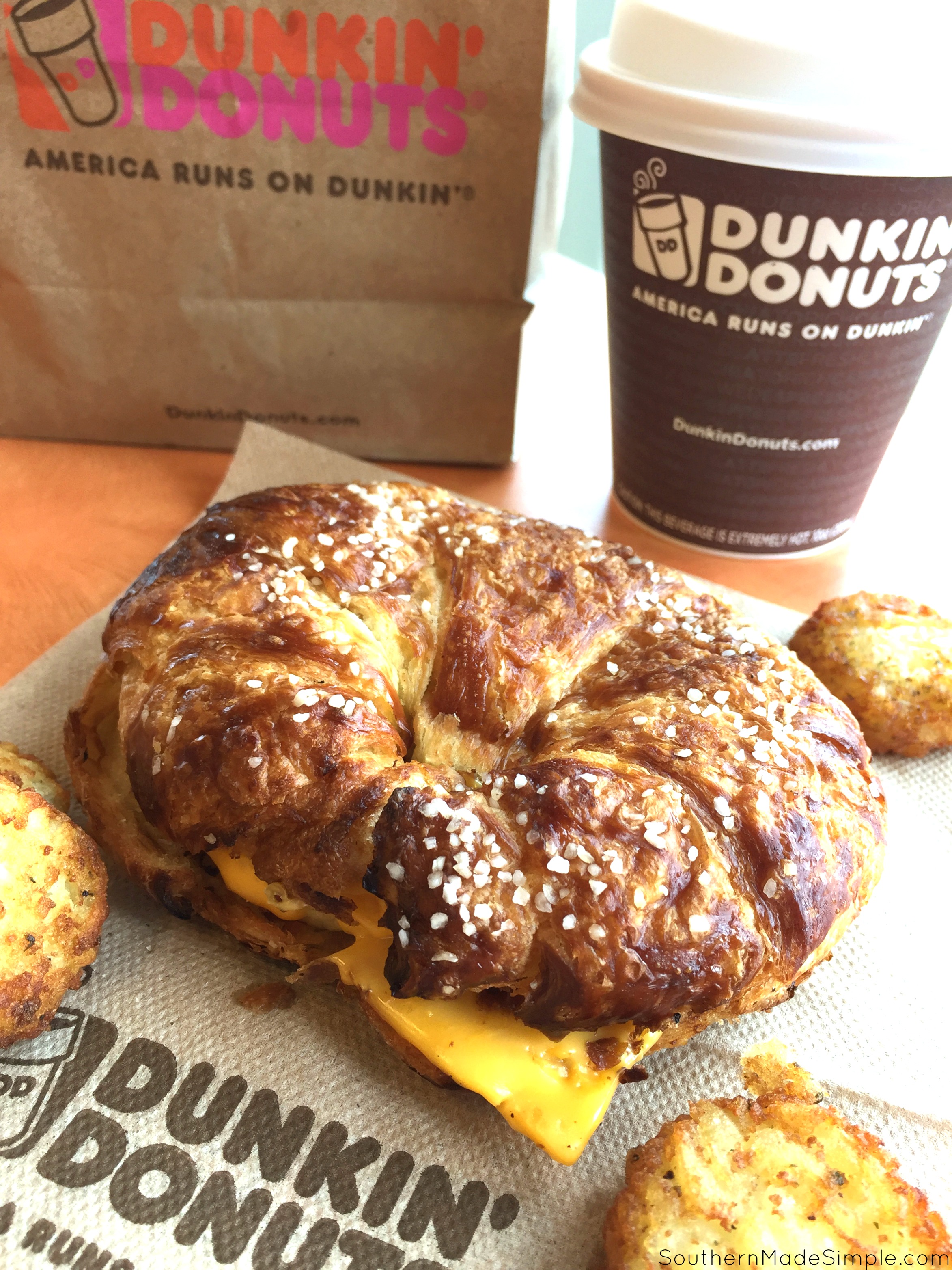 The new Pretzel Croissant Breakfast sandwich combines the buttery flakiness of a freshly baked croissant with the salty deliciousness of a pretzel. There was also perfectly cooked cherrywood smoked bacon and egg inside those perfect pretzel-y buns! This sandwich typically comes with Wisconsin aged white cheddar cheese, but my order had a slice of American cheese on it. I ordered a small latte and a side of hash browns to share with my husband to pair with the meal. This sandwich absolutely did not disappoint in the slightest, and I devoured it while doing a happy dance right there in my chair!
I love that Dunkin' Donuts has a really fresh and innovative menu. Having lots of customizable options to create the ideal breakfast to enjoy ANY time of day makes this my #1 spot to grab a breakfast sandwich!
If you're a fan of enjoying delicious breakfast foods, hot coffee and freshly baked donuts and pastries any time of day, head on over to Dunkin' Donuts, dig in and do your happy dance! Don't forget to try the new Pretzel Croissant Breakfast Sandwich…and order it ahead of time with the Dunkin' Donuts app! You can thank me later. 😉
To learn more about new product offerings and to stay up to date with Dunkin' Donuts, you can subscribe to their blog right here!