This is a sponsored post for SheSpeaks/Rubbermaid®. All opinions expressed within this post are 100% my own.
Within the last month, my husband and I gradually started incorporating a small lifestyle change when it comes to the meals we prepare and eat. For years we've mostly eaten what we wanted and were able to get away with it, but as we've gotten a little older, our bodies have become a little bit slower and the weight started sticking to us more than we wanted. We both have jobs that require us to sit down a good bit, and even though I do chase around a toddler all day, I'm definitely not nearly as active as I once was. I'm certainly busier now that I'm a mom, but I've strayed away from quality physical exercise and exchanged it for trying to catch a break on the couch once my toddler is down for a nap. All that is to say, we saw that some changes needed to be made in our lifestyle, and the first place we started was eating healthier and better foods.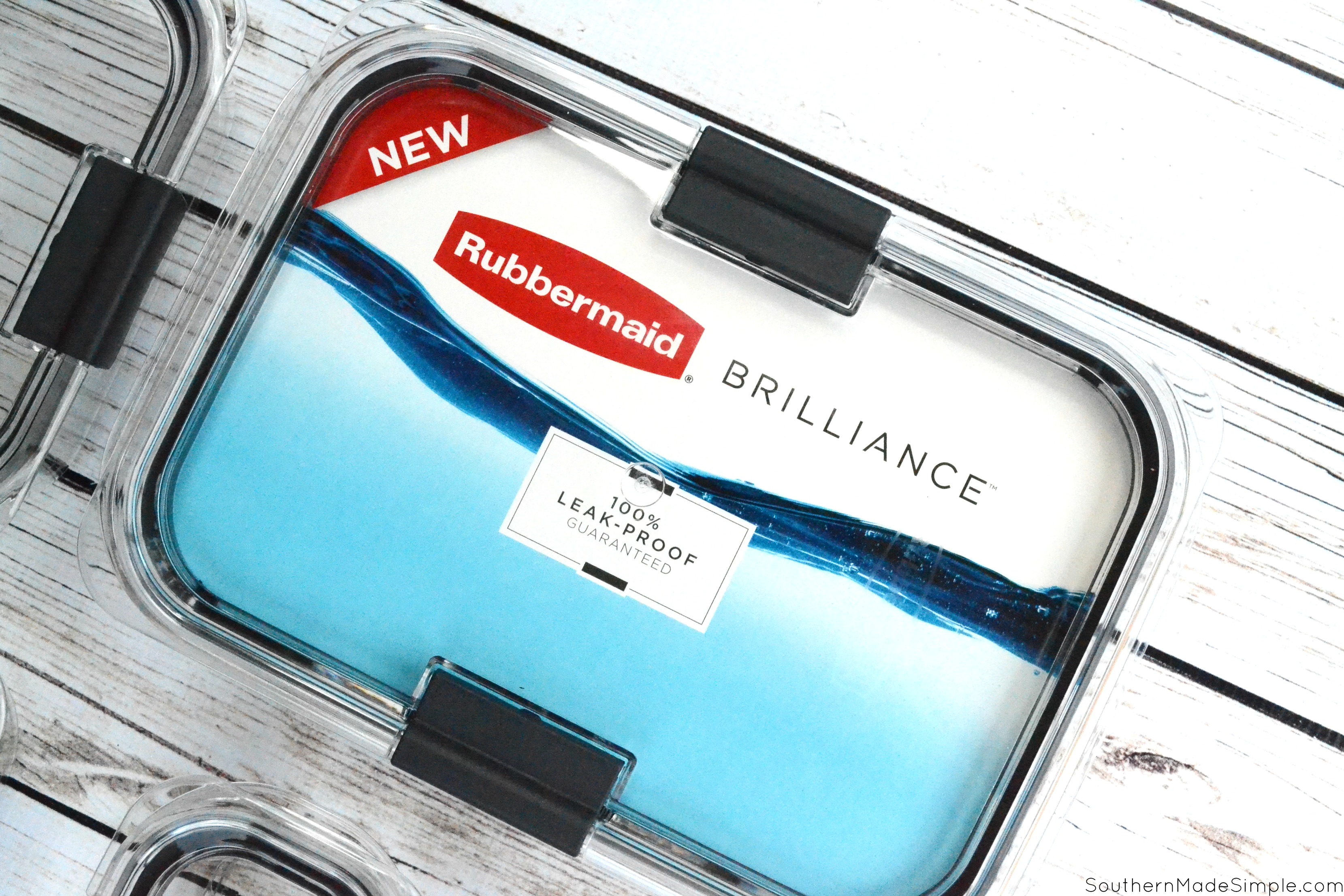 We decided that our bodies needed a big time boost in the amount of greens we consume, so one of our biggest goals was to incorporate at least one salad into our diets every single day. Keeping fresh greens and lettuce can be tricky for us. Because we live in a very rural area (30 minutes from the closest grocery store,) I don't get to run to the supermarket and pick up fresh ingredients as frequently as I'd like to. For this reason, I really depend on a quality storage system to help us keep our salads fresh.
At the beginning of each week, I prepare my husband and I our salads for the whole work week. I keep all of the ingredients we need to make our salads in the new Rubbermaid BRILLIANCE 10-piece food storage containers, and since making the switch to these food containers, meal prep has never been easier!

Rubbermaid BRILLIANCE containers are 100% leak-proof, which is perfect for my husband who grabs his container early in the morning and travels a long distance to work with it. If it happens to slide around in the car and fall onto the floorboard, he doesn't have to worry about any juices or dressings seeping out of the sides (which has happened numerous times with other products.) They're also BPA free, microwave safe and stain resistant – so no worries about ruining the product after heating up foods with ingredients that are known to stain.
I also love that they're crystal clear, so I know exactly what I'm grabbing when I reach in the fridge to pull our the ingredients I need to make a salad. The modular shape and sizes of the containers are perfect for stacking to save space in the fridge, and they hold the perfect amount of ingredients that we use throughout the week for our meal prep. 
Meal prep for the week can often be one of those mundane tasks that can feel more like a chore than actually doing something productive, but since incorporating the Rubbermaid BRILLIANCE containers into our routine, I actually look forward to reaching in my fridge and pulling out all of the fresh ingredients I need. It's SO much easier to see all of those beautiful and bright colors in the clear containers than to fumble through other mismatched containers trying to open the lid to see what's hiding in each one. Plus, I'm much more likely to eat my greens when I can see them on display!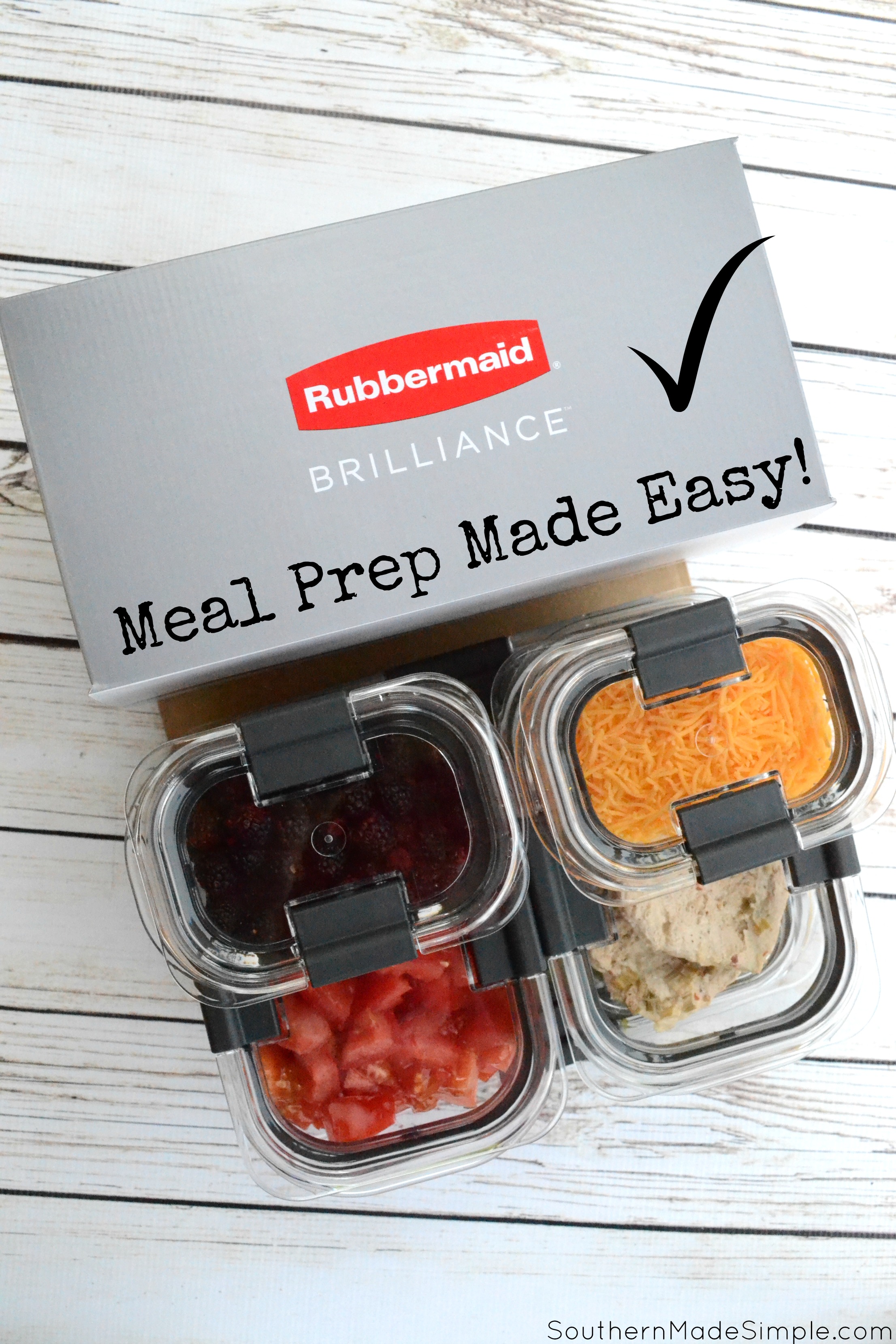 Lifestyle changes can be hard to make, especially when you're so accustomed to a certain way of life for so long. To ensure success in our quest to cook with and eat ingredients that are fresh and good for us, it's important to avoid as many bumps in the road as possible, and dealing with products that make the process more difficult (be it products that leak, stain, aren't microwave safe, etc.) just isn't something that we want to deal with. Luckily, switching to Rubbermaid BRILLIANCE has helped us stay on track and has made meal prep SO much easier for us!
Have you recently incorporated a lifestyle change into your day-to-day life? Do you struggle with meal prep or have any helpful tips and information you'd like to share? Leave a comment below and share the love!
Giveaway:
One VERY lucky Southern Made Simple reader is going to win a Rubbermaid BRILLIANCE 10-piece food storage set of their very own! Just enter using the giveaway form provided below. Must be 18 or older to enter and a resident of the US. Giveaway ends 6/6/17.
OPEN TO RESIDENTS OF THE UNITED STATES 18 AND OLDER. LIMIT ONE ENTRANT PER HOUSEHOLD. GIVEAWAY WILL END AT 11:59PM CST ON 4/20/2017. WINNER WILL BE DRAWN USING GIVEAWAY TOOLS. ENTRIES WILL BE VERIFIED. WINNER WILL BE CONTACTED VIA EMAIL AND WILL HAVE 48 HOURS TO RESPOND BEFORE THE PRIZE IS FORFEITED AND A NEW WINNER IS SELECTED. SOUTHERN MADE SIMPLE IS NOT RESPONSIBLE FOR PRIZE FULFILLMENT.