This shop has been compensated by CollectiveBias, Inc. on behalf of its advertiser, Similac.  #NutritionintheMix #Collectivebias #Walmart
In a perfect world, there would be a handbook (with pictures) issued to every parent who is raising a toddler. It would be filled with explanations as to why your child is throwing a tantrum, how they were able to reach the rice from the top shelf and spill it everywhere, and why in the world they LOVE a food one day and hate it the next.
Unfortunately, we don't live in a perfect world where such a handbook exists. Hey, a mom can dream, right? 😉 I sure wish I had one right about now, though! I'm already having a hard enough time coming to terms with the fact that I no longer have a little baby to hold in my arms. She grew in the blink of an eye and is now a squirmy little toddler who is too busy to be held and wants to get into everything! I really wish time could slow down just a bit!
She has entered a phase where it seems like she changes daily. One day she likes yogurt, the next she doesn't. She wants to feed herself, but she's only interested in the food that's on your plate and not her own. She'll take a bottle one day, and be totally uninterested in it the next. Sometimes it's really hard to keep up with what's going on! While her little body is growing and going through lots of new changes, I don't want to fall behind in making sure she's getting all of the nutrients she needs.
And that, my friends, is where Go & Grow by Similac® Food Mix-Ins™ steps in to save the day!
As I hinted before, it's not uncommon for toddlers to be picky about things. Sometimes they only want to eat their soup out of the green bowl because soup out of the white bowl is clearly yucky. Sometimes they only want to eat their pancakes if they are in the shape of stars and dinosaurs, and sometimes you just have to roll with the punches and be okay with it! My toddler hasn't quite hit that stage yet, but I have definitely noticed her becoming a little choosy about the things she wants. Unfortunately, sometimes the things she wants aren't particularly healthy or nutritious.
Go & Grow by Similac® Food Mix-Ins™ are a super easy and convenient way to secretly add in those extra nutrients that help support growth and development in growing toddlers. Just add a single packet to their favorite healthy foods and give it a stir! The texture of the food is not at all changed, so your child won't even know the difference! You can even use them in baking, which is exactly what I chose to do. Friends, say hello to my little protein-packed monkey snacks! Aren't they cute?
I wanted to create a fun and flavorful snack that my daughter would love, but that would also be full of great things to fuel her little body. She loves bananas and thinks monkeys are hilarious, so I knew these protein-packed monkey muffins would be something she'd be excited about. Adding just one packet of Go & Grow by Similac® Food Mix-Ins™ into her food gives her the protein, prebiotics, vitamins and minerals that she may not otherwise be getting from her food throughout the day.
In addition to the Mix In's, another secret weapon in this recipe is quinoa. If you're not familiar with quinoa, it's a fantastic super food that is rich in protein, fiber, iron and several other nutrients that our bodies need. My daughter doesn't particularly love to eat it plain, but loves it when it's mixed into other foods like these muffins!
I went ahead and cooked up some quinoa per the package instructions and let it cool down a little bit. FYI: If you love quinoa like I do, go ahead and make some extra to serve during a family meal! It will keep in the refrigerator for a few days and goes well with just about anything. 😉
I gathered up the remaining ingredients to make the muffins and started getting busy in the kitchen! They really come together in no time, and it's something that an older toddler could easily help prepare as a fun activity. Here's a printable copy of the ingredients and baking instructions:
Protein Packed Monkey Muffins - A Nutritional Toddler Snack!
Banana, Chocolate and Quinoa Muffins - packed with protein and nutrients for growing toddlers
Ingredients
1/2

cup

quinoa - cooked per package instructions

2

large ripe bananas

mashed

2

eggs

beaten

1/2

cup

all purpose flour

2/3

cup

stevia

or sweetener of your choice

1/4

cup

cocoa powder

optional

2

packets Go & Grow by Similac® Food Mix-Ins™

optional, but highly recommended - Use one Mix-In for one serving (or ½ cup of food
Instructions
Cook quinoa per package instructions. Set aside.

Preheat oven to 350 F.

Spray muffin tin with cooking spray

Combine flour, cocoa powder (optional), stevia and Go & Grow by Similac® Food Mix-Ins™ (optional) into a large bowl. Stir until all ingredients are evenly blended.

In a separate bowl, lightly beat eggs and mashed bananas.

Add egg mixture to dry ingredients and stir.

Add in quinoa and stir.

Spoon batter into muffin tins, filling each up about half way.

Cook in the oven for 18 minutes or until a toothpick inserted in the middle comes out clean.
Notes
For the monkey faces:
1. Wafer cookies
2. Marshmallows
3. Hazelnut Spread (chocolate spread or peanut butter also works fine)
4. Black icing gel
Directions:
Spread a very thin layer of spread on top of each muffin (just enough to let the cookies stick to the top)
Place cookies on muffin, breaking some in half if necessary
Place marshmallows as eyes
Draw nose and smile with icing gel
For Similac Mix In's: Use one Mix-In for one serving (or ½ cup of food) - note that this recipe uses 2 Mix In's because of the large batch.
---
Adding in the Go & Grow by Similac® Food Mix-Ins™ is super easy! I poured it right into the dry ingredients and stirred everything together.  Because this recipe yields a dozen muffins, I used two mix-in packets. Use one Mix-In for one serving (or ½ cup of food). I'll be heading out to my local Walmart to stock up on a few extra boxes, plus the new Go & Grow by Similac® Milk Based Powder to help supplement my daughter as her diet changes. It's also available to buy online at Walmart.com (in case you're wanting to avoid a trip to the store with your toddler. I'm right there with you!) 🙂
In fact, you can choose to 
Buy Now and and snag a pretty sweet price on Go & Grow by Similac®! Check it out now!
Look at how beautiful they turned out! To a toddler, these look like regular chocolate muffins. They may never know that they're actually good for them and packed with protein and other nutrients! (It can just be our little secret!) 😉

I set the muffins out for a little while to cool down completely. They were seriously taunting me with their chocolaty good looks! While they were cooling, I got out the remaining ingredients to make the sweet little monkey faces. I used wafer cookies, marshmallows, hazelnut spread (just a tad) and a smidge of black icing gel.

Once the muffins are completely cool, spread a very thin layer of hazelnut spread (or your spread of choice) onto the top of the muffin. This is just used to get the cookies to stick in place. Remember that these are muffins, not cupcakes. I wouldn't overdo it with the sugary additives. 🙂
Next, add the cookies in the shape of the mouth and ears. I found that using two mini marshmallows worked perfectly for eyes. I think using raisins would also work nicely. Finally, draw on the eyes and mouth with a small amount of icing gel. Viola! Now not only do you have a yummy chocolate muffin packed with protein and nutrients, but it's got an adorable little monkey face smiling up at you. What's not to love? My daughter loved seeing the monkey face and taking a big bite out of the muffin (after making a rather large mess with the crumbs and cookies.) Toddlers will be toddlers I suppose!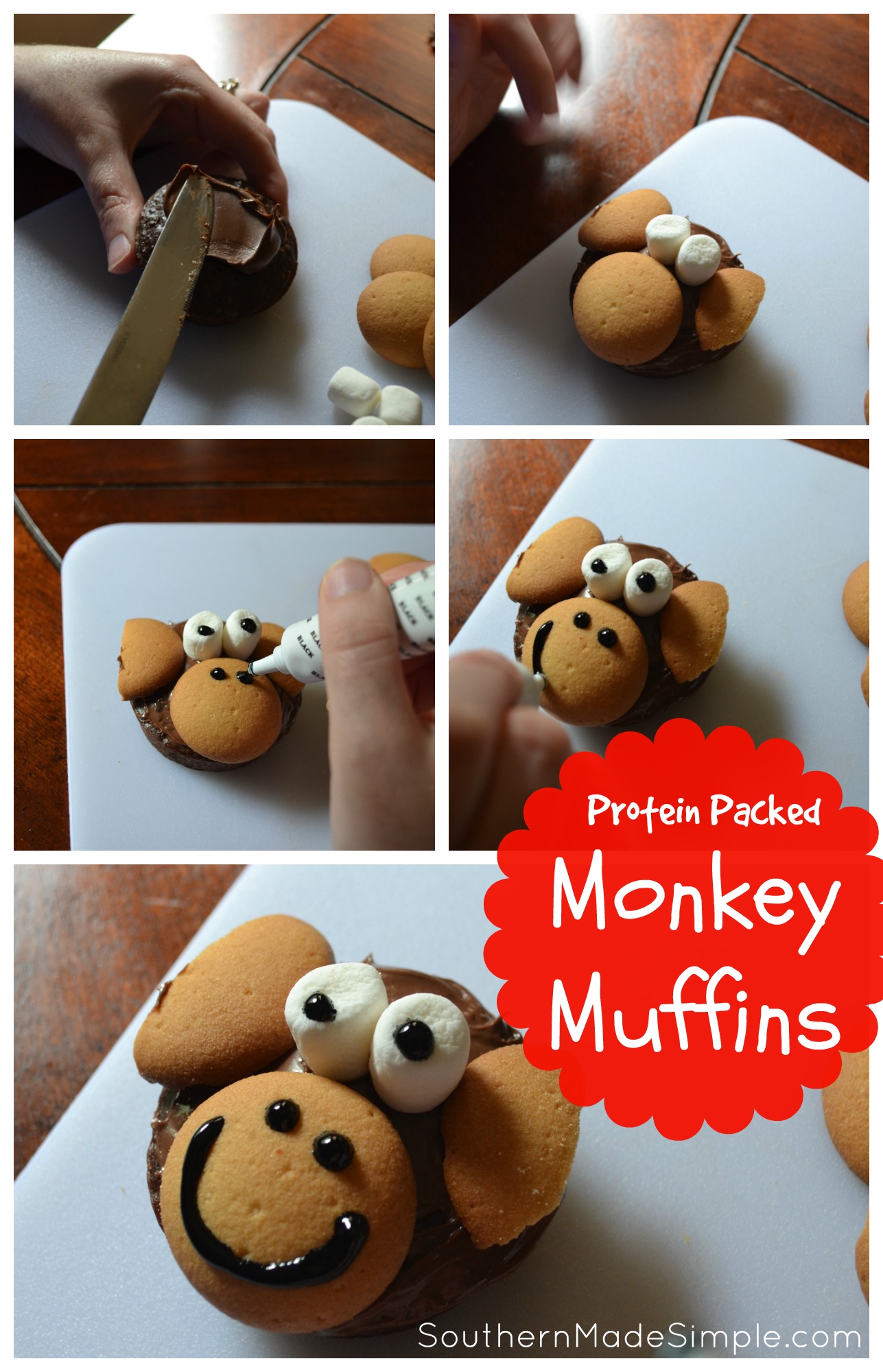 Leftovers can be stored in an airtight container for 2-3 days (if they don't all get eaten before then!)
Do you have a toddler that is a little be choosy when it comes to food? What are some ways that you like to sneak in some extra nutrients? Can you think of another fun animal shape that would work with these muffins? Leave a comment below and, and don't forget to swing by the baby care aisle next time your're in Walmart to check out the line of fabulous Go & Grow products by Similac®!
Want to see more fun and exciting recipes? Check out what else I'm whipping up in the kitchen here! Or to really get in on the action, subscribe to get my updates sent straight to your inbox!