I received product in exchange for my honest review. All opinions expressed are 100% my own. Affiliate links may be included throughout this post at no cost to you.
Growing up, my mother used to frequent a store in my hometown that sold a hodgepodge of collectibles and gifts. It was one of my very favorite stores to get to go to, as they had a section specifically for children at the back of the store filled with the most wonderful books, stuffed animals and toys that I could look at while my mother shopped around. Sometimes I would venture towards the front of the store where they had beautiful display cases filled with porcelain figurines that I loved to admire. Specifically, I had my eyes set on their collection of Precious Moments characters, and I always loved to scope out which piece of their iconic birthday train I'd be receiving next.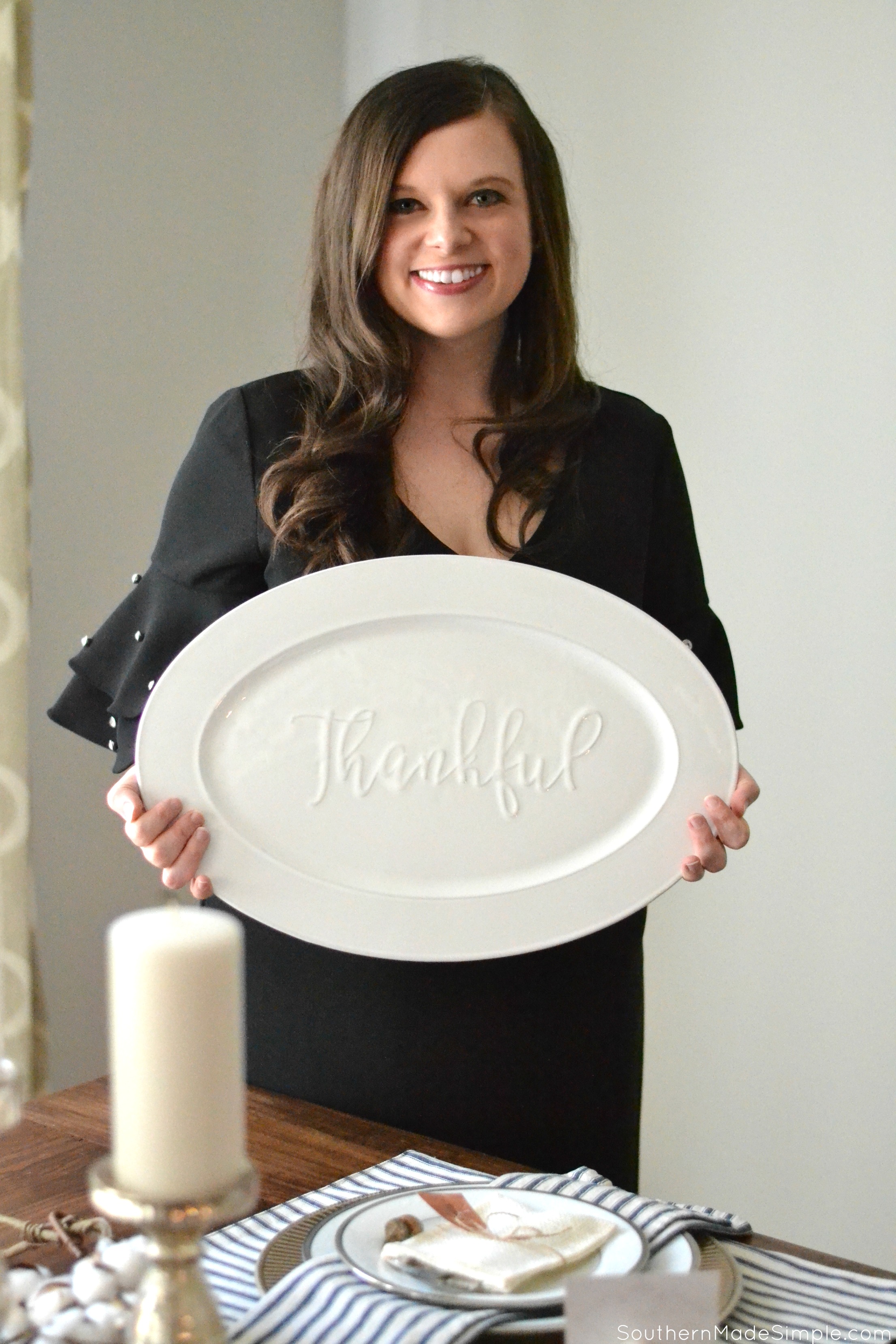 While I always loved the Precious Moments figurines as a child, my taste in home decor has shifted quite a bit as I've gotten older. With two little ones in the house, I tend to shy away from collectible pieces that could easily get broken, and I would certainly be sad to see my train set in pieces! I have always known Precious Moments to only have pieces that depict their classic, wide-eyed children and animals with pastel coloring, but I recently discovered their Bountiful Blessings collection, and my whole perception of Precious Moments has completely changed!
With Thanksgiving quickly approaching, I was thrilled to see this beautiful ceramic platter and pie plate with "Thankful" and "Grateful, Thankful, Blessed" written in a beautiful script font. These pieces offer a more sophisticated look to my home decor, and fit in perfectly with my Thanksgiving tablescape! I really love that they are classic white, making them really easy to mix and match in with most any seasonal decor pieces!
If you will be attending a large Thanksgiving gathering, or perhaps even a "Friendsgiving" this year, consider picking out the hostess a nice gift from the Precious Moments Bountiful Blessings line! I really love that they are beautiful enough to keep on display in the home all throughout the year, and not specifically at Thanksgiving. Other pieces from this collection also include a matching gravy boat and bamboo cutting board set, and they're all available at Wayfair (where most of my home decor comes from!)
I'm so thrilled to see the Precious Moments brand extend their style into this sophisticated look, while maintaining their attention to detail and quality. Their Bountiful Blessings collection is absolutely stunning, and any of their pieces would make a perfect hostess gift or holiday gift this year for anyone on your shopping list!