Sunday is, without question, my favorite day of the week. I spend a large portion of the day with my church family, and in the morning I have the privilege of teaching a handful of 10-12 year old kids during Sunday School. After learning that using Elmer's school glue without getting it all over the place is a gift not everyone has, I cut back the amount of craft projects we do together. And by cut back, I mean that we just do not do them, period.
But with Easter quickly approaching, I decided to make an exception. And besides, this isn't exactly a "craft" as much as it is just an opportunity to put together a fun little ice cream treat while sharing about Jesus! (I don't expect it to be any less messy than them using glue, though!) 😉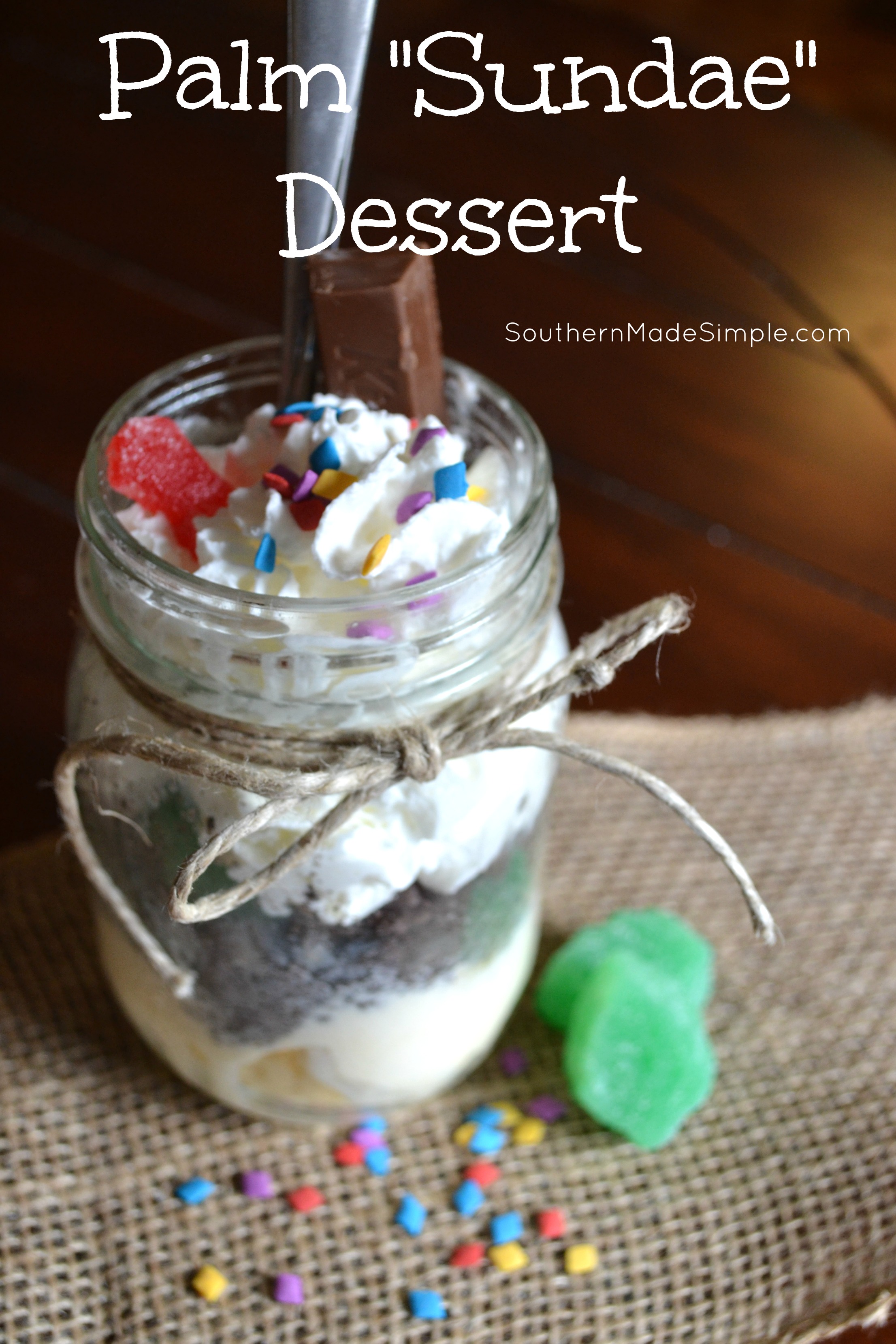 Easter and Palm Sunday are probably my favorite topics to discuss with my students. The meaning and the message behind the Easter story is so incredible, and it definitely calls for celebration!
Palm Sunday falls on the Sunday before Easter. It commemorates the triumphant entry of Jesus into Jerusalem, and it gets its name from the palm branches the crowd scattered on the ground and waved as a sign of celebration, victory and respect for Him as He rode in on a donkey.
I thought it would be really neat to have my students put together these yummy "palm sundaes" during class. Not only will they be delicious, but the students get to learn about the meaning and symbolism of the historic day in a fun new way.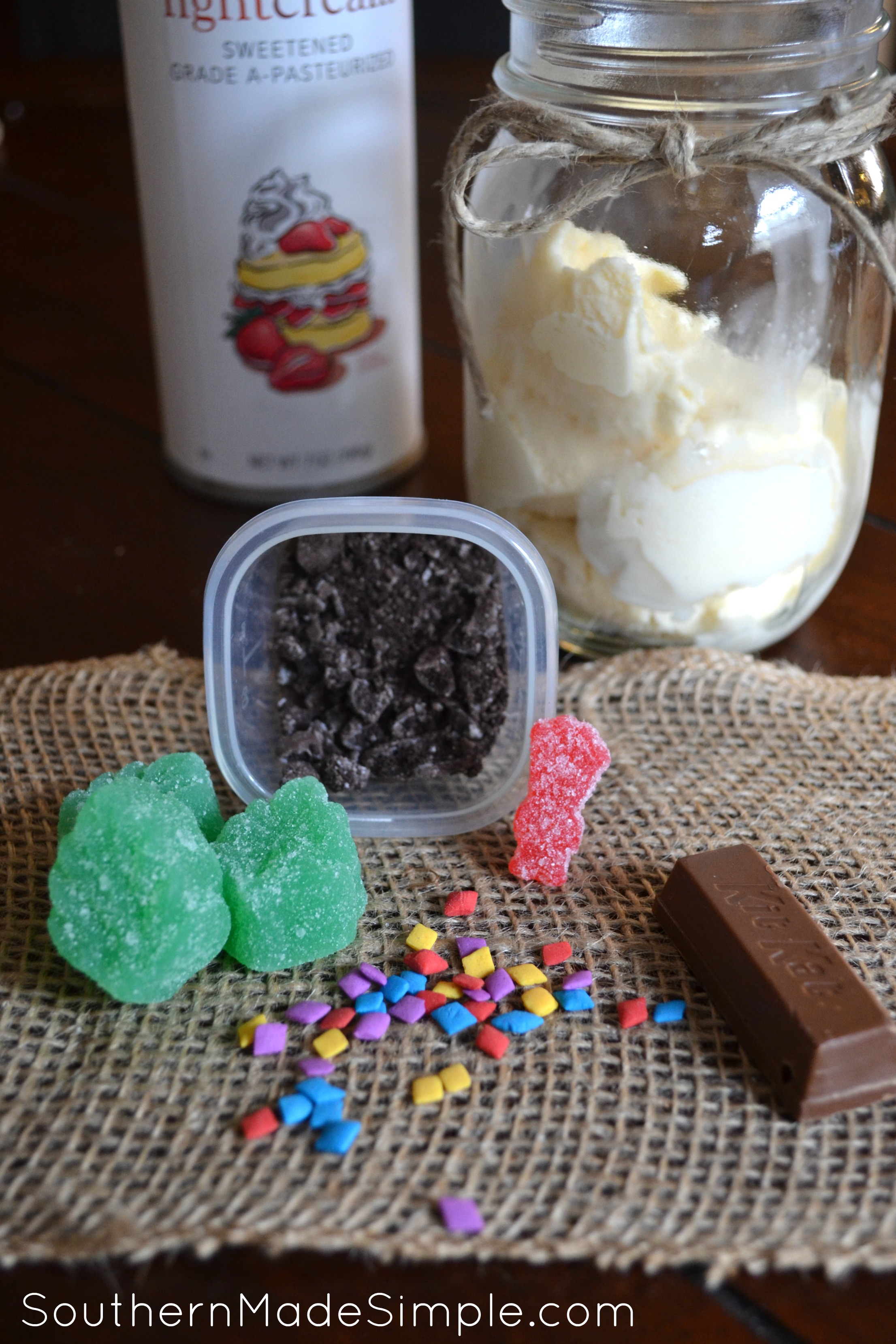 [the_ad_group id="278″]
Here's what you'll need to get started:
Ice Cream

You can't have a sundae without it! I opted for plain vanilla, but really I think you could choose any flavor.

Crushed Cookies

The crushed cookies symbolize the rough and rocky road that Jesus traveled on when coming in to Jerusalem.

Green Candy for Palm Leaves

You'll want to find a green candy for this one. I actually got insanely lucky and found leaf-shaped mint candies at my local Dollar General. Alternatively, you could use green sour straws, jelly beans, green sprinkles, fruit roll ups, gummy worms, green raisins, etc.  You'll pour this on top of the crushed road to represent the palm branches that were waved and spread across the road during Jesus' arrival.

Miniature Kit Kat

This represents the donkey that Jesus rode on.

Sour Parch Kid

This represents Jesus. You can use whatever candy you want for this, but I thought it would be perfect since it is sort-of-human shaped. Gummy bears might also work.

Sprinkles

This represents the joy and celebration of the crowd as the Messiah entered into Jerusalem.

Reddi-Whip or Cool Whip

This is solely just for aesthetics. You can't have ice cream without a little extra cream! Plus, it makes it so much easier to place Jesus, the donkey and the sprinkles.
All of these ingredients together don't make the typical sundae, but children love to pile on the sweets when it comes to their ice cream, so I don't think the fact that there are contrasting flavors going on will be a problem. I don't particularly love sour gummies in my ice cream, but it makes for such a fun treat with a great message.
I am looking forward to sharing this treat with the children in my class this year. I know they are going to flip once they see me bring in the ice cream! While we're creating our sundae, I'll be sharing the story and symbolisms of this special day in a way they won't soon forget.
I have found the following article to be well written and in terms that my Sunday school children will understand. If you're looking for a lesson about Palm Sunday to share with others, I encourage you to give this one a look:
I hope you find that this is a fun and exciting way to share the story of Palm Sunday with children. I can't wait to see my kids reactions to this lesson and watch them dig in!