I received Minnetonka product and compensation in exchange for my honest review. However, all opinions expressed within this post are 100% my own. I only promote what I truly love!
This summer is really shaping up to be a great one so far, and we're hoping to add lots of adventure and fun to our calendar to keep the good times rolling! At 7 months pregnant (and due at the very beginning of August,) I'm really trying to make this summer a memorable one for our little girl before her baby sister arrives. While I don't have very long spurts of energy these days, I get pretty pumped at the idea of going to a fun new destination for a little family time!
And whether it's a big road trip through the mountains or a low-key day trip to the local indoor trampoline park, we make sure the miles we trek are comfortable ones with Minnetonka moccasins and footwear for all of the members of our family! The Minnetonka name has been a familiar one with me for many years, as I've owned several pairs of their beautifully crafted moccasins since childhood, and they've all certainly stood the test of time!
Minnetonka moccasins are the definition of comfortable. They're handcrafted from some of the finest leather and are assembled with the wearer's life of adventure in mind. You can easily find a pair of Minnetonka moccs to fit the style and needs of all members of the family, just like these sweet little pink moccasins that my three year old picked out!
The Kilty (Child) Moccasin is a testament to true Minnetonka style with their soft and easy leather materials and a touch of added fringe for style. The super flexible bottom of these moccs makes for easy wear so that my little one can run and play all day! Plus, they're easy to slip on and off, which is imperative when you're always on the move!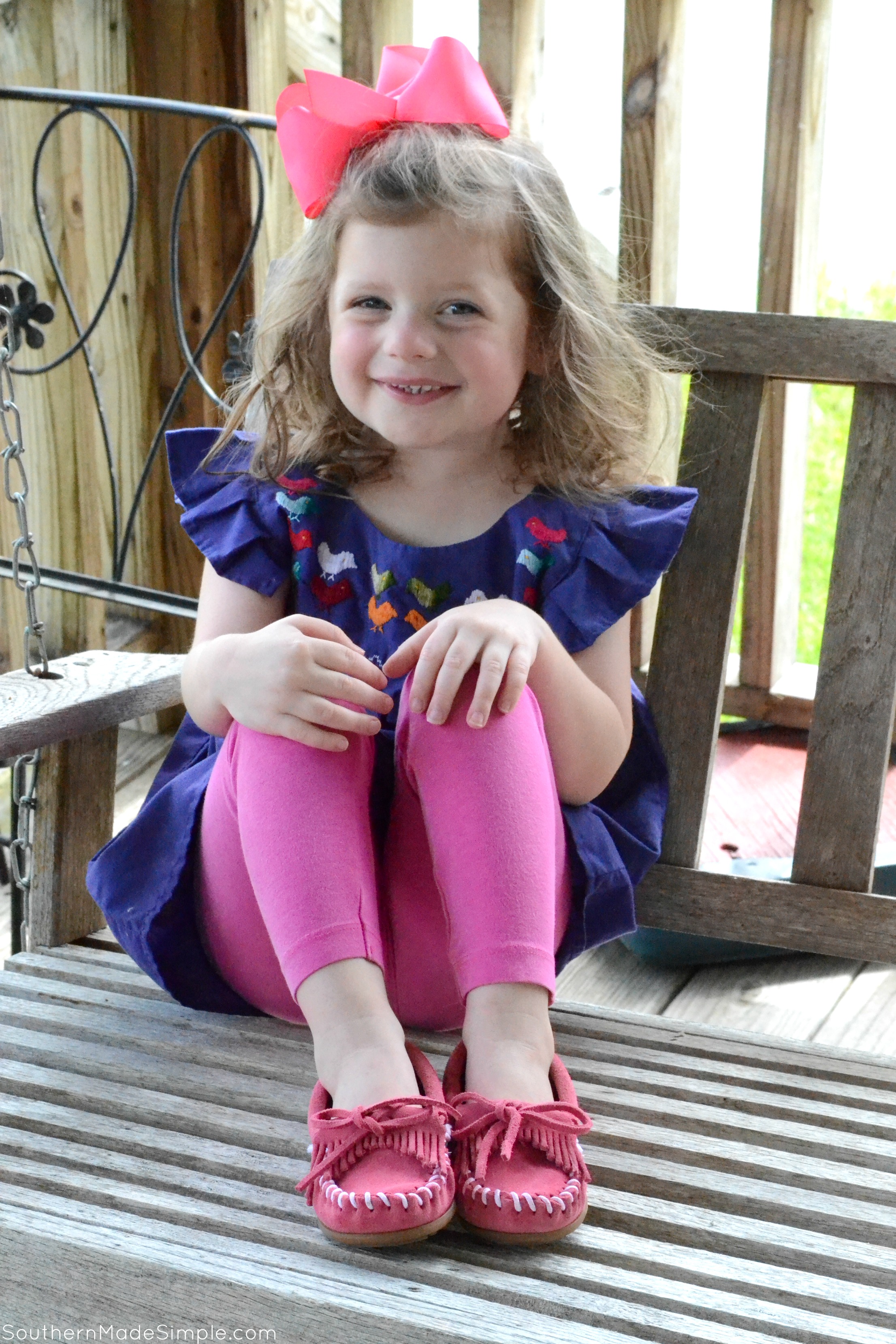 Little miss T will be rocking her Minnetonka moccs all over the place this summer, as they've quickly become our go-to shoe in her wardrobe when we're getting dressed each morning! I've been swooning over all of the other beautiful shoes for kids that Minnetonka makes, including boots, slippers, sandals and shoes for infants! With baby sister arriving very soon, we'll have to make sure she has a pair to slip on, too!

The head ring leader of our summer of adventure is none other than my handsome husband, who has been looking rather dapper these days thanks to his Minnetonka Double Bottom Driver shoes that provide him with a perfect balance of comfort and structure to hold up to the task of being a man on the move!
I love that these loafers have a flexible nub-grip bottom, which is perfect for life on and off the road…and especially for time spent behind the wheel!
Our little Sweet T had to get in on the action of her Daddy being in the frame of the camera. She loves to steal the show, and we have no complaints about it! Who could say no to that sweet face? (Especially when she's wearing those super cute moccs!)
As for me, my style has always gravitated towards fashion forward wardrobe pieces that offer maximum comfort AND maximum cuteness. It's not that often that I get the best of both worlds, but I certainly got it when I first stepped foot into the Blaire Sandals from Minnetonka!
Being 7+ months pregnant, I haven't been feeling as polished and put-together as I'd like lately. In fact, most days I just feel a little frumpy thanks to my ever-growing baby bump, but every time I slip on these cute wedge sandals my whole attitude changes! They offer a super comfortable and cushioned bottom for my tired feet, and I really appreciate that they zip up to my ankle to added balance and support. 
I also really dig that they can be dressed up or dressed down and compliment just about any outfit! Having a heel has always been my preference (I'm only 4'11,) so I can easily wear these on Saturday afternoon for an evening of shopping or on Sunday morning during church service!
Having a peep-toe is also nice, as it means I can wear these sandals well into the fall season here in Alabama (it doesn't start getting cool outside until mid-November!) Plus, true to that classic Minnetonka style, the fringe accent absolutely keeps me smiling and on-trend! 
While we've been planning out a few fun trips and outings here and there, we like to keep a  level of spontaneity in our schedules to keep things really fun. No matter where the road takes us this summer, we'll be rocking our Minnetonka shoes with comfort and style all over the place!
Minnetonka has been a part of American culture since the 1940's and has stood the test of time through many different styles and trends throughout the years. They're a testament to quality craftsmanship and style, and have been helping people step foot out into new adventures every single day! Are you familiar with Minnetonka moccasins? What style would you love to rock during your next summer adventure? Leave a comment below and share the love!