This shop has been compensated by Collective Bias, Inc. and its advertiser. All opinions are mine alone. #StirImagination  #CollectiveBias
As kids all across the country are headed back to school, I can't help but reminisce on my own school days – particularly my college days. I remember the late nights studying that turned into mornings, struggling to make it to class, finding ways to make ends meet, and trying to figure out what in the world my next meal would be. When you have a crazy schedule and a limited budget, you find ways to get creative when it comes to making life work! One of my saving graces during college was using coupons to buy my groceries.
But using coupons to stretch my budget didn't stop there. I took my frugal-ness right on onto my marriage (which started exactly 8 days after I graduated, by the way.) I've always strategically planned my shopping trips so I could get the biggest bang for my buck, but one day I stumbled across an unexpected deal that surprisingly made a pretty big impact on my life (and my taste buds) that I'm excited to share with the world!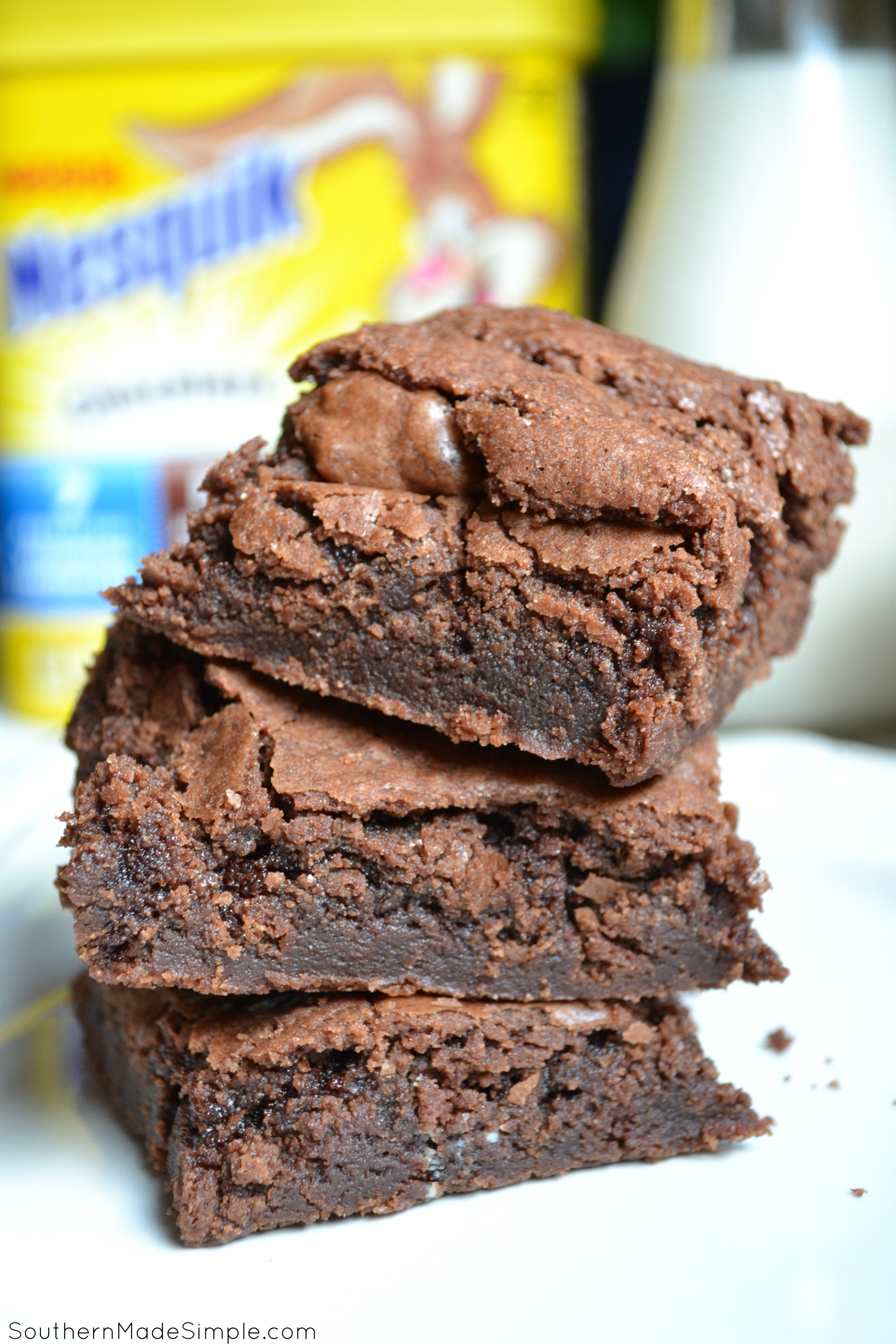 I walked into a grocery store one Saturday morning with an envelope full of coupons. I noticed that the store had a bunch of mega-sale bins near the door that had lots of reduced price items in it, so I started sorting through them to see if there was anything of interest. Much to my surprise, they had containers of NESTLÉ® NESQUIK® Powder on clearance for $1.00. I just so happened to have fifteen 0.50 cents coupons that doubled to $1.00 off, so I happily walked out of that store with 15 packages of free Nesquik! (I swear I waked out of those automatic doors like a gladiator that day. I felt so victorious!)
My husband was pretty shocked when I got home and unloaded all of the Nesquik. He was excited, of course, because he LOVES chocolate milk. But then he looked at me and said, "So, what exactly are we going to do with all of that? That's a ton of chocolate milk!" So naturally the wheels started turning in my head. I was used to having to get creative with what I had in my pantry during college, so I decided to take a stab at baking with it in addition to drinking it. And friends, my life hasn't been the same since!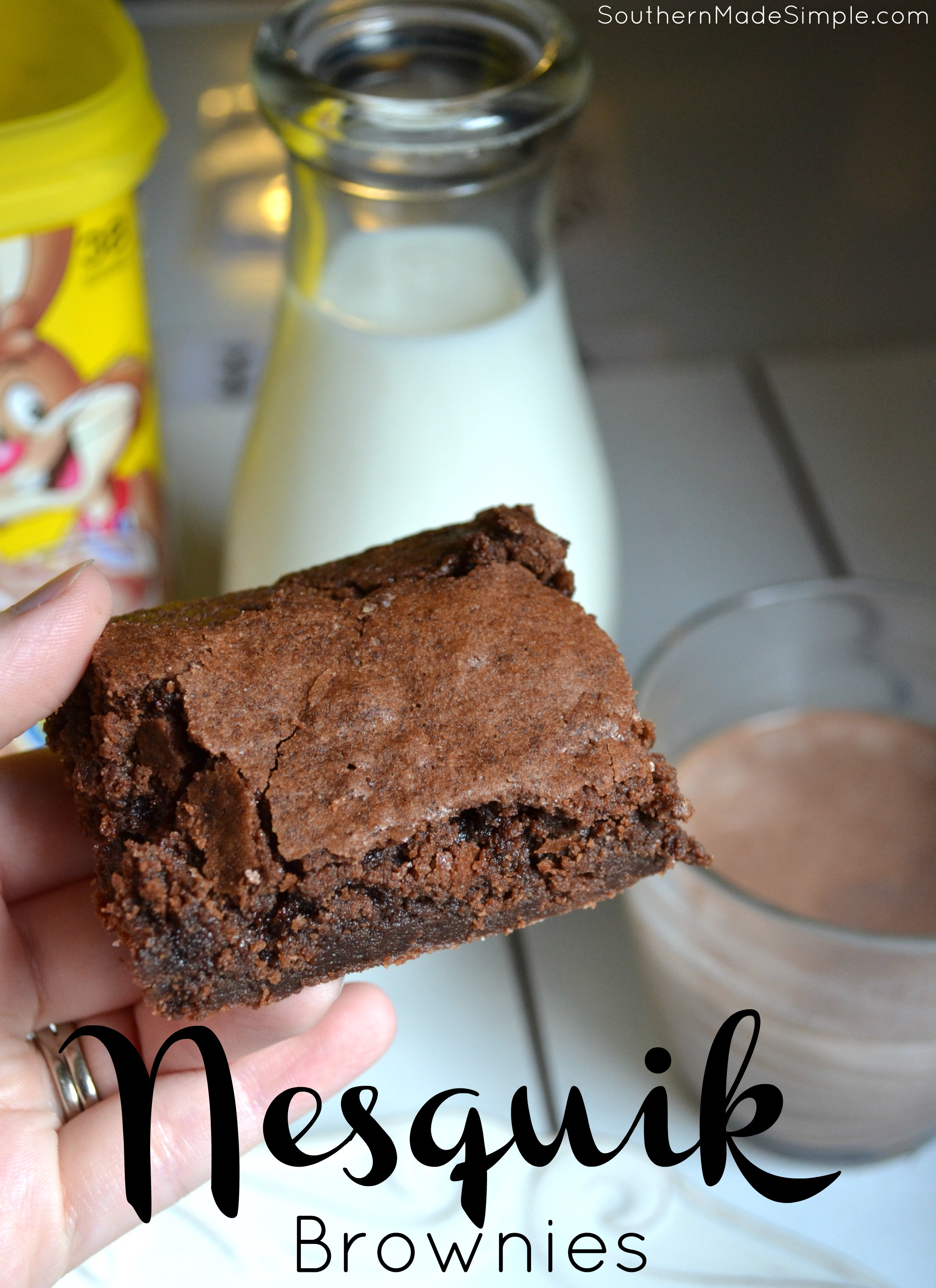 I have very vivid memories of coming home from school as a child and mixing up a tall glass of chocolate milk using Nestle Nesquik. During my pregnancy it was something that I frequently craved. It's always had a special little place in my heart, and I knew that I couldn't go wrong by making something extra sweet with it. After a few trial and error batches, I found the perfect mix for the most amazingly delicious brownies I've EVER tasted!
By the way, did you know that Nesquik powder contains 7 essential vitamins and minerals and no artificial colors or flavorings? It also has 45% less sugar than the leading chocolate syrup brand, which in my opinion makes Nesquik even sweeter! It's something that I feel good about consuming in moderation and giving to my daughter (who I allow to have a small glass almost every day!)
We eventually worked our way through all of those containers of Nesquik, but that brownie recipe is still the absolute apple of my eye. Between the baking and the chocolate milk making, I always keep Nesquik in stock in my pantry! When I'm running low, I like to swing by Target (my favorite one-stop shop) to pick up some more.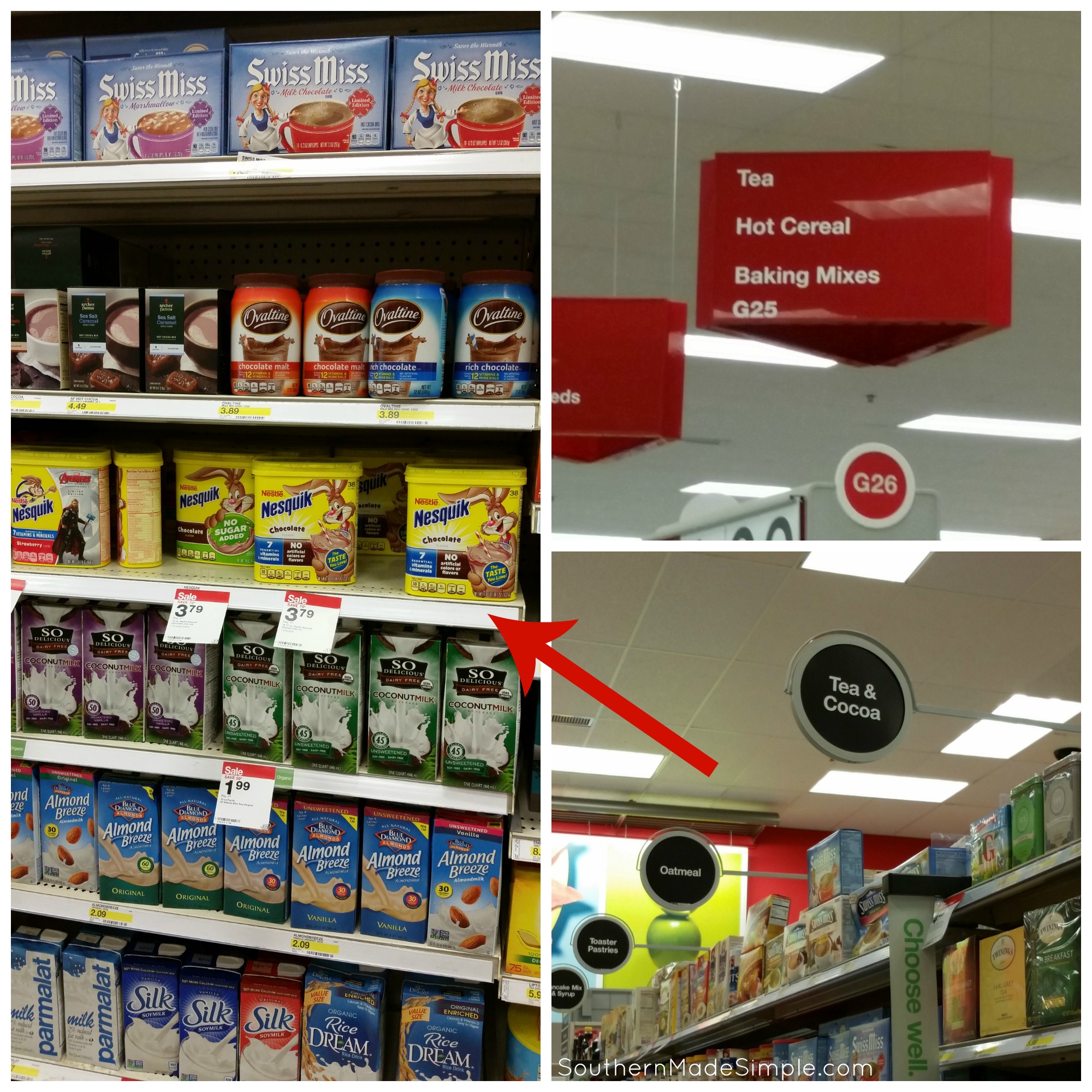 FYI: I found it on the tea aisle in my store – right up under the tea & cocoa marker! 😉 (Scroll down to the bottom to learn how you can score a pretty sweet deal on Nesquik in September, too!)
I've been itching to whip up another batch of these bad boys, so I dug through my old recipe binder to pull out the brownie recipe I jotted down all those years ago. This recipe is SO simple and easy to make, and you can even pre-mix the dry ingredients and store it in a container if you ever need to whip up a batch on the fly!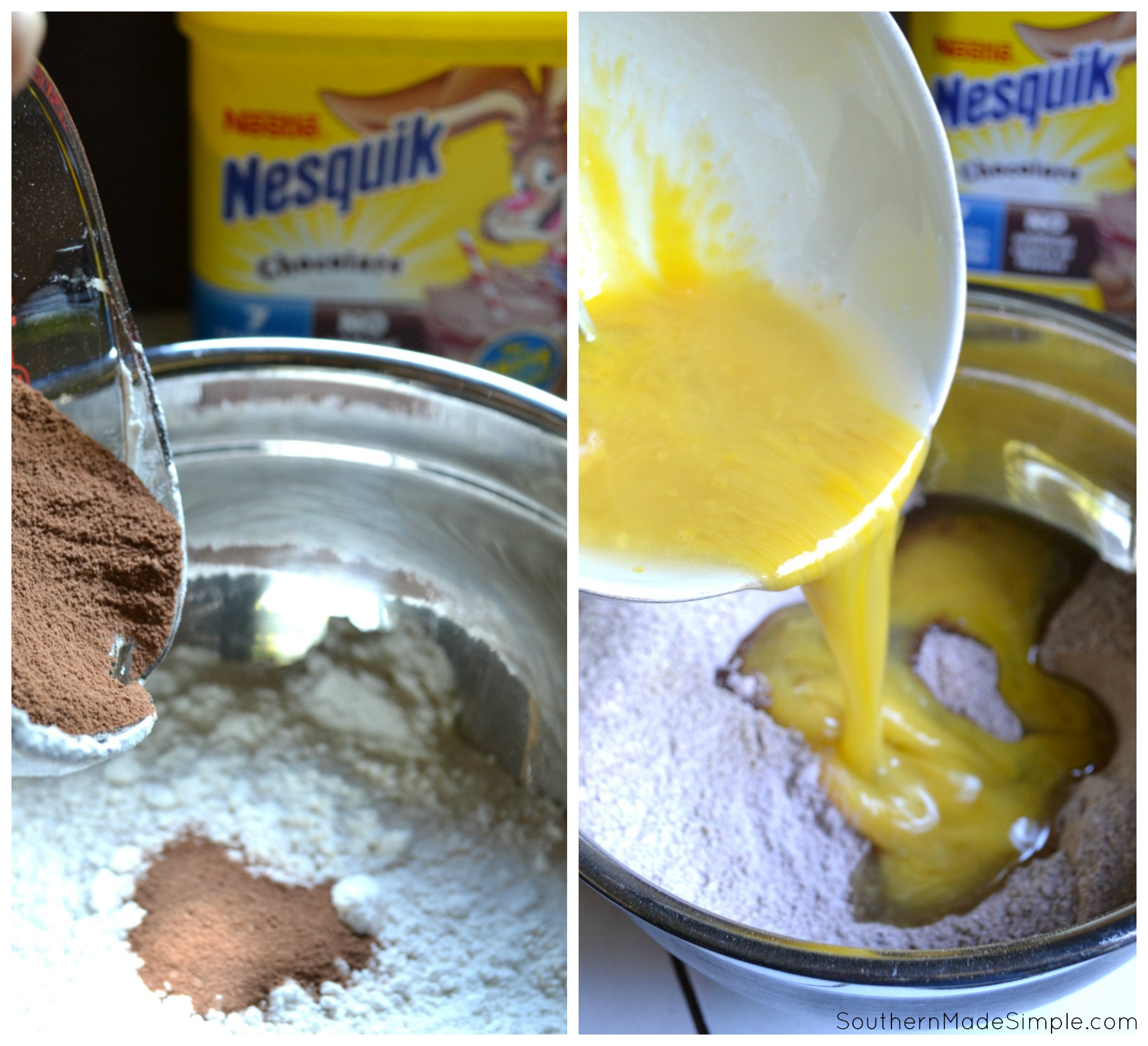 To start, I melted a little butter and stirred in 2 eggs and a teaspoon of vanilla. In a separate bowl, I combined flour, Nesquik powder, baking powder, brown sugar, white sugar and a smidge of salt. I then blended the egg and flour mixtures together to create a super delicious and rich brownie batter (seen below.)
I preheated my oven to 350 F and greased a 9×13 baking pan with non-stick cooking spray. Note: Make sure your pan is the appropriate size! Cooking it in a smaller pan will call for increased cooking time. Once the batter was poured, I baked for roughly 30 minutes and allowed them to cool before cutting. The smell that filled my home while these brownies were cooking was AH-mazing, y'all! I could barely stand to let them cool once I pulled them out of the oven!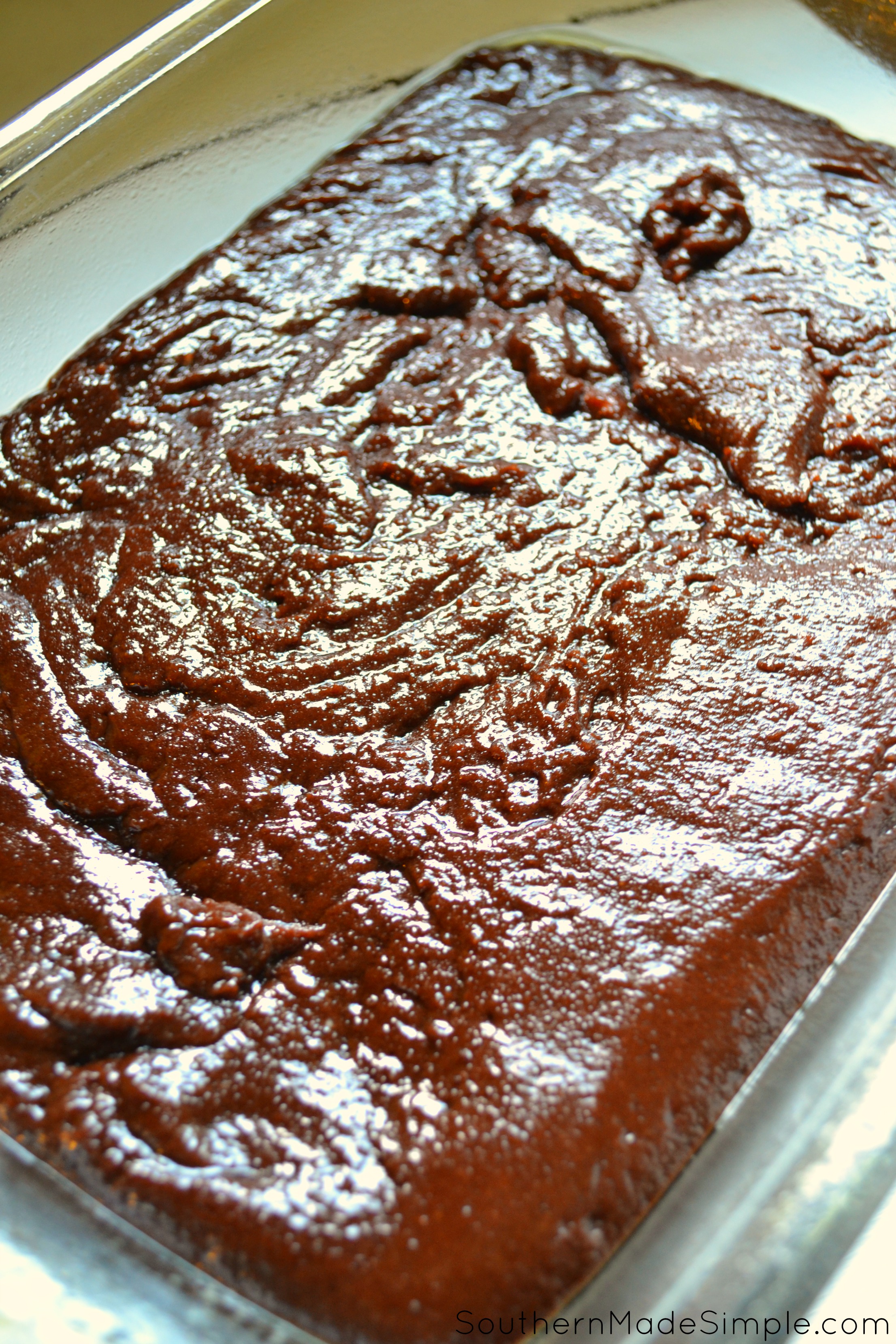 Here's a printable version of my recipe if you'd like to give it a try! The consistency of these brownies is absolutely perfect in my eyes. Not too fudgey, but not too cake-like. It's really a perfect combination of the two! If you give it a try, be sure to leave a comment and let me know how yours turned out!
Nesquik Brownies
Ingredients
1/2

cup

granulated sugar

1/2

cup

brown sugar

1 1/3

cup

all purpose flour

1 1/2

cup

NESTLÉ® NESQUIK® Chocolate Powder

1/2

tsp

baking powder

1/4

tsp

salt

1

tsp

vanilla

3/4

cup

melted butter

2

eggs
Instructions
In a large mixing bowl, combine melted butter, eggs and vanilla.

In a separate bowl, combine flour, Nesquik, baking powder, sugars, and salt

Slowly incorporate the egg mixture into the flour mixture and stir until well combined (batter will be thick)

Preheat oven to 350 F

Grease a 9x13 pan with non-stick cooking spray

Pour batter into pan and cook for 25-30 minutes or until toothpick inserted in the center comes out clean

Enjoy!
---
To avoid eating the entire pan (which I could probably do in one day…all by myself,) I decided to package some up to give away to friends and family. I simply stacked the brownies up inside a clear plastic cup and wrapped it up in cellophane. I even made a cute little printable tag to go with them so people would know that these aren't just ANY ol' brownies! This would even be a super fun little treat to send to school with your kiddos as they're starting a new school year! Think teacher gifts, lunch box or snack ideas, fundraiser bake sales or class parties!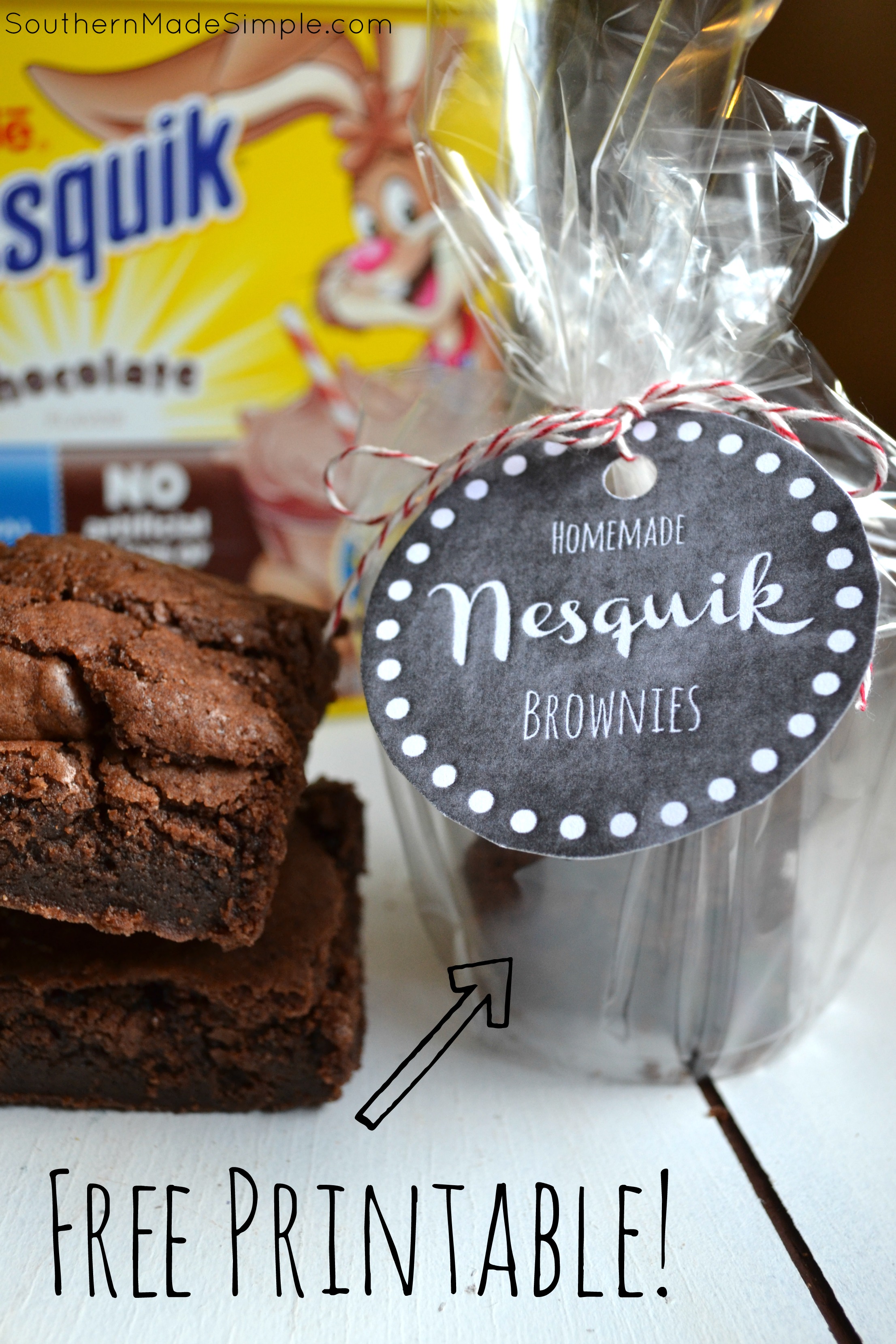 Click here OR click on the image below to snag this free printable!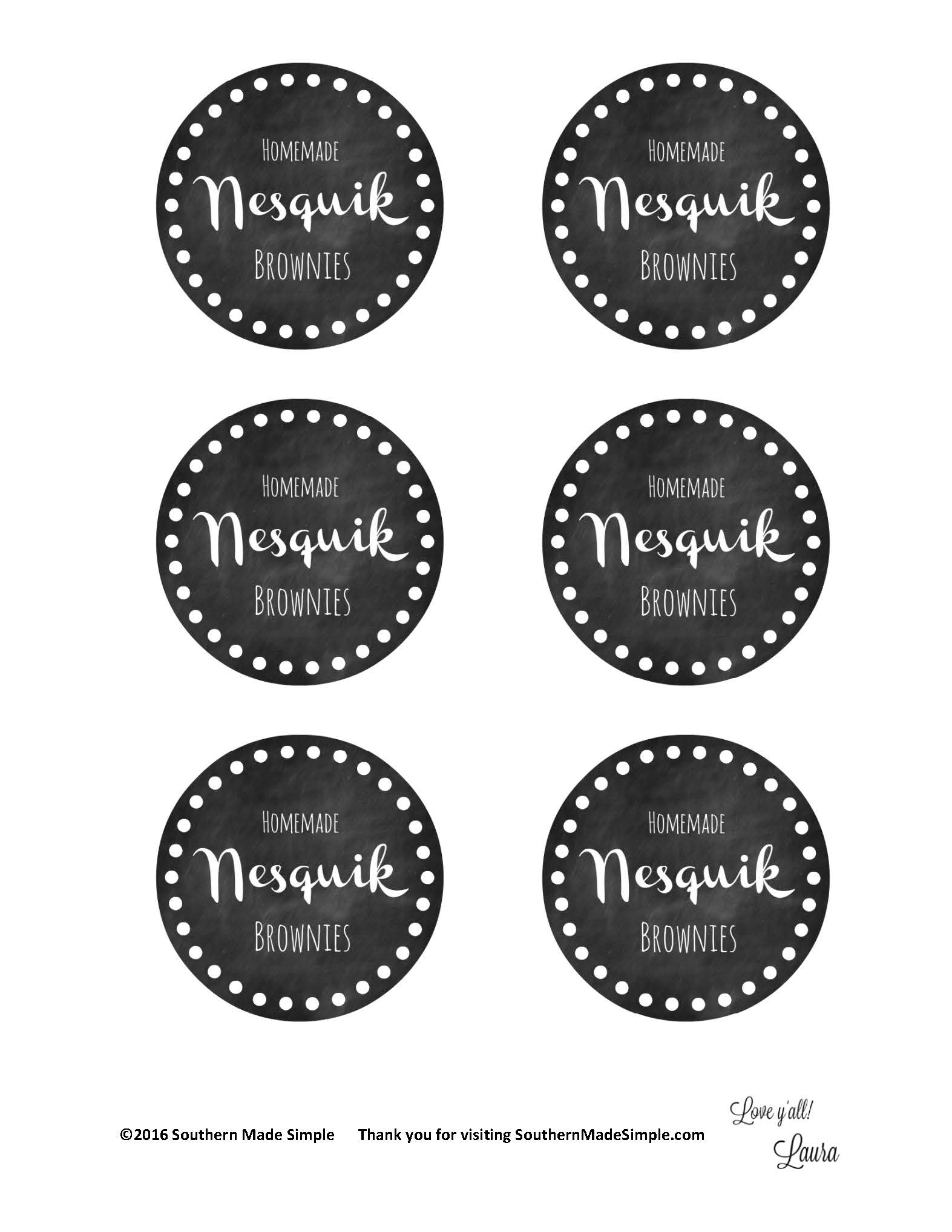 So as you and your family are gearing up to start back to school (or maybe you already have,) make sure you're stocked up on Nesquik for your family to enjoy as a drink, as part of a complete breakfast or as a great after school snack! I feel great about giving my daughter Nesquik because I know she's getting a good source of vitamins, minerals and protein in every cup! And while you're at it, pick up a container of NESTLÉ® NESQUIK® Powder Strawberry mix, too! I haven't tried to bake with that kind yet, but I bet it'd make some KILLER strawberry brownies that would be perfect around Valentine's Day! 😉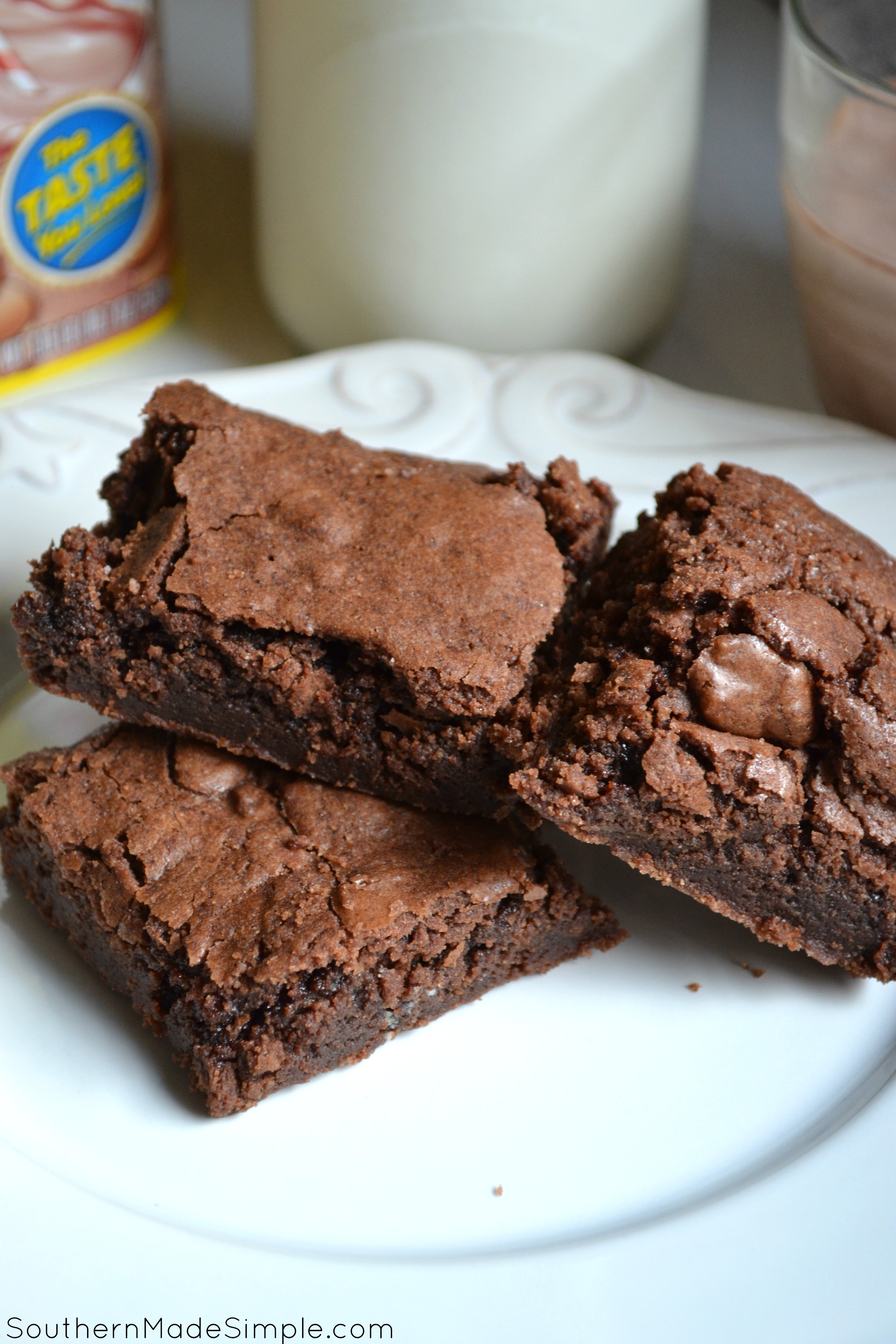 Get your 'Quik On!:
Visit this website for more information on how to make Nesquik a part of a nutritious and complete breakfast or after school snack for you and your family! You'll also find a ton of other cool recipes that use it in really clever and creative ways!
While you may not find a deal as crazy as I did all those years ago, you definitely don't want to miss this one! During the week of 9/04/16 – 9/10/16, you can score 15% off 18.7oz powder and 10 packs of bottles of Nestle Nesquik using this cartwheel offer at Target!
What are some other fun treats you like to prepare for your family around back to school time? Do you have another idea for using Nesquik in a creative way? Do you have a crazy story like mine where you found an awesome deal on something that you now can't live without? Leave a comment and let's chat!