This post was sponsored by Hood as part of an Influencer Activation for Influence Central and all opinions expressed in my post are my own.
Now that I've entered my 3rd trimester of pregnancy, things are starting to get a little more hectic around our household. My toddler has done her very best over the past several months to sort-of ignore the fact that a new little girl will be stripping her of her "only child" title, and she can totally sense something is going on as I begin to nest and make preparations for her baby sister. She has been actively demanding ALL of my attention, and certainly not cutting me any slack when it comes to me lacking energy and not being able to get down on the floor and play with her. She's definitely been keeping me on my toes, and as a result I've been slacking a good bit on taking care of my own personal needs.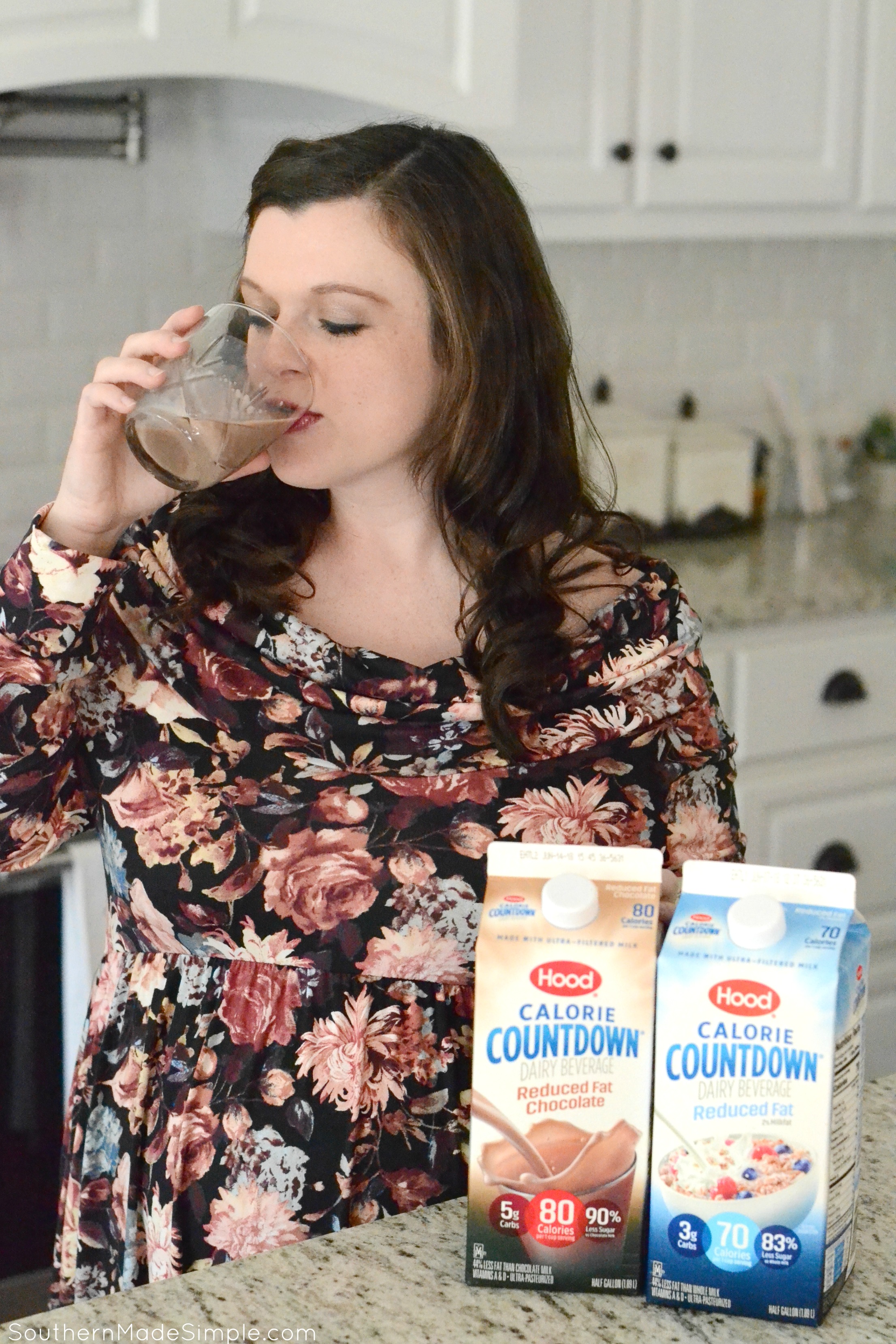 During a recent visit with my OB, I was scolded (in a mostly nice way) for packing on too much weight too quickly since my previous appointment. Looking back, it was a direct reflection of how I was managing my diet with all of the recent life changes going on around me. I had been shamelessly giving in to my pregnancy cravings and preparing myself poorly balanced meals while trying to balance my attention amongst my toddler and my household. All of the unnecessary sugars I was consuming were really starting to catch up with me!  And speaking of pregnancy cravings, my biggest pregnancy craving throughout this entire pregnancy, hands down, has been my beloved milk…especially chocolate milk!
It was not at all uncommon to catch me on any given day during my second trimester downing THREE large glasses of  chocolate milk that I mixed myself (so you know it was loaded with sugar) in order to quench my thirst for the stuff. I had never once given any thought to how many calories and sugars I was actually consuming until I read a recent article explaining that one of the fastest ways to put on weight is to drink your calories. Suddenly, it all started to make sense!
Knowing I didn't want to give up my beloved beverage of choice during this pregnancy, I put the pedal to the metal during my recent shopping trip at Walmart trying to find the perfect substitution to help me cut out most of the calories and sugars without sacrificing the flavor. I noticed a new-to-me product on the shelf called Hood Calorie Countdown, which is a dairy beverage that blends ultra-filtered milk with water, cream and other ingredients for a delicious and creamy taste while delivering fewer calories, less sugar and fewer carbs that regular milk. It's also made with milk from farmer's who do not use artificial growth hormones, so I feel really good about nourishing my body and growing baby with a tall glass of it!
Hood Calorie Countdown has 42% fewer calories, 75% less sugar (Hallelujah!) and 67% fewer carbs than regular milk. When I did a side by side comparison of the nutritional labels, I was truly blown away! 1 cup of the mixed chocolate milk I had been drinking contained roughly 31 carbs, 230 calories and 29 grams of sugar per serving (and I was having WAY more than 1 serving a day!) Switching to Hood Calorie Countdown Chocolate Milk, I'm only consuming 5 carbs, 80 calories, and 3 grams of sugar per serving without sacrificing nutritional benefits and the creamy smooth texture of milk that I love!

Switching to Hood Calorie Countdown dairy beverage has also inspired me to create better-for-me meals to enjoy with it throughout the day. My morning bowl of cereal is looking a little different these days as I've made a few switches to healthier options, and I'm SO thankful that Hood Calorie Countdown still provides me with 25% of my daily value for calcium and 15% of my daily value for Vitamin D per cup, so I know I'm doing my body (and my baby) good!
Coupon Alert!
If you're on the hunt for making a simple switch to make your lifestyle a healthier one, swapping out milk with Hood Calorie Countdown dairy beverage is a great place to start! You can find Calorie Countdown in Whole, Reduced Fat Chocolate Milk, Reduced Fat and Fat Free varieties at your local Walmart today! Make sure you snag the coupon below to save big!
Save $0.75 off any (1) Hood Calorie Countdown Dairy Beverage