This post is sponsored by Everywhere Agency on behalf of Moe's Southwest Grill; however, all thoughts and opinions are my own.
They say a first impression is everything, and that's especially true when you visit a restaurant for the first time. I don't remember a whole lot about my first visit to many restaurants, but I vividly remember my first time ever eating at Moe's Southwest Grill. I was a young teenager, and older brother took my family out to eat there when we were visiting him at college. At that time, Moe's was not local to us, so it was a treat to get to eat somewhere new.
When we walked in, we were immediately greeted with an enthusiastic chant of "Welcome to Moe's" from the staff, and the atmosphere in the entire room was lively and modern. There was a pretty good crowd dining in, and judging by the looks on the patron's faces, I knew I was going to be in for something really good.
Do you believe in love at first bite? I have to be honest, y'all. I thought I knew what food love was, but it wasn't until I took that first bite of that chicken quesadilla all those years ago – overflowing with all of those fresh ingredients and custom made to my liking – that I truly knew what it was like to fall in love with the food on my plate. I wanted to eat Moe's all the time. I would often have daydreams about going to Moe's Southwest Grill, and I even found myself comparing other foods from different restaurants to my beloved Moe's.
As the years went on, my infatuation for Moe's grew. My boyfriend (who's now my husband) would often take me on dates to Moe's Southwest Grill on the weekends, and as luck would have it, our senior year of college a Moe's Southwest Grill opened up on our campus. Don't judge, but I might have cried actual tears of joy. I was so pumped!
And since we've graduated from college, entered our careers and started a family of our own, our love for Moe's has only grown. We recently made a pit stop at our local Moe's to share a bite to eat, and that giant beautiful bowl full of chicken nachos pictured above made me reflect on why exactly it is that I love Moe's Southwest Grill so much.
1. Fresh and High Quality Ingredients
Every time I'm in line at Moe's, I always notice how fresh the items on the prep line are and how neat and clean they keep the food station. They hand chop and dice all of the salsas and guacamole in house every single day, and all of the proteins are grilled on a consistent steam production, meaning they're always cooked to perfection and perfectly hot and ready to be served. Moe's refuses to cut corners and result to fast food tactics, and it's evident that a lot of hustle and heart goes into preparing all of the food that's put out on the line each and every day. Mealtime at Moe's is always going to be fresh and absolutely delish!
2. Moe's Southwest Grill is Kid Friendly
My toddler can often be a picky one when it comes to her food, so having a place that will customize their menu items to your liking is an absolute gem! There were several items to choose from on the kid's menu, and my daughter was delighted with her "Mini Masterpiece" cheese quesadilla with free chips and salsa on the side. She also received a juice box and a chocolate chip cookie for dessert, which absolutely made her day. Happy kid = happy parents!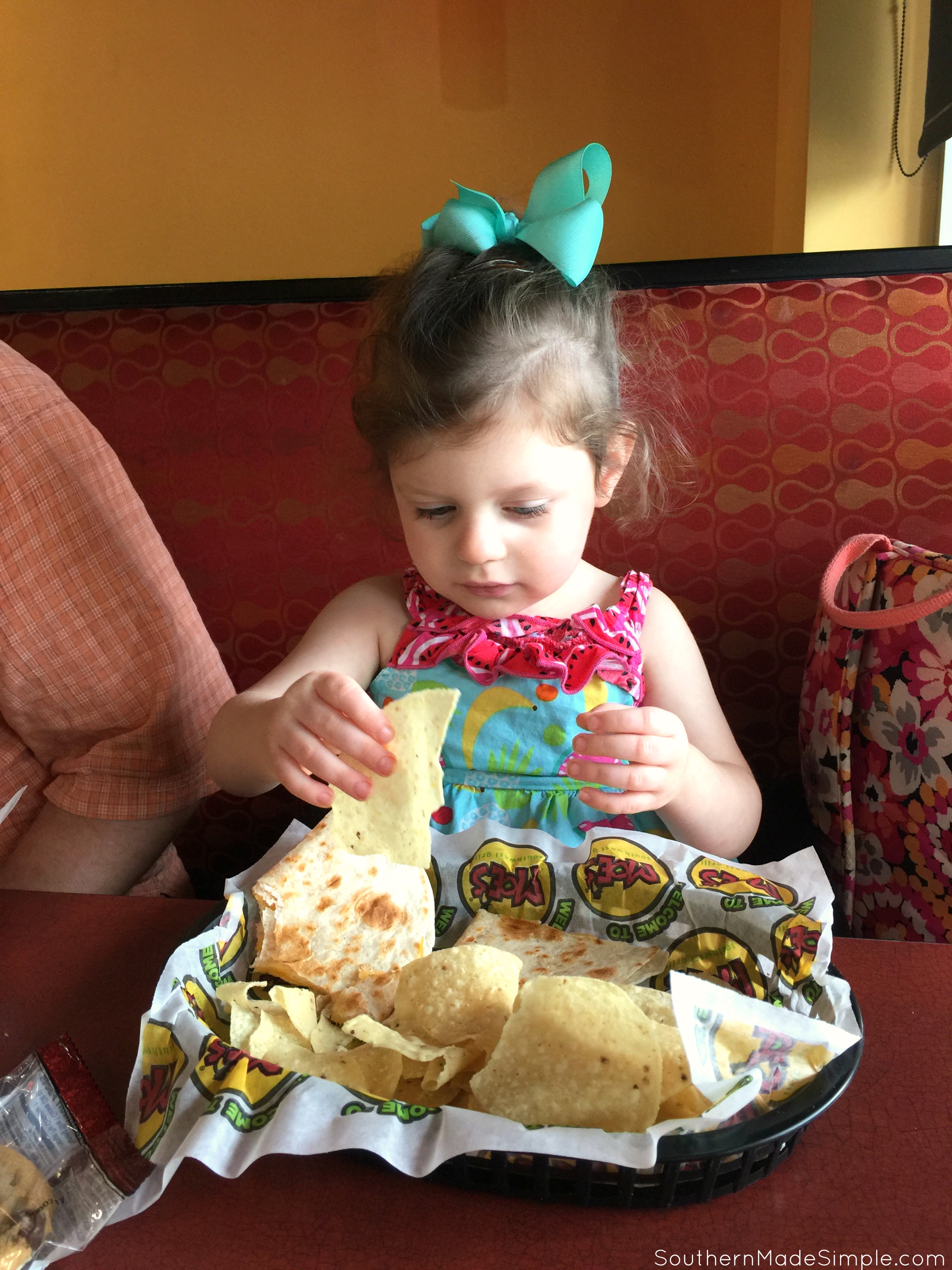 3. The Atmosphere 
Moe's knows how to set the mood for fun and flavorful southwestern style food. The colors on the walls are vibrant, but not too much. The dining area is always well taken care of and clean, it's spacious, and it's never too noisy or overstimulating for our little one, which makes for an easy dining experience. I've always loved looking at the art work on the walls, because it seems like there's always something a little bit different in each Moe's restaurant I visit. My local one has artistic images of famous musicians and actors, which I think it totally cool! In fact, did you know that M.O.E is actually an acronym for Musicians, Outlaws and Entertainers? I totally love their design style, and there's always a little something for everybody!
4. Variety of Ingredients
One thing that really separates Moe's from other restaurants is the variety of ingredients offered. There are over 20+ fresh and flavorful ingredients to choose from, and you can even choose items to help you stick to your low cal, low carb or gluten free diet! My husband really loves adding guacamole to his "Wrong Doug" stack, and I was downright giddy piling up all of the delicious fresh veggies on top of my "Alright, Alright, Alright" nachos. So many options, so many delicious things to eat!
5. Free Chips and Salsa
All jokes aside, I'm pretty confident that salsa is the real language of love. At least, in my household it is! My family can seriously go to town on some chips and salsa, and I love that every meal at Moe's comes with unlimited FREE chips and salsa! The chips are flash fried and prepared daily, so they're always perfectly crisp and crunchy. I love that they offer a variety of salsa flavors, too. Some like it mild, but my husband and I love it hot! Moe's knows how to speak my love language, no doubt about it!
If you've never been to a Moe's Southwest Grill before, of if you've been dining there for years, you're going to fall in love with every bite you take – I guarantee it! Every Moe's is locally owned and operated, and the quality and freshness of the ingredients is leaps and bounds better than the typical fast food restaurant. Family dining at Moe's is stress free, fun and absolutely flavorful. Stop by your local Moe's Southwest Grill today and get your grub on – you won't be disappointed!