Thank you Edwards® Desserts for sponsoring this post. Head to the frozen desserts aisle of your grocery store to pick up your favorite Edwards pie!
These summer days are sweltering hot here in south Alabama. School has been back in session for 2 weeks now, but it feels like those cool, crisp fall mornings are a lifetime away. Our local weather man announced yesterday that we broke a 12 year old record heat index this week , and just yesterday we reached 90 degrees before 9 am. If you're not careful, this heat can make you go a little crazy!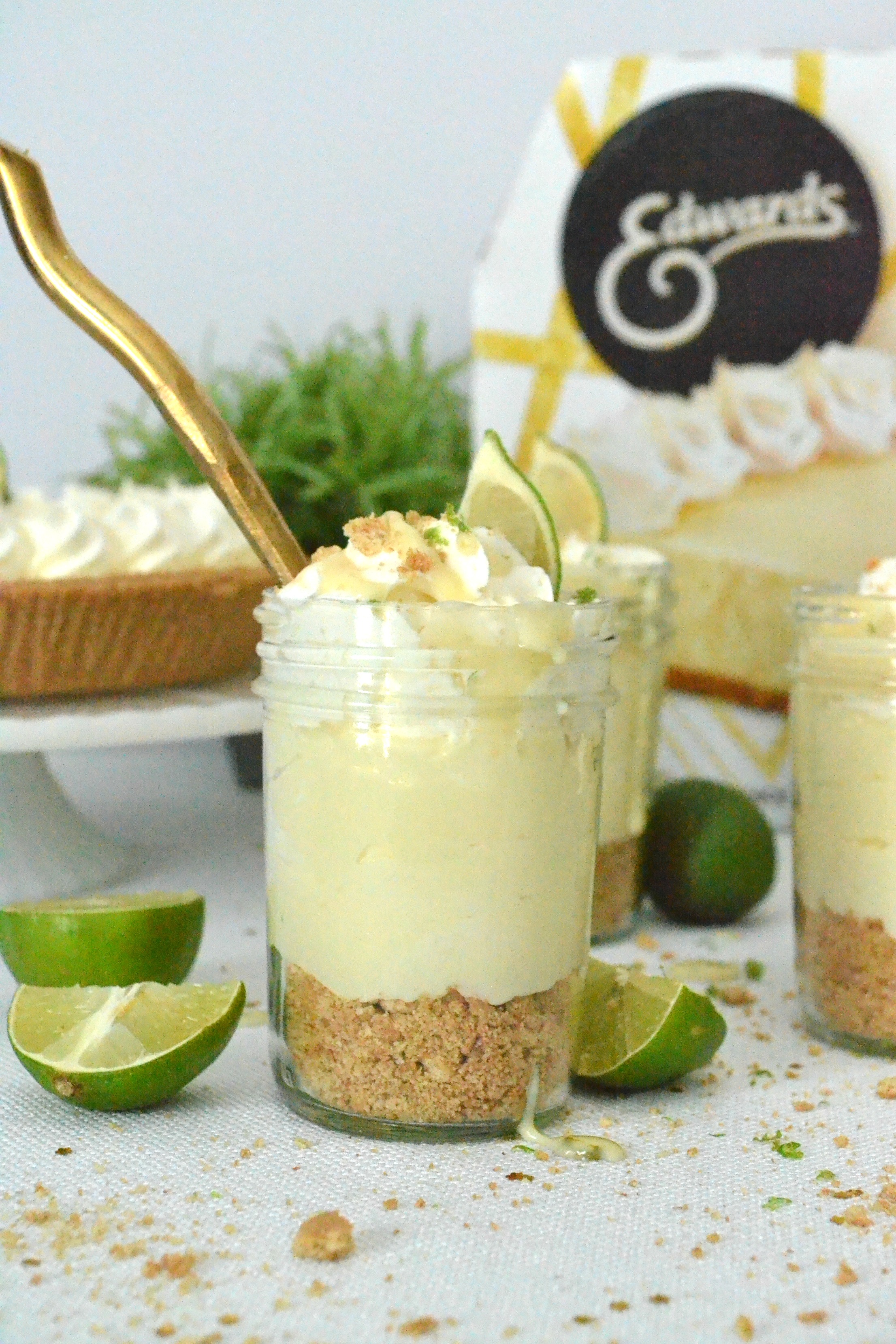 When a heat warning is issued, you don't have to ask me twice to take caution. I know exactly what my body needs to cool down, and it's not a big box fan! While many may reach for a pint of their favorite ice cream to beat the heat, I reach for something even better. After all, if I'm going to do dessert, I'm going to do it right. Sure, ice cream is great, but since our body's well being is on the line with all of these crazy temperatures – why play is safe with the same ol' dessert you've always chosen?
Here's what I'm getting at: This week I'm saying OUT with the ice cream, IN with the crème de a crème! When it comes to dessert, my heart song is a cool slice of key lime pie. More specifically, it's Edward's Key Lime Pie. It's my number 1, my true pie love, and my ultimate favorite indulgence that I never say no to.
And while you sure can't go wrong with a slice of it on a plate, it takes a whole new dimension when you serve it sundae-style! Edwards Key Lime Pie filling is made with real Key West lime juice, and it's topped with perfectly fluffy whipped creme rosettes and poured into a rich vanilla cookie-crumb crust. A slice of this pie makes me feel like I'm taking my taste buds on a tropic vacation, and it's the inspiration behind these Mason Jar Key Lime Pie Sundae Trifles I'm serving up this morning!
In place of ice cream, I created these "sundaes" with the filling from an Edwards Key Lime Pie, topped it with whipped cream and stirred up a simple key-lime syrup to drizzle over it. These pie "sundaes" aka trifles are so amazingly good, they need no cherry on top!
Here's a free printable version of the recipe for the syrup and how I assembled these trifles if you'd like to give it a try!
Mason Jar Key Lime Sundae Trifles
Ingredients
1

Edwards Key Lime Pie

thawed

1

bag

Key Limes

14

oz

condensed milk

2/3

cup

key lime juice

Zest of 2-3 key limes

1

sleeve

graham crackers

3

Tbs

butter

melted

Whipped topping

garnish
Instructions
In a small pot, combine condensed milk, 2/3 cup key lime juice, and zest

Stir over low heat and allow to bubble for 1-2 minutes, stirring constantly

Set aside

In a large bowl, crush graham cracker crumbs and stir in melted butter

Using small mason jars, fill bottom with a layer of graham cracker crumbs, followed by a few spoonfuls of Edwards Key Lime Pie (just the filling)

Top with a layer of whipped topping, additional graham cracker crumbs and key lime syrup

Enjoy!
---
I'm swapping these hot, sweltering summer days for cool and breezy afternoons with these simple, sweet and oh-so satisfying jars of tropical bliss. Sorry, ice cream, but it's better to thaw than to melt – and these Key Lime Pie Trifles definitely don't melt! 😉
Giveaway Alert:
Are you ready to dip into a decadent slice of Edward's pie, too?! Here's your chance to win one of your own! From August 12th – August 28th, you can enter to be one of 16 people to win a free coupon for an Edwards Pie of your choice! Giveaway is open to US residents 18 and older. One winner per household.
a Rafflecopter giveaway
If you're trying to survive these waves of summer heat, ditch the desserts that are predictable and reach for the Edward's Key Lime Pie to whip up something extraordinary. It's in the same aisle as the ice cream, but it's in a different league entirely!