This shop has been compensated by Collective Bias, Inc. and its advertiser. All opinions are mine alone. #KetchupWithFrenchs  #CollectiveBias
Three cheers for the Big Game that is quickly approaching! Since watching the final playoff game the other day, there's been so much excitement in the air in my neck of the woods! It's been a long time since our team has made it this far, so we're definitely going to be celebrating BIG!
So to jump right into the game time festivities, I started coming up with big plans for our big game menu. I wanted something with big flavor that would score big points with my family's taste buds. With all of the big things going on, I actually started thinking small! Yup, our #1 pick for our game time snack spread is my mini Jalapeno Meatloaf & Mashed Potato Poppers, but don't let their tiny appearance fool you. They're loaded with the big time flavor that will be the real MVP of the evening!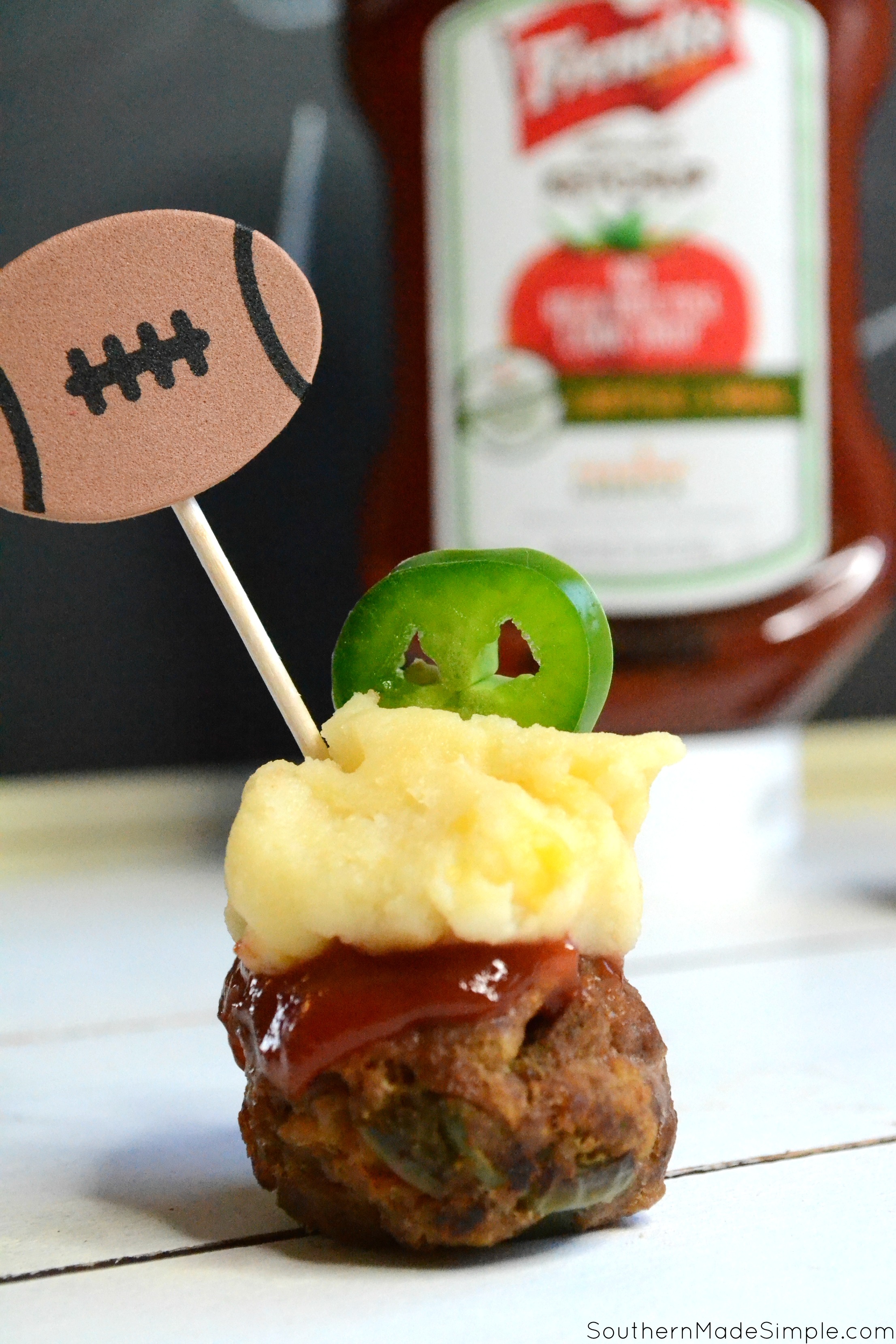 My husband and I absolutely love meatloaf. It's so simple to throw together, and it's always better the next day for leftovers. When it's paired with a side of cheesy mashed potatoes, we're in comfort food heaven! I frequently see meatballs served during tailgating parties and other game time celebrations, but never meatloaf. I decided it was high time to rethink how we serve this family-favorite dish, and I figured serving it in bite-size portions like meatballs would be just the ticket to make our meal for the big game really special!

Most people love to slather a heap of ketchup on their meatloaf, and my family is no exception that. We LOVE our ketchup, and I knew it would be a necessity in putting together my meatloaf and mashed potato poppers. When I headed out to the grocery store to pick up everything on my shopping list, I made sure to swing by the condiments section (I shopped at Walmart) to pick out our favorite brand of ketchup. Have you tried French's Ketchup yet, friends? It's my number 1 choice for SO many reasons, and I knew I needed to stock up before our big game bash!

I choose French's Tomato Ketchup because it's made with real stuff. You know, like real high quality tomatoes and real sugar. No preservatives, no GMO's and no high fructose corn syrup. It's the real deal! (Check out the video posted below!) It makes me feel good knowing that the ingredients in French's are better for you than other brands, especially since I have a toddler who is ketchup crazy and has some nearly every single day!
Once I gathered up all of the ingredients, I wasted no time in assembling the Jalapeno Meatloaf & Mashed Potato Poppers! I picked 3 large jalapenos and seeded them before finely dicing them. Next, I combined all of the ingredients into one large bowl and mashed it all together with my hands until well combined. (For a full list of ingredients, see the recipe widget below!)
I then rolled a small amount of the meatloaf mixture into a ball in my hands and placed it in a greased miniature muffin tin. Using my thumb, I made a small indentation in the top of each cup (to create a nest) and added a small amount of French's ketchup. I baked the meatloaf poppers on 400 F for 20 minutes until they were cooked throughout.
While they were cooking, I prepared a package of my favorite mashed potatoes according to the package instructions. I added a little extra cheese to mine for good measure. If you'd like to prepare your potatoes from scratch, you can certainly do that! Here's a free printable version of the recipe if you'd like to give it a try:
Jalapeno Meatloaf & Mashed Potato Poppers
Ingredients
1

lb

uncooked ground beef

2-3

large jalapenos

finely diced (plus extra for garnish if desired)

1

tsp

minced garlic

2

tbs

Worcestershire sauce

1/2

cup

French's Tomato Ketchup

1 6

oz

box cornbread flavored stuffing mix

1/2

cup

water

1

egg

+ extra ketchup for topping

1

package store bought mashed potato mix - prepared according to instructions

1

handful of your favorite cheese

to add to potatoes - optional
Instructions
Preheat oven to 400 F

Spray mini muffin tin thoroughly with non-stick cooking spray

Wash and seed jalapenos and finely dice

In a large bowl, combine uncooked beef, stuffing mix, egg, garlic, jalapenos, Worcestershire sauce, French's Tomato Ketchup water and egg

Using your hands, mashed all of the ingredients together until thoroughly combined

Roll a small amount of meatloaf mixture into a ball in the palm of your hands and place in muffin tin

Using your thumb, make an indent into the meatloaf to make a nest

Add a small amount of ketchup into the nest before baking (optional)

Bake for 20-22 minutes

While the meatloaf is baking, go ahead and prepare mashed potatoes according to package instructions (add in a little cheese if desired) - making them thicker than usual is recommended

Remove meatloaf cups from oven and transfer to a plate

Add a small amount of ketchup to the top of each one, followed by a spoonful of mashed potatoes

Place a toothpick in each one and serve immediately
---
Once the meatloaf poppers came out of the oven, I added just a smidge more French's Ketchup to the top, followed by a spoonful of the cheesy mashed potatoes and a sliver of fresh jalapeno on top. I absolutely love how these little appetizers turned out, and they were a really big hit with my family. If you're looking for an easy appetizer that's fun, delicious and different, you definitely need to give these meatloaf poppers a try!
Do you have a favorite game time appetizer or meal that you love to serve to your friends and family? How would you incorporate French's Tomato Ketchup into your menu for the big game? For more inspiration and delicious recipes, check out what's happening over at French's Ketchup now!