I received complimentary product from GlassesShop in exchange for my honest review. All opinions expressed are completely my own.
I was in the fourth grade when I first noticed my vision decreasing. I remember struggling to see the numbers and letters that my teacher would write on the board, so my mother took me to have my eyes examined and fit for glasses. I remember the first time I ever put them on. I felt unsure as to if my friends at school would be accepting of my new specs, and I was so nervous that they would make fun of me for having to wear them. I just knew my tender heart would melt into a puddle on the floor if anyone ever called me four-eyes or told me I was a nerd for wearing glasses.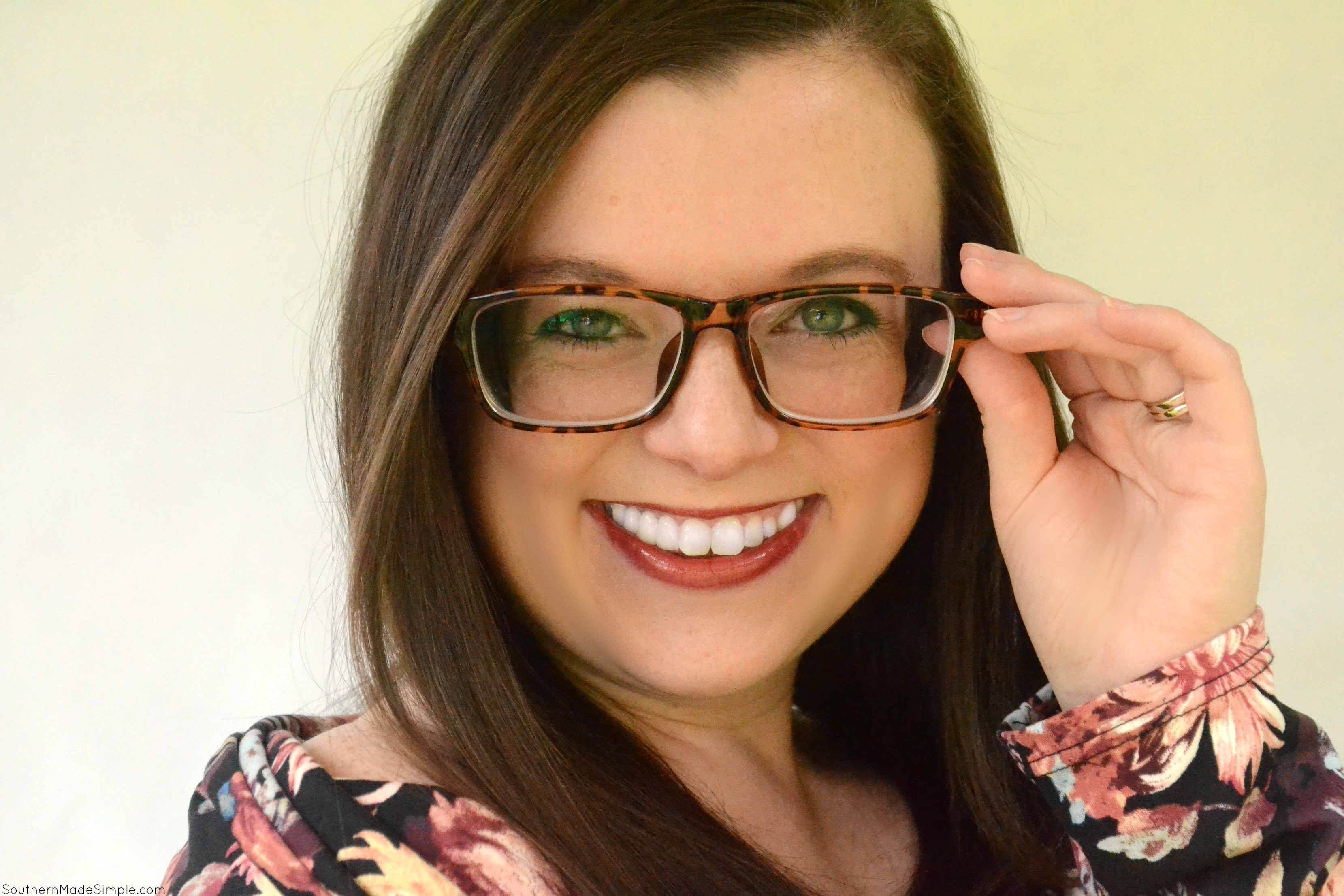 I'd love to tell you that I never got made fun of, and I wish I could say that my classmates didn't seem to mind that I had to wear glasses, but I can't say that. It didn't take long for me to feel segregated from others because of my impairment. I hated that I had to wear glasses, and at the age of 15 I finally got my first pair of contacts. I so badly wanted to be finished with glasses, but over time my vision did nothing but deteriorate even more (and it's still showing signs of getting worse to this day.) I was recently diagnosed with chronic dry eye, and my optometrist made it abundantly clear to me that I needed to give my contacts a break, because they were the primary cause of my eyes being so dry.
So back into glasses I had to go. While I still wear my contacts daily, I am much more aware of the importance of giving my eyes a break. Picking out a new pair of glasses was a big deal for me, because wearing glasses has been a big source of self-consciousness for me over the years. I needed a pair that was on trend, complimented my facial features, and made me feel like a million bucks when I looked into the mirror. I certainly didn't want to revisit the feelings I had when I was in grade school.
I also needed a pair that didn't break the bank. My insurance will only cover either a box of contacts or part of the cost for a new pair of glasses once a year. I've always chosen to buy the contacts through my insurance, so updating my glasses always got put onto the back burner. I decided to give shopping for eyeglasses online a try, seeing as how I buy the vast majority of my goods online anyway. I hopped on over to GlassesShop.com and began browsing their huge selection of frames.
I was so excited to see their huge selection of beautiful and modern frames at outstanding prices. Using the website and customizing the frames to match my prescription was very easy to to, and I had several add on options to make my eyeglasses even more special (tinted frames, anti-scratch coating, etc.)
I selected the BowlingGreen Rectangular frames in the tortoise shell color. I chose them because they were different than anything I've had in the past, and certainly different from anything I would have normally picked out. I think they bring out the whimsical and bold side of my personality, and I'm so happy with my choice! My frames were just $29.95, and adding the prescription was an additional $19.85. That's WAY less than what I would have paid at my eye doctor's office! It was such a winning experience!
You'll also find an amazing selection of sunglasses and prescription sunglasses at GlassesShop.com, too!
Discount Alert:
Thinking about giving buying eyeglasses online a try? You can use the code GSHOT50 to snag 50% off ALL eyeglasses and sunglasses (with free lens options only) listed throughout their website. That's some serious savings, you guys! (Sale excludes frames already marked on sale.)
I'm so thankful to be in glasses that make me feel good about myself. GlassesShop gave me a great shopping experience, and it's definitely how I'll be purchasing my glasses in the future!