This post is sponsored by Everywhere Agency on behalf of FoodSaver®; however, all thoughts and opinions expressed are my own.
With Father's Day quickly approaching, I've been reflecting a lot on the numerous qualities of my husband and his own father (pictured below) that have had a wonderful and positive impact on our family and how we will raise our own children over the years to come. I could name off a laundry list of character traits they both possess that make them the incredible men that they are, but one thing they both have in common that I am particularly fond of is their field-to-table philosophy that has proven to be beneficial to our family is so many ways!
I was not born into a family of hunters, but I was lucky enough to marry into a family of avid hunting and fishing enthusiasts that value the land and all that it can provide. My husband and his father are both skilled outdoorsmen who enjoy getting outside and perfecting the art of capturing big and small game to bring back home to enjoy as a meal, and as a bonus it stocks our freezer full of delicious meats that we can enjoy all year long!
My family typically takes several trips a year down to the gulf to do a little salt water fishing off of the pier. My father-in-law puts in countless hours studying different aspects of fishing and perfecting his craft, and I'm always amazed at his knowledge of catching, cleaning and preserving the fish that he reels in! 
During our trips down to the beach, we bring along our FoodSaver® GameSaver® BigGame™ Vacuum Sealing System (also available in-store at Walmart) with us so that we can quickly and easily preserve our catch of the day and get it into the freezer to ensure it stays fresh so we can enjoy it when we're ready to eat it. The Big Game™ system is designed to keep fish and game fresh up to 5x longer (compared to ordinary storage methods) and prevents freezer burn. Specifically, The Big Game™ system is designed for on-the-go use, featuring a built in handle and a 12 Volt DC Adapter so that it can be plugged into an automobile, boat, or RV for easy and convenient use!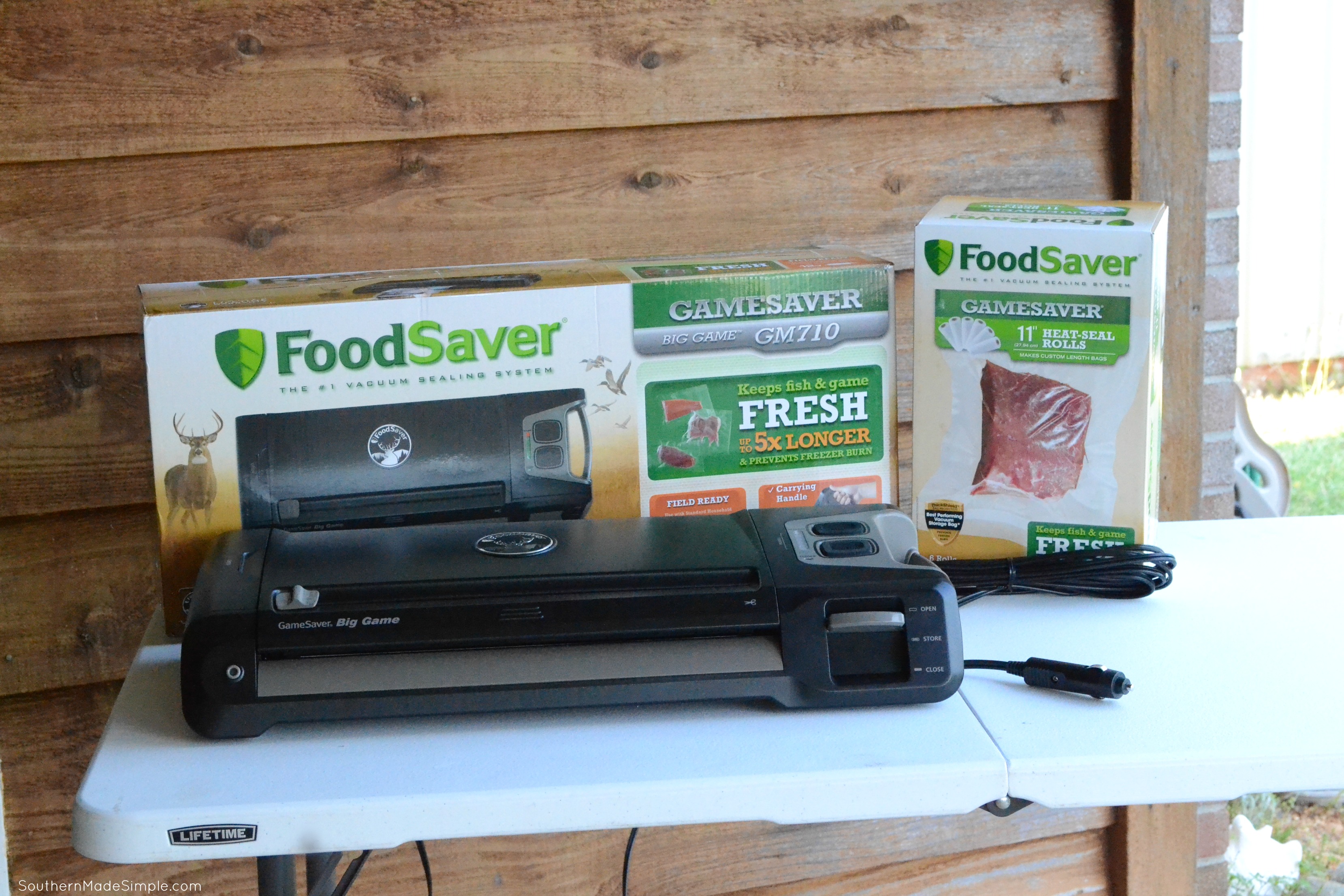 Once we returned home, my husband and father-in-law wasted no time in bringing out their catches to seal up using the GameSaver® Heat-Seal Bags. The GameSaver® system has a special built-in compartment to hold the heat-seal rolls for easy access while sealing foods. Simply open the lid, pull out the desired amount of roll that you'll need, perform the first seal and then neatly fill each bag with the desired amount of food you want to store! There's even a built-in cutter so no scissors are required.
My husband and father-in-law filled each bag with a few trimmed fillets and began the sealing process, which only takes a few seconds!

We placed a paper towel right above the fillets before sealing to catch any excess juice from seeping out of the bags. The Big Game™ sealing system really makes the process of putting up meats so fast, easy and mess free! We also love that it works with other GameSaver® accessories, such as the FoodSaver® Fresh Containers, Quick Marinator, 8″ and 11″ vacuum seal rolls and all pre-made bag sizes!
In a matter of minutes, my husband and father-in-law sealed up 10 bags of fresh fish from their fishing trip and stocked our freezer with delicious food for us to enjoy whenever we'd like. I love knowing that the fish will still have that fresh-from-the-gulf taste when we open it later!
I'm looking forward to having many fish fry's this summer and celebrating these two marvelous fathers in my life and the amazing impact they have on our family. I'm sure we'll be loading up the car at least once more before Father's Day rolls around to head back out on the water to cast our lines again, and the GameSaver® system will be right by our sides to help us keep things fresh so we can not only preserve our fish, but preserve all of the memories we make along the way!
GameSaver® Father's Day Contest
Are you ready to try out the GameSaver® so you can enjoy fresh meat up to 5x longer? You've got a chance to win one for yourself, plus a chance to expand your cooking knowledge with a true outdoorsman professional! GameSaver® has partnered with The Sporting Chef to offer fans the once-in-a-lifetime chance to not only win a GameSaver® BigGame™ Vacuum Sealing System, but to cook with The Sporting Chef himself!
How to enter:
Participants must share a photo on Facebook and Instagram that celebrates fatherhood and captures a precious memory between dad and child following the Preserve the Moment theme. All submissions must utilize the hashtag #PreservetheMomentContest to be eligible. The grand prize winner will receive the opportunity to cook with The Sporting Chef in their own home, as well as the ultimate Father's Day prize package that includes many items along with the GameSaver® Big Game™ Vacuum Sealing System. Two runners-up will also receive the ultimate Father's Day prize package. Contest runs from May 29th – June 17th. Read full terms and conditions here.
Do you have any outdoorsmen in your life that you'll be celebrating this Father's Day? If you're on the hunt for a perfect Father's Day gift idea for them, you absolutely cannot go wrong with the GameSaver® system and GameSaver® Heat-Seal rolls found at your local Walmart to help them preserve their harvest!