This shop has been compensated by Collective Bias, Inc. and its advertiser. All opinions are mine alone. #AD #Tailgreatness   #CollectiveBias
It's about to get real serious up in here, y'all. I mean, really serious. When game day rolls around in this house, you better strap on your helmet and bring your appetite with you, 'cuz once our team hits the field on Saturday, you better believe our snackin' game is in a league of it's own. We don't mess around with the game day grub, either. This time we're bringing the heat and packing in some serious crunch with my Smokin' Spicy Onion Rings with Sweet Heat Dipping Sauce – and it's going to take your taste buds all the way to the end zone, guaranteed! Plus, I'm throwing a secret ingredient into the mix that'll definitely make this game day snack hard to beat!
My family is all about some spicy food. I'm always looking for ways to add some kick to the dishes that I make to bring out that delicious heat that we all crave. When it comes to game day foods, I'm aiming for ways to spici-fy those classic comfort food dishes that everyone loves. I knew right away that this weekend would be the perfect time to break out my recipe for these smokin' good onion rings for everyone to crunch into.
 Even though I love to throw down with the hot stuff, I have to keep my head in the game when it comes to managing the burn. You know, that unexpected after burn that can creep up on you once the party is over? Ain't nobody got time for that!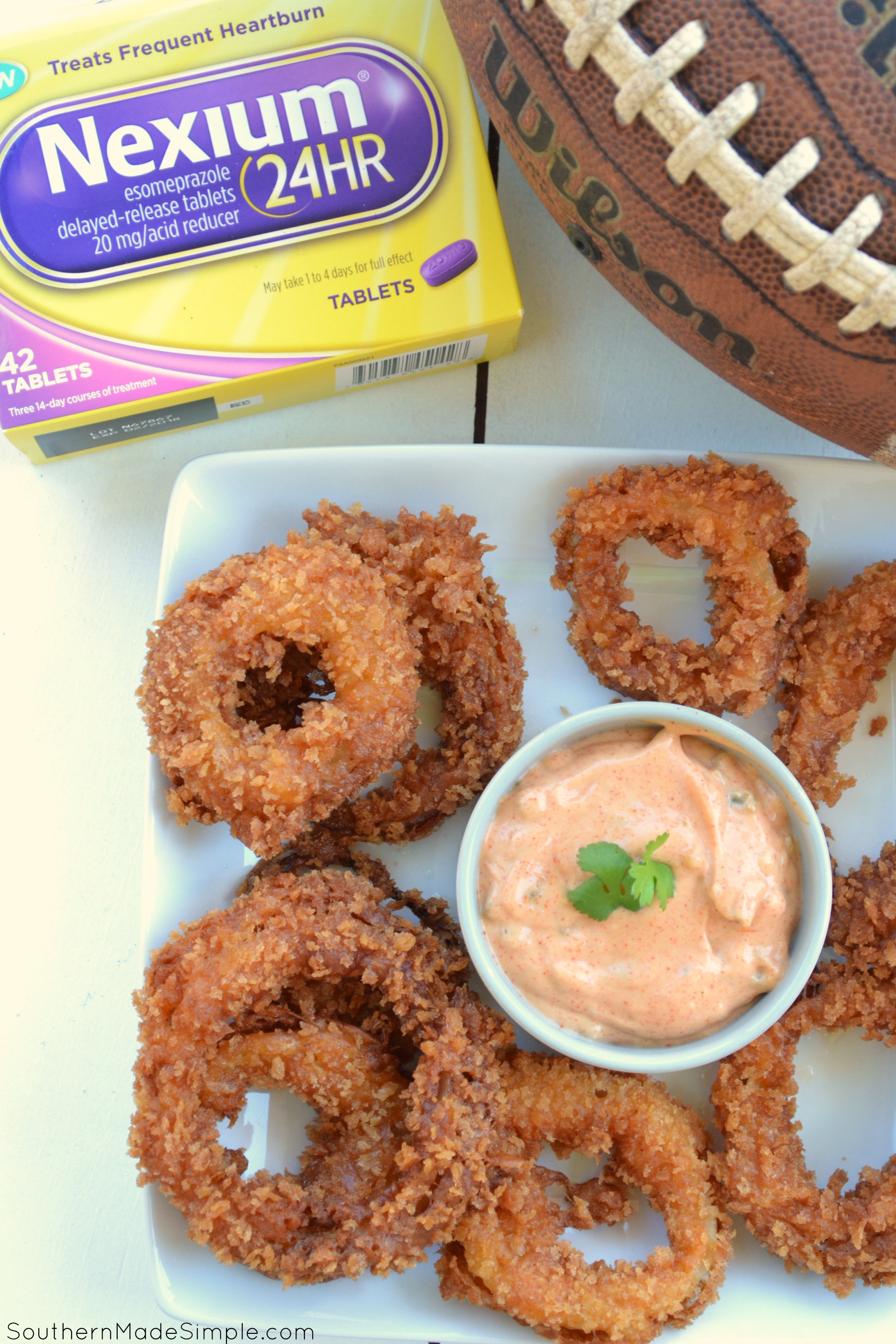 If I want to stack 'em up tall on my plate come kickoff time, I need to have a solid game plan in place to tackle heartburn to the ground before it happens. Food is something that brings people together and is meant to be enjoyed, and I'm certainly not trying to let the wrong kind of burn rain on my game!
Since we'll be cheering on our team from home this weekend, I headed to Walmart to make sure I had everything I needed to turn our at-home tailgate into tailgreatness. I swung by the produce section to pick up the onions (can't make onion rings without them!) and then I made a hard left at the health & wellness section to pick up some Nexium® 24HR to help me keep frequent heartburn sitting on the sidelines. (Available in capsules or tablets in the 42 count box!)
Just one pill a day keeps my frequent heartburn in check so I can enjoy all of the spicy goodness I like to fix for the big game*. It's too bad it doesn't help keep me from tearing up while I cut up the onions, because that definitely would've prevented me from shedding a few tears over these onion rings! (It was all totally worth it, by the way.) 😉
The prep work for making onion rings is pretty simple and straightforward (which is exactly what I need on busy game days.) Just peel off the skins of the onions, remove the ends and slice into rings that are about 3/4 inch wide. Once the onions are cut, go ahead and preheat some grease for frying to 350 F.
Next, you'll want to prepare the spicy batter to dip the rings in. First, combine your favorite pancake mix, cayenne pepper, chili powder and paprika in a large bowl. Slowly pour in 2 cups of buttermilk and wisk with a fork. The batter will be pretty thick, but you can always add more buttermilk to the mix if you'd like it to be thinner.

In a separate bowl, pour in a generous amount of panko bread crumbs to coat the battered rings in. This step isn't completely necessary as they'll still fry nicely without it, but it really gives the rings an extra crispy crunch that I am crazy about. No one wants a soggy crunchless onion ring!
Once they're coated, toss them in the fryer and fry for about a minute and a half, or until golden brown. I recommend frying 2-3 at a time, otherwise they may try to stick together in the fryer. Once they're done, set them on a wire rack to cool.
While the boys are passing the pig skin around, you'll be drooling over the crispy, crunchy skin on these championship-worthy onion rings. Trust and believe!
Here's a complete recipe with step-by-step instructions for you to save. Go ahead and print it out and stick it on the fridge, because you're going to want this recipe on hand come game day!
Spicy Onion Rings with Sweet Heat Dipping Sauce
Ingredients
Vegetable Oil

for frying

2

large yellow or vidalia onions

2

cups

buttermilk

2

cups

pancake mix

1 1/2

tsp

cayenne pepper

1

tsp

chili powder

1

tsp

paprika

Panko bread crumbs

salt as desired

.

.

For Dipping Sauce:

1/2

cup

low fat mayo

1

tbs

ketchup

1

tbs

horseradish sauce

1/2

tsp

cayenne pepper

1/2

tsp

paprika

1/2

tsp

jalapeno juice

salt & pepper to taste

small handful of canned jalapenos - diced

optional

Combine all ingredients in a bowl and allow to chill for a few hours - this step isn't necessary, but it makes the flavors marry together nicely
Instructions
Preheat grease in fryer to 350 F

Remove skins from onions and slice into roughly 3/4 inch slices - then separate the rings

In a large bowl, combine pancake mix, cayenne pepper, paprika, chili powder and salt and pepper

Slowly pour in buttermilk and stir well. Batter will be thick, but you can add additional butter milk if batter is too thick for your liking.

In a separate bowl, pour a generous amount of bread crumbs to use for coating the onion rings

Dip each onion ring into into the batter, followed by dipping them into the bread crumbs

Fry the onion rings in the grease for 1:30 - 2 minutes - only doing 2-3 rings at a time to prevent from sticking together

Remove from grease and allow to cool on a wire rack on top of paper towels - add additional salt if necessary

Serve with sweet heat onion ring dipping sauce and enjoy
---
By the way, if you want to make your spice-o-meter read off the charts, ditch the ketchup and whip up a batch of my sweet heat dipping sauce I mentioned in the recipe above. It take this recipe to a whole nother level!
If you're a fan of spicy foods but could do without the frequent heartburn that tends to creep up on you after you eat it, consider adding Nexium® 24HR to your daily routine! Just one pill a day provides all day and all night protection from reoccurring frequent heartburn. (Use as directed. May take 1-4 days for full effect.) Of course, consult with your doctor first and always use as directed. If you're putting off eating your favorite foods on game days because of heartburn, get in the game and get Nexium® 24HR on your team!
Kick Frequent Heartburn to the Curb:
If you'll be heading out to the grocery store this weekend to pick up supplies for your game day tailgreatness, make sure you print out the recipe above AND head on over here to score a money saving coupon on Nexium® 24HR!
Do you like to add a little heat to your game day celebration? If so, what sort of appetizers and snacks make your family cheer the most? Leave a comment below and share the love!
*May take 1 to 4 days for full effect. Use as directed