Affiliate links are included throughout this post at absolutely no cost to you. All opinions expressed are completely my own.
Will you be doing a little back to school shopping for a little girl this school year? If so, Amazon has some stinkin' adorable school outfits at killer prices! I've always been about big bows, ruffle pants and applique shirts…so if that fits your style, you're in the right place! Most of these are listed under $25, but often the pricing depends on the size you're purchasing. Most of these boutique style outfits retail for much more than that in stores, so these are some great deals in my opinion!
Here's a few of my faves (Sizes range from 2T-6 or 7):
School Bus Applique Shirt with Ruffle Pants – $20
Royal Apple Tunic with Ruffle Pants – $24
Teacher Owl Tunic Shirt and Pant Set – $27
Back to School Tunic w/ Ruffle Leggings – $25
School Bus Tunic w/ Leggings – $21
Eat, Sleep, School, Repeat Shirt and Pant Set – $21.99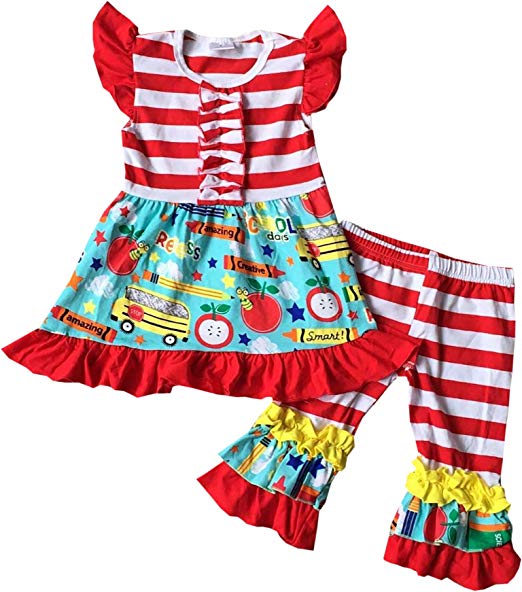 Girls Back to School Ruffle Capri Set – $19.99
Where are you getting all of your back to school duds this year? Are you an Amazon loyalist like me? Have you found some great deals that you'd like to share? Drop a comment below and share the love!