This shop has been compensated by Collective Bias, Inc. and its advertiser. All opinions are mine alone. #StockedWithLove #CollectiveBias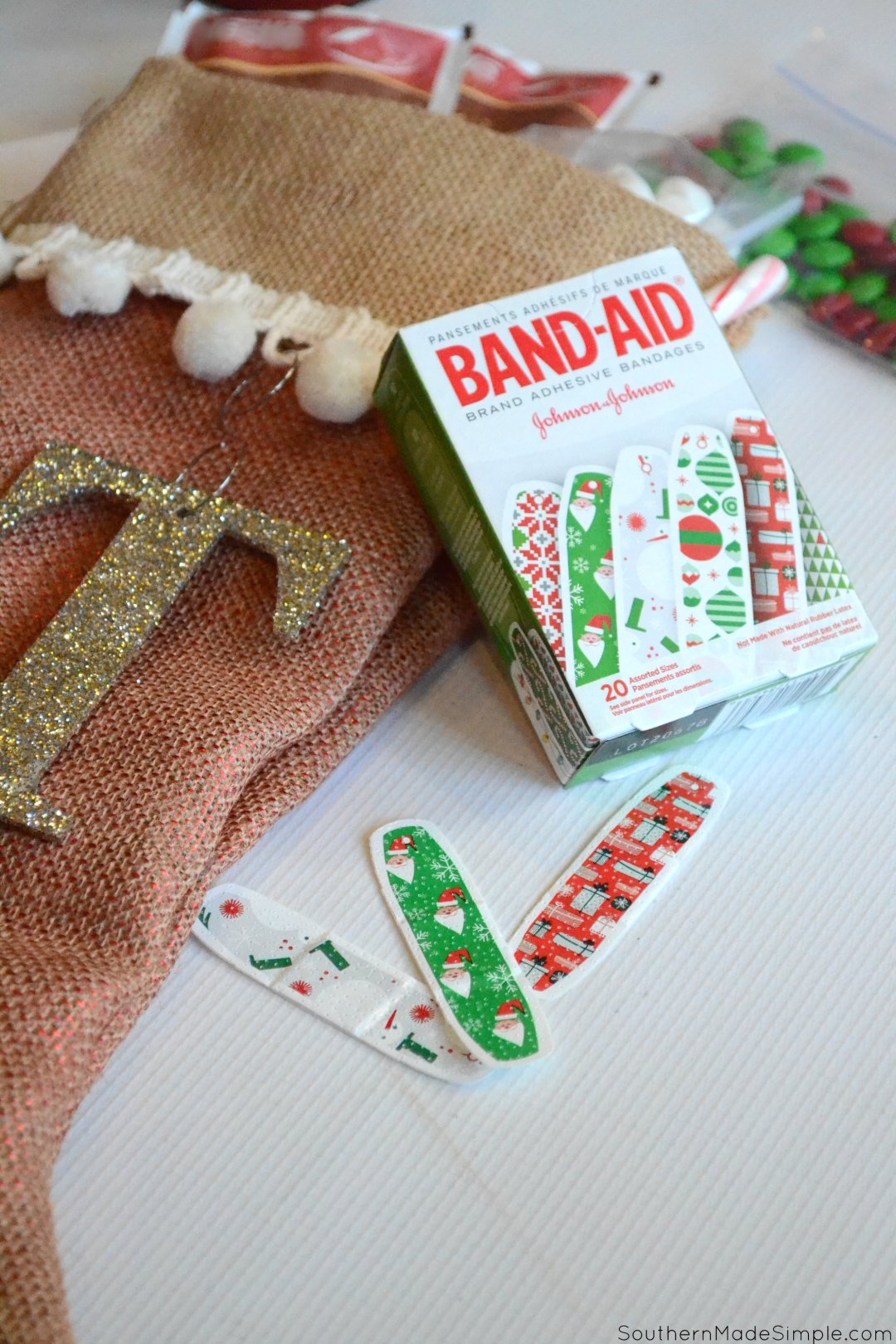 Hover over this image to start shopping and fill your own stocking this holiday season!
One of the things that makes the holiday season so merry and bright is celebrating and spending time with friends, family and those you hold dear. We had the privilege of hosting my family in our new home for a few days during Thanksgiving, and while things will look a little bit different for Christmas, we're still fortunate enough to host a party this week at our house filled with many of my family members that don't get to see each other very often. It's something we've all been looking forward to for a long time now, and I'm so happy that I get to have the role as host of the gathering!
Whether you're hosting family and friends in your home for a few days or a few hours, it's good practice to leave a little trinket or doodad for them to make them feel like they can call your residence a home away from home. With us being right here at Christmas, I thought it'd be great to create a little "guest gift" for those who will be entering our home. These DIY No-Sew Christmas Stockings were the perfect thing to hold an assortment of goodies for our guests to enjoy, and a few things they may find themselves needing while in our home, too!
If you're not so handy when it comes to a sewing machine, or if you don't own one at all, you can certainly still make some pretty fabulous fabric gifts and crafts with the use of a little fabric glue or a hot glue gun! Because of the course, thick texture of burlap, it reacts nicely to hot glue and holds a bond very well. To make a No-Sew Burlap Stocking, simply follow these easy steps:
1. Use a regular stocking as your template. Turn the stocking inside out and trace the stocking onto a piece of cardboard or thick craft paper. Tip: Add about 1/2 inch of additional space around the trace of the stocking, meaning don't trace it perfectly and right up to the edge of the already assembled stocking. You want to account for the fact that this stocking is inside out and will have a seam, so don't cut yourself short on space!
2. Cut out the template and trace it onto your burlap using a marker. Make sure that your burlap is folded in half so you're cutting two pieces of burlap at one time. If you're using a burlap that has a printed or patterned side, you'll want that side to be facing the inside first.
3. Pin the burlap together and cut. It's important to pin the burlap together so that the top or bottom layer of burlap doesn't move around while you're trying to cut, and so both of your pieces of burlap will be identical so as to not cause any problems when gluing them together.
4. Glue the edges together. Once the burlap is cut, begin gluing the edges together with a fabric glue or hot glue. Fabric glue can take 30 minutes or more to dry, whereas hot glue takes just a few seconds. I recommend using hot glue if you have it available. Do NOT glue the top part of the stocking together that will serve as the opening! Slowly remove the pins from the burlap once you've glued all sides together.
5. Turn the stocking inside out. You may need to work with a few of the seams to help them lay flat, especially near the toe of the stocking. Fold down the top portion of fabric at the opening a few inches to create the cuff of the stocking. Using hot glue, attach trim around the edge of the cut to create a finished looking seam.
6. Create a hoop. Simply take a small amount of scrap burlap and make a loop to attach to the inside of the stocking. This is important, because you'll certainly want to hang your stocking so Santa can fill it! 😉
I added a little trinket to one of the stockings to give it a personalized feel. I wasted no time filling up the stockings with fun items that I picked up on my most recent shopping trip to Target! Since the guests that will be filling my home soon will have children, I decided to make the gifts inside their stockings cater to the children and their wants/needs, too. You can find a lot of great stocking stuffers in the dollar spot near the front entrance of Target. Here are just a few of my favorite finds that made it into our guest-gift stockings this year:
Hot cocoa packets, mini marshmallows, coffee mugs, assorted holiday candy, cell phone charger, BAND-AID® Brand Adhesive Bandages – holiday collection, the WIFI password, and other assorted essentials that guests may need or things that can be easily forgotten or left at home.
There will be lots of little ones running around our home this season, and it usually doesn't take any time at all before one of them lets out a cry letting us know they've sustained the first injury during their cousin play time. That's why I keep BAND-AID® Brand Adhesive Bandages on hand to help heal hurts faster and keep the smiles lasting longer!
You can find BAND-AID® Brand Adhesive Bandages holiday collection in the first aid section at your local Target. I also spotted them in the holiday section where they had bins of assorted stocking stuffer ideas, too. Keep your eyes peeled for the Paw Patrol and Star Wars BAND-AID® Brand Adhesive Bandages that are also available. My kiddo LOVES them!
With all of the hustle and bustle going on around us during this busy holiday season, it's easy to lose track of time and feel unprepared for guests and family to come over for the holidays. Thankfully, putting together a simple guest-gift like these easy DIY No-Sew Stockings is a cinch, as they are a quick, inexpensive and an easy way to make sure your guests have something nice that they will cherish, and filling those stocking to the brim with goodies and essentials like BAND-AID® Brand Adhesive Bandages (the #1 Doctor Recommended Brand) is a great way to show your guests that you're thinking of them and care about their needs during their stay! Plus, you can find an in-ad special during the week of 12/17 for the deco BAND-AID® Brand Adhesive Bandages for 2 for $5!
Will you be hosting friends and family in your home during this holiday season? Will you be making a little selection of goodies for the people coming into or staying in your home? What are some other ideas you have for guests in your home? Leave a comment below and share the love!