Thank you to The UPS Store for sponsoring this post. Make the holiday to-do list a little easier this season with The UPS Store!
We're all still grinning from ear to ear over getting to host my family in our brand new home during Thanksgiving this year. It was so nice having all of my siblings and their families in one place, and it was amazing being able to finally sit down and relax in our brand new home after a full year of construction. Now that we're heading into Christmas, things have gotten a little bit quieter around here as two out of my 3 siblings and their families will be celebrating the season with other family members far away.
When family is far away during the most wonderful time of the year, it can be a little difficult to share in family traditions and other fun holiday festivities like decorating the tree, watching Christmas movies, baking cookies, sipping hot chocolate, and making Christmas crafts. These are all things that I like to do every single year with my family, and they're certainly not nearly as fun when you're not able to share those experiences with your family! Thankfully, The UPS Store has made sharing holiday traditions with family so much easier during the holiday season, and we're able to still celebrate together, even though we're far apart!
My daughter and I got busy making a list (and checking it twice) of things that make us think of fun holiday traditions that we like to share with others. We sent a box full of Christmas cheer to my sister and her family to enjoy, and we packed it to the brim with things that we would normally like to do when we're all together. Here's just a few of the things we packed to keep the holiday smiles shining bright:
Hot Cocoa and Cookies Kit, Christmas craft kits, a Christmas movie, candies, board games, note pads with stickers, and a few wrapped toys for her two girls to open up on Christmas day.
We headed out to the UPS Store to meet with their Certified Packing Experts to help us find the perfect box to pack our goodies in and to help us ensure that everything was packed perfectly and with care. The manager greeted us and took us back to a little packing station in the back where she walked us through how to pack the box and how to use packing materials such as bubble wrap and packing peanuts to keep things from shifting around too much. 
The UPS Store is the only store that backs its services with the Pack & Ship Guarantee, which ensures that any package packed by The UPS Store and shipped via UPS, DHL or USPS will be covered through reimbursement of the cost of packing materials, services and shipping costs if an item is somehow lost or damaged. With as many packages that are going around during this busy time of year, I feel much better knowing my package is covered and is in good hands!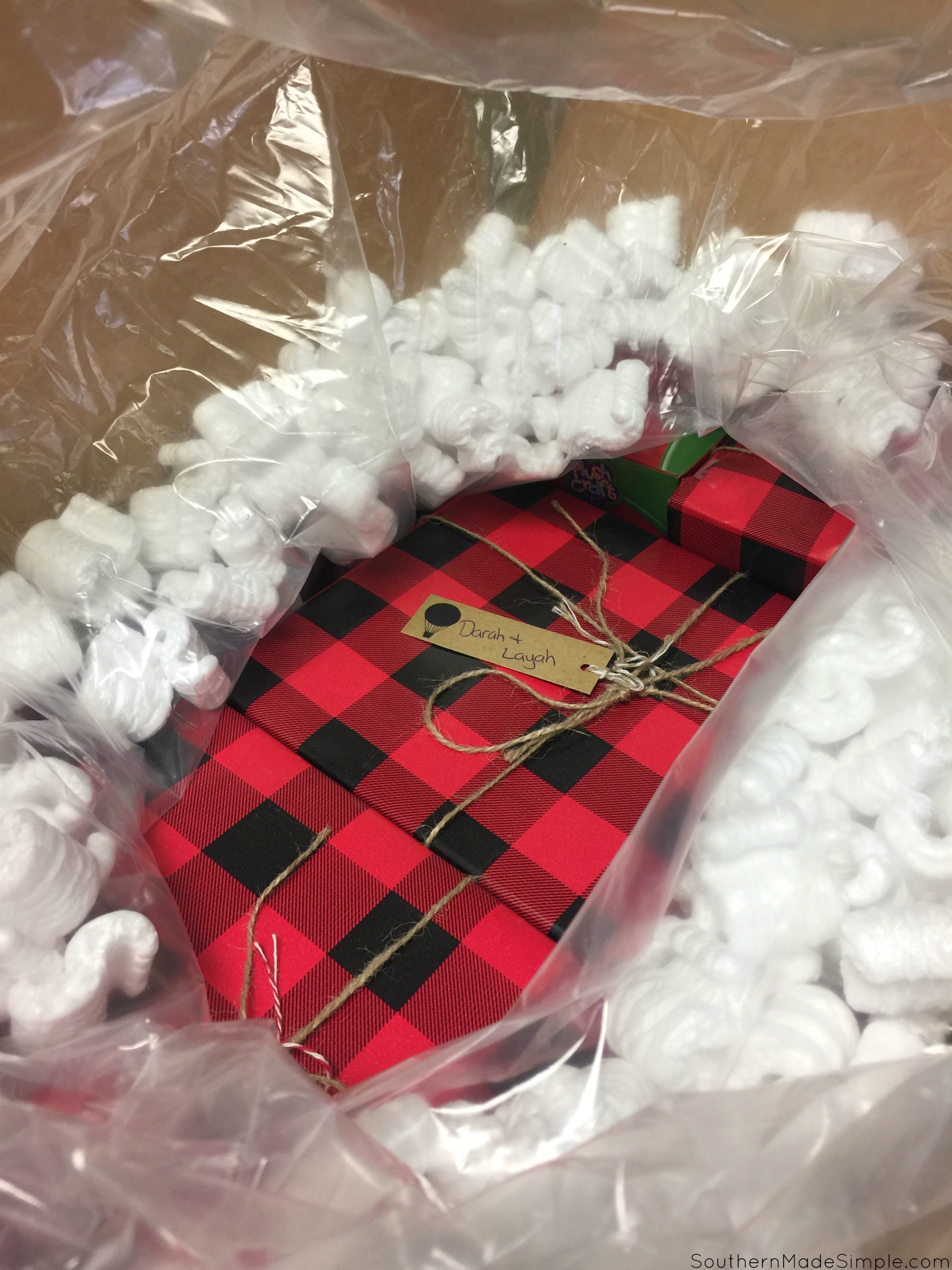 If you've got a package to send during the holidays, head out to The UPS Store and meet with the packing experts to have them help you pack your box and get it going in the direction that it needs to go. There are over 5,000 convenient locations across North America, and they offer extended holiday and weekend hours to accommodate customer's busy holiday schedules!
On top of The UPS Store making it so much easier to celebrate the holidays and family traditions with my relatives that are far away, they're also giving back in a really big way this year! As the exclusive sponsor of the Toys for Tots Literacy Program, which is an initiative to help give less fortunate kids the ability to compete academically and succeed in life by providing them access to resources that will enhance their ability to read and communicate effectively. Participating The UPS Store locations have an in-center donation card drive, and each donation made helps purchase books for local children in need.
My sister sent over a few photos of her girls opening up their package sent via The UPS Store this morning, and it made my heart dance seeing their fun expressions over their new Christmas gifts!
I'm so thankful that The UPS Store makes it so incredibly easy to pack and send gifts not only during the holidays, but all throughout the year!

You can also spot The UPS Store on a special float during the Tournament of Roses Parade on New Year's Day, with the theme of the float promoting the Toys for Tots Literacy program with a "Books Brings Dreams to Life" theme. You can catch it on air on Monday, January 1st 2018 starting at 8 a.m. PST!
Giveaway Alert:
Do you currently follow The UPS Store on Instagram? If not, now is the time do start! They're currently running a fun promotional game where they share a box and a series of clues for customers to "Guess the Gift" for a chance to win cool prizes. This series starts December 4th and runs for approximately 3 weeks. They'll share a new box every Monday and
I was selected for this opportunity as a member of CLEVER and the content and opinions expressed here are all my own.