This recipe for Cheesy Pumpkin & Chicken Taco Bake is sponsored by Rico's. All thoughts and opinions expressed are completely my own.
Earlier last week, I had an overwhelming desire to break out the Christmas decorations, blast my favorite holiday station on the radio and trim up the tree with all the bells and whistles. This was quite unusual for me, because I've always been one to stick to my guns about not decorating for Christmas before Thanksgiving is over. No shame at all if that's your thing! I just really love Fall decor and all things pumpkin-y, so I savor it for as long as I possibly can!

To remedy the situation, I listened to Christmas carols for about 15 minutes, then I remembered that I have a toddler and instantly pictured all of my Christmas ornaments getting rearranged and/or destroyed…and my desire to put up the tree quickly went away! To help me get the wheels in my head back on track, I started trying to think of a way to put a little pumpkin spice in my life in a fun and unique way for our supper that night. Since it was Tuesday (and everybody knows Tuesdays are earmarked for tacos,) I decided to try my hand at combining the flavors of Fall with a fiesta-filled plate of cheesy taco goodness!

While most people associate pumpkin with sweet dishes, I wanted to switch things up a bit and find a way to serve it on the savory side. After a little bit of trial and error, I believe I found the perfect way to incorporate a little pumpkin into my Taco Tuesday, and the secret is in the sauce!
I've always been a sauce girl. In so many recipes, the sauce is the glue that holds it all together and gives the dish that extra pop of flavor that it needs. In this particular recipe, the sauce is the star of the show, and it really comes to life with the help of Rico's Gourmet Nacho Cheddar Cheese Sauce!
Ricos Cheese sauce makes a great addition to many different types of recipes. It's always stocked in my pantry during football season to make dips, nachos and other game day appetizers. With the holidays quickly approaching, it's a great ingredient to keep on hand for entertaining and family dinners! Ricos Cheese comes in many different varieties, and you can find them at your local Publix grocery store down the sauce aisle!
The particular recipe is a two-step process, the first step being the making of the sauce that I mentioned earlier. The cheesy pumpkin enchilada sauce really comes together with just the push of a button. Just add your Ricos Cheese Sauce, salsa, taco seasoning, pumpkin puree, pumpkin spice, chicken broth and sour cream into a blender and puree until smooth!
The second step in this Cheesy Pumpkin & Chicken Taco Bake is also super simple. Just break out a skillet and toss in some olive oil, diced red onion, garlic and jalapeno pieces and saute until tender. Add in corn and beans and cook over medium-high heat for an additional minute or so. Stir in taco seasoning, pumpkin puree, Ricos Cheese Sauce and chicken broth and allow to simmer covered for 4-5 minutes.
Toss in shredded chicken. In a separate oven-safe skillet, layer 1 large tortilla into the bottom. Cover tortilla with chicken taco mixture, followed by a layer of enchilada sauce. Repeat this layering process until skillet is full. Bake at 350 F for 10-15 minutes, or until sauces in the taco bake are bubbling. Top with additional enchilada sauce, Ricos Cheese sauce, and your favorite taco toppings. Serve immediately and enjoy!
Here's a free printable copy of the recipe if you'd like to give it a try!
Cheesy Pumpkin & Chicken Taco Bake
Ingredients
Enchilada Sauce
3/4

cup

Rico's Nacho Cheese Sauce

3/4

cup

salsa

1/2

cup

pumpkin puree

1/3

cup

sour cream

1/4

cup

chicken broth

3

tsp

taco seasoning

1/4

tsp

pumpkin spice
Enchilada Bake
3

cups

chicken

cooked and shredded

1

jalapeno

finely minced

1/2

large red onion

finely chopped

1

Tbs

olive oil

1

packet taco seasoning

or remaining amount in packet left over from enchilada sauce

1

Tbs

minced garlic

1

cup

Rico's Nacho Cheese Sauce

1/2

cup

pumpkin puree

15

ounce

can black beans

drained

1

can

Mexicorn

drained

1/2

cup

chicken broth

3

large flour tortillas

Extra jalapeno slices

shredded cheese, sour cream and cilantro for topping (optional)
Instructions
Preheat oven to 350 F

In a blender, pour all ingredients for enchilada sauce and blend until smooth. Set aside.

In a large skillet, heat olive oil and saute onions, garlic and jalapenos until tender.

Add in Mexicorn and black beans and cook for an additional minute or so.

Add in taco seasoning, pumpkin puree, Rico's Cheese sauce and chicken broth and let simmer covered for 4-5 minutes.

Toss in chicken

In an iron skillet, layer 1 flour tortilla into the bottom, followed by a layer of chicken mixture. Top this layer with a generous amount of enchilada sauce. Add another tortilla on top and complete the layering process until the skillet is full.

Bake in the oven at 350 for about 10-15 minutes, or until completely warmed throughout and sauce is bubbling.

Top with additional additional enchilada sauce, Rico's cheese sauce and your favorite taco toppings!

Serve immediately and enjoy!
---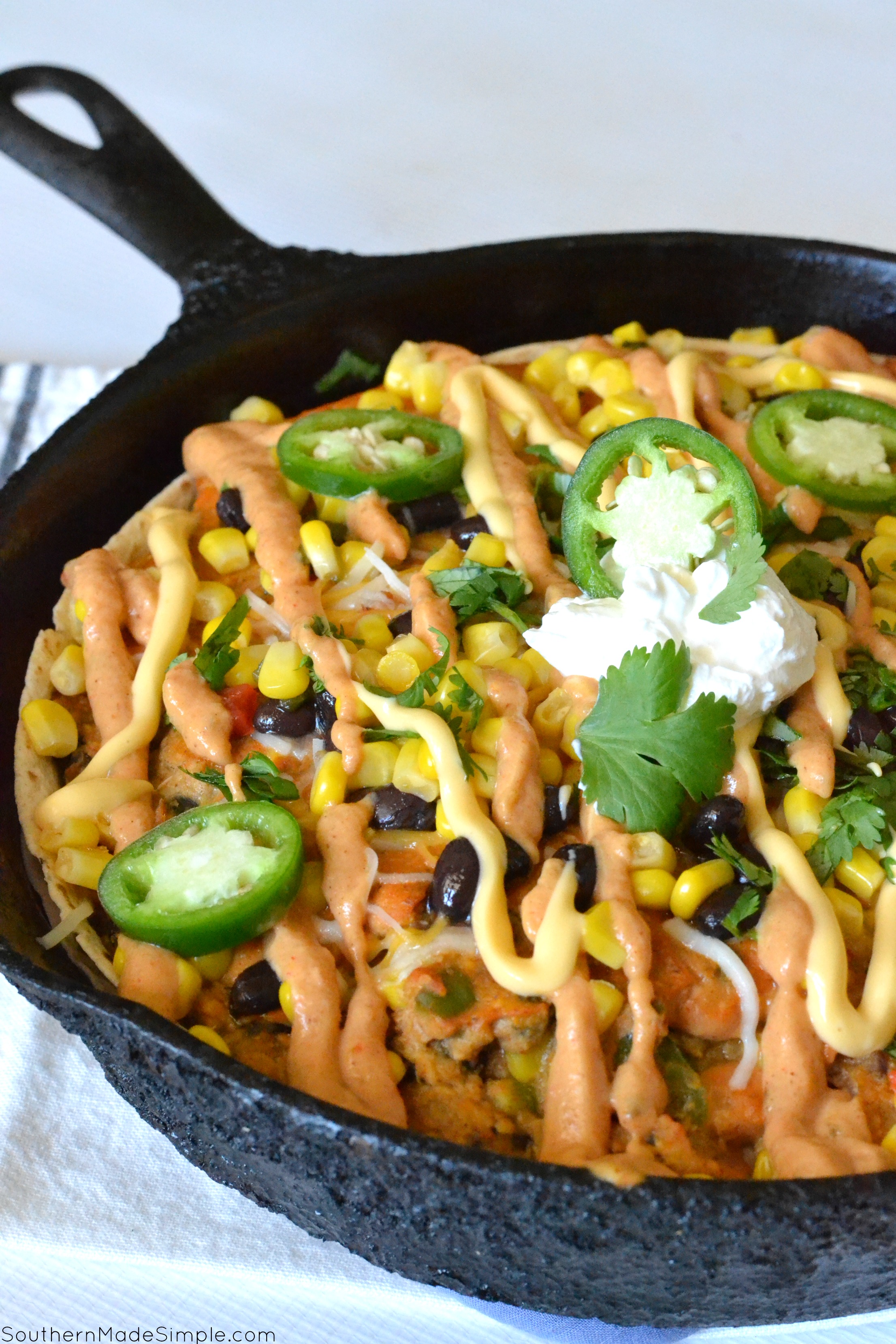 Have you ever added a little pumpkin-spice to a savory family favorite dish before? You may count it strange, but it's a combination that totally works, and my family really loved it! While the pumpkin was a nice touch, the Ricos Cheese sauce brought an element of cheesy deliciousness to the recipe that is simply unmatched. I even caught myself sneaking a sample with with a tortilla chip here and there during the making of this dish!
What recipes are you making this season that can be made better with Ricos Cheese sauce? Click here for more recipe inspiration using Ricos Cheese Sauce!