When my husband and I got married 3 years ago, we were on an incredibly tight budget. We allotted just $25 per month to be spent on clothing and accessories between the two of us. In those rare occasions that I went shopping for clothes, I went straight to the clearance racks. (Heck, who am I kidding. I still do that! You can find some really great deals there, and I am all about getting a good deal!) But while I was on such a tight budget, I knew not to even look at the pretty on-trend clothes hanging in the display window. The only time I would get to buy designer brands was if I got incredibly lucky at a thrift store, and that was after spending all that time rummaging through the stuff that I definitely didn't want.
And then one GLORIOUS day, I heard all about this new online company called ThredUp. In short, ThredUp is an online consignment store that sells gently used name brand clothing for women and children at 40-90% off retail prices. While being able to purchase name brand clothing at affordable prices was great news to me, what really piqued my interest was that they were offering brand new customers $10 in free credit to shop, no strings attached. I was sold! Since finding out about ThredUp, I have made several purchases and even sold some of my own clothing. It's my new favorite way to shop, hands down!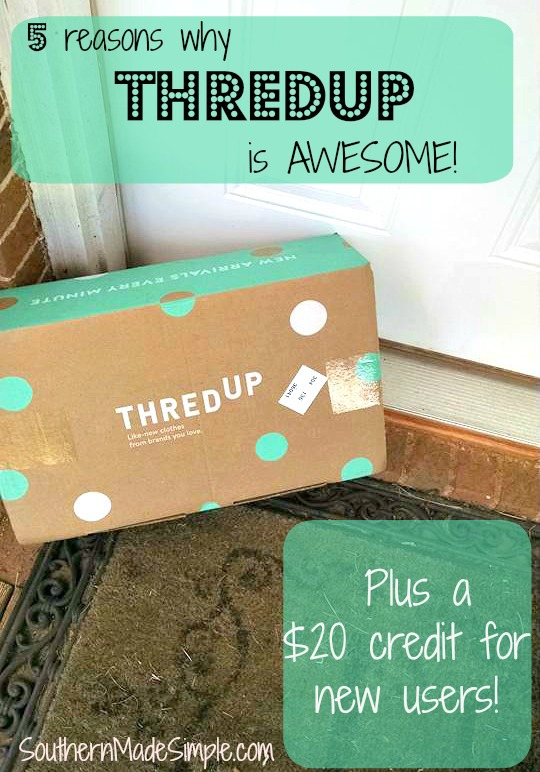 Below I've listed 5 reasons why I'm absolutely loving ThredUp in hopes that you, too, will find love like I did. If you've never heard of or purchased from ThredUp before, I encourage you to give it a try! I'll include a referral link (like this one) throughout this post that will give you $20 in FREE credit to do a little shopping yourself! Score!
Recycling: It's what the cool kids are doing!

 Shopping and selling with ThredUp is an excellent way to incorporate a recycling philosophy in your home. Did you know that the average family in America throws away roughly 6 pounds of textile waste per month? That's unused or unwanted clothing and other items going straight into landfills and polluting our environment. By choosing to reuse and recycle clothing through ThredUp, we can all live a little greener!

ThredUp Supports Schools

Fundraising for your school has never been so easy! Right now, ThredUp is giving back 5% of your purchase to a K-12 school of your choosing! You can easily select a school you would like to support here. Once your school has reached a threshold of $100, a check will be sent to the PTA of that school. Score cool clothes for you while giving back to your school…talk about a win-win!

Discount Codes

On top of having prices that are already AWESOME, you can score even deeper discounts by downloading their free app! Usually 3-4 times a week, they send out alerts containing coupon codes to use on your purchases. It's not uncommon for me to score anywhere from 10%-20% off of all my orders. Sweet!

Selection of goods

ThredUp has a wide selection of clothing for women and children (Sizes Newborn-Youth XL). They even carry maternity, plus size and juniors. You'll also find accessories such as shoes, scarves, belts, hats and handbags. There's really something for everybody! Except men… Sorry, guys!
Personal Shops – One of my very favorite features about ThredUp is that you can create your own Personal Shops. If you have certain brands that you know you love, you can "favorite" them by adding them to your personal shop collection. You can even add more than one brand under each shop. I really love to dress my daughter in smocked clothing, but there are SO many different brands of smocked clothes that it's hard to keep track of them all. Instead of searching one brand at a time, I created a collection of roughly 20 brands and put them in a personal shop that I named "Smocked Stuff". Any time I want to see what's new from these brands, I'll just check out my shop I created. Easy-peasy!

Referral Program

This is what makes ThredUp a real winner in my eyes! It is so easy to earn money to shop with through their referral program. Right now, ThredUp is giving brand new users $20 in free credit to shop with. This is AWESOME! When I signed up 3 years ago, I only received $10 in credit, so this is definitely something to take advantage of! Once you sign up, you'll be given your own referral code to share with your friends. If your friends use your referral link to sign up and shop with, you'll get $20 of your own once their order ships! Basically, when you give $20, you get $20. How cool is that?!
What are your thoughts on ThredUp? Have you ever purchased from this company before? If you decide to sign up and get $20 in free clothing for yourself, I'd love to hear about what you got! (Referral link included)