I love Valentine's Day. It's not something I've ever really celebrated very much in the past, but I love any occasion to get to put an emphasis on celebrating love. I love love. I have a wonderful husband that I am madly in love with, and I have a beautiful baby girl that I get to shower with lots of snuggles and, well, love!
Since I've got a little sweetheart to shop for this Valentine's Day, I thought I'd share with you some of my top Valentine's Day gift picks for babies and toddlers that are as sweet as sugar and are a great way to say "I love you"!
This "God Gave Me You" black + white raglan tee is definitely calling me! How adorable would it be to have a matching outfit with your baby?! I love that this shirt is unisex, too. This lovely tee from Sweetees is available for just $23! (Pssst…when you like their pages on Instagram and Facebook, you get a 10% discount! See their site for more details).
Have you heard about Babiators? They're all the rage for babies and kids! The Original Babiators fit kids ages 0-7 and offer 100% UVA and UVB protection. I'm really digging the Popstar Pink color! Their prices start at just $20! You can also score a 15% off discount when you sign up for their email alerts. Sweet!
This precious crochet elephant hat from Little Bird Bands is bursting with cuteness! This handmade sweetness starts out at just $24.74. Be sure to browse all of the other handmade crochet hats and accessories. So much love went into making all of their fabulous things!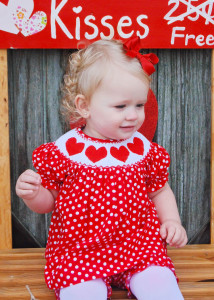 Be still my HEART! Isn't this little polka-dot 2 piece set the sweetest little thing? This and That for Kids is always on top of their game when it comes to smocked and appliqued cuteness. This set is priced at just $39.99! Let's not forget about the boys, too! Check out this sweet little bow tie marked down to just $5.99!
Plus, get 10% off of your first purchase when you sign up for their emails. *Insert Happy Dance* 🙂
Good grief, Charlie Brown! I am absolutely smitten with Charlie Brown and the lovable Peanuts gang. While a baby might not be super into it just yet, I think adding this to your collection would make a great opportunity to watch this wholesome cast every year and start a new Valentines Day tradition! You can purchase a copy of A Charlie Brown Valentine for less than $10 here
!
I'm definitely gushing over this precious little Customized Valentine Pink and Gold Heart Shirt from Gentry's Closet! It's perfectly priced at just $24! They also have a huge selection of other adorable personalized Valentines Day loot that is just too cute for words. Check it out here!
These Gold Polka Dot Moccasins from Pretzelz and Pigtailz are killin' it on the cuteness meter! Gold is so trendy right now. How lovely would these be on a sweet little one?! They're priced at just $18. They even have an adorable selection of gender neutral shoes, too! You can check that out here!
Seriously, y'all. How darling is this diaper! This Foxes and Hearts Cloth Diaper from The Albino Squirrel is available to purchase at just $18! Be sure to check out the other awesome HANDMADE diapers in their Etsy shop!
Isn't this Floral Glitter Antler Hair Clip just fabulous?? I'm not even going to lie, I want one for my OWN hair! You can purchase this beautiful clip for just $14.95 at Charlie Coco's – an incredible little Etsy shop with a great collection of hair bows and clips!
I just can't even with this, y'all. So much perfection in one little outfit! This Baby Bow Tie with Vest outfit is just $22.99 and would be PERFECT to wear on Valentine's Day! Check out the Sew Loved Baby shop to see even more insanely cute vest and bow tie outfits for little boys!
I've loved sharing a few of my favorite things with you all, and I hope you've found some great treasures to share with your little loved ones this Valentine's Day! Happy shopping!