"This post and giveaway were made possible by iConnect and Pampers Easy Ups. I was compensated for my participation in this campaign, but all opinions are 100% mine."
And just like that – my baby isn't so much of a baby anymore. What once was my little 6 pound teeny tiny infant is now my vivacious busy-bee of a toddler who is into everything, is as smart as a whip and is eager and ready to start her "underwear training" adventure! Sigh. How did we get here so fast? I mean, I feel like we brought her home from the hospital last month!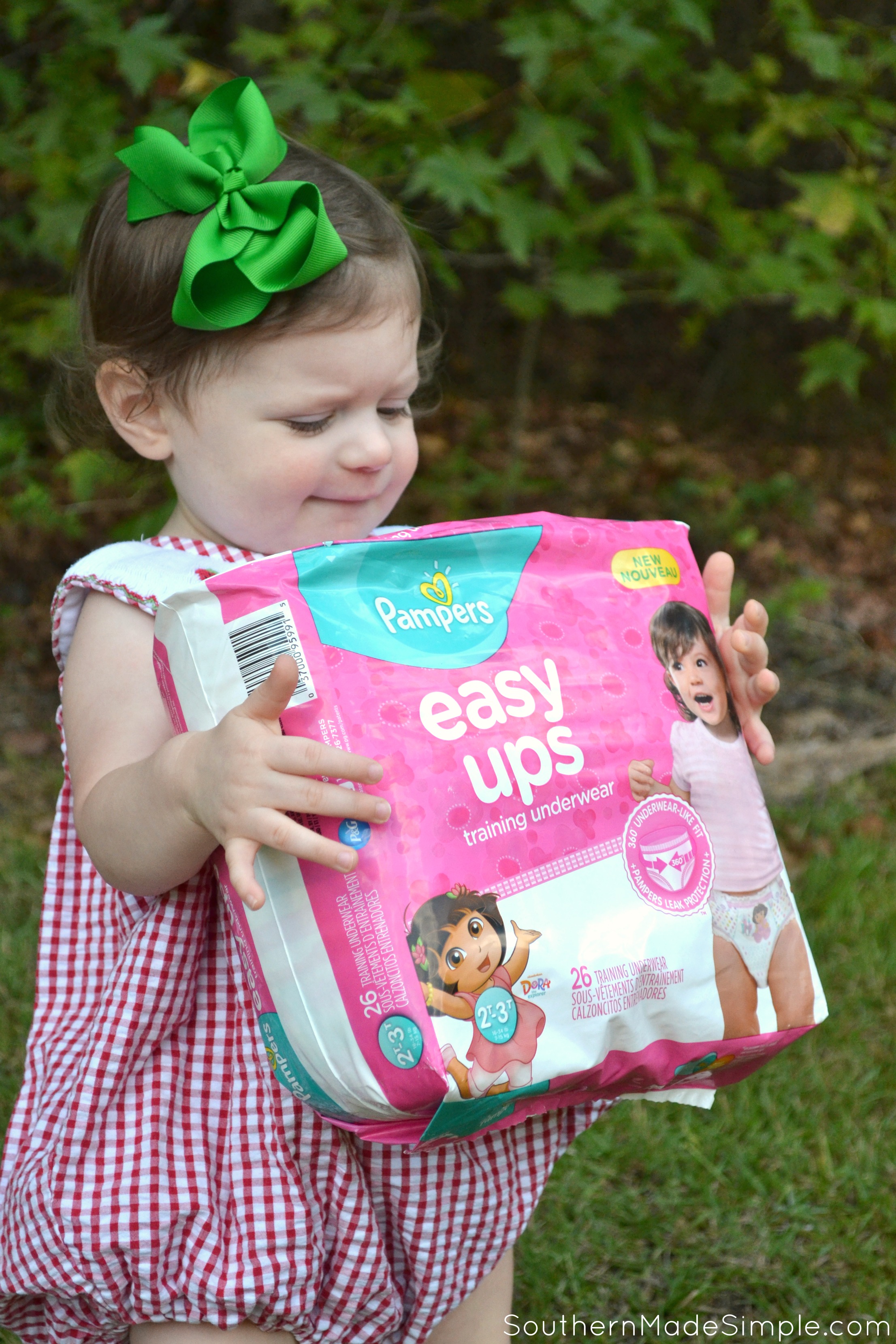 While it can be exciting for a little one to finally learn how to use the potty, it's even more exciting to say goodbye to diapers and "hello" to big kid undies! My daughter understands that the diapers she wears are not the same thing as what Mommy wears. She is very curious about wearing big girl panties and wants to wear them just like Mommy does, and this is a milestone that we feel deserves celebrating just like her wanting to potty train! For these reasons, we feel that "underwear training" is a totally appropriate name for this little journey we're embarking on!
And luckily for us, Pampers had this same notion in mind when they created their Pampers® Easy Ups™ training underwear. When I tell you that these little gems are just like real underwear, I'm telling you…they're JUST like real underwear! They look, fit and feel like the real deal, but they're super absorbent (with exclusive Extra Absorb Channels™) and help protect against leaks from any "accidents" that may occur. Pampers Easy Ups also have a super stretchy waste band that makes pulling them up and down a breeze. This has been fabulous for my daughter as she is learning to adjust from diapers to panties.
To start us out on our underwear training adventure, we first introduced her to her own special potty. We then taught her the "sign" for potty so that she could let us know if she needed to go. We made sure that she understood that when she shows us the sign for potty, we take her directly to her little toilet.
We also created a special bin that we keep next to her potty that houses her Pampers Easy Ups in addition to the big girl panties that she's training to wear. Having her see them has proven to be a good incentive in helping her learn to go.
While she isn't quite ready for the real underwear just yet, the Pampers Easy Ups are her new bff. She's been practicing pulling them up and down, and she loves the fun characters featured on them! You can find the Easy Ups in Dora the Explorer™ and Thomas the Engine™ designs, and word on the street is that soon Hello Kitty™ will be making her appearance on the Easy Ups, too!
If you're looking to start your "underwear training" journey soon, here's a few tips from Pampers that may come in handy for you! It's important to remember, however, to never force a child to learn to go potty. Every kid is different, and they all learn at their own speed. Patience is key!
For more information on Pampers Easy Ups , head on over to Pampers.com where you'll find tips and information on how to start your underwear training journey on the right foot, plus more ideas on how to help your baby get the most out of love, sleep and play.
Coupon Alert!:
Right now, you can score a printable coupon for $2 off 1 pack of Pampers Easy Ups Training Pants! While you're at it, sign up for the Pampers Rewards Program where you can be rewarded for all of your Pampers purchases!
Win it!
One VERY lucky Southern Made Simple reader is going to win it big with a $50 AMEX gift card, a package of Pampers Easy Ups AND a copy of Ilana Wile's book," The Mommy Shorts Guide to Remarkably Average Parenting" -SO jealous! 😉 Just enter using the giveaway form below. All entries will be verified for authenticity. Must be 18+ to enter. No PO box addresses, please.
OPEN TO RESIDENTS OF THE UNITED STATES 18 AND OLDER. NO PO BOXES PLEASE. LIMIT ONE ENTRANT PER HOUSEHOLD. GIVEAWAY WILL END AT 11:59PM CST ON 10/4/2016. WINNER WILL BE DRAWN USING GIVEAWAY TOOLS. ENTRIES WILL BE VERIFIED. WINNER WILL BE CONTACTED VIA EMAIL AND WILL HAVE 48 HOURS TO RESPOND BEFORE THE PRIZE IS FORFEITED AND A NEW WINNER IS SELECTED. SOUTHERN MADE SIMPLE IS NOT RESPONSIBLE FOR PRIZE FULFILLMENT. YOU MAY ONLY WIN ONE PRIZE PACK AMONGST ALL OTHER BLOGGERS THAT ARE SHARING THIS PROMO. DUPLICATE WINNERS ARE NOT PERMITTED.