I received product as compensation for this post in exchange for my honest review. All opinions expressed within are 100% my own. I love Thirty-One products and know you will, too!
The month of May is always such a busy (but amazing) time of year. Mother's Day rolls around, graduation ceremonies are taking place, school lets out for summer vacation, and for my personal family, we're celebrating a birthday AND an anniversary all in the same month! Though our schedules can get a little hectic this month, it's all gravy! I know that summer is well on it's way, and that means we can finally pack up the car and head down to the surf and the sand for a little rest and relaxation before the newest member of the family gets here in early August!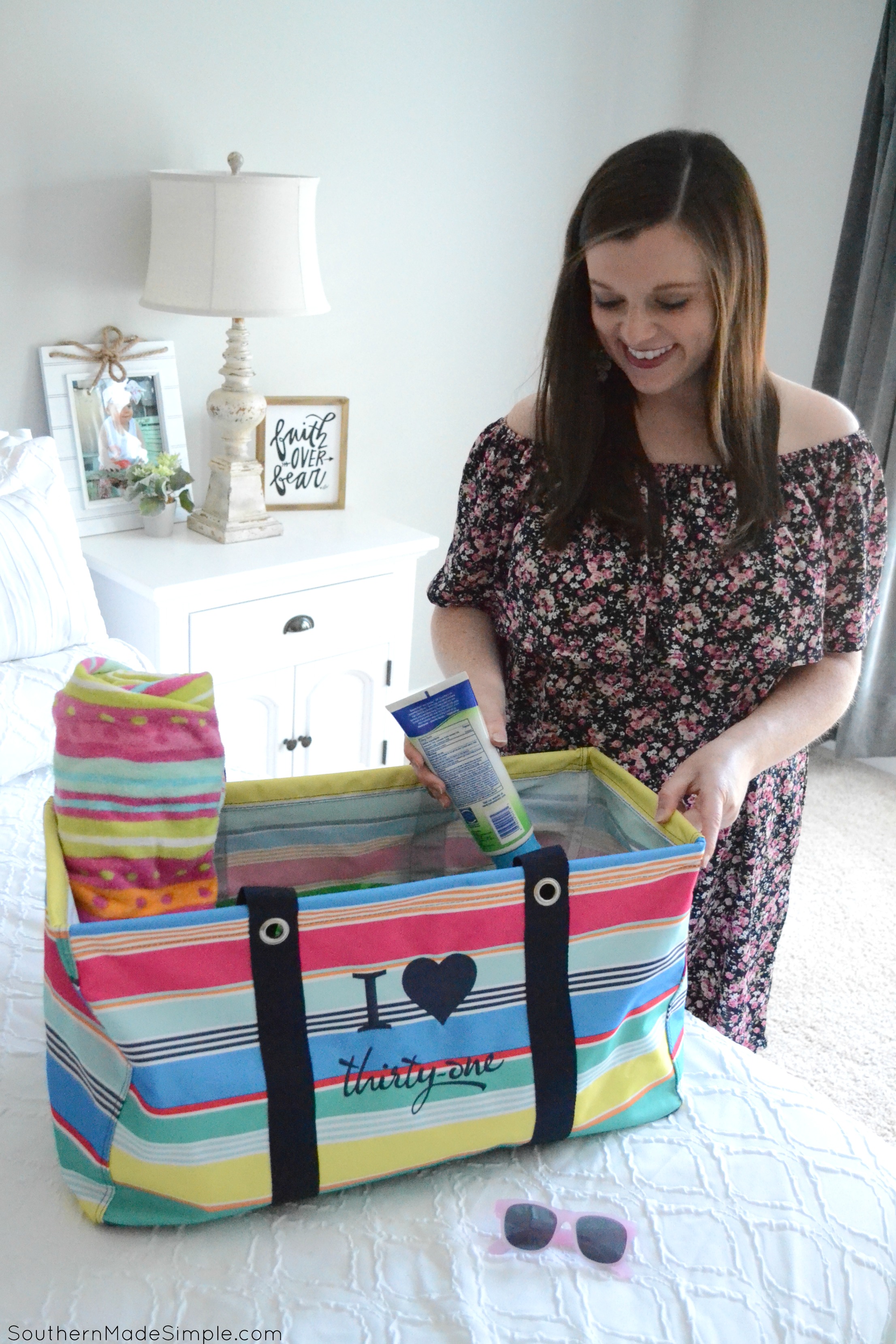 And with mother's day happening this weekend, we're already making plans to pack up our belongings, load up the car and head down to the water for a fun little getaway, and this time around I'm keeping all of our belongings organized in the Thirty-One Large Utility tote (which just so happens to be on special throughout the entire month of May!) It's super roomy and durable, comes in 16 fashion-forward prints, and has a wire support around the opening to help it keep it's shape and stay standing upright so things don't fall out. It's no mystery as to why it's Thirty-One's best selling item!
This month you can snag a Large Utility Tote for just $10 (reg $35) with any $35 purchase, so if you've got a mother, graduate, or someone special on the brain this month just like I do, it'll be a PERFECT and inexpensive gift for them to help make their summer amazing, too!
Thirty-One is known for having fun & functional handbags and accessories that can easily be monogrammed or personalized, and the possibilities are truly endless on creating the perfect gift! In addition to all of the cute handbags, I'm also ooh-ing and aah-ing over the items in their Baby Line. They really have organization in mind when creating their bags, and that's something I really appreciate!
I've owned several Thirty-One products over the years, and I've absolutely loved every single one of them that I've owned. They've been on many an outing with me (more than just vacations) and have proven to stand the test of time and rugged wear. Towards the end of the summer, I'll be packing up my Large Utility Tote and heading to the hospital with it to await the arrival of our second child! It has more than enough room to hold my clothing and supplies needed for a 2-3 night hospital stay, and I'm so happy to have it with me to round out an amazing and eventful summer!
Ready to see more Thirty-One products and learn more about how you can get a Large Utility Tote for just $10? Join the party below and get ready to fall in love!
Giveaway Alert:
If you're ready to get your summer organized with the cutest bags and personalized accessories around and to take advantage of the $10 Large Utility Tote offer with a $35 purchase during the month of may, simply place an order with Leesa through this link! You'll automatically be entered into a drawing for a FREE Large Utility Tote of your own! Hooray! The only thing better than a cute tote bag is a FREE one, don'tcha think?! 😉
What fun trips or adventures do you have planned for this summer? Will you be taking a Thirty-One tote along with you to help keep you organized? Do you have a current favorite Thirty-One product? Leave a comment below and share the love!