Affiliate links are included throughout this post at absolutely no cost to you. I will earn a small commission off of purchases made through these links to help keep this website up and running. I absolutely love putting together and sharing my favorite VBS finds with you every year, and it is my hope and prayer that Destination Dig will be the best VBS yet! Enjoy these Destination Dig VBS Decor Ideas!
Click here to jump straight to my Amazon Destination Dig VBS storefront! 
It's no secret that 2020 was the rockiest year many of us have experienced in our lifetime. The fast spread of COVID-19 cancelled VBS all across the globe and forced many church doors to close all together. Leaders were left scrambling trying to find a way to safely rework VBS into a virtual or paper format to get the gospel out to children in their communities, and unfortunately so many of us were unable to have VBS at all. I have to say, I never thought I'd see a day when VBS at my own church didn't happen, and though these times we're living in are full of turmoil and frustrations, I am so glad that we serve a mighty God who is bigger than all of this that we are experiencing here on Earth.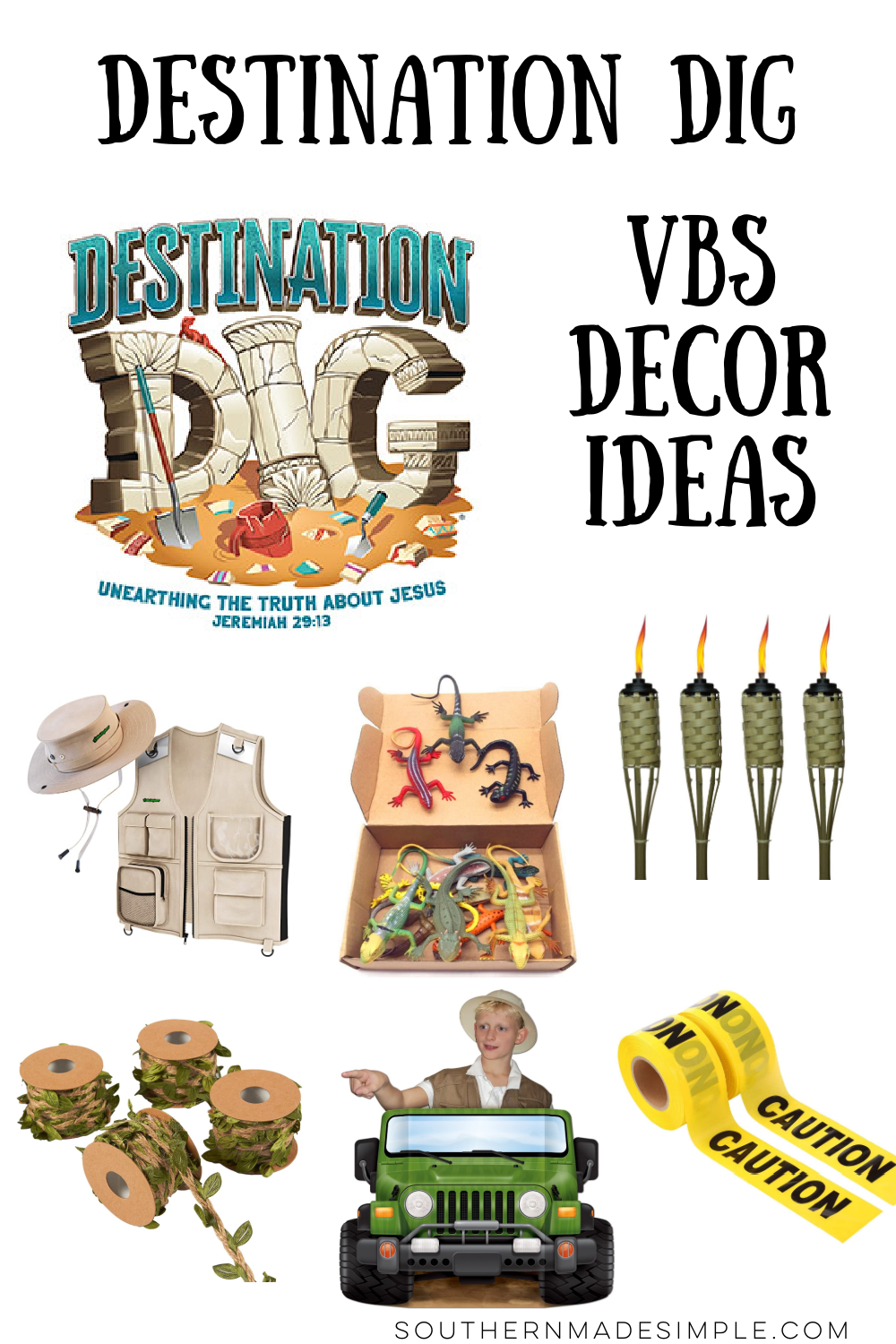 While I don't believe that VBS 2021 will look "normal" compared to other years, I am hopeful that we will be able to safely congregate with our church families and children in the community to help kids really "dig" into the truths of Jesus as they discover and unearth artifacts that point the world to the Savior of the world, Jesus Christ. Check out Lifeway's teaser video below to catch a glimpse at what the theme will entail! 
Theme Verse:
You will seek me and find me when you search for me with all of your heart. Jeremiah 29:13
VBS Motto:
Seek Truth! Find Jesus!
Check out the Destination Dig VBS Reveal video below!
Don't forget to pre-order your directors kit! 
Scoping out Destination Dig VBS Decor Ideas was a bit trickier than other VBS themes in the past. Destination Dig centers around archaeological excavation sites in present day Israel. Through this theme, kids will be digging up truths about Jesus that prove Biblical events are not just stories, but are true and factual events that happened here on Earth. When you do a quick search for this type of theme on Amazon, it becomes pretty evident that archaeological-themed birthday parties and events aren't something that happens very often, so finding supplies to match the theme this year may require a little imagination and elbow grease. 
When mapping out your backdrops and room decor, channel your inner Indiana Jones and brainstorm scenes with ancient ruins, broken pottery, wooden crates and barrels, sandy excavation sites, canteens, burlap, tents and more! Here's a few finds that sparked the most inspiration for me. As the months go on, I'll be adding more ideas and actual room-inspiration to help you prepare for a wonderful VBS in 2021!
Looking for VBS 2020 Concrete and Cranes Decor Ideas? Click here! 
Most items are from Amazon, and as Oriental Trading releases their themed items I'll be listing them here as well.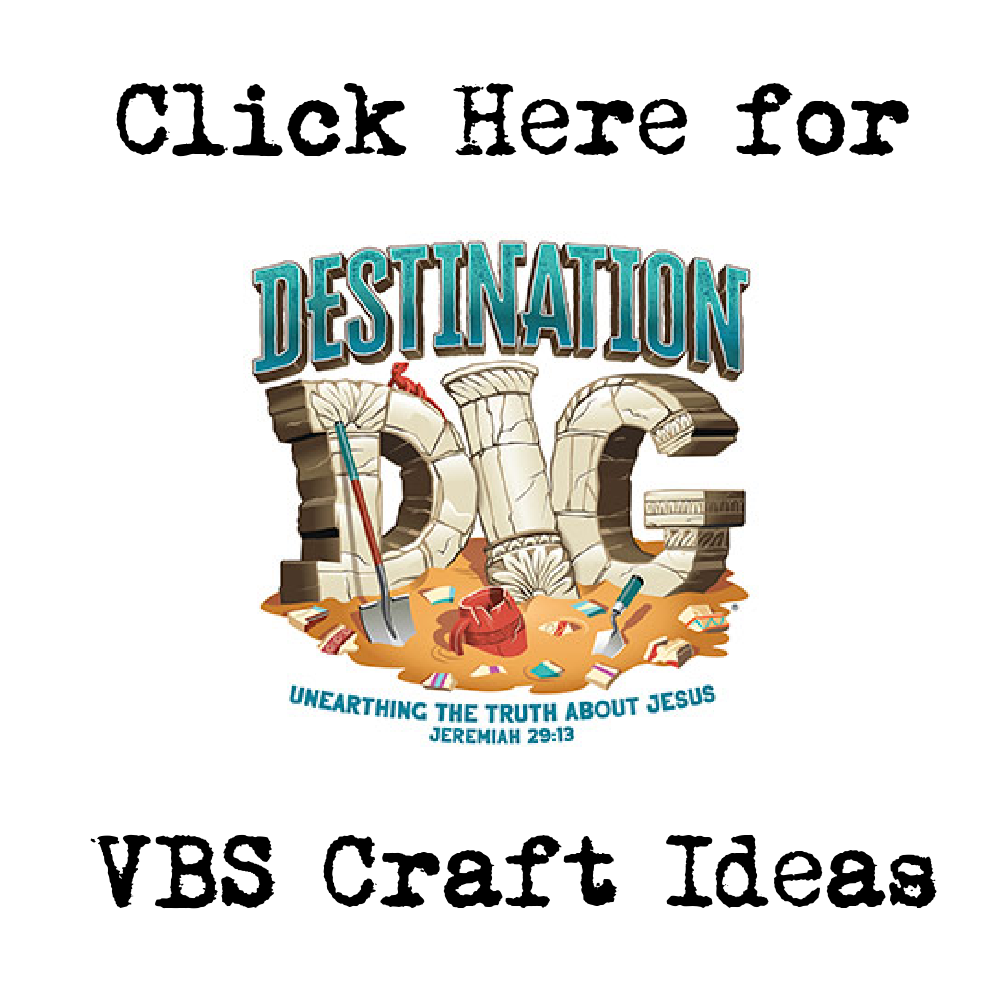 Ancient Ruins Backdrop 5ft x 3ft – Amazon
9 ft x 6 ft Ancient Ruins Backdrop – Amazon
6 ft x 4 ft Hieroglyphics Backdrop – Amazon
Sand Dunes 7 ft x 5 ft Backdrop – Amazon
48″ x 200 ft Brown Natural Craft Paper – Amazon
3 pack Natural Decorative Fish Net – Amazon
37″ x 25″ Cardboard Safari Jeep Photo Stand-Up Prop – Amazon
3 ft 4 in Cardboard Safari Jeep Srandup – Amazon
Adventure Jeep Cardboard Stand Up – Oriental Trading
Cardboard Palm Tree Cutouts – Oriental Trading
Polyester Palm Branches – Oriental Trading
Set of 3 Antique Decorative Luggage – Amazon
Toy Plastic Ancient Gold – Amazon
Bible Verse Gold Plastic Coins – Oriental Trading
Caution Tape for Dig Site – Amazon
Adventure Themed Plastic Table Coverings – Amazon
Adventure Awaits Burlap Banner – Amazon
12 Pack Plastic Safari Hats – Amazon
Set of 8 Kids Explorer Vests and Pith Hats – Amazon
Kids Size Explorer Hat/Vest Costume – Amazon
Indiana Jones Satchel – Amazon
Adult Size Outdoor Bush Hat – Amazon
Kids 12 ct Plastic Binoculars – Amazon
100 ct Kids Plastic Compasses – Amazon
30 Pack Plastic Magnifying Glasses – Amazon
6 Pack Plastic Sand Sifters – Amazon
50 ct burlap drawstring bags to use as "artifact bags" – Amazon
200 pc Rocks & Minerals Set (Includes fossils, arrowheads, crystals, gems, etc.) – Amazon
I Dig Jesus Youth Size T-Shirt – Oriental Trading
DIG VBS Adult Shirts – Oriental Trading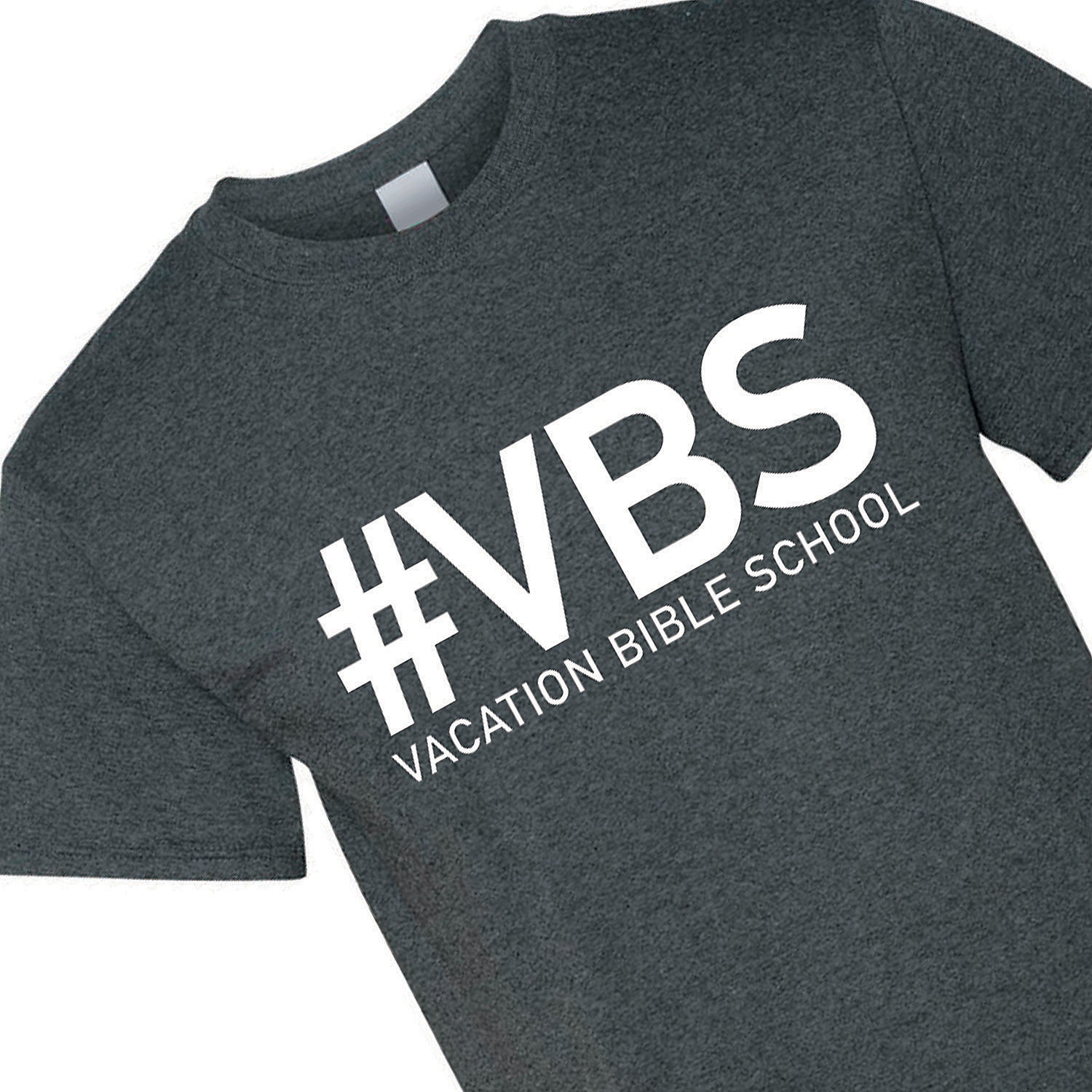 Hashtag VBS Adult Shirts – Oriental Trading (I LOVE that these aren't theme-specific. You can use them over and over!)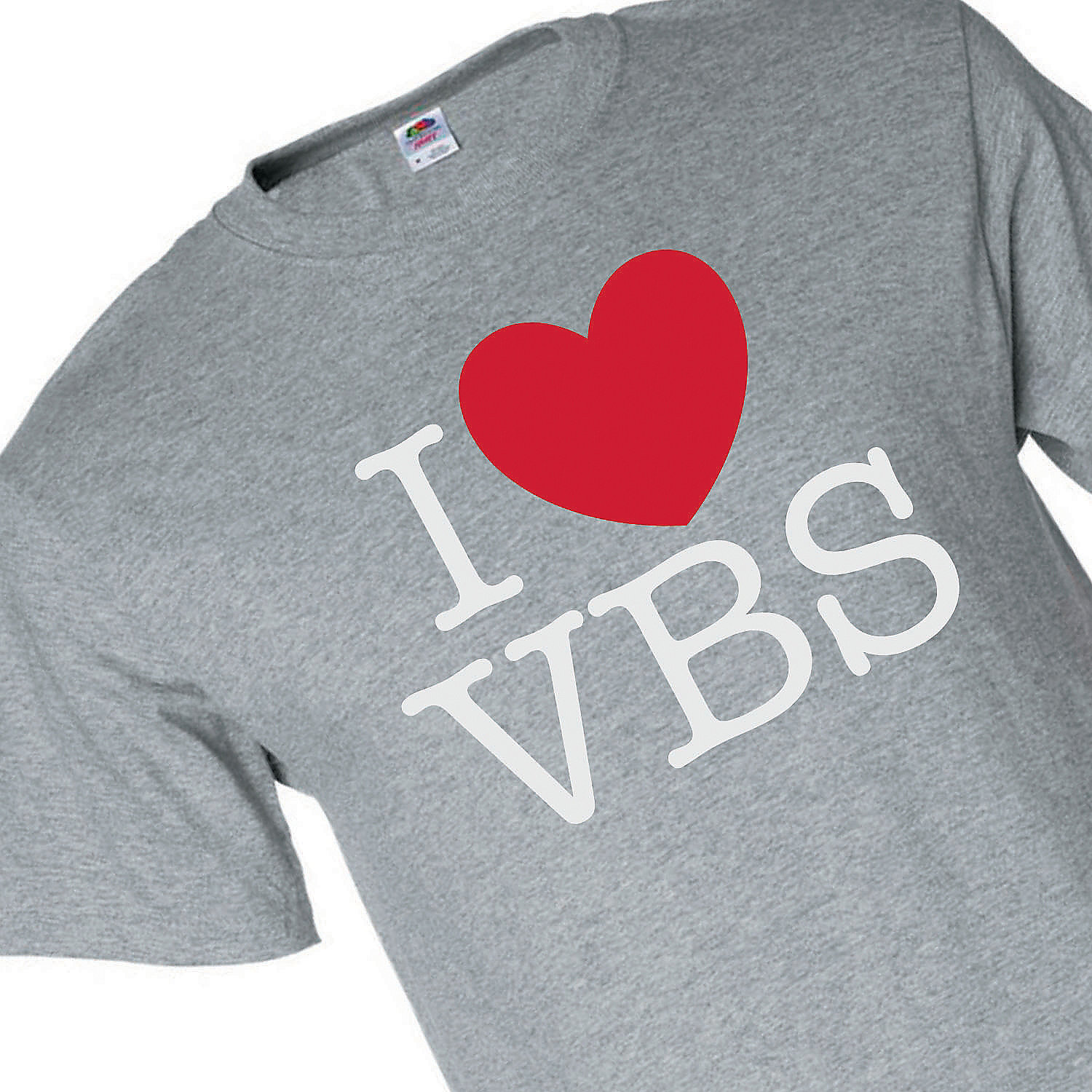 I Love VBS Adult T-Shirt – Oriental Trading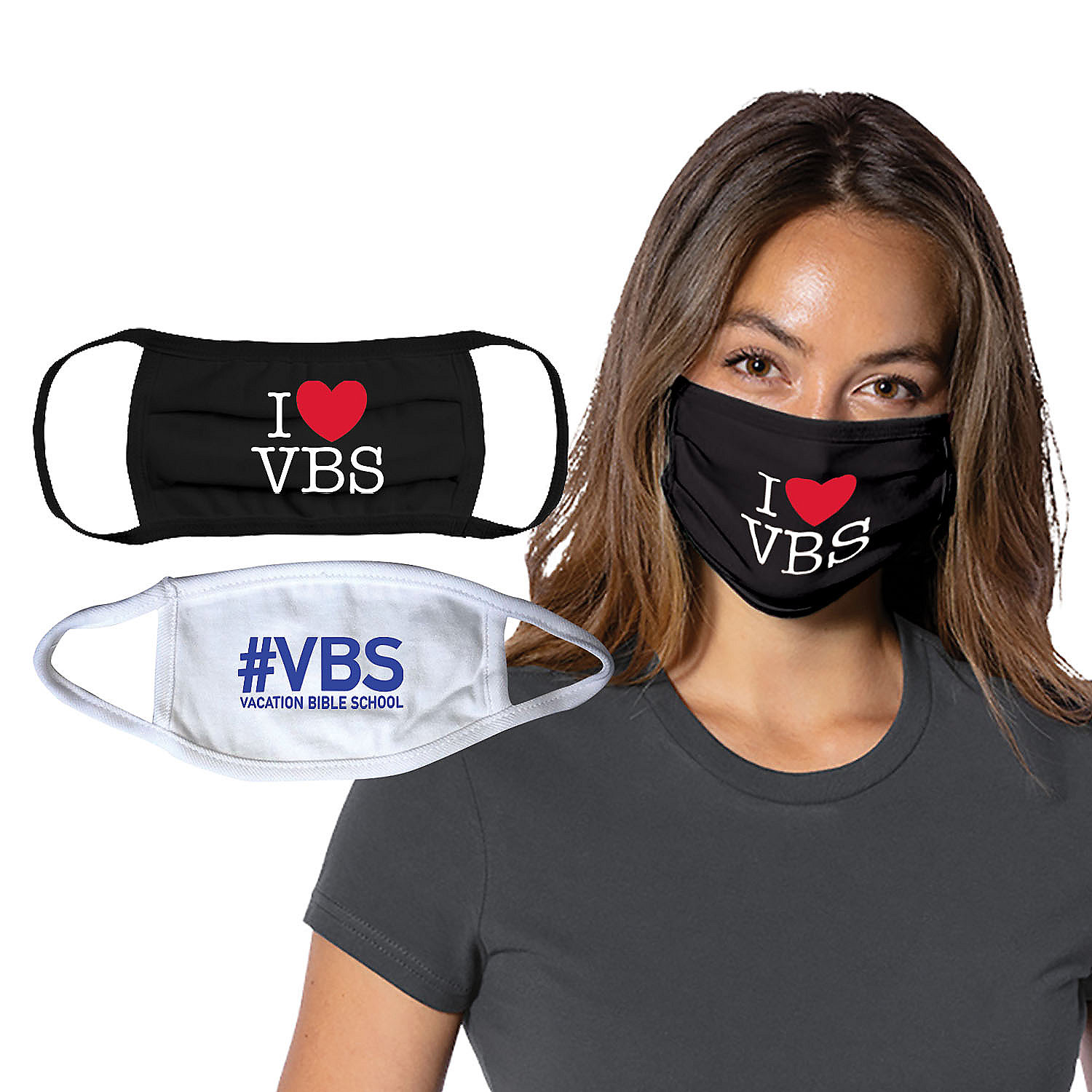 2 Pack VBS Adult Face Masks – Oriental Trading
PLEASE PASS ON THE VBS LOVE:
After your VBS has come to an end, please reach out to a fellow church in your area to see if they could use any of your leftover VBS supplies. Many churches (often small congregations) elect to not have a VBS each year because funding is too tight. Just think about all of the additional children that could be presented with the gospel because donated items made VBS at a church possible!
Will your church or your children be participating in Lifeway's Destination Dig? Do you have other fun decor ideas you'd like to share with us, or perhaps some great ideas on how to make VBS a reality this year in a time that seems so uncertain? Leave a comment below and share the VBS love!