This shop has been compensated by Inmar Intelligence and its advertiser. All opinions are mine alone. #easylittlepotato
As we inch closer to the month of October, I can finally feel summer fading and the beginning of fall making its presence known. Summer lingers around for quite a long time here in the southern portion of Alabama, and while I'm ready for a new season to roll in, I'll surely miss these long summer afternoons. While we had a wonderful summer despite the circumstances, I deeply missed gathering with friends and family and sharing food, fun and laughter with them. Here in my neck of the woods, there is no better way to send off the summer than to have a good old fashioned low country boil.
So what do you do when you can't gather as a group for a low country boil like you used to? You simply scale down on the ingredients just a tad and make Low Country Boil Foil Packs in the oven or on the grill!
Making low country boil foil packs is a perfect way to satisfy your craving without having to make a ton of food for the masses. I made these packs for just my husband and I, and while we missed the social element of having a true low country boil, the flavors were absolutely spot on to the real thing, and cleanup was a breeze!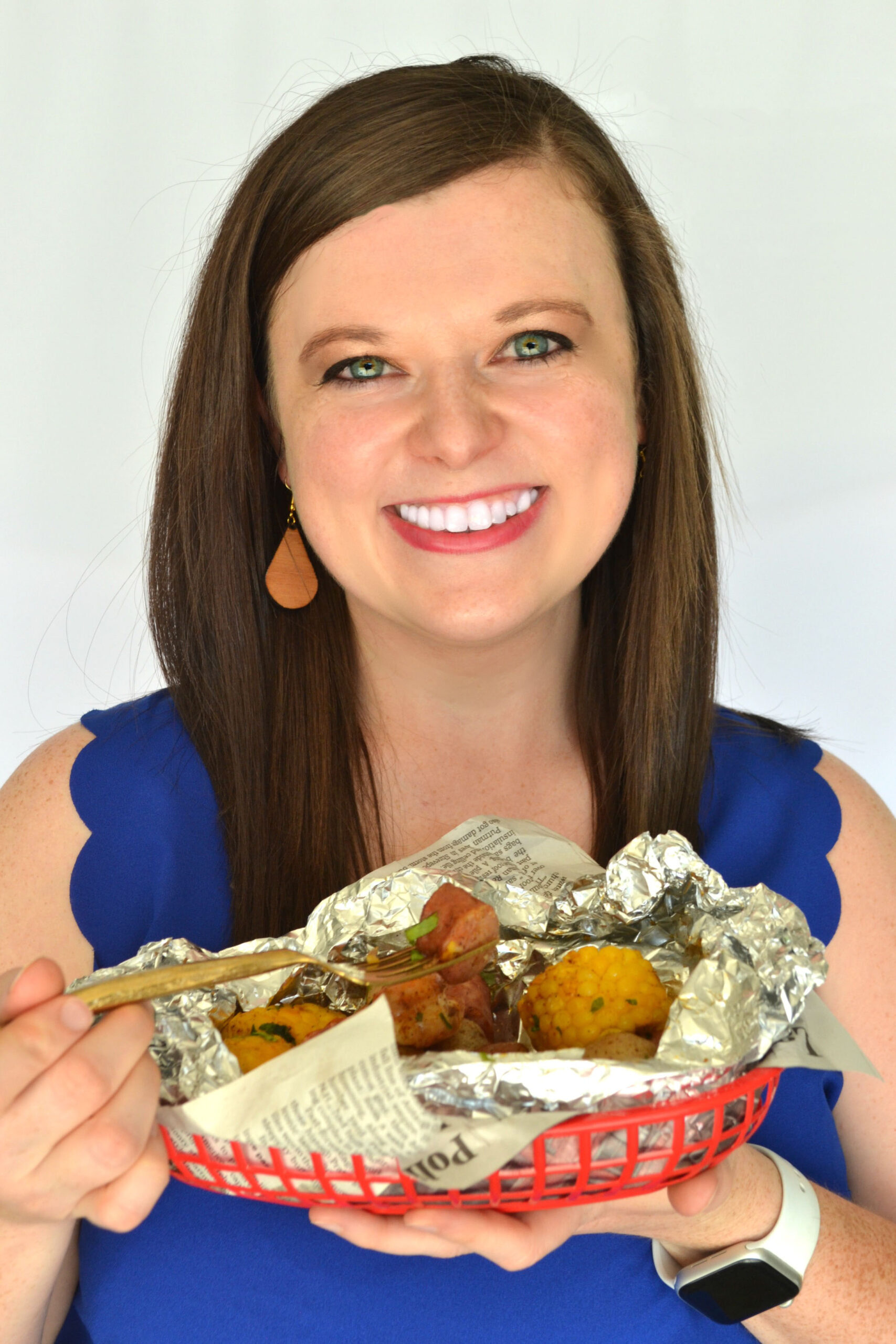 The key to getting the perfect flavors is all in the ingredients. One thing I really love about a low boil is that they actually require very few ingredients. To make these low county boil foil packs, you'll need about a pound of white colossal shrimp, a few ears of yellow corn, sausage links, Creamer potatoes, olive oil and creole seasoning. 
When choosing which potatoes to use in these low country boil foil packs, I made a beeline straight for The Little Potato Company Dynamic Duo Creamer potatoes in the 1.5 lb bag. When you're making a foil pack that contains shrimp, it's important to be aware of the cook time so as to not overcook the shrimp. Knowing that large baking potatoes take the longest time to cook, it's important to choose a little-sized Creamer potato. The Little Potato Company really hits a home run with their bags of fresh Creamer potatoes. Little Time, Little Potatoes, Big Flavor – and that's exactly what I'm going for!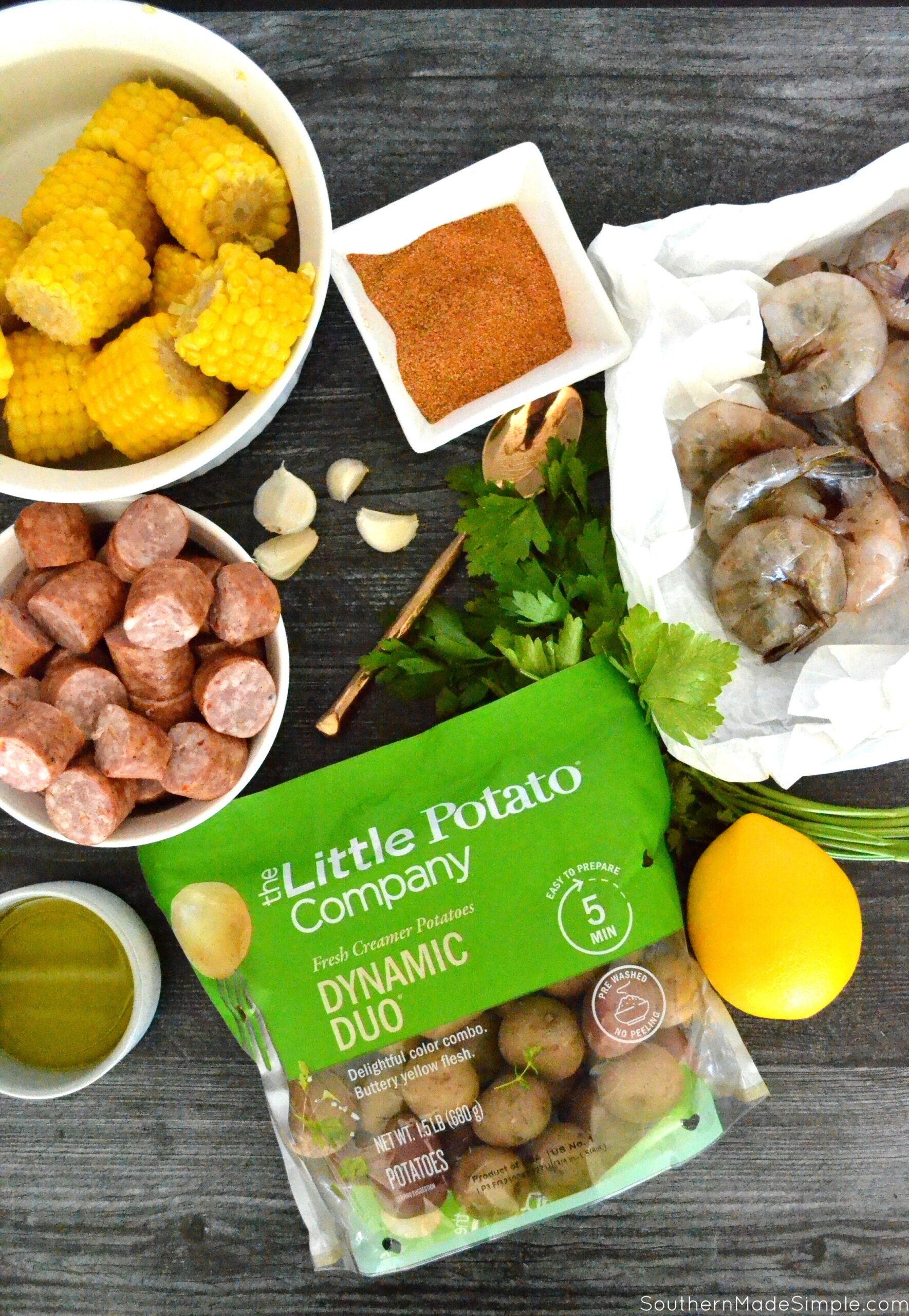 All of the Creamer potatoes in their packages are consistently sized, so each one cooks to the same doneness. There is also no peeling or cleaning required either, as they're meant to be eaten with their naturally nutritious skins on. These Creamer potatoes are the littlest in the potato family and are meant to be bite-sized, just like cherry tomatoes are in the tomato family. They have a beautifully creamy and buttery taste and a perfectly soft texture. They are absolutely the perfect Creamer potato to choose for a low country boil, especially a scaled down version just like these foil packets!
All ingredients needed to make these low country boil foil packs are available at your local Walmart. When purchasing the ingredients, I was able to add everything I needed to my cart using the Walmart Online Grocery Pickup app. I made sure to add my favorite varieties to my "favorites" in the app by clicking the heart in the top right so that I can come back to them quickly and repurchase them.
One thing I love the most about these foil packs is that there is very little prep work that needs to be done. It's really as easy as chop, wrap and bake! To get things started, I emptied the bag of The Little Potato Company's Creamer potatoes into a microwave safe bowl. The front of the package highlights that you can cook these Creamer potatoes in just 5 minutes in the microwave, which is fabulous for creating delicious meals in a jiffy! I opted to cook them about halfway, so 2.5-3 minutes before adding them to the foil packs just to make sure they cooked all the way through.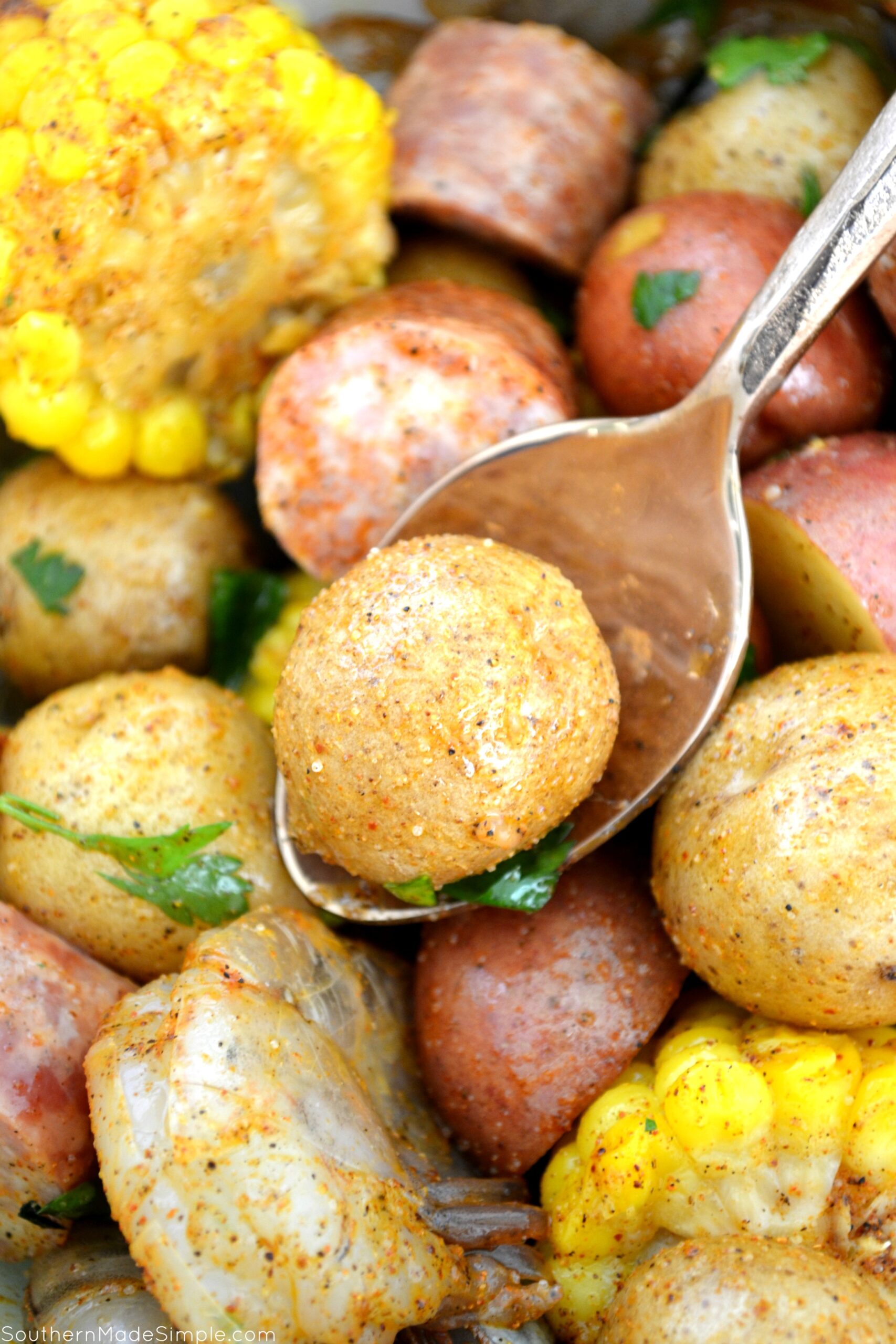 While the Creamer potatoes were in the microwave, I chopped the ears of corn into 3 or 4 small sections and chopped the sausage into wedges. I opted to keep the skin on the shrimp simply because it made me feel like I was enjoying all of this delicious food at a true boil. Sitting around a table and peeling and eating shrimp together is part of the fun at a low country boil in my opinion, so I wanted to accomplish something very similar with these foil packs. However, if you're looking for an option that's a little less messy, so ahead and peel the shrimp first before cooking. 
Once all the ingredients were chopped and ready to go, I combined everything in a large mixing bowl and added the olive oil and creole seasoning. After giving it all a good shake to ensure all ingredients were coated with the oil and seasoning, I divided up the contents into foil packets and wrapped up each packet tightly, making sure there were no holes visible. You want to get the packets good and tight so that they food can steam together and cook in the juices of the sausage and shrimp.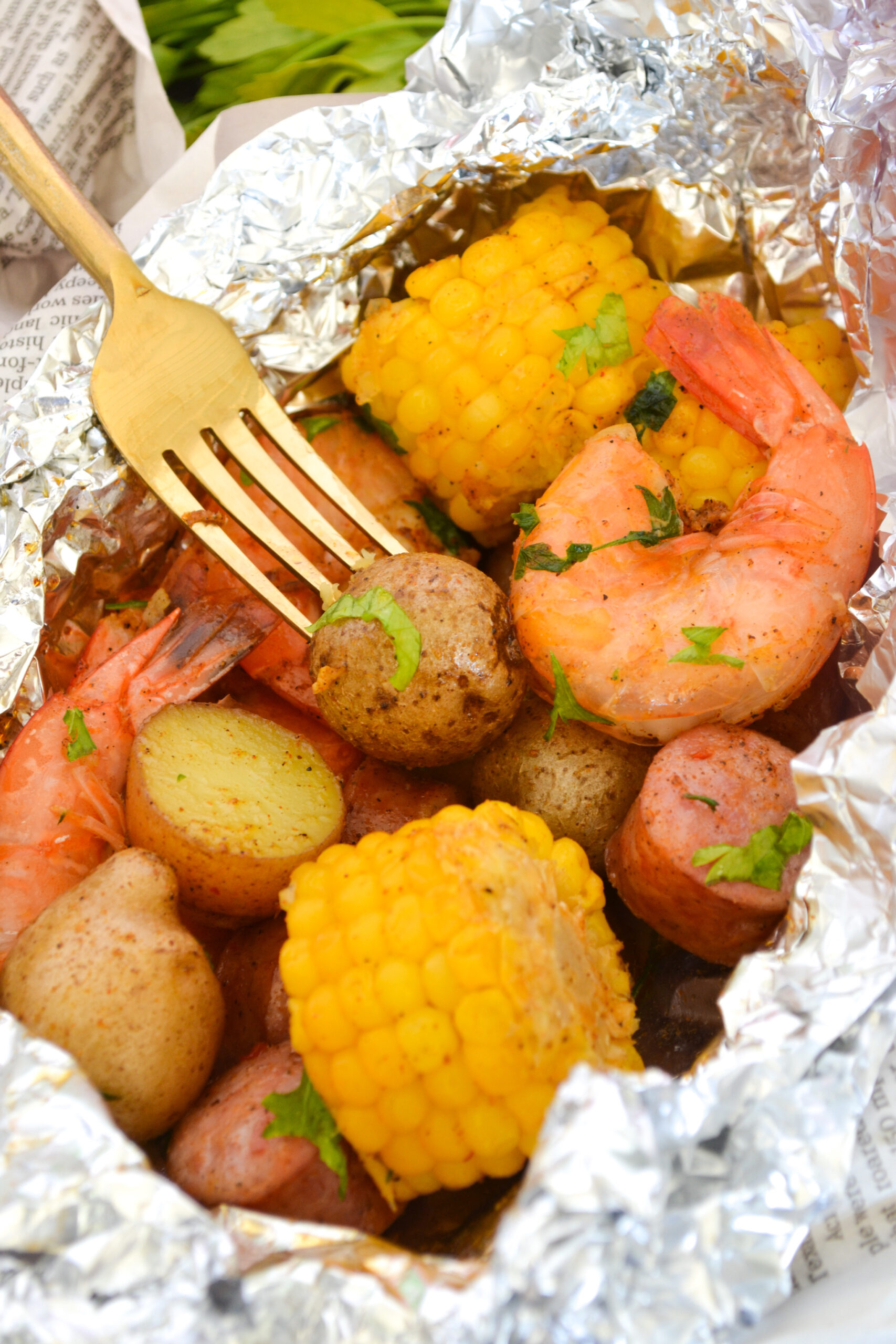 After only 20 minutes in the oven, the foil packs are ready to be opened and devoured! Here's a printable copy of the complete recipe if you'd like to give it a try:
Low Country Boil Foil Packs
Ingredients
1

lb

colossal white shrimp

cleaned, peeled and deveined *see note

1.5

lb bag

The Little Potato Company Fresh Creamer potatoes

cooked in microwave according to package instructions

1

lb

smoked sausage

cut into 1 inch pieces

2

ears

yellow corn

cut into 4 pieces

1

Tbs

creole seasoning

2

Tbs

olive oil

1-2

garlic cloves per packet

optional

fresh chopped parsley

minced

salt and pepper to taste

lemon juice

optional
Instructions
Preheat oven to 425 degrees

Cook The Little Potato Company Fresh Creamer potatoes in microwave according to package instructions. (I used the Dynamic Duo variety)

In a large bowl, combine all ingredients except garlic cloves and stir together until all ingredients are thoroughly coated in oil and seasoning

Tear off 4 sheets of foil (roughly 12x18 in size) and divide the mixture evenly into the middle of each packet If adding a clove of garlic, go ahead and do that now.

Roll up all sides of the foil to create a nice and tight packet, making sure there are no visible holes

Bake in oven for 18-20 minutes, or until all ingredients are thoroughly cooked

Garnish with additional fresh parsley and freshly squeezed lemon juice if desired
Notes
I opted to not peel my shrimp in this recipe to make it feel more like a true authentic low country boil, however, if you're looking for less mess, go ahead and peel them ahead of time!
---
For a fun added touch, I served these foil packs to my family inside those little red plastic restaurant baskets lined with newspaper. Most low country boils are eaten around a large table lined with newspaper and the food is poured right down the middle of the table so people can grab the food right in front of them and eat. Adding the newspaper in the baskets made it feel like we were really getting to enjoy a true low country boil, but on a much simpler scale. It was fantastic!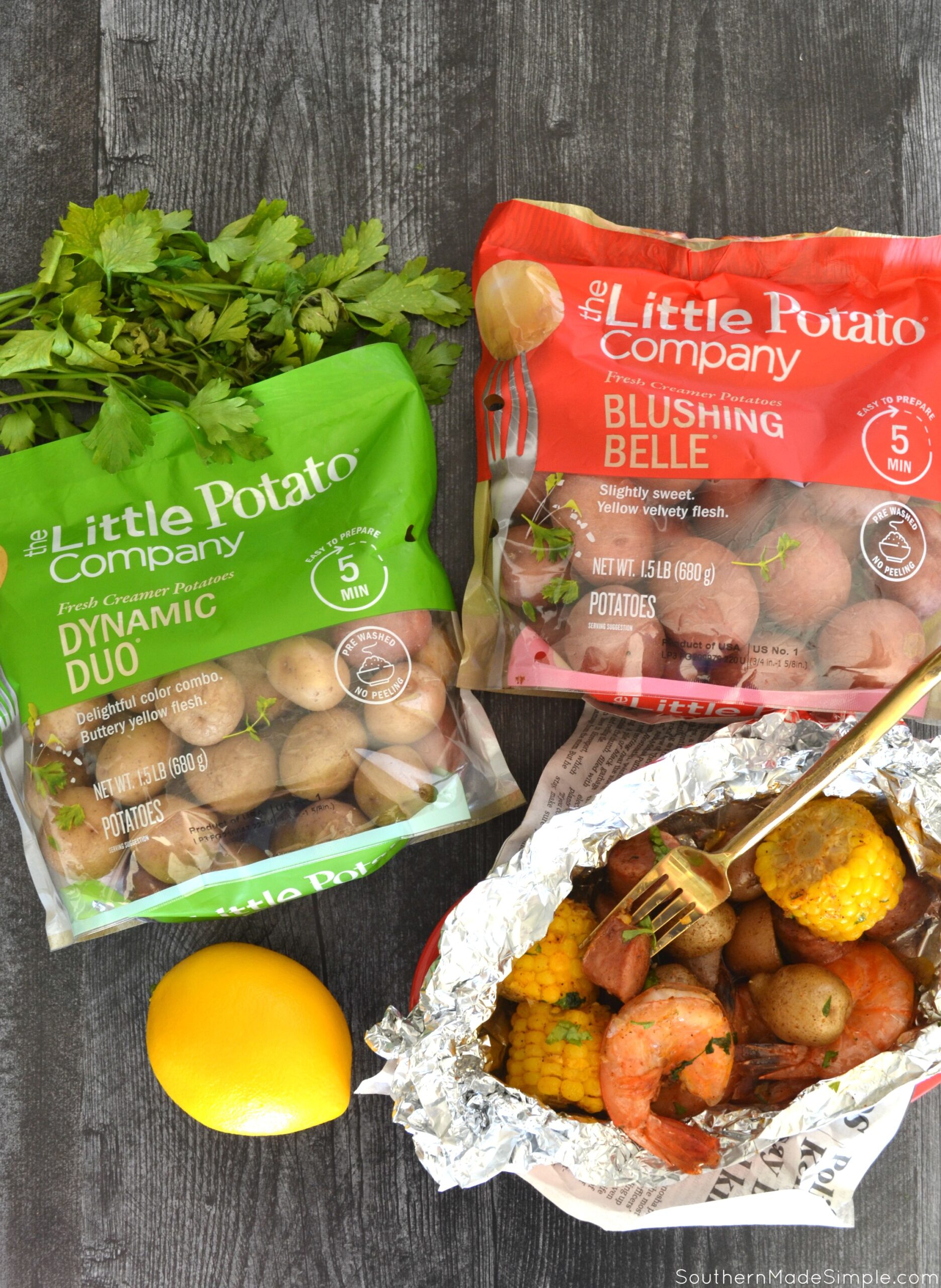 If you're missing fun activities involving food-related social gatherings like low country boils, getting creative and making substitutions like creating individual foil packs is a great way to relive some of those fun times again! Next time you're at Walmart, swing by the produce section and look for The Little Potato Company Fresh Creamer potatoes to go along with your next meal, be it a low country boil or a simple side dish!