I received a package of pancake and waffle mix as compensation in exchange for my honest review. All opinions expressed are 100% my own. I only promote what I truly love!
There are two things that I absolutely love – amazing recipes with a long family history, and seeing women thrive in what sets their soul on fire. When those two things just so happen to collide, you can find me in the front row cheering with bells and whistles on! Christian Sargent is the owner of Vicky Cakes, and is a woman entrepreneur that I have been inspired by for quite some time. Vicky Cakes is the brain child of good food and Christian's mother, Vicky, who is known for her culinary masterpieces in the kitchen. More specifically, she's known for her amazing pancakes that always had a way of bringing the family together.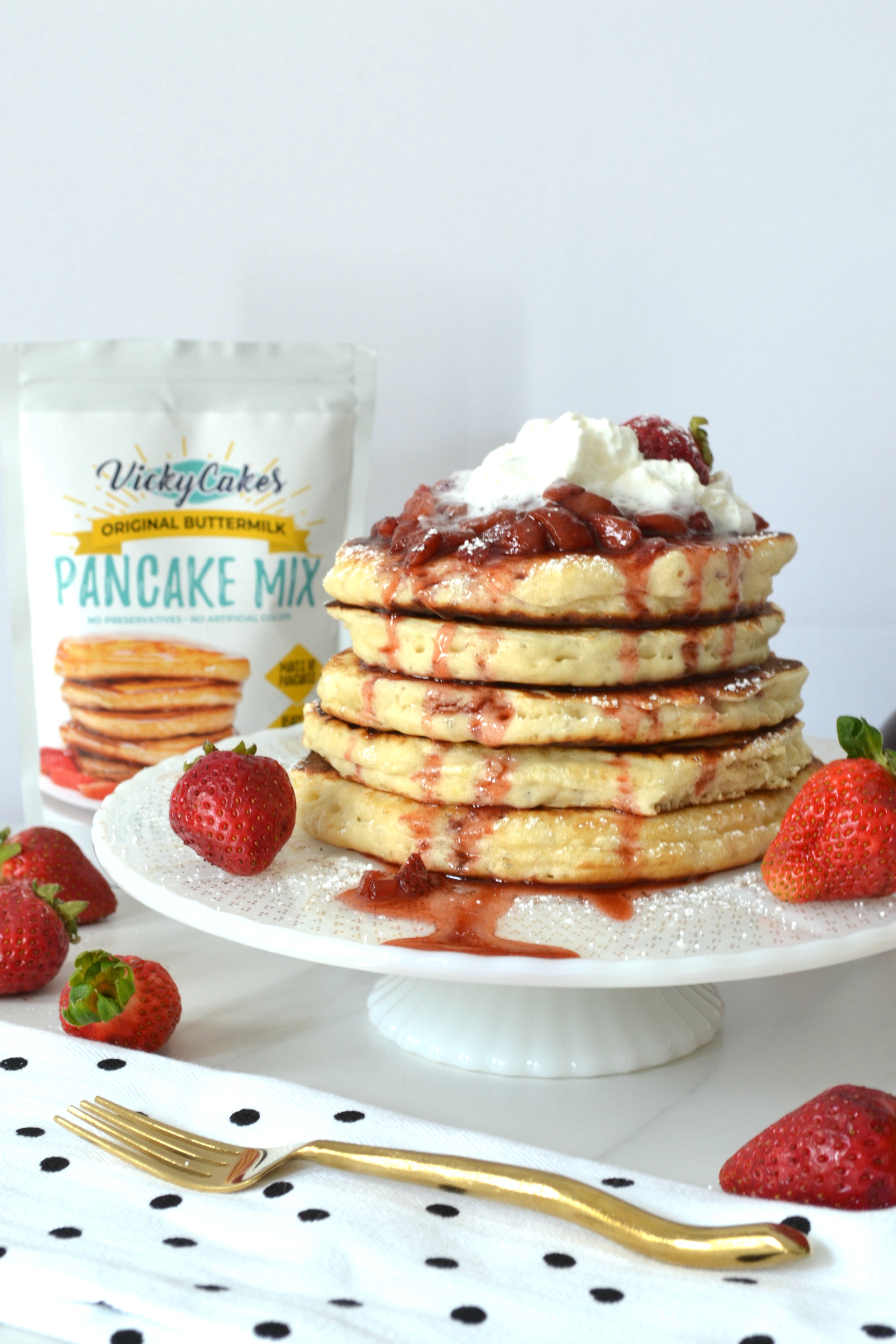 Before I even begin to dive in to my favorite things about this pancake and waffle mix, let me be clear on one thing: These completely blew my mind on what I thought a packaged pancake mix could be. Like, completely blew my mind. I've grown up having both scratch-made pancakes and boxed "add water" pancakes my whole life, so I feel pretty confident in saying that I can always tell the difference, and that scratch made is always better than packaged. However, Vicky Cakes are completely different from any other pancake mix I've ever tried.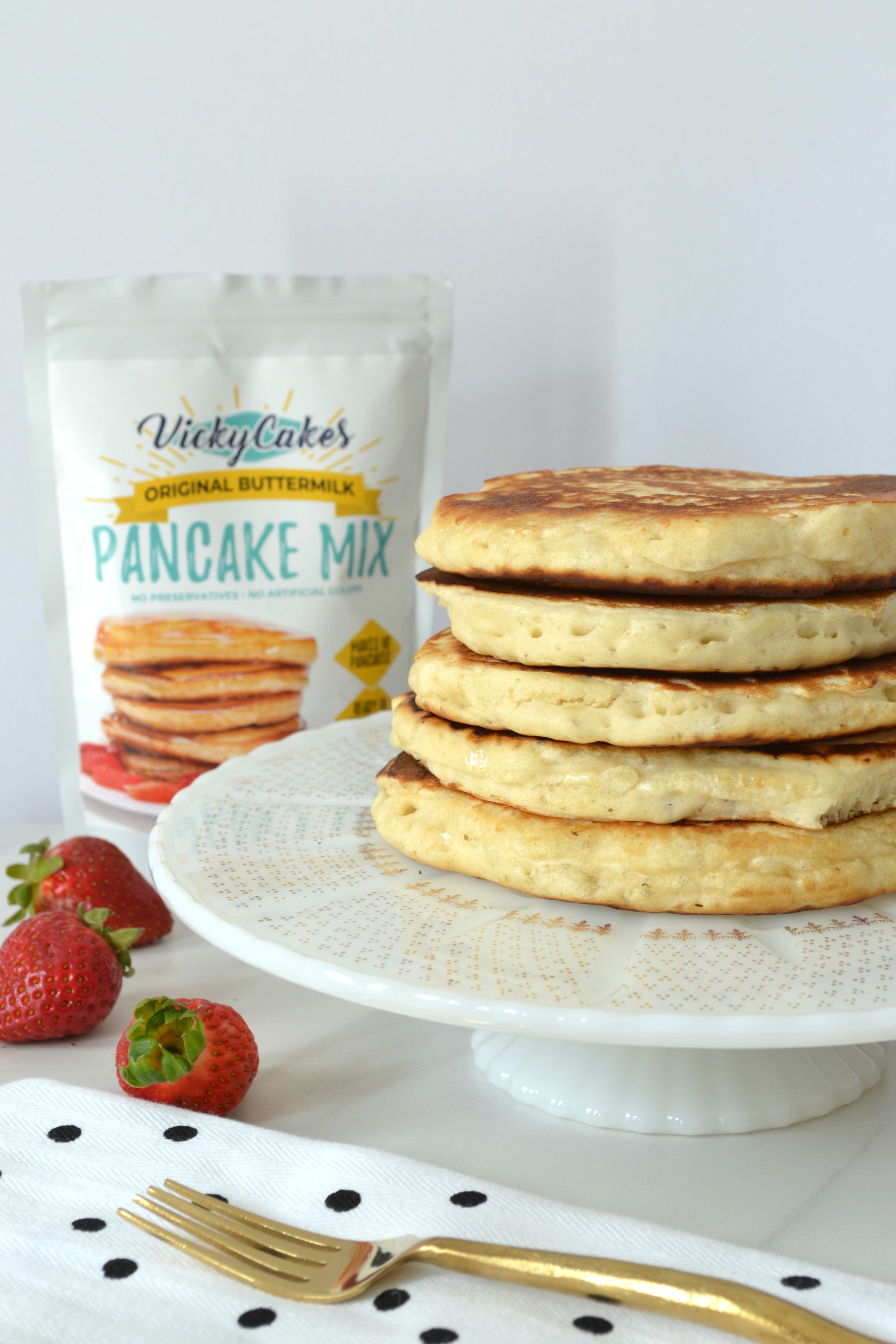 Vicky Cakes pancake and waffle mix is not an "add water and an egg" mix. These ingredients are carefully measured out so that, when real ingredients are incorporated in, they create the fluffiest, richest and most heavenly pancakes I've ever had. You won't find any powdered buttermilk substitute in this mix. Vicky Cakes call for real buttermilk, and you'll have thick and flavorful pancakes every time. I snapped a photo of the pancakes fresh off of the griddle before I added my strawberry compote so that you can truly see just how thick those layers are!
By the way, scroll to the bottom for my simple strawberry compote recipe! It's amazing on not just pancakes and waffles, but on pound cake, muffins, or on top of toast!
While the buttermilk pancakes were absolutely heavenly, the chocolate chip pancake and waffle mix was in a league of it's own. Having a little chocolate for breakfast is such an indulgent treat, and the batter made the most perfect thick and fluffy waffles I've ever eaten. I made our waffles extra large, so my husband and I could only handle eating one at a time. We added a little whipped cream and chocolate syrup for garnish, and these were a perfect weekend treat for my family to devour.
You can find both buttermilk pancake mix and pancake & waffle mix to purchase online at VickyCakesOnline.com in in the following varieties: Original, Blueberry, Chocolate Chip, Pecan and even Gluten Free! The pancake mix retails for $5.99 and the pancake and waffle mix retails for $6.99.
Here's a free printable copy of my easy strawberry compote recipe if you'd like to give it a try! You can also make this recipe using fresh peaches!
Easy Strawberry Compote
Ingredients
2

cups

strawberries

fresh, diced

1/2

cup

brown sugar

1/2

tsp

vanilla

1/4

cup

water

1

tsp

cinnamon
Instructions
Combine all ingredients in a medium saucepan and bring to a boil.

Reduce heat and allow to simmer for 12-14 minutes, being sure to stir occasionally.

Sauce will gradually thicken and become syrup-like.

Remove from heat and allow to briefly cool.

Serve over fresh pancakes, muffins, slices of pound cake or shortbread, or however you'd like!

Enjoy!
Notes
I chose to sprinkle a tiny bit of powdered sugar on top of my compote and pancakes. That's completely optional - but it's delicious!
---
Discount Alert:
Are you ready to revitalize the heart of breakfast with your own batch of Vicky Cakes Pancakes and Waffles? You can snag 15% off of your entire order with code "Southern15" at checkout! Click here to browse their selection of pancakes, and don't forget to print off my recipe for this simple strawberry compote to drizzle on top!