This shop has been compensated by Collective Bias, Inc. and its advertiser. All opinions are mine alone. #CampbellSavings   #CollectiveBias
Alright, y'all. Ready or not, it's back-to-school time! (I can't even believe I'm saying that. Where did the summer go?!) While many of you may be a little bit giddy on the inside to send your kiddos off to school, the harsh reality of getting back into a routine and struggling to balance time amongst different extracurricular activities may seen a little overwhelming.
"How am I going to manage my time? How will my kids adjust? What in the world will I pack in their lunch boxes? Where ARE their lunch boxes? What can I fix for supper on the fly that'll please everyone?"
If you find yourself asking those questions, you're not alone. I promise! This time of year is just so darn busy. While I can't necessarily answer all of those questions for you, I think I can definitely help you out with a few of them! Just sit back, relax and read along. Remember: You got this!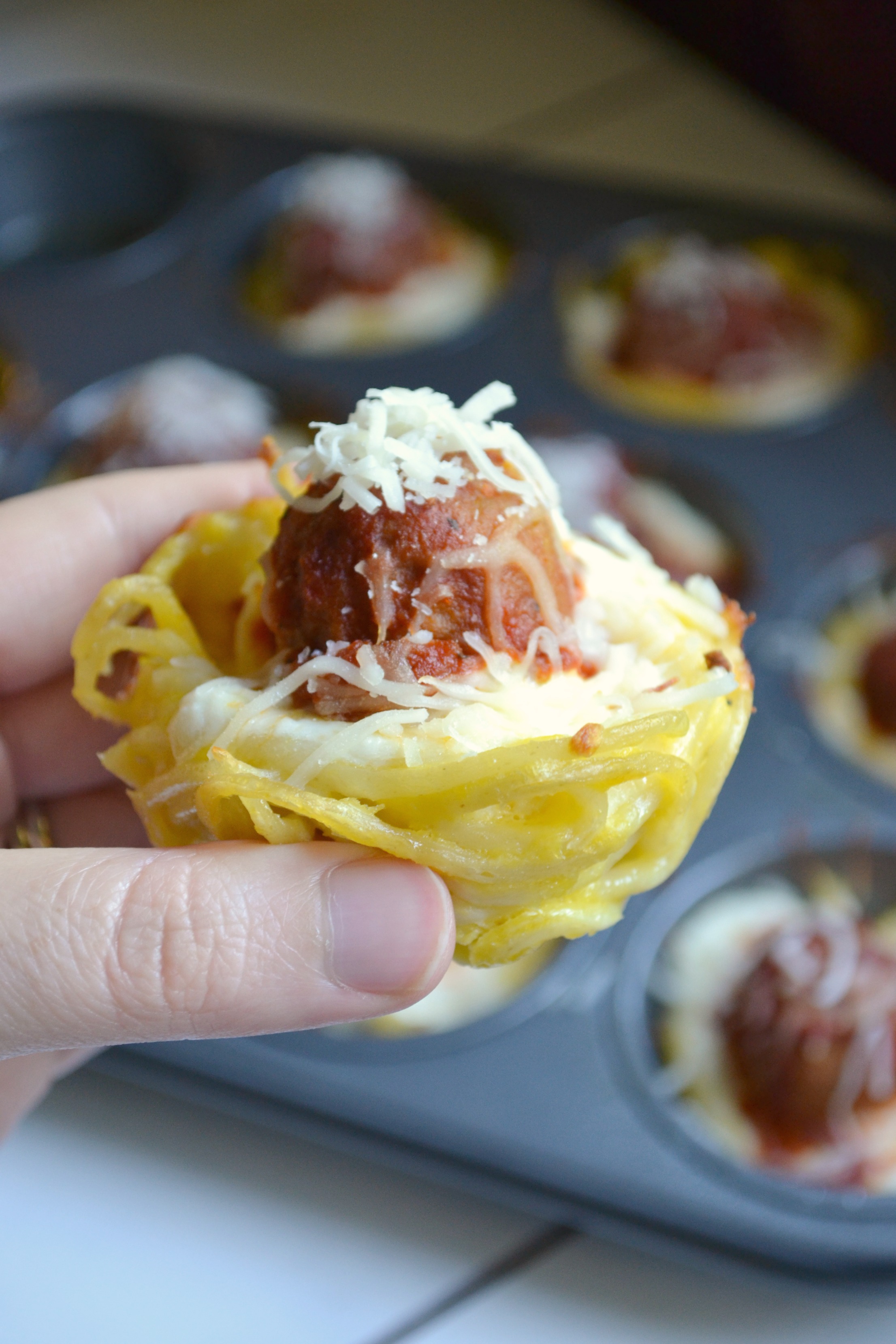 Since it's always a little difficult to find ways to juggle different activities, balance our time and find a way to muster up the energy to get it all done, it's important to simplify certain areas of our day the best that we can. When it comes to meal and snack time, sometimes the things we fix often wind up being a total afterthought. I've been there.
Your creative juices are completely depleted by the end of the day and the most inventive thing you can come up with is to throw some cheese on some noodles or microwave some chicken nuggets and just call it a day. Besides, you really didn't have time to do much else anyway. And there are other times when we feel like we need to cook a 5-star meal for the family and then get disappointed when we didn't have time to do it. It's easy to over-complicate things when we've suddenly become busy.
But it doesn't have to be that way, y'all! Let me explain a little further: I've got a recipe for you that your WHOLE entire family will love. It's easy, it can be made ahead of time, it makes plenty of leftovers, you can easily pack it for lunch AND you can even eat it with your hands. Sounds like a winner, right? These Spaghetti Bombs are TOTALLY winners, and you're going to love them. I guarantee it!
These two little gems are staples in my pantry year round, but they're especially valuable to me during this time of year. They're the stars that make this particular recipe shine, and they're huge time/life savers during the back-to-school season.
Prego Italian Sauce is, by far, my favorite pasta sauce on the market. As much as I'd love to make a homemade pasta sauce for my family, it ain't happening. Seriously, who has time for that?! Prego is the closest tasting thing to homemade I've ever tried, and it's blend of sweet and savory flavors are just perfect for my family. I also love to keep a variety of V8 juices on hand because they help sneak in extra fruits and veggies into our diet that we may not be getting otherwise. Have you seen the V8 + Energy varieties? They're the bomb, y'all! They give me a little boost of natural energy (derived from green tea) to help me conquer the world (or, at least back-to-school time.) 😉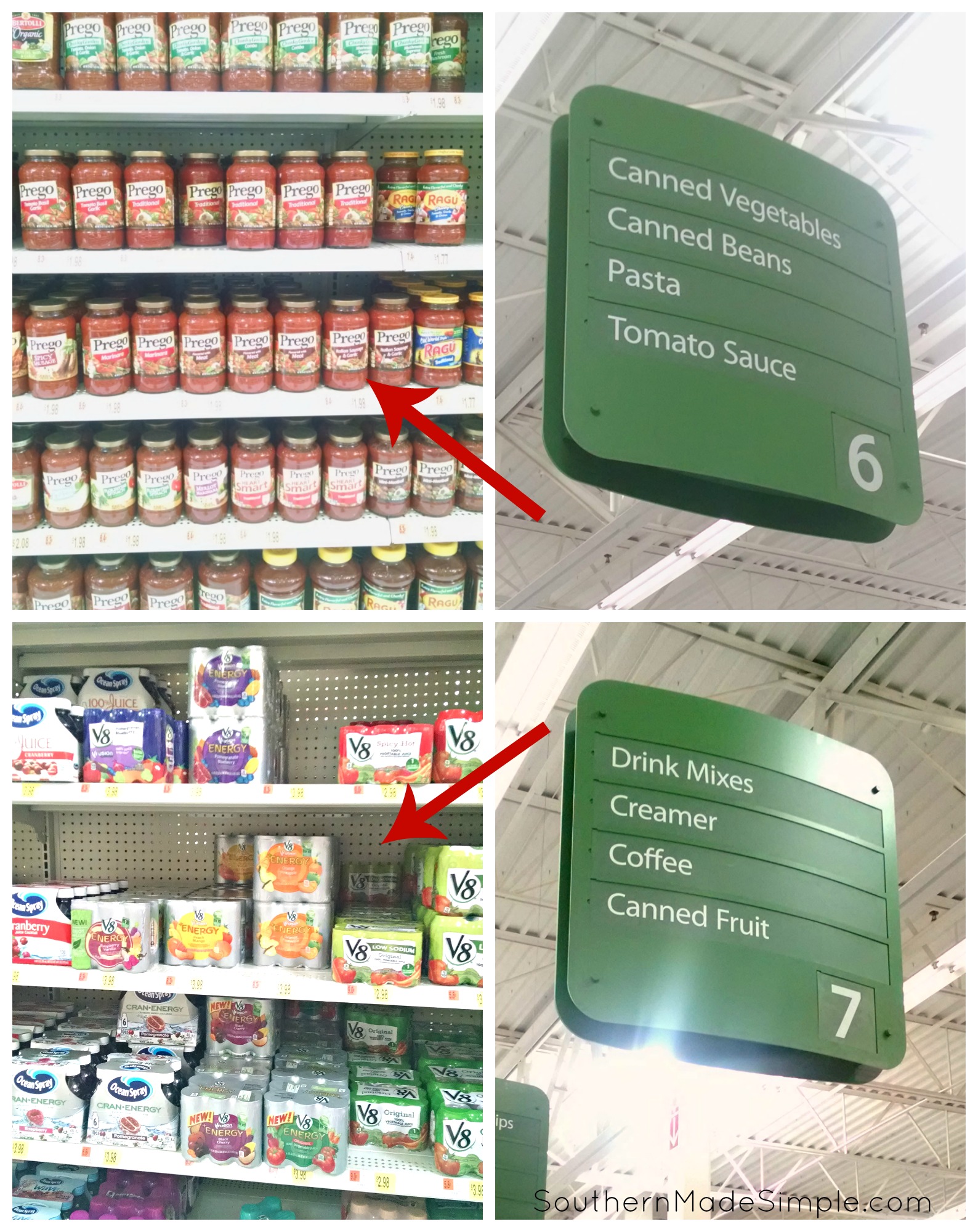 You can easily find these two items and other Campbell's products at your local Walmart. Make sure you stock up as you're out and about getting your back to school shopping done! (And don't forget to print the coupons found at the bottom of this post!)
Alright, alright. Enough chit-chat. Whaddya say we get started making these spaghetti bombs. I'm starting to get hungry! 😉
First, start out by boiling an entire box of spaghetti noodles. In a separate bowl, scramble two eggs  and mix in some shredded cheese and melted butter. While those noodles are cooking, pull out another sauce pan and combine a package of frozen meatballs with a jar of Prego Italian Sauce and cook over medium heat.

You'll also want to spray two 12 count muffin tins with a non-stick spray and preheat your oven to 350 F while your noodles are cooking. Once the noodles are done, drain them and immediately combine them with the egg and cheese mixture. Stir well until the noodles are completely coated. Using a fork, scoop the noodles into each muffin compartment. Give the fork a swirl to create a "nest."
In a separate bowl, combine a container of ricotta cheese with a blend of your favorite shredded cheese. Scoop a spoonful of this mixture onto each nest. Add a meatball to each one and then top with a little mozzarella before throwing them in the oven to bake for 25 minutes. And just like that, dinner is served!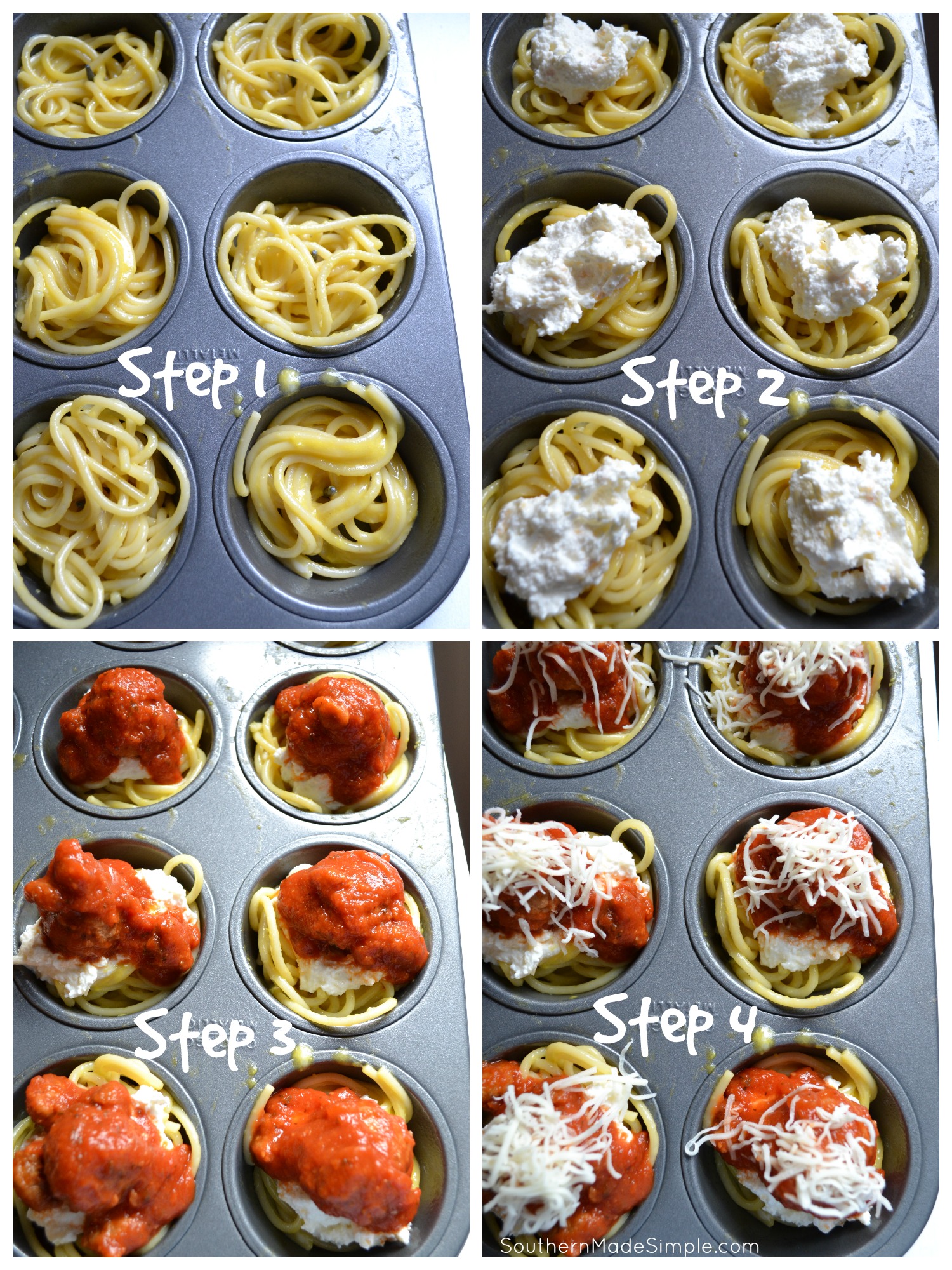 When I think of foods that you can eat with your hands, spaghetti has definitely never come to my mind before. Normally, spaghetti would be something that I could never pack in a lunch box  to take to school. It isn't exactly a portable "on the go" meal, and it isn't a meal that my family gets particularly excited about.
But that's exactly why I love these spaghetti cups. They defy all of those rules and things we previously thought about spaghetti before. I can pack these in a lunch box. They can be eaten with your hands on the go. My family is excited to eat them because they're so different from normal, boring spaghetti. I can throw this together on a busy weeknight, and I can make them ahead to save on time. Since this makes such a large batch, I often reserve some of the noodles and meatballs in  separate containers and just pull them out of the fridge and pop them in the oven as needed. Easy!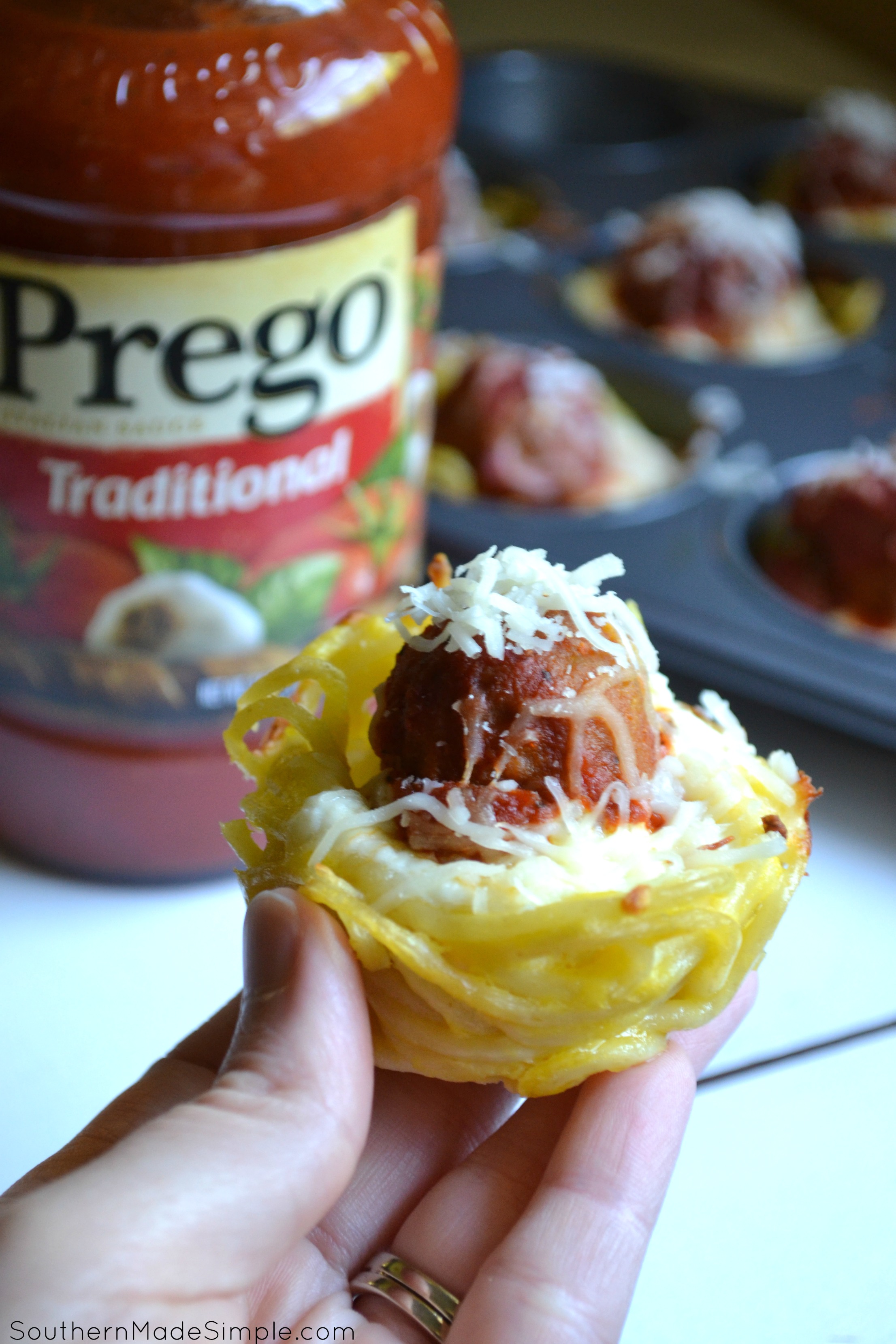 Here's a free printable version of the recipe for you to save and try out during this busy time of year. Let me know if you give them a go – I'd love to hear how yours turned out! (FYI: They're also a great after school snack. Just pop in the microwave for 15 seconds and you're done!)
Spaghetti Bombs
Servings:
24
spaghetti bombs
Ingredients
1

package spaghetti noodles - cooked

I used "thick" spaghetti noodles

2

eggs

uncooked and scrambled in a bowl

5

Tbs

melted butter

1

cup

of your favorite shredded cheese blend

divided (I used an Italian blend)

1 15

oz

container ricotta cheese

usually found close to the sour cream

1 24

oz

jar of Prego Italian Sauce

1

small package of frozen meatballs

1/2

cup

mozzarella cheese for topping
Instructions
Preheat oven to 350 F

Cook spaghetti noodles according to package instructions, drain

In a saucepan, combine meatballs and Prego and heat

Spray 2 muffin tins with non-stick cooking spray

In a small bowl, beat eggs and add in 1/2 cup of your favorite shredded cheese + melted butter

Pour egg.cheese mixture over freshly cooked noodles and stir to coat

Using a fork, scoop a few noodles into each muffin tin compartment and "twirl" to create a nest

In a separate bowl, combine ricotta cheese and 1/2 cup of your favorite shredded cheese and mix well

Spoon about a tablespoon worth of cheese mixture into the center of each spaghetti nest

Place one meatball on top of ricotta cheese and sprinkle with a little mozzarella cheese

Bake for 25 minutes

Serve with additional sauce if you'd like

Enjoy!
---
Snag These Sweet Savings!:
If you're headed to Walmart to stock your pantry with lots of delicious back to school goodies, be sure to take these sweet coupons with you! Back to school shopping can get SO expensive. Thanks to Campbell's, buying your favorite foods for this time of year doesn't have to be!
Get Creative with Campbell's:
Click here for more fun and interesting ideas and recipes to help you get you and the kids back into a school-time routine!
How do you and your family get back into the back-to-school routine? What sorts of foods do you prepare to make things hassle free? Leave and comment and share the B2S love!