This shop has been compensated by Collective Bias, Inc. and its advertiser. All opinions are mine alone. #StormStockUp #CollectiveBias
If there's one thing in the great state of Alabama that's common knowledge, it's that the weather is never going to do exactly what you think it's going to do. The meteorologists do the best that they can, but mother nature tends to do what she wants, when she wants, and she really doesn't care if she ruins your outdoor plans. This especially holds true during the summer months. We all know for sure that it's going to be hot and humid here, but there's just no telling when a pop up shower or storm is going to happen.
In fact, I vividly remember 2 years ago when it rained almost every single day during the month of July. It could be a gorgeous day outside, then BAM! A pop up storm comes out of nowhere to rain on your parade. #Rude
Now that I have a little one, I've seen how a rainy day can put a major damper on the amount of fun she has. She loves to run around and play outside, but that's a big no-no when the yard is wet and muddy. Thankfully, Publix has situations just like that in mind! They've got a pretty sweet "Summer Storm Stock Up" promotion going on right now that helps us keep the party going when rain creeps up.

Last week we had a few days where it rained for the majority of the day. My daughter started to get a little restless running around the house staring at the walls, and I could really tell that she wanted to be outside. I tried to think of a really fun and special activity that would bring the outdoors inside and help us shake off those rainy day blues. Then it hit me – let's have an indoor picnic!
So I broke out the picnic basket and headed to Publix to stock up on our favorite snacks and shelf stable foods.
Now is the perfect time to head out to your local Publix and shop, by the way! The Summer Storm Stock Up event is running from May 22nd – July 10th and you can snag a $10 gift card just for buying $30 worth of qualifying items shown below! When I first got news of this promotion, I immediately scanned the list to see what all would help us create the perfect picnic indoor adventure. Several items caught my attention, so off I went to fill my cart!
When I went shopping, a lot of the items on the list were actually on sale, and a few were even BOGO! Thanks to their sales, I was able to buy several of each item to help us last throughout the summer. Once I filled my cart with qualifying items for the $10 gift card deal, I headed straight to checkout. I made sure to hold on to my receipt, because I knew I'd need it to register for the promotion.
Registering for the gift card is super easy! Just head to StormStockUp.com and create an account. It will ask you a few questions such as your name, mailing address, etc. Next, snap a photo of your full receipt and upload it, along with your total dollar amount of qualifying  purchases and the date you went shopping. Processing should take just a few days, and you can always log in and check on the status of your order. To make this deal even sweeter, you can earn up to 3 gift cards total by purchasing $30 of qualifying items over the course of the promotion. The $30 can be accrued over several shopping trips, so no need to try to fit everything into one trip!
On the drive home I started brainstorming and planning out our indoor picnic menu using the items that I purchased. Since we can't enjoy the outdoors like we normally would when it's raining, I wanted to find a clever way to bring the outdoor fun inside. I came up with 5 fun outdoorsy themed foods that I thought would really make our living room picnic shine! In fact, I think it was MORE fun than the real thing! (Don't forget to download a FREE copy of all these picnic ideas on printable recipe cards at the bottom of this post!)
[the_ad_group id="278″]
The first thing on our menu were these simple 3-ingredient dirt cups. I picked up a couple packs of Snack Pack chocolate pudding cups, a box of Fiber One soft batch double chocolate cookies, and a package of creepy-crawly gummy worms. They're super simple to assemble and really fun to eat! Just crumble up the cookies, pour them on top of the pudding and top with as many worms as you'd like! I added a cute little flower sticker to my spoon to make it look like a little potted plant. 😉
Next up on the menu: Lil' Doggies, Ants on a Log and Campfire Trail Mix! The Lil' Doggies are simply hot dog wieners and buns cut in half to make them more "bite sized". And of course we couldn't forget the condiments! We like to top our lil' doggies with Hunts ketchup and Gulden's Spicy Brown Mustard. Tip: Squirt a serving of each condiment into small, disposable sauce cups with a lid to make them easier to pack in a picnic basket.
I was so excited to find a great price on Peter Pan peanut butter at my Publix store this week! I knew that the classic "ants on a log" recipe would be perfect for the occasion, and peanut butter is a must for that! Simply spread a layer onto a celery stick and top with a line of raisins. This one may get a little messy with younger children, so be sure to pack some extra napkins!
And you can't have a picnic without packing some trail mix! We picked up a couple bags of Chex Mix to save us from making our own mix. I've included a free Campfire Trail Mix printable below so you can attach it to a resealable bag and munch on it whenever you please! (I'm always guilty of picking out the raisins and Chex squares and eating those first!)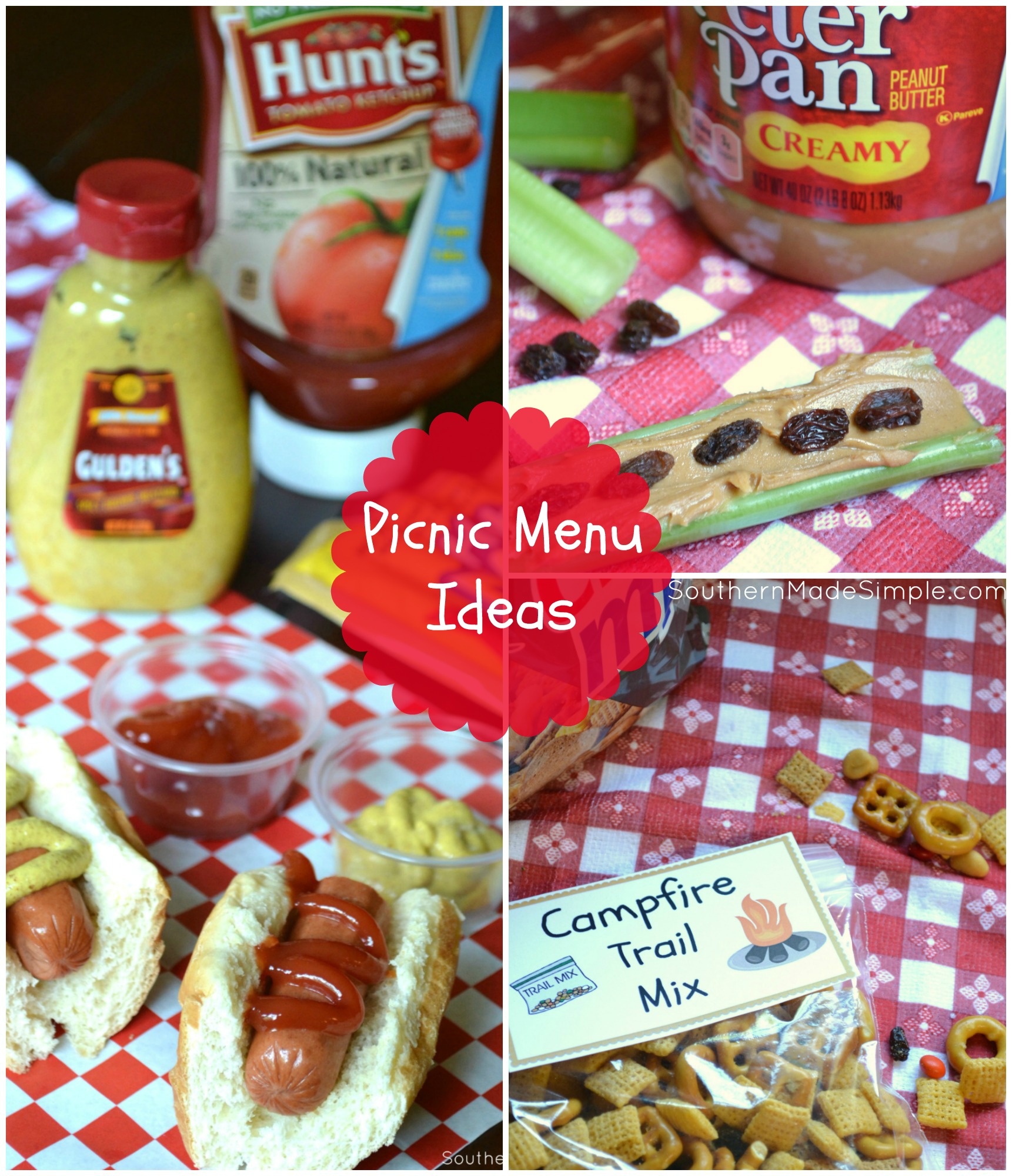 And don't forget to save room for a little dessert! Ice cream is always a great treat on a sunny day, but sometimes rainy days just call for something a little bit different. These Bugle ice cream cones were my very favorite item to create. They're a little bit more time consuming than the other foods to make, but they're a really fun activity for kids to get involved with. Plus, they're so stinkin' cute!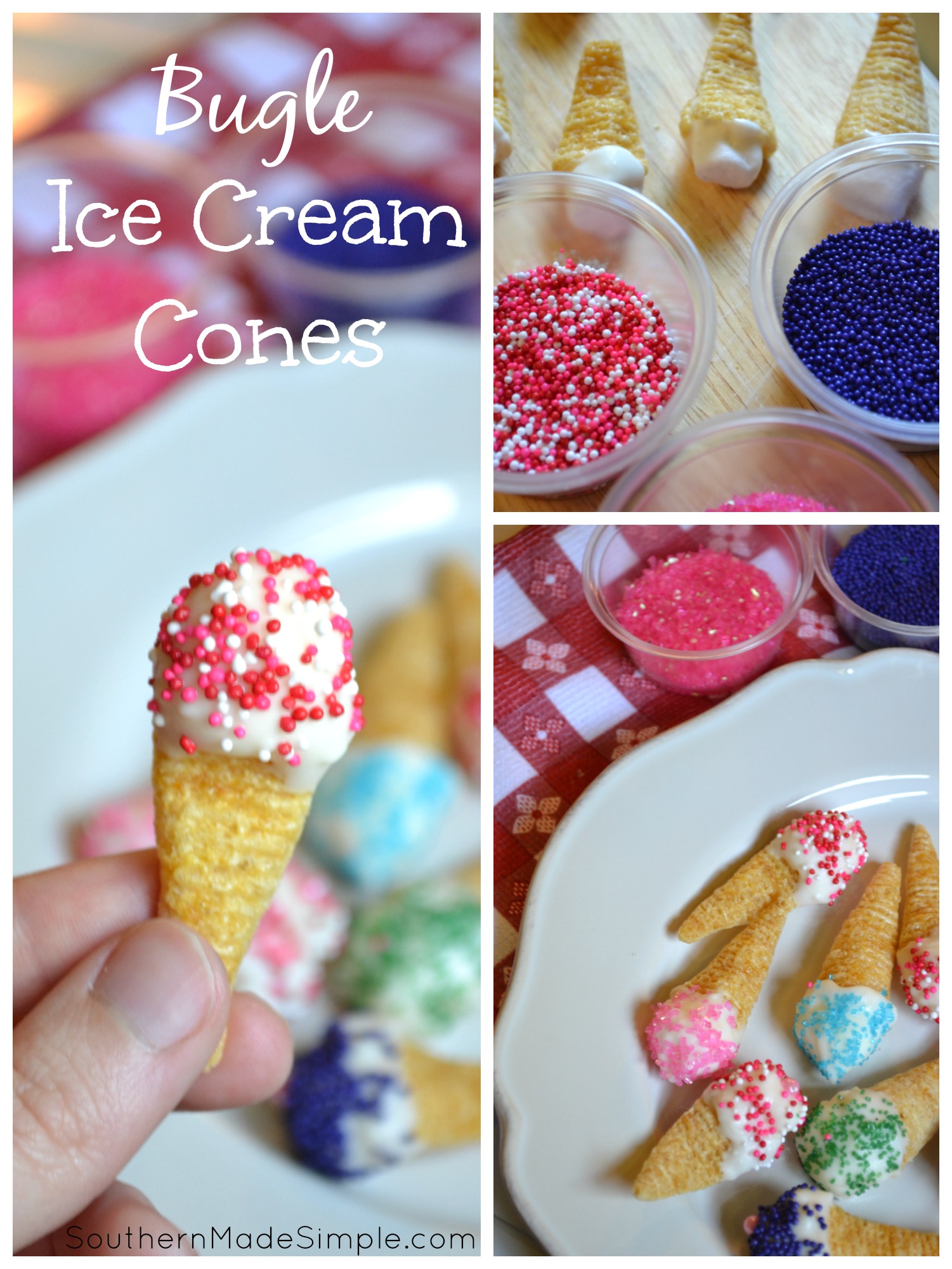 First, you'll need a bag of Bugles, a package of mini marshmallows, sprinkles and a package of white melting chocolate. Melt the chocolate on the stove or in the microwave and stir. Dip a marshmallow into the chocolate and attach to the open end of the Bugle. Lay it down on a plate or on wax paper and allow to cool completely. Once the chocolate has dried, dip the marshmallow end into the chocolate and top with sprinkles. Allow the chocolate to dry completely before eating.
These faux ice cream cones are perfect to eat while playing indoors because they don't drip or make a mess. You can store any leftovers in a plastic bag or container, but I'm willing to bet that you won't have any leftovers! 😉
While all of these picnic treats are perfect for kids and fun for all ages to make, I made sure I picked up a few things for myself to put in the basket. I chose Nature Valley granola bars, a box of Fiber One Oatmeal Raisin cookies, and a package of Betty Crocker Star Wars gummies. (Don't judge…I love Star Wars, too!) 🙂
I thought it'd be a really great idea to have a printable version of these kid-friendly recipes to keep inside the picnic basket. That way, when a rainy day comes around the kids can pull out the recipe cards and have a fun activity to get involved with. If you'd like a free printable copy of these recipes, just click the image above or the link below. If you download the printables, I'd love for you to subscribe so you can stay updated on what's new around here!
What are some other picnic-inspired recipes that you think would be fun to make? Do you have another fun indoor activity that your family likes to do on rainy days? What will you be stocking up on this summer during the Publix Summer Storm Stock Up promotion? Leave a comment below and let's chat!