When my husband and I moved into our current home, we knew that we were going to have far less room in our new house than we were accustomed to. We decided to move back to my husbands hometown and stay in his grandparent's rental property for a few years to save up enough money to build our dream home. While we're forever grateful for this humble little abode, it's had it's share of challenges. For instance, the house is approximately 1100 sq feet, so coming up with places to put our belongings requires us to get really, really creative sometimes. With just 2 bedrooms, 1 bathroom and no storage space at all, things got tight fast.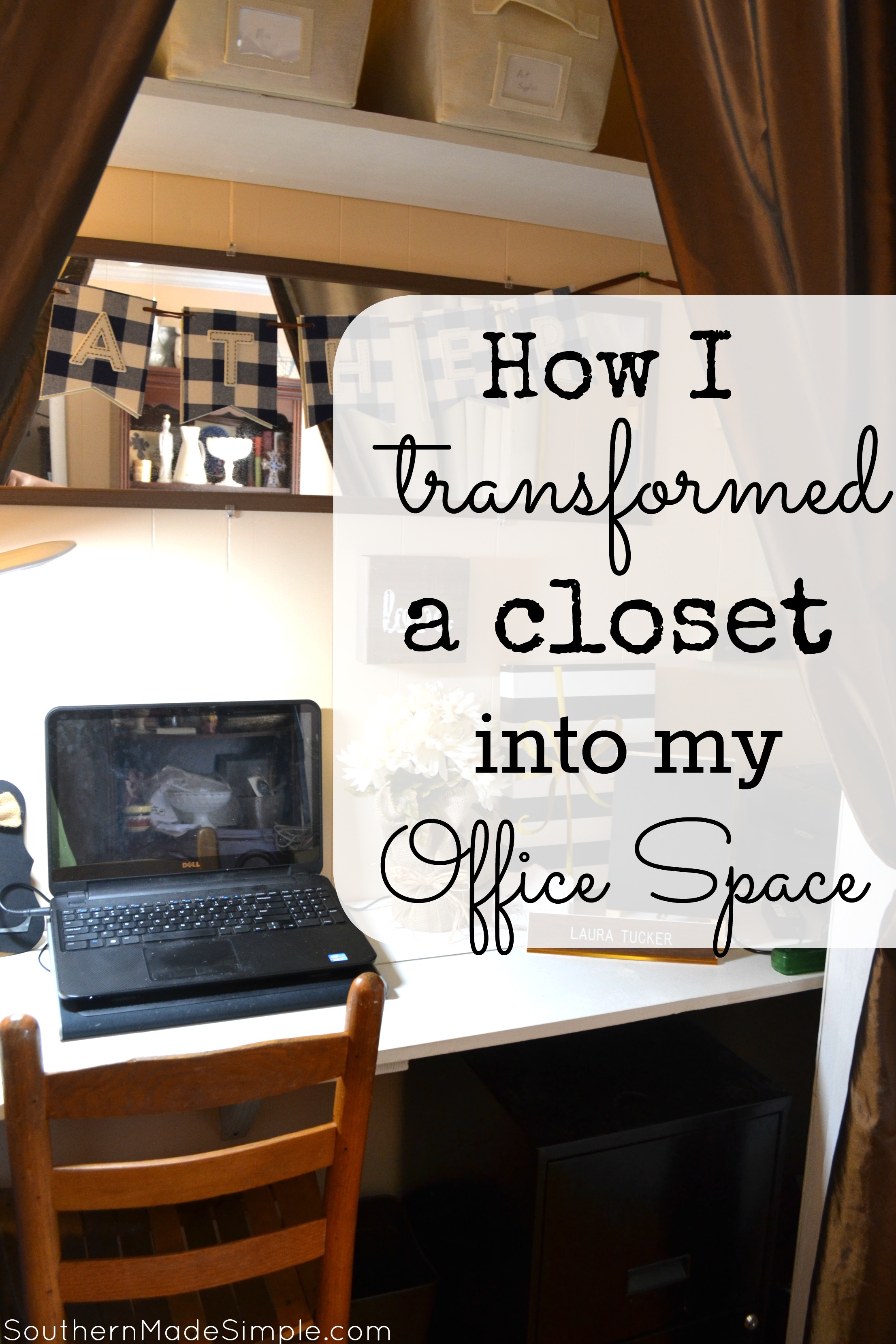 It took all of 5 seconds for me to realize that there wasn't any sort of office space in the house, which was kind of a big problem. As a work-at-home mom, I needed a designated space to do my work from. Doing it sitting at the kitchen table was absolutely not going to be an option, so I had to think fast. Fortunately, our grandfather was SO gracious in that he allowed us to paint and spruce up the place however we liked. Before moving in, we did a little demo and re-doing, and the first thing on the list was to create an office space out of thin air, or in this case, a closet!
Even though closet space is incredibly valuable in a tiny home, it was a sacrifice we absolutely had to make. We needed an office way more than a closet, so the closet area you see pictured below had a tiny little makeover to help the space meet our needs better.
After a little paint, removing the sliding door (there was only one for some reason) and adding in two shelves, the once-closet was now my beloved office space! I sit at this desk for hours every single morning before anyone else in the house wakes up so that I can have time to myself to do my work. Transforming a closet into an office space may seem a little odd to some at first, but it's been the best decision we've made for this tiny little home so far!
Now that I had a place to sit down and do my work, I was ready to spruce it up and decorate! I just had one tiny little obstacle left in front of me: I had no light. Because of the way that the storage shelf hangs at the top, there was unfortunately no way to hang any sort of light for me to see my work. Relying solely on the light from my computer screen simply wasn't going to cut it, and I certainly didn't want to be straining my eyes trying to get things done!
All of a sudden, I found myself in the market for a new desk light to fit my unique work space. I needed something that would provide a generous amount of light without taking up much space. Ideally, I wanted it to be something that was adjustable so that I could move it around as needed, and also something that would provide different levels of lighting to not startle my vision early in the morning when I'm up before the birds working on blog posts.
After doing a little research on OttLite LED desk lamps, I realized that they fit the bill perfectly in terms of what I needed. OttLite is a savvy company that uses natural daylight illumination to help create lighting that is clear, crisp, energy efficient and long lasting with smart features, such as USB capabilities, storage solutions, and flexible neck stands. Plus, OttLite lighting helps reduce eye strain and glare in your work space, which is definitely something my delicate eyes were in need of.
There are numerous styles of amazing OttLite desk lamps to choose from. Making my decision was a tough one! I decided on the OttLite LED Desk Lamp with Sliding Dimmer and USB port. I fell in love with the really sleek design, and loved that the base took up very little room. The sliding dimmer feature allows me to choose the level of lighting that I need for my work, and being able to charge my cellphone from it is just icing on the cake!
Pictured below is my office space without any sort of light (other than light coming in the window nearby.) Straining my eyes to see what I was doing was a serious issue. Even though I now had a work place of my own, I would still often move my computer to another room, just so I could better lighting.
OttLite added the perfect finishing touch to my closet-turned-office, and now I can focus on the tasks at hand thanks to my new desk lamp that helps light the way!
Under my OttLite. I'm chasing my dreams, crushing my goals and shaping my career into the things that I want it to be. I'm able to focus better, see clearer and let my creativity run wild! What would you find under your OttLite? 😉
Snag a Discount:
If you're looking to brighten up your life a little bit this holiday season, I've got a little somethin' somethin' to help you out! If you're hoping to receive an OttLite under the tree this year, you might want to pass this handy dandy little coupon code on to all of your friends and family! Code BLOGGER25 will score you a sweet 25% off discount (for a limited time) when you purchase through their website (valid November 7 thru December 31, 2016 on in-stock lamps)!
Giveaway:
Here's your chance to win an OttLite of your very own + one for your friend! (FIVE winners!) To enter, just visit the link listed below. Contest ends 12/3/2016