These gluten free Mississippi Mud Cookies are a spin off of the classic Mississippi Mud Pie, and they're chock-full of chocolaty goodness!
I have a confession to make.
I can't spell Mississippi without singing that old silly tune. You know the one.
M-I-crooked letter crooked letter-I- crooked letter crooked letter -I- hump back hump back I!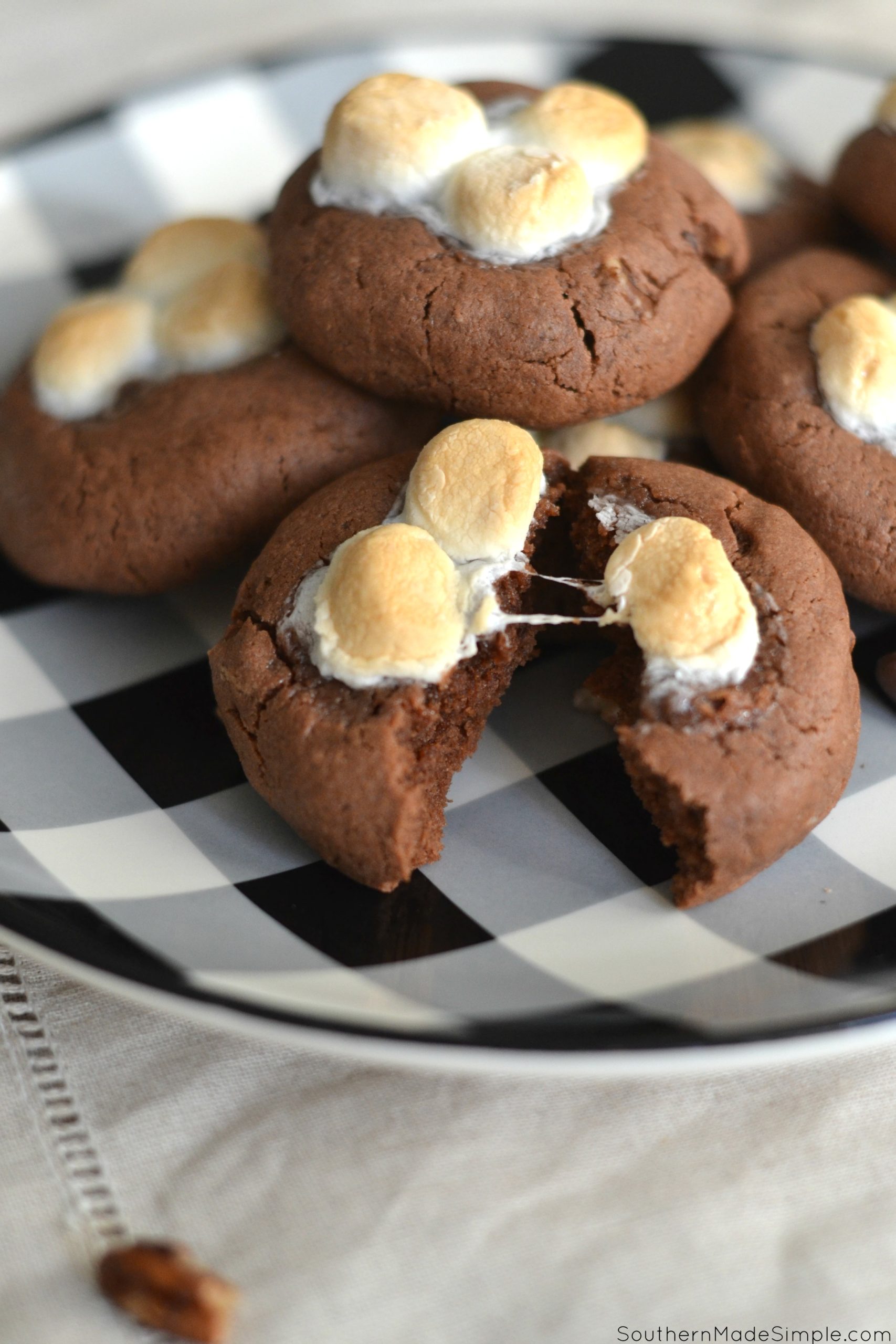 My mother taught that to me as a child, and it's been stuck in my brain ever since. It's kind of like Gwen Stefani spelling out B-A-N-A-N-A-S or Aretha Franklin spelling out R-E-S-P-E-C-T. I'll always sing it as I spell it! But speaking of Mississippi, perhaps you've heard of the famously fabulous dish "Mississippi Mud Pie?"
If you haven't had the fortune of having a slice, I'll fill you in a bit. It's one of the richest and most decadent chocolate desserts made famous in the south, and legend has it that it gets its name from resembling the muddy banks of the Mississippi River. No matter where it originated or where it gets its name, it's a slice of Heaven fit for a queen, and it was the inspiration behind these Mississippi Mud Cookies that I just popped out of the oven!
I opted to make these cookies gluten free per the request of a few of my readers who are following a gluten free diet. This recipe is easily adaptable to a traditional flour, just swap out the gluten free flour for all-purpose. The measurement remains the same! Here's a free printable copy of the recipe if you'd like to give it a try!
Gluten Free Mississippi Mud Cookies
Ingredients
1

cup

semisweet chocolate morsels

1

stick salted butter

softened

1

cup

sugar

2

eggs

large

1

tsp

vanilla extract

1 1/2

cup

gluten free flour

I use Bob's Red Mill Gluten Free

1

tsp

baking powder

1

cup

chopped pecans

1/2

cup

milk chocolate morsels

miniature marshmallows
Instructions
Using a stand or hand mixer, beat butter and sugar until creamy

In a microwave safe bowl, melt semisweet morsels in 30 second intervals until melted all the way through - set aside

Add eggs to the butter and sugar mixture 1 at a time, beating until blended after each egg.

Beat in melted chocolate and vanilla

In a separate bowl, combine gluten free flour and baking powder and gradually add into the chocolate mixture

Stir in chopped pecans and milk chocolate morsels

Refrigerate dough for 1 hour or more

Preheat oven to 350

Line a baking sheet with parchment paper and roll a ping-pong sized ball of dough using your hands. Flatten just slightly and place on cookie sheet

Press marshmallows into cookie dough and bake for 11-12 minutes

Allow to cool briefly on cookie sheet before transferring to a cooling rack

Serve warm with milk or coffee

Enjoy!
---
When I'm preparing gluten free baked goods, my favorite flour to use is Bob's Red Mill Gluten Free Flour. I used it in this DIY Cookies For Santa post, so if you're catching this recipe during the holiday season, make sure you swing by and give that recipe a try, too!
My favorite part of these chocolaty cookies is the lightly toasted marshmallows on top. Their texture reminds me of a light meringue, and when you break one apart down the middle while they're still warm – have mercy! I like to curl up with a glass of milk and have a cookie or two, and they're perfect for dipping in coffee, too.
Are you a fan of Mississippi Mud Pie? Do you have a cookie recipe you'd love to share or that you'd like to see featured here? Just drop a comment and share the love!