This post was sponsored by Lowe's as part of an Influencer Activation for Influence Central and all opinions expressed in my post are my own.
We're just one month away from packing up our belongings and moving into our brand new home that we've been building since December of last year. Watching everything come together during these final few weeks has been nothing short of amazing, and being able to see elements of the home that I had previously only been able to see in my dreams finally become a reality has made all of the work and the wait completely worth it.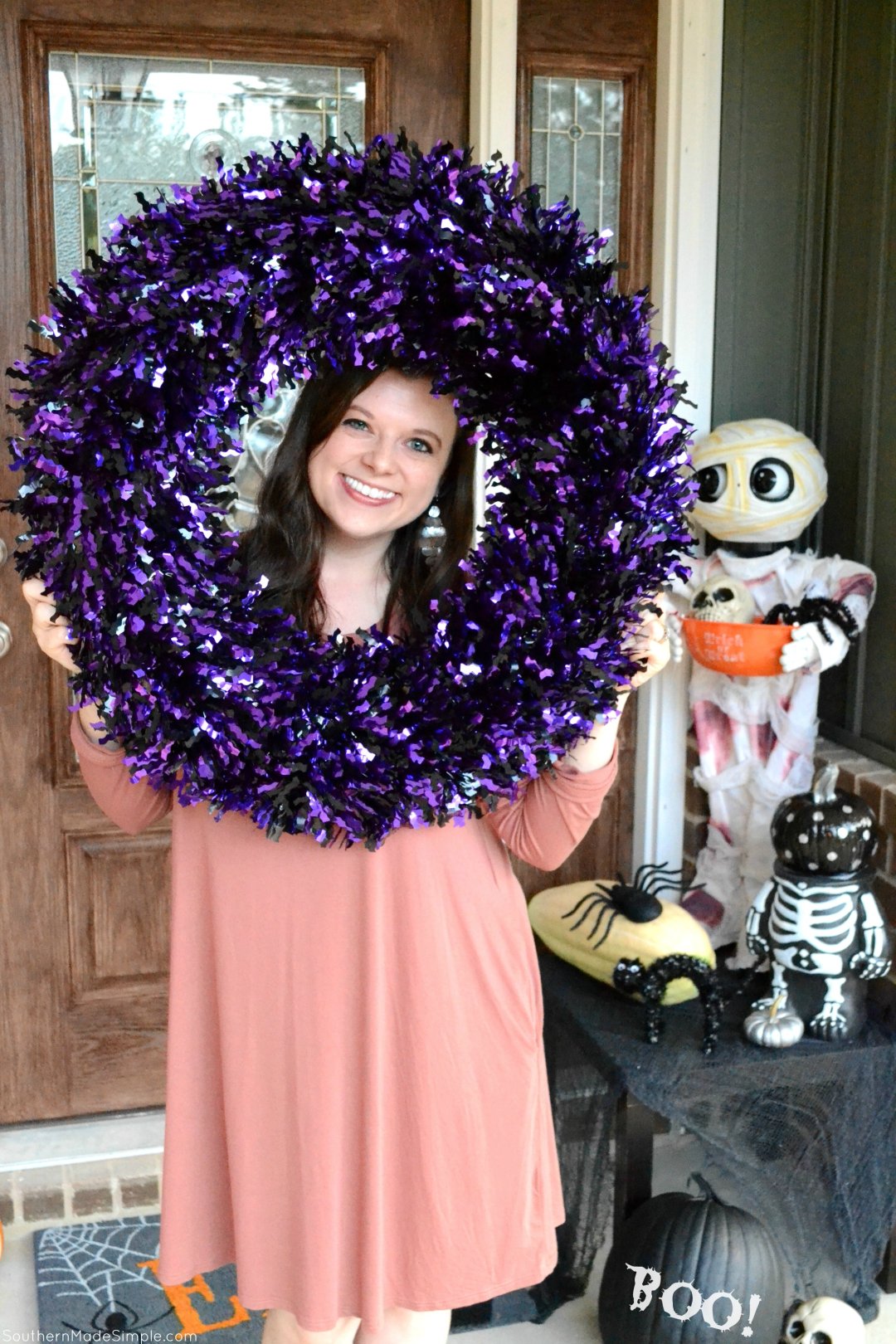 Up until about 2 weeks ago, our home did not have a front door on it. The door had been sitting in a storage room just waiting to be installed, and when my husband finally brought it out and hung it on the hinges, my mind was instantly overwhelmed with all of the ways I was going to decorate it for every season. I just couldn't wait to get a wreath hung up and to make the front entrance of our brand new home reflect the personalities of the people living inside! 😉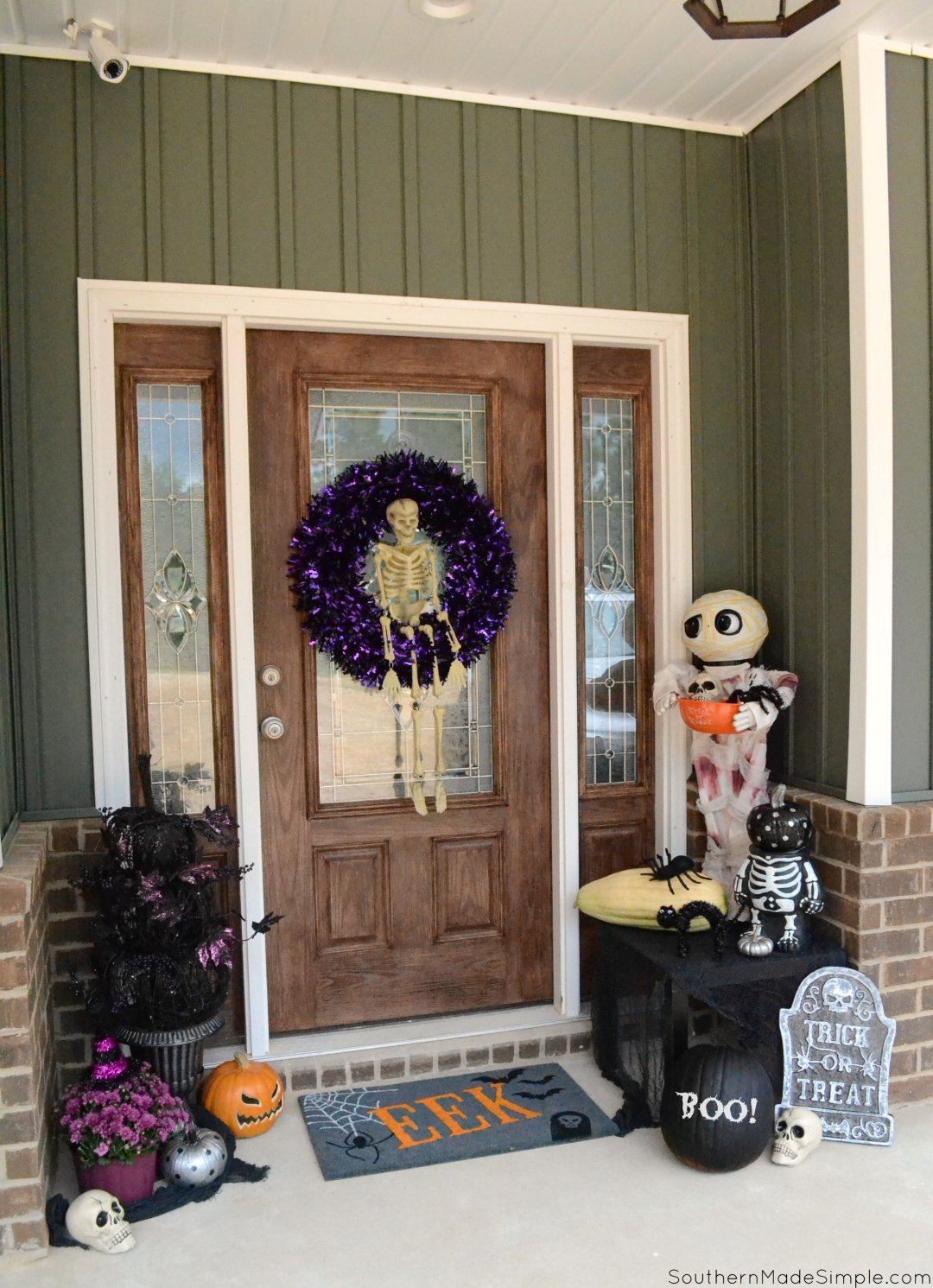 Even though we won't be inside the home before Halloween of this year, my heart just couldn't stand to let our beautiful front door be bare. So with the spooky season being among us, I just had to head out to my local Lowe's to pick up a few ghoulishly glamorous pieces to adorn our new home and to give everyone who passes through a spook-tacularly warm welcome to our humble abode! (Make sure to hover over all of the images so you can easily shop the look!)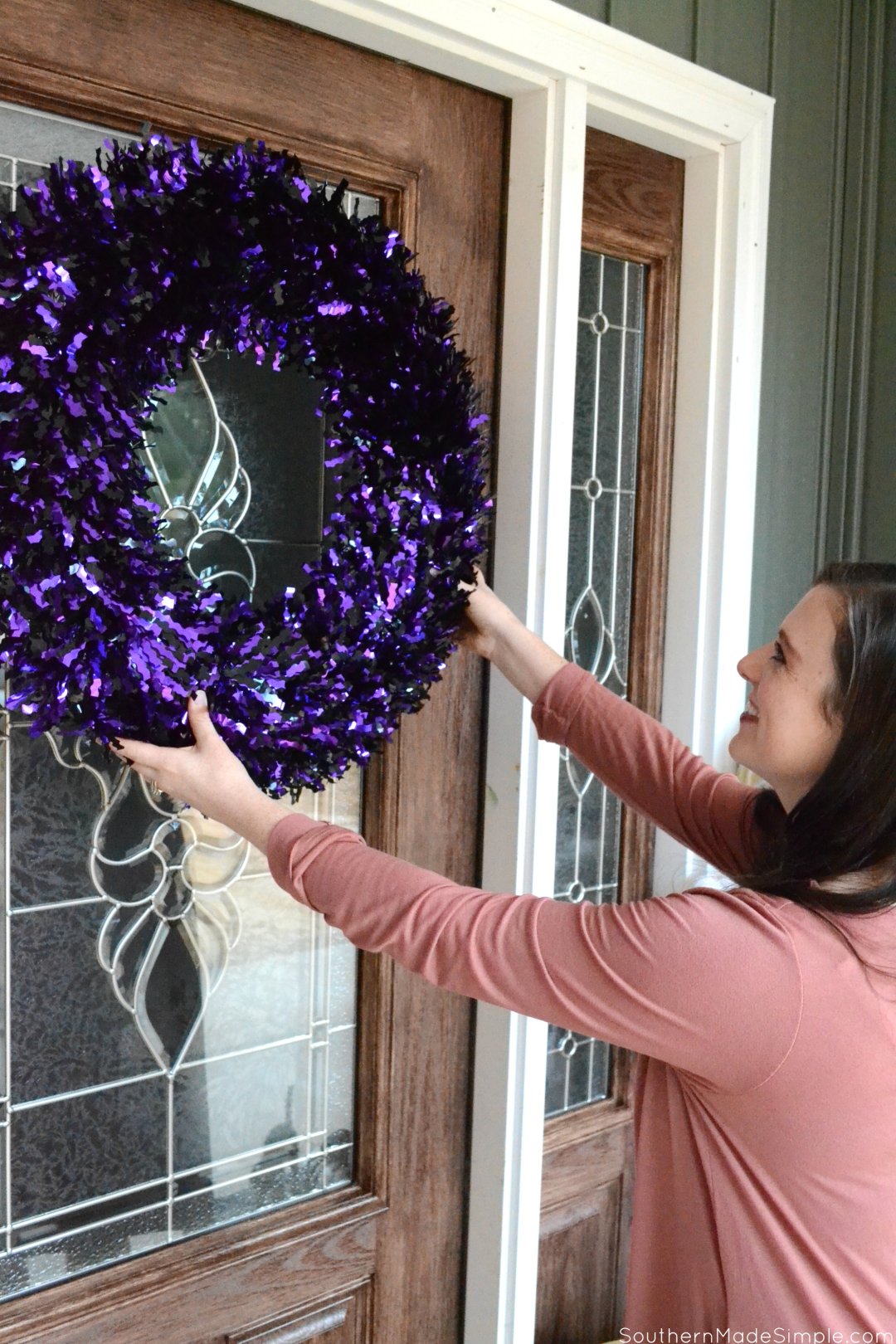 Lowe's has quickly become one of my favorite shopping destinations to pick up seasonal decor to decorate the inside and outside of my home. During my most recent trip to Lowe's, I instantly fell in love with this 24 inch Halloween tinsel wreath that they had on display right next to the front entrance, and it quickly sparked a vision for my decor theme as I pushed my shopping cart through the rest of the store!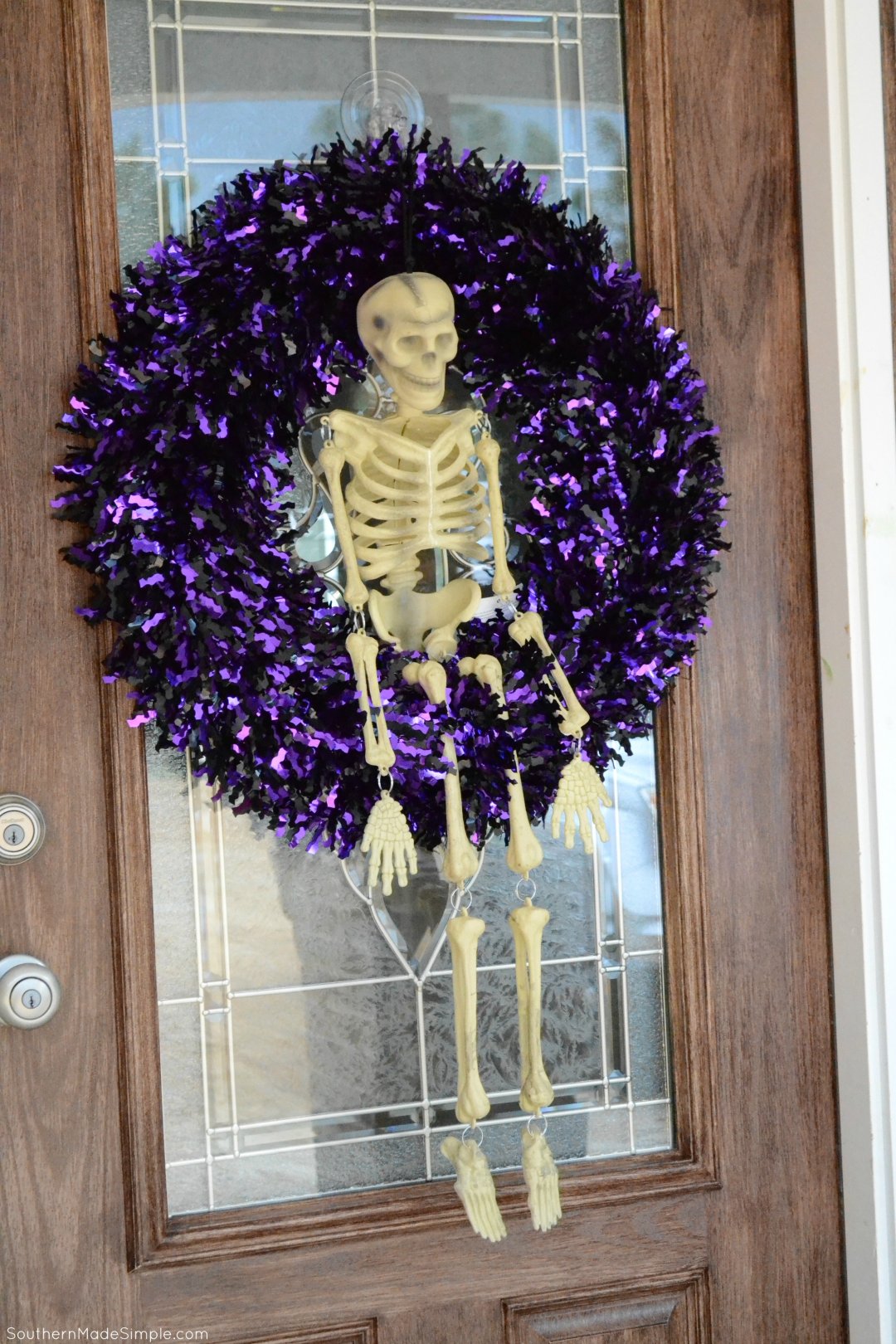 The next spooky sight to catch my attention was this Holiday Living Skeleton, which fit perfectly nestled inside the wreath. My toddler loves playing with him, because you can move his arms, hands and feet in all sorts of fun ways! He comes with a hook that makes him easy to hang, or he can sit upright when propped up against something.
I also spotted a pre-lit Jack-O-Lantern giving me a creepy grin, and I knew right away it had to come home with me!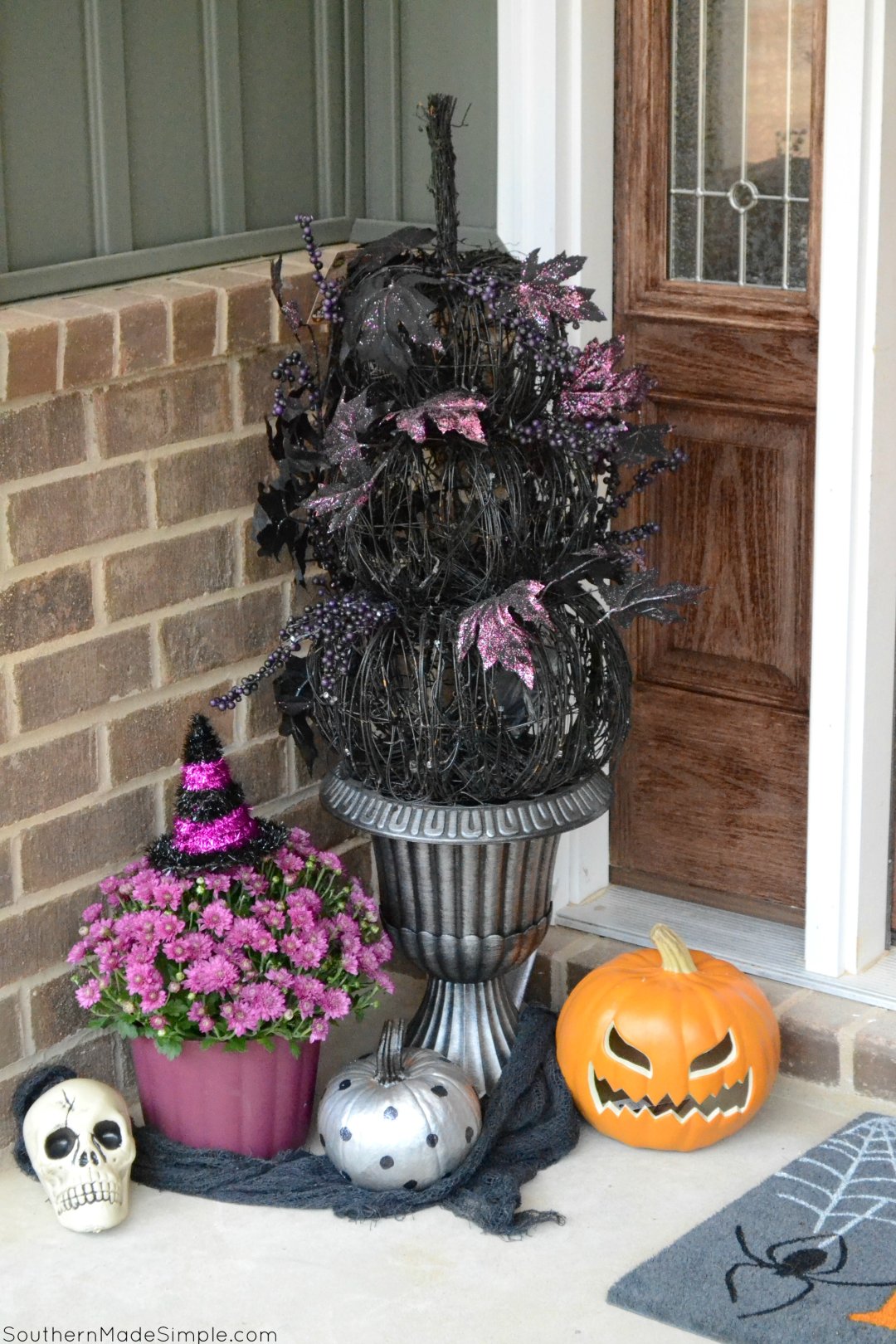 This beautiful Pre-Lit Pumpkin Stack Topiary stole my heart when I saw it browsing online before I went in the store. My particular store didn't carry it, so I placed the order online and had it shipped straight to my house! I fell in love with the shimmery purple and black leaves and brushed metal looking base – all perfect elements to create the "glam" vibe I was going for. I even swung by the outdoor garden section and picked up a purple mum plant to tie in with the purple in the topiary!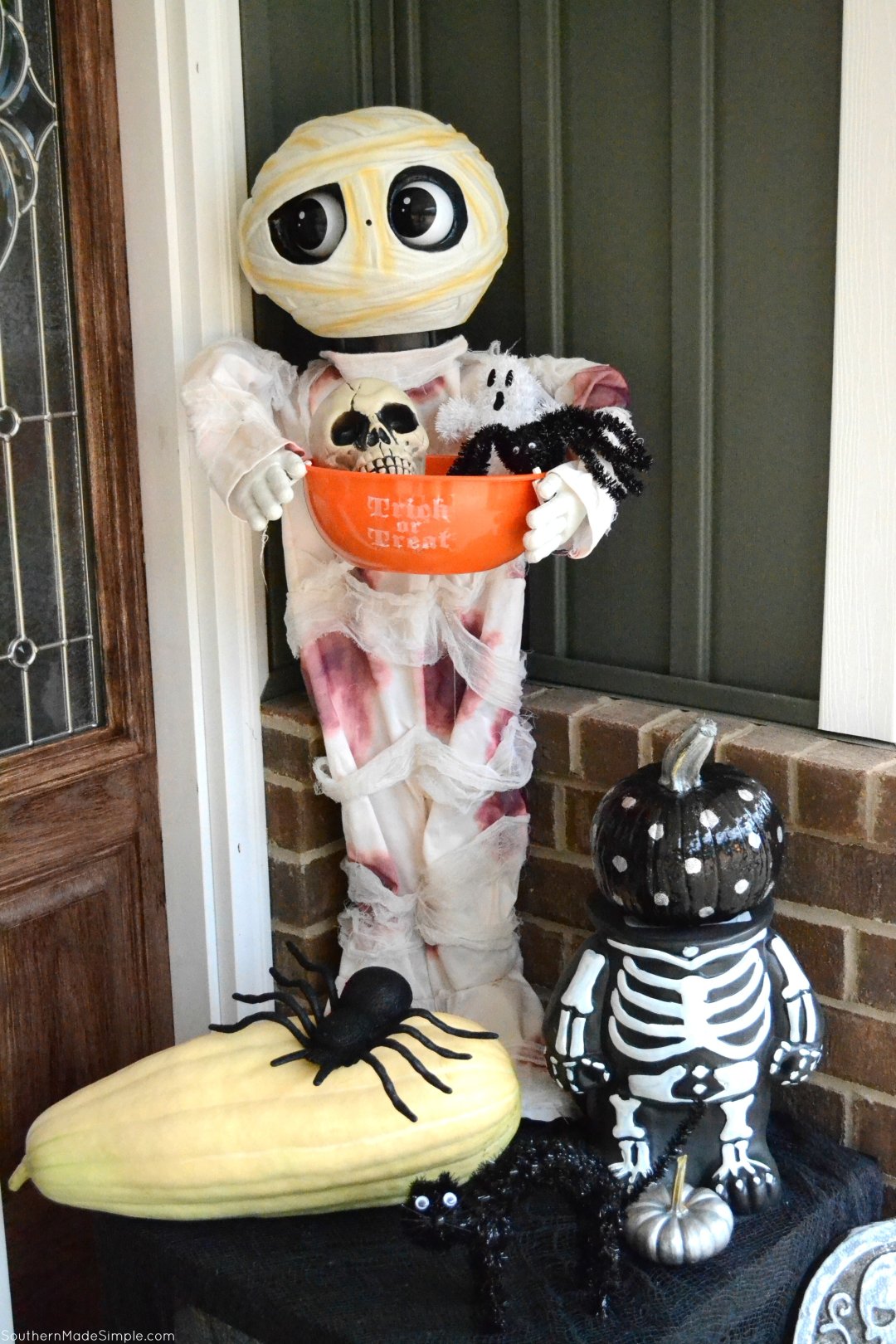 Perhaps my favorite find at Lowe's was this adorable little Pre-Lit Musical Mummy Greeter that my daughter fell in love with. It has a very friendly little laugh and leans more on the "cute" side instead of scary. It's perfect to put candy in on Halloween night for trick-or-treating, and it's fun to listen to him laugh when people walk by!
I also picked up a few real pumpkins in different sizes from the garden section and gave them a touch of glam by painting them black and silver and adding a little glitter. I placed one of the painted pumpkins on this cute little pumpkin stand and stood it next to the mummy!
My toddler was absolutely tickled by all of the spooky shenanigans going on at our brand new front porch! She was grinning from ear to ear while I was putting all of these decorations in their place, and she asked me if I could take a picture of her standing with all of her new "toys." She danced a little happy dance on this Halloween door mat and struck a pose!
If you're currently on the market for some frighteningly fabulous Halloween or Fall Harvest seasonal decor, Lowe's offers an incredible selection, and all at a really great value! You can visit Lowes.com or shop in store for more seasonal indoor and outdoor decor inspiration!