This recipe for Fresh Strawberry Pie makes for a perfect summertime (or anytime) treat! It's super easy to make, and adding a little whipped cream on top takes this pie over the top!
Happy Pi Day!
I would be remiss if I didn't share a scrumptious pie recipe with you guys on Pi Day! If you're scratching your head in confusion over the notion of Pi Day, let me fill you in a bit. Pi Day is the annual celebration of the mathematical constant Π that takes place on March 14th (3/14). The House of Representatives supported the designation of Pi Day back in 2009, and my gut tells me that it's not just to celebrate a mathematical number. Clearly somebody brought those representatives a slice of pie when making the decision, because how could you turn down a holiday where you get to celebrate by eating a slice of pie? 😉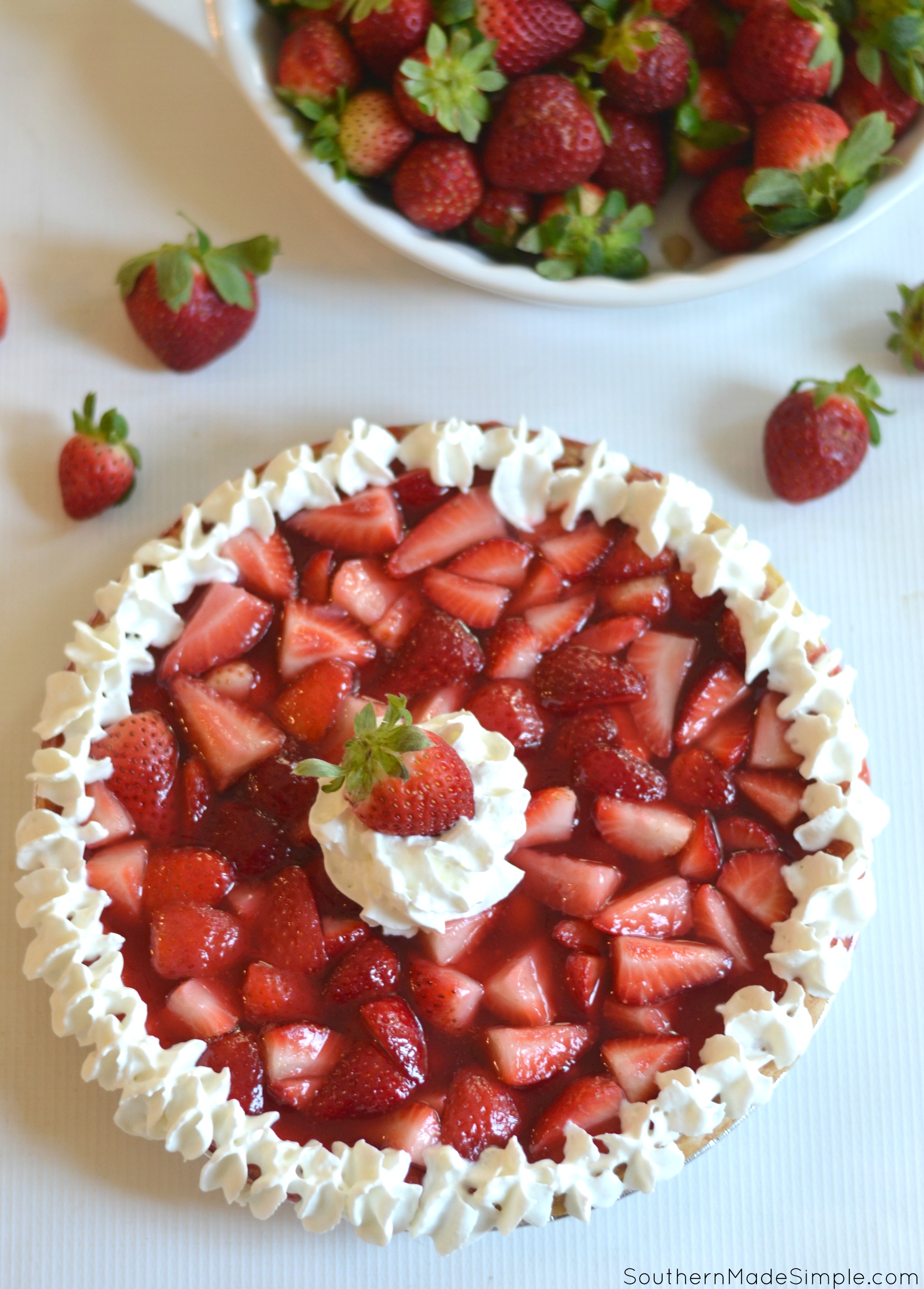 As we're springing into warmer weather, strawberries have really been on my mind lately. It also helps that I just ordered a huge pallet of fresh strawberries from a local FFA fundraiser and my refrigerator is overflowing with them. I've got to use them up quickly! Of course, I have no trouble at all coming up with a million ways to use them. My 3 year old daughter can pig out on strawberries like it's our job. Since it's Pi Day, though, I wanted to whip up a super simple pie recipe that's perfect for spring and summer that is always a favorite around here: Fresh Strawberry Pie
Here's a free printable copy of the recipe if you'd like to give it a try!
Fresh Strawberry Pie
Ingredients
1

lb

fresh strawberries

tops removed and sliced

1/4

cup

powdered sugar

1

cup

white granulated sugar

1

cup

water

2 1/2

Tbs

cornstarch

1/2

tsp

salt

1/4

cup

strawberry jello mix

about 1/2 of the package

1

frozen pie crust (9 inch)

whipped topping
Instructions
Bake pie crust according to package instructions

While pie crust is baking, combine strawberry slices with powdered sugar and allow to sit for a few minutes, then drain juice off of strawberries

In a medium sized pot, combine granulated sugar, water, corn starch and salt and cook over medium heat until thick and clear, being sure to stir constantly so that it does not scorch

Remove from heat and add in jello mix and stir well

Once pie crust is baked, remove from oven and pour strawberries into crust

Pour jello mix over strawberries and allow to chill in refrigerator overnight, or until set

Top with whipped topping before serving

Enjoy!
---
Looking back at my archives, I actually don't have very many pie recipes posted, and I have no idea why. When it comes down to pie vs. cake, I'm usually leaning toward team pie – unless it's pineapple upside down cake, but that's another post for another time. I've got quite a few ideas rolling around in my head for the rest of the strawberries in my fridge, so stay tuned for some more strawberry goodness heading your way!
What's your favorite thing to make with strawberries? In addition to baking, I love to can and preserve them into jams and syrups. What recipes would you love to see featuring strawberries right here on Southern Made Simple? Leave a comment and share the love!