I received product from Kenroy Home in exchange for my honest review. All opinions expressed within this post are 100% my own.
Since completing our brand new home roughly 7 months ago, I've had numerous people reach out asking to see "reveals" of the different rooms in our home. I've always loved to decorate, and for years I've had big dreams about what the decor in my home would look like one day. I have Pinterest boards galore that highlight my love for farmhouse inspired decor, and some of the most popular posts here on Southern Made Simple are farmhouse decor related! However, since moving in I've discovered that decorating a home is a rather time consuming (and expensive) process – and since finding out that I was pregnant just a few days after moving in, that process has sort of been put on the back burner. That is, until today!
I'm sharing my first true room reveal with you all today, and it's my absolute favorite spot in my whole entire house. This, ladies and gentlemen, is my beloved office space! Even though it's one of the smallest spaces in my home, it's a room that's completely my own. I mean, let's be real here…when you you have children is there ever a space that's 100% your own? Not likely. I still trip over toys and clean up milk spills in this room on a daily basis, but when I wake up early in the morning before the rest of the household is awake, this is MY space to accomplish the many things on my to-do list, and to run my self-made business in the comfort of my own pajamas! 😉
And because this space is my own, I've slowly been filling it with decor pieces that make me happy and fit my aesthetic to a T. I'm all about things that are white, bright, and those subtle rustic touches and small pops of greenery. The statement piece featured in my room is this gorgeous Pannier 6 Light White Chandelier from Kenroy Home that adds a pop of gorgeous curvature and movement to the decor against the straight lines of the shiplapped walls. The finish is slightly distressed, which complements my farmhouse theme perfectly!
While most of the time my desk is covered with outlines, to-do lists, project briefs and sticky notes, one of my favorite little trinkets I keep at the front of it is this cute little shabby-chic business card holder. While my business isn't one where I would have people coming in through my front door during my "office hours" and grabbing a card, I still keep them on display (and refill my purse with them regularly) because they remind me that working from home and creating your own business from scratch is a really hard thing to do, but it is incredibly rewarding and it's something I'm so proud of!
I also like to incorporate a little "greenery" here and there throughout my office. As much as I'd love to keep real flowers on display in my office, I totally realize that it's not exactly a feasible or affordable practice, so I'm more than happy with my faux flowers displayed sweetly in cute little mason jars. They may not be real, but the happiness they bring me totally is! 😉
And in the corner of my space is a vibrant splash of color, complements of my 3 year old daughter and husband who made a little framed artwork for me to display. Our daughter certainly puts the color inside of my world, and seeing her sweet little hand prints on my wall in my office reminds me of why I do what I do!
Working from home is definitely not a walk in the park. I am infinitely more busy that I was when I was working full time in an office setting. I've proven to be a pretty tough boss, but no boss is tougher than my little girl! My time is not always my own, and so my schedule belongs to her. However, sneaking into this space early in the mornings and during those brief moments in the day when she is occupied with a toy or TV show for 15-ish minutes means that I get to come into my own happy place, and when your own office brings you happiness, it makes the work so much more fun!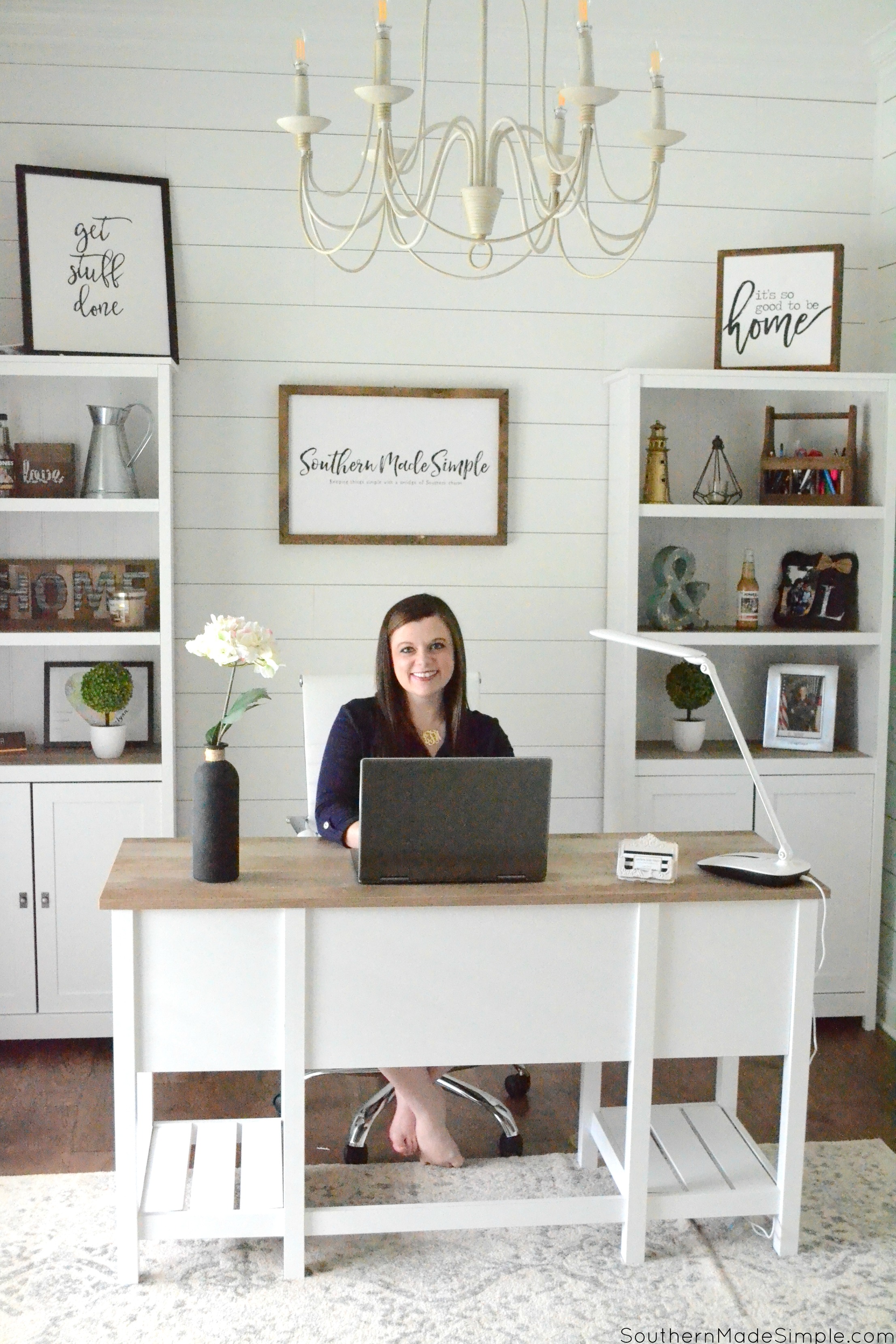 If you're looking to add some fun farmhouse decor pieces into your home, I highly recommend starting out with a fun light fixture much like the Pannier 6 Light White Chandelier from Kenroy Home featured here. Light fixtures from Kenroy Home add a statement to your decor without breaking the bank, and they're always on-trend while still remaining classic and chic!
Here's a direct link to the desk pictured here, too!
And by popular request – here's the matching book cases!
And also by popular request – here's the rug!
And the office chair!
As for when the remainder of my home decor will be revealed, time will tell! Baby #2 will be arriving soon, so possibly a nursery reveal will be next on the agenda. Stay tuned!